Will Patton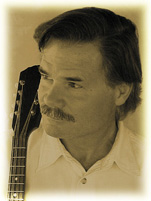 Will has been playing music since starting piano lessons at the age of six years old, taking up guitar at twelve and mandolin and bass soon thereafter. He's been playing in and leading bands since he was thirteen. He headed to Middlebury College in Vermont, and discovered a deep connection with the rural landscape there. "Vermont called to me immediately as the place I wanted to call home. I love to travel, and I love coming back here."

His travels have taken him to Philadelphia, New York City, Los Angeles, Montreal, Paris and Rio De Janeiro, playing rock and roll, folk, bluegrass, Brazilian music and jazz. His bands have opened for (among others) Van Morrison, Ray Charles, Bonnie Raitt, Earl Scruggs, Maynard Ferguson, John McLaughlin and Toots Thielemans. He has performed with the jazz pianist Mose Allison and recorded with fluegelhornist Valery Ponomarov of Art Blakey's Jazz Messengers.

For the last ten years he has been concentrating on extending the role of the mandolin in jazz and Brazilian contexts. "As long as I can remember I've had this idea of redefining the classic bop combo, piano bass drums, two horns, by using guitar, mandolin, fiddle, and bass. And playing some real, hard swinging jazz, not light swing music. At the same time, I've always been attracted to the bluesy, romantic sound of the Gypsy jazz tradition, Django Reinhardt, of course, and the other great players who are still playing this music. In the last few years I've been fortunate enough to have found and jammed with some of these players in Paris. I go over there as often as I can to study this music at close quarters."

He also has been playing Brazilian music for many years. "The rhythms of the samba and the bossa nova, the sound of the Portuguese language, are so seductive. And there is a wonderful old musical form called Choro, which uses mandolins, guitars, percussion and flute which is very appealing to my ears. It's a very casual and social tradition, people getting together in the parks in the evenings, playing these wonderful melodies."

His 2001 CD, Latitudes and Departures, reflects these influences, as well as highlighting his compositional skills. These themes are continued in the 2003 release Peripherique .There is a wide variety of styles represented on these CDs, but the music is unified by the sounds of the mandolin, the violin, the flute, and the guitar. There are some cuts that bring to mind a smoky Parisian bistro, while others evoke a shady plaza in the heart of Bahia. "I'm finally getting to play the kind of music I've been wanting to play for years. And I've been fortunate to find some wonderful musicians to play it with. The response has been really heartening."
---
Q1
Q - Tell us about how you got started on mandolin.

A - I started with piano lessons when I was 6, moved on to guitar & bass at 12, then just started picking up everything that made noise - the mandolin stayed with me all these years.
---
Q2
Q - What got you interested in playing Jazz mandolin?

A - mmmm... hard to say - I played jazz gigs on bass & guitar, seemed natural to play the tunes and improvise on mando as well - altho I didn't really gig out with it or record (except at home) until I slowly realized (partly from this group right here) that such activity might be encouraged, even welcomed
---
Q3
Q - Who are some of your influences and who are your favorite mando players.?

A - Overall there are so many - on mandolin, David Grisman of course, Paul Glasse really opened my ears - Tiny Moore, Don Stiernberg . . . I love Adam Steffey's tone - Butch B. & John Reischmann - Dave Peters . . .
---
Q4
Q - What mando do you play? Do you play any other instruments?

A - I've been playing a 1920 Gibson A-0 since '73 - I keep coming back to it, tho I've played some wonderful Rigels, Webers, Monteleones - fell in love with one of Will Kimble's A's recently. I also have an octave mandolin made by Bill Bussman that I use a lot - a Gibson '18 mandola, Flatiron mandola, assorted basses, a Saga Grande Bouche, a Lowden 6 string, cavaquinho, classical guitar....
---
Q5
Q - What music do you listen to?

A - Lately, lots of Bach, Haydn quartets . . . Sonny Rollins, Bill Evans, Trane, Norah Jones, Solas, Steely Dan, Thomas Mapfumo, Oliver Mtkudzu, Gilberto Gil -- that was last week's playlist.
---
Q6
Q - Hello Will, Last week I got your Peripherique CD, and I must say its really a much-needed breath of fresh air into my ears, from the standard bluegrass mandolin perspective. I've been into latin music for a couple years now -

I studied lots of latin percussion (been a drummer since I was 10) in college, and I really got smitten by the afro-cuban and brazilian world of percussion. Since I started playing mando about 4 years ago, I've been thinking about trying to do some afro-cuban stuff on mando.

How did you get started playing latin/brazilian musics on the mandolin? If you could, think way back to when you were just starting out with the latin/brazillian stuff. What were your influences, why did you decide to start playing jazz/choro/etc? DId you come at things from a bluegrass perspective? If so, How did you start out applying different styles? Did you just start out learning the progressions, or the melodies, or what? Same for jazz - I've been trying to break into the world of jazz, and having a bit of a hard time. I also got a choro fakebook, which has been of some help as well. Tough stuff for a relative beginner like me.

I've been trying to figure out how to apply standard piano montunos on mandolin with some success, which is cool. I don't know much about it from the melodic side, mostly the rhythmic side of things. The other day I bought a latin jazz fakebook, and I'm thinking about trying to learn some of those progressions on mando, I just love that stuff! I listen to a lot of Tito Puente, and have been thinking about learning those tunes. Do you do much afro-cuban stuff like this, or do you mostly stick to the brazillian side of things?

Thanks for letting me ramble...hope the questions aren't too much for ya....

A - I had a head start on jazz progressions as I played a lot of bass gigs, standards, be-bop, bossas, etc. When I started playing mandolin on these tunes I already knew the harmonic dimensions of the tunes from a bass player's perspective, which came in very handy. So I mostly learned the heads, the melodies . . .lots of Charlie Parker tunes, to get that volcabulary in my fingers.

I'd been turned on to Brasilian music by a wonderful drummer I worked with years ago and loved it ever since. The choros seem a natural synthesis of Brasilian rhythms with classical / Portuguese melodies and a hint of that manouche soul, another love of mine - and they lay so well on mando, many were written for bandolim of course.

I really dig the Afro-Cuban side of things as well but haven't heard a place for my mandolin in this context - lots of brass and percussion, hard to cut thru. But someone could redefine the music I'm sure... maybe you're the guy!
---
Q7
Q - Hi Will, Could you do a sort of compare/contrast on jazz rhythm comping on mando vs. guitar? Thanks.

A - I think a mandolin can't really replace guitar comping - but it can compliment it, which is what I do in my group often - playing 3 note chords, fairly sparsely behind the guitarist (I'm really lucky to have Steve Blair on guitar, he's one of those guys who always knows the right thing to play) - on gypsy style tunes I play the octave mandolin in that full 4-to-the-bar style they call la pompe - it really works well in that context.
---
Q8
Q - I bought a 1920 Gibson A-O last year then shortly afterwards noticed a reference (in Mandolin Magazine) to you playing the same model. This encouraged me even further to buy your Peripherique CD (which is marvellous). The tone on my Gibson is fabulous compared with my previous mandolin but the action is a bit higher. Did you find the same situation with your Gibson and did you have to have any adjustments made? This is the first time I've ever owned exactly the same instrument as a recording artist, so any comments you have to make would be extremely welcome.

A - I guess the action on my Gibson is higher than others I've played - I do like an instrument that fights back a little, so you can dig in for that full tone. Truthfully, I don't mess with my set up or experiment as much as I probably should. It's still got the original unadjustable bridge on it. I'm just used to it and tend to leave it alone. I did put on a Price tailpiece which I really like.
---
Q9
Q - Will, Tell us about your trips to Europe, Brazil? Any info on international travel and meeting other players would be interesting.

A - What impressed me the most about Brazil was the way the samba was everywhere, in the streets, in the patterns of speech, in the way people walked down the street, it seems pervasive in Rio (of course, it was during Carnaval!).

In '97 in Paris I was looking for some gypsy jazz and was taken to a tiny bar in the outskirts of town - there were two guitarists playing in the corner, their pickups were held on with packing tape, they shared a beat up old amp. But the music was intoxicating (it was Ninine Garcia and his dad Mondine). I had my mandolin and sat in all afternoon, and we became friends. The next year I returned and played again with them, and I later recorded one of Ninine's tunes (Ballade for Jessy) on my Latitudes and Departures CD - Ninine was very happy with it, and we decided to record together, 2 tunes on Pèriphèrique. It wasn't until afterwards that it slowly became known to me that Ninine and Mondine Garcia were very well known and respected players in the gypsy jazz world, and the bar (Chope aux Puces) was a long time proving ground for anyone who aspired to play the style - Patrick Saussois, Romane, Bireli Legrène . . . I don't think I'd have taken the mandolin out that day if I'd known. Ignorance can be bliss.
---
Q10
Q - What advice do you have for someone looking to get into Jazz mando?

A - The main things I tell students are: listen, all the time, let the jazz phrasing permeate your waking hours - and sing when you play, the notes become more meaningful, not just finger patterns. Learn lots of melodies - bop tunes, standards, show tunes. Play thru them slowly but try to understand how the melody is working against the chords. Bill Evans used to say he'd rather play one song for 12 hours than 12 tunes in an hour - I'm beginning to understand this.
---
Q11
Q - Are there any teaching materials you recommend for learning jazz mando?

A - I haven't seen the one I'm looking for yet . . . I think from time to time of trying to write one. Jerry Coker's Understanding Jazz is a great all around theory primer. John Baxter's chord book is a great resource.
---
Q12
Q - What's new with you? Are you going to be doing any recording soon?

A - I've just started a new CD, I'm going to record some more tracks with Ninine in Paris this April - I hope to have it out by late this year. I'll be teaching at Ashokan again in June, some choro and manouche styles.
---
Q13
Q - Will writes "on gypsy style tunes I play the octave mandolin in that full 4-to-the-bar style they call la pompe - it really works well in that context." That's a new term to me. Can you elaborate? What is "la pompe?" If it's the Django-style backup rhythm, how do you play it on mando?

A - I'm somewhat hesitant to set myself up as an authority on the style, there are many who have been studying and playing this music for longer than I - having said that. . . the pompe is that aggressive backup rhythm style that in part gives the style it's characteristic sound. It's 4 beats to the bar (3 in a waltz!) with an occasional upbeat stroke before the 1 - but there's a lot of subtlety to it that would be difficult to notate - almost an attitude thing. It's not for nothing that there are specialists in rhythm playing who rarely take solos, and play behind many different top players - Hono Winterstein comes to mind. Listening is the best way to go. Playing it on mando isn't fundamentally different than on guitar.
---
Q14
Q - Will, I have both your CDs and love your playing on and the content of each.

I'd like to hear you talk about how you got interested in Manouche Jazz, and came to meet and play with Ninine Garcia. I saw him and his brother, and a few other players at the Chope Des Puces in Paris last year, and I had so much fun there, watching and listening, although the cigarette smoke was hard to take!

Can you point those of us who are interested in playing a bit of Manouche Jazz to any resources for learning the tunes? The style?

Can you point us to discography that you think is essential listening?

I picked up a CD by Romaine when I was in Paris and I love it. Very tasty guitar.

Thanks for being the guest!

A - It's fun being the guest, thanks for the opportunity!

I've talked about how I met up with Ninine in a previous post - and, yeah the smoke is a hazard.

There's a lot of great stuff on the web for gypsy jazz - there's a (sometimes contentious but very knowledgeable) list group called Gypsy Jazz Guitar (.com?), a Yahoo group - there's a link on my web page for the Chope and Ninine, and a British site called Hot Club http://hotclub.co.uk - lots of resources and one of the best sources for cds - BuffaloBrothersguitars.com in the states - djangology.net has lots of links as well.

Romane wandered in to the Chope one day while I was sitting in - I had no idea who he was at the time, we played a few tunes together, then we did somethin WAY up there in tempo and he double timed it - I smiled nicely and took a seat. He's a great player. He has a CD called "Valse & Impair" - all waltzes, complete with an additional music minus one backing track, AND all the scores that can be printed out in pdf format. They all sound great on mandolin.

Discography: Birèli Lagréne, Tchvalo Schmitt (Ninine can be heard on the last track) Angelo DeBarre, Jimmy Rosenberg, Fapy Lafertan, Patrick Saussois.
---
Q15
Q - Will, can you talk about chord melody playing. Don Steirnberg talked about "keeping the melody on top", is this the way you approach chord melody in jazz mandolin?

A - I don't play a lot of chord melody on mando, but it's a great idea to study inversions, voicings... if I did, I'd put the melody on top.
---
Q16
Q - In learning jazz standards, do you think it is better to concentrate on learning the chord changes in the standard key, or to work on the melody? I know it is necessary to learn both, but which would be best to learn first?

A - whoa - good question - I keep trying to figure out how to answer this. The harmonic structure gives the melody it's context, you should be aware of the changes going on against the melody. Maybe an approach would be to learn the melody but play it against a recorded track of the chords, to hear how it lies in the progression.
---
Q17
Q - We have had a recent discussion regarding pick direction on CoMando. In Jazz mandolin, does this also apply? In other words, should the techniques used in bluegrass mandolin be applied to Jazz, or is there a different approach that should be taken?

A - I use pretty much up & down picking - If a phrase doesn't seem to come out right I often play it in a different position and it'll work better. Somewhat off the subject, learning tunes jazz or fiddle tunes) in a closed position is a wonderful practice technique - the mando being all 5ths, you soon start to "see" the same patterns everywhere.
---
Q18
Q - Hello Will, I'll try to keep this short, but it's going to be a little hard to. Here goes, In 1979 I majored in classical guitar...which has a very wide neck, as you know...I'm sure. I played jazz guitar in the jazz band in college (on a jazz guitar, not classical guitar ) with all the loud horns and drums... did'nt get to pick much at all... but boy did I ever play a lot of jazz chords. Well, most of the time I would have to leave out the root and just play the #9, b9, #5, b5, 13ths. etc, you know what I'm talking about. Most of my income comes from doing studio work, giving lessons, weddings, etc. About eight months ago I took a big interest in the mandolin and bought a Collings MF5 #84 that just sounds great, a week ago I bought a Gibson Adam Steffey #23 model that sounds great also, but in a different way... you know...different type of sound, or maybe I should say tone. I'm really not sure how to ask this question but I'll try. First of all, the neck on a mandolin is a LOT smaller than a guitar and I'm really having a big problem playing some of those jazz chords on my mando with these big fat fingers of mine, can you give me any advice to overcome this? Do I leave out the root and let the bass fiddle take care of that like I did on the jazz guitar or... tell me Will, what do you do... or maybe I should say, what do I do, or what can I do .

A - Hi, thanks for the question - It sounds like you've got the tools to work out and understand the voicings you need. There's no need to cover the root in mandolin chord forms; to me, given the higher voice of the instrument, rootless open chords sound better- certainly more "modern". Generally you should have the 3rd in there, and the 7th - all the rest can be color tones, the b7 or # 7th, an aug. 5, 9th, etc. There's a diminished chord form on the mando that I use a lot as a 7th or as a passing chord.

As far as the size of the neck - well, you do get used to it I think, but there's always the mandola - octave mandolin becomes a little problematic for playing chords as that 5th between strings begins to cover a lot of real estate, and the pitch of the instrument can make some rootless chords a bit muddy - I lean toward simpler chords in root position on the OM.

Hope this is helpful, good luck.
Will