Frank Wakefield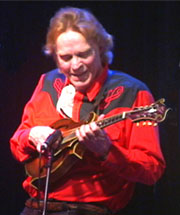 One of the chief innovators on the mandolin, Frank Wakefield played straight bluegrass with a number of well-known bands, including Red Allen and the Greenbriar Boys. Born into a musical family in Emory Gap, Tennessee, by age eight he already knew how to play harmonica, guitar and bass. In 1950, his family moved to Dayton, Ohio and soon afterward, he took up the mandolin and formed the gospel-oriented Wakefield Brothers with sibling Ralph, who played guitar. In 1951, the brothers made their first radio appearance in Dayton. After the duo split up, Frank teamed with Red Allen in 1952 to form Red Allen & Frank Wakefield and the Kentuckians. They remained partners through 1972, occasionally pursuing side-projects as well. It with Allen that Wakefield mastered the banjo and dobro, and when he moved with Allen to Washington, D.C. in 1960 he began offering private mandolin lessons; his star pupil was a young David Grisman. Wakefield joined the Greenbriar Boys in 1965 and remained with them through 1970. He also founded the Good Ol' Boys, and in 1971 recorded The Frank Wakefield Band. He cut Pistol Packin' Mama in 1974 with Don Reno, Jerry Garcia, Dave Nelson and Chubby Wise. He also continued to teach, and released an instructional video.
---
Describing Frank Wakefield in a few words is an impossible task. You can read his bio at http://www.candlewater.com/interviews/bio2004.html if you want to see a list of his wide-ranging musical accomplishments, which include playing with almost every bluegrass pioneer as well as performing his original music as a featured soloist with Leonard Bernstein and a full orchestra.

Frank is a unique individual, both as a man and as a musician. For one, he has a unique style of speaking that he calls "backin' talkwards." I just spoke to him on the phone and asked him what he wanted to say to introduce himself to the Comando community, and he said "Goodbye. It sure is nice for you Comandos to invite me to be on your Outernet, and I hope you enjoy me now more than you did then. I don't have a 'puter of my own, but I'll ask me questions and you can do my best to answer them. Thank me, and hello."

During his stint as CGOW, Mike Compton wrote this: "I like Frank Wakefield for his unparalled creativity, and he has an aspect of Monroe down that I have yet to grasp." From hardcore bluegrass to his original classical compositions, Frank does it all -- Monroe style, duo style, crosspicking, fingerpicking, crosstunings, you name it. Moreover, he's an excellent teacher and likes nothing better than to transfer his knowledge to other mandolin players.

Rob Coleman
---
Q1
Q - One of the most amazing mandolin breaks I've ever heard is your break on "I'll Never Make You Blue" (I have an old Silver-Belle Records 45rpm with "The Convict and the Child" on the other side).

My question is: did you improvise the break at the time of recording or was it something you worked out ahead of time? Do you recall which mandolin you recorded with at that time? Finally, will you show me how you play it when you do a mando workshop in the New York City area?

A - I just improvised that break when I did it. That was with Chubby Wise on the fiddle, Winnie Winston on banjo and Fred Wise on bass. The reason I played that so good and improvised it was because David Grisman was playing Rhythm Guitar for me. David played a real good Bluegrass Rhythm guitar back then. That was the same mandolin that I have now. It is its original color now.

No, but I will. When we do some shows out there, Jim Moss is working on that now.
---
Q2
Q - You always seem to be making new music, and you seem to play the mandolin several hours a day. Do you listen to a lot of other music to get any of your ideas for new tunes, or do you just get your ideas from playing mandolin all the time?

A - I just get ideas from playing the mandolin all the time. I only play about an hour a day seven days a week, but when I want to write new tunes I play a couple of hours a day.
---
Q3
Q - Frank, tell us about your mandolin.

A - February 1923 Lloyd Loar, Monroe's was made in July. It is the only mandolin, I compared it with Bill's for 30 years and he played mine and I played his... they are the only two mandolins that sound just alike. Bill told me in 1960 when I got it, that it was a good mandolin, even it did have the original 1923 stings. That was the reason I kept it, because he told me it was a good one. 30 years later it still sounds like his did. ...and I baked it to try to make it sound better than Bill's but it ended up sounding identical. And it still sounds the same today. I have been offered $300 for it, because I gave $150 in 1960.
---
Q4
Q - I just love your composition, New Camptown Races. What a great tune for mandolin, guitar, banjo, fiddle, anything. Willie Nelson talks about melodies just floating by, and his gift of seeing them and grabbing them. What is your take on composing? Is it technical, spiritual, or something in between.

A - It is about the way Nelson said, and when I am jamming an hour a day... and when I am playing a lot of notes, then I just start putting pieces together. This is how I come up with a tune that don't sound like other tunes. I wrote hundreds of mandolin tunes and they are on lots of CDs. You should go through the internet to find them. I have lots of special stuff on my lesson DVDs that Jim Moss and I have out. Here is a link to see for yourself. http://www.candlewater.com/BlueberryRecords/FWDVDSeries/

I would like to thank me for writing to you and I hope you don't get too good cause you'll be learning me how to play.
---
Q5
Q - The Kitchen Tapes with just you and Red Allen is one of my all time favorite CD's. That CD has a certain raw presence that just makes my hair stand on end at times. I especially like "I've Just Here to Get My Baby Out of Jail." What personal memories or anecdotes do you have about making those tapes? When you listen to it now (if you do), what are your thoughts about your playing on that (1963) in comparison to your playing now?

A - The anecdotes is that the kids that you hear in the background were about two or three years old on that tape and they are older than me now. David borrowed a tape recorder from the Newport Folk Festival and came to my house. He set it up on my kitchen table. David was holding the microphone. He would ask me and Red to do a certain song and we just did it. We never played any of those tunes more than once. He just axed us and we did it. ha ha I still really like the kitchen tapes and get an awful lot of requests to do the tunes on the kitchen tapes. A lot young kids tell me that Kitchen Tapes is their favorite record.

About my playing, I was really clean and clear then, but I feel I am even better today. Come see the band sometime.
---
Q6
Q - Thanks for the responses about the Kitchen Tapes. You've had a long career in bluegrass. What would you say is the fondest experience of your career in music? What would you change if you could do it over again? You had a long partnership with Red Allen, played with the Greenbrier Boys for a spell, and have fronted several of your own bands - which format did you enjoy the most? Finally, I've enjoyed learning from DVD #1 in your new instructional series - so my question is this, what is James Moss really like as a producer and bandmember?

A - Some of my fondest memories are from when I was in the late 60's and doing all those network television shows with mandolin and autoharp.

I enjoyed it when people like the Everly Brothers and Joan Baez would sing harmonies with me there on TV. Next, I enjoyed playing Carnagie Hall two times with the Greenbrier Girls. I enjoy the way I play now cause I can do the songs now that I don't have to have a woman to sing high tenor too, because Jim Moss sings high tenor now. I get to play my own material cause Jim knows it on the fiddle and he plays the right parts to it. So it sounds like it did when I wrote it.

Jim has a studio with some special stuff that he designed makes my mandolin sound like it does... it sounds like a Giant mandolin. He does the video and works with the lights in such a way that you can see actually better than you can in real life. And Jim gets keeps the band together so that our tours are all taken care of, not like the 50's, 60's and 70's when I would be out on the road and wouldn't know what hour or day I was suppose to play. And also, he makes sure that their equipment and sound is up to par. I can play much better music now that I don't have to worry about the sound or the equipment... and collecting the scratch.

I started Jim singing tenor in 1976 when he played with me back then. And the only thing I don't like about Jim is when he does a tune that he wrote for the fiddle called the Moss Creek that steals the show! And it does! He plays it so slow that the guitar player's hand can't hardly move when he gets done with it.
---
Q7
Q - Frank, I guess you must tune your mando EE-AA-DD-GG?

A - No, I don't do it that way, I do it GG-DD-AA-EE, cause I never did find it to work good when I did it that way, but when I tune in Special Tuning, I do harmonize the strings to where it sounds like there is more of me. I show you how to do that in the DVDs that are now out, but don't you order one from this address, cause I'll be axin you questions. http://www.candlewater.com/BlueberryRecords/FWDVDSeries/
---
Q8
Q - I have been a fan of your playing for many years,I had the pleasure of jamming with you at a festival in 1982 or so and you were very encouraging ("we're gonna have to hurt you"!), which really meant A LOT to me.

You have such a wonderful unique personality on the instrument, both as a composer and a player. Can you talk a little about "coming up"- how you got started on the instrument, what you were listening to, and when did you feel your own voice on the instrument start breaking through?

A - You know, I just answered that same question in an interview in detail. You should read that, it is more than I could say here. Here is a link to that interview.

http://www.candlewater.com/interviews/story015.html

Now about my own voice, I started writing classical stuff in about 1958 and before that in 1953 with New Camptown Races. I started to sound like myself about 1954.

I try to sound more like myself then I do me. I sound more like I do now than I did then. That makes me feel more necessary!
---
Q9
Q - Frank, I love your mandolin playing and listen to the kitchen tapes CD a lot. (I can't bring myself to say I hate your playing and never listen to the CD har har). I'm wondering when you started balking tackwords?

A - I think I started before I was born. I started it tomorrow and I'll finish it yesterday.

Now don't you come to the Canal Street Tavern in Dayton on the 31st of this month, or to Cleveland on the 1st, where I will be doing 2 parts on the mandolin... and don't come up and say howdy to me cause it'll liable to make me feel too bad.

Thank me for asking.
Hello.
Your enemy
Frank Wakefield
---
Q10
Q - I wanted to ask another question about "New Camptown Races", if you might, is it supposed to be in the AAB format or is it in AB format. I seem to recall that on the recording you made with Red Allen, the one Grisman recorded years back, that you only played the first part once, and then went into the second part, how is it supposed to be played "The Wakefield Way"?

A - I always play it 2 times in Bb and then go on to the G minor for one time. I do it the same way but only with the Bb 2 times. I wrote that about 1953. The reason I did that because everyone else in those days played tunes with 3 cords. I decided to add an extra cord and put a minor in it. I wrote a lot of semi bluegrass tunes in minor and classical in minor too.
---
Q11
Q - What a treat it is to have you as the Comando Guest of the Week. My greatest memory of you playing the mandolin was when I first saw you at Bean Blossom June 2001, you were invited to come on stage and play with James Monroe and the Midnight Ramblers... you smoked them... you brought the house down (so to speak) and you were grinning ear to ear! You are one person that definitley has a blast playing the mandolin. You are an inspiration. OK, here is my question... When you joined the Greenbriar Boys, you followed Ralph Rinzler, who had a solid Monroe style of picking and was a great resource for the GBB ragtime music. Were you chosen to play "their" sound or were you selected to take the band in a new direction? And what was the year you joined the Greenbriar Boys?

A - That last part was right, "selected to take the band in a new direction?" because they changed their entire style when I joined because "Better late than Never" is a real Bluegrass album.
---
Q12
Q - You are great admirer and friend of the late Bill Monroe. Can you tell us what top 5 Monroe instruments you like the best? And do you still do Monroe instrumentals in your show, if so which ones?

A - Yeah, I do play a lot of Monroe. I still play Rawhide, Bluegrass Stomp, Bluegrass Breakdown, Getup John, Bluegrass Special. Evening Prayer Blues we do on every show.
---
Q13
Q - I wanna hear the story about how he baked an red apple colored mandolin in his oven and his wife didn't even clober him over the head with it.

A - She was at the store when that happened.

I was smart then because I was about 28 years old, don't anybody else try it. The reason I did that was because I didn't think my mandolin sounded identical to Monroe's, but it actually did. I only needed to get the right hand like Bill's to get that sound. I don't think that baking the mandolin had anything to do with the sound, I did then, but I don't now.

(see interview) http://www.candlewater.com/interviews/story006.html
---
Q14
Q - I was listening to some old recordings you made with Bill Emerson and Red Allen a long time ago, that came out on a record album you can't hardly find now. You guys played some great tunes like Cumberland Gap and Old Joe Clark and John Hardy and a bunch of other stuff, but instead of playing the tunes in A or G or some key like that, you played them all in the key of B. Why did you guys play all those tunes in B?

A - That was Bill Emerson's idea, he liked to play the banjo in B he clamped it down, he could play it faster there. We played them so fast that it sounded like we speeded it up, but we didn't.
---
Q15
Q - Could you tell us a little bit about when you first started playing mandolin... Did you grow up in Dayton? Was there a strong Bluegrass community there or did you have to search it out else-where on your own? I grew up (in the 80s) just north of Dayton and there wasn't much in the way of local Bluegrass or acoustic music that I was aware of ...but there seems to be more happening in the Dayton vicinity now. anyway just curious...

A - I left Tennessee when I was 16 then I moved to Dayton. Here are two interviews that where I talk about the early days.

http://www.candlewater.com/interviews/story015.html

http://www.candlewater.com/interviews/story002.html

The Osborne Bothers and Jimmy Martin came to Dayton in about 1955. So then there was me and Red, and the Osborne Brothers and Jimmy Martin.
---
Q16
Q - I need some right hand exercises as I am a guitar player learning the mandolin and always want to "plant" my pinky on the top of the mandolin and it just slows me down.

A - Don't put your finger on the mandolin, don't touch it at all with your hands. If you have a guard plate just let your fingers to glide on that. If you don't have a guard plate then just let your hand sort of glide on the strings, barely touching it. So your hand will be free without holding it down. You can teach your hands to play any of the strings at anytime, you won't have to aim, you will do it naturally. The reason people say that my playing sounds so different from the others on Extravaganza is because I don't "go-in" for a note, I play right through the strings to get to the string I want. It is one of the things that gives me that Monroe sound.

Read this for more on my technique:
http://www.candlewater.com/interviews/story006.html
---
Q17
Q - Can you explain to us the essence of your right hand technique? Has being left handed affected your playing style? Is it really true that you can underhand pitch a softball faster than any other mando player around? What's the favorite tune you've never played?

A - Joe, I am not left handed.
Read this for more on my right hand:

http://www.candlewater.com/interviews/story006.html

I wouldn't be surprised that I could pitch faster. I don't know anyone else in Bluegrass who is doing it. I can only pitch about between 75 and 80 miles an hour. That is not bad for being a 69 year old fella. The reason I can play the mandolin so fast is because I am a windmill pitcher.
---
Q18
Q - Frank, how did you get involved in the Mandolin Extravaganza project? Had you met all the other players before? Who impressed you? How would you describe the styles of the various players on Extravaganza? There are a few guys I can identify by sound, you being the most prominent, and Buck White and one or two others.

A - I got a call from Ronnie McCoury. Then I got a call from David Grisman's manager and they told me what the project was and asked if I could do it. They told me the names and I said, "sure I would be glad to". McCoury said, what we want is for all of the mandolin players to do some hard core Bluegrass.

So what I did was picked my hard core Bluegrass, "Play if Pretty Me" which is as hard core Bluegrass as you can get, was the first thing I did. I had to get Del to back me up on the guitar on that one, because he is a hard core Bluegrass player.

The next one, Miss Izzy, I had to get Ronnie to play the guitar on that because he learned real fast. Then Mexican Stomp, it was hard for me to teach the people the rhythm on it. So I had to get Ronnie... and Grisman who didn't play rhythm but just played the twin with me on it. On Nat Kip I got Ronnie to play the guitar and then some mandolin.
---
Q19
Q - Who impressed you?

A - I impressed everybody else. Sticky Raggs had me play Blue Moon of Kentucky on his new 1923 Lloyd Loar and he didn't have the guard plate on it so I had him go home and get it. He went home put it on and brought it back and I played it on that song. Now the only person who impressed me on that record was the person you are talking to right now. They were impressed with me. I don't mean to be a bragging but I am just telling you the way it is. You know all those mandolin players are real good players.

Everyone can pick me out on that record because I play different from everybody else. Other than me, my favorite mandolin player is Bill Monroe. (LOL)
---
Q20
Q - Since you've always excluded me from attending one of your live shows - I'm curious about your set lists. Who comes up with the set lists for your shows? Do you vary it from night to night? Do you do requests from the audience?

A - [Jim Moss Note: He always makes up a set list, then does whatever he wants! As with most bands I have known, you have to be able to play almost any song at any time, even if you have never heard of it before. Frank has asked me to play songs I have not heard of, and as a collector of old live Bluegrass concerts, I have heard a lot. That is just what you have to be able to do in a band like this.

Now Frank's response...]

I do both what you said. The reason I do both is that I can work from memory and from sets. The first two or three songs we do they could be from the last night's show, but we always do our theme song Band #1. I usually judge the audience and figure out what they want to hear best. Then I take a request and if I don't know it I'll do it. I just make the set list up as I go usually. The next time you don't come to the show, I won't invite you again.
---
Q21
Q - What's the favorite tune you've never played?

A - The favorite tune I never played is the one I never wrote yet. That is the hard one because I ain't played that one yet. Its nice to hear from somebody who talks like I duz. I hope you come and see us.
---
Q22
Q - Frank, how do you tune your mandolin? Do you use a tuning fork, salad fork, pitch fork?

A - Boy, you got that right!

Thank me for asking.
Hello.
Your enemy
Frank Wakefield
---
Q23
Q - Nice to see you on this list. I'd asked jim this question earlier & he'd suggested asking you in person so here it was;

Are you by chance related to the Wakefields of Danville, VT? My aunt told me there's a mando player in the family but Aunt Sally's not around anymore & I can't ask her, she checked out while the getting was good. She always was the smart one in the clan.

I remember first seeing at one of Smoky Greene's festivals I think it was back in 75 or so. You were with Red & were having a heck of a good time off stage. I enjoyed that you weren't putting on airs & you were there for both the music & the fun. One of the vendors there had your LP with Country Cooking & I bought it because I really enjoyed you. I think I remember seeing you at the Berkshire Mt's Bluegrass Festival too but those festival days were a blur for several reasons but they were among my favoritist festivals as well.

Don Stover was a friend of mine back then and I never got to see the two of you play but that would have been real fun.

If I can make it to your Evanston, IL show at Nevins, I'll bring that LP & I'd hate it if you signed it.

So is we be cousins or not?

A - I am not suuur, but I am sure that since there ain't many fields that we must have came from those parts and we moved on down to Tennessee. If you know anymore let me know. If you come to Evanston I would like to talk more about it.
---
Q24
Q - Hello, Frank,
A mutual enemy: David Tinkoff ( who is not the mandolin player in the band I am not in), asked me to say goodbye to you.

He hopes you continue to be unhappy and unhealthy....David says he has forgotten you and he hopes everything continues to be uncool.....

A - Thank me for listening to him. It was sure nice hearing from me. The next time I come to Montreal don't come and see me. I'd like to thank me for letting you bring some girls up to my mansion in Montreal the night Joni Michael came to see me. And I took her tapes to a record company they wouldn't take them. Then a year later she got really famous. And I almost got in trouble you bring those girls up to the mountains. And I hope you got over your operation. And don't call me sometime when you get the chance and say bye to me.
---
Q25
Q - I see that you and James will be spending some time here in Chicago. I am thinking of bringing my sister and few friends to your show at Nevins and if not there the show in Cleveland. I don't know how to find the Cleveland concert. Is there an address or directions?

A - Bring your friends and you instead of you and your friends.

Sunday February 1st, 2004
The Beachland Ballroom and Tavern
Cleveland, Ohio
show is for ALL AGES
Call 216-383-1124 for instructions
---
Q26
Q - What does the future hold for Frank Wakefield? How long to you imagine you'll continue to perform onstage? Do you have any other records in the works? Of all the records you've recorded, which is your personal favorite? What do you look for when hiring band members? Is there anyone that you've worked with musically who you wouldn't work with again?

A - Just keep doing what I am doing now, writing music and procrastinating, and generalizing.

Since I still play ball, and I am 69 years, and as long as I don't get no zees or sickness, or even illness, I will continue to do what I am doing. And since I've been told that I am SOG I expect to live forever and play forever. I have been axed to move to the Carolina Islands and help a student of mine to run a plantation there, but I am still thinking about that. She is awfully ugly and it is mighty tempting. Only thing is, I wouldn't be able to play around here much anymore if I did.

(Do you have any other records in the works?)
I have one with Jerry Garcia and David Nelson. When I find a company that wants to give me some scratch for it then I will gosheate with them. Jim and I have a project in the works of Bluegrass Instrumentals too, man it is going to be something.

(which album is your personal favorite?)
That's not fair cuz I like them all.
With no offense with-gue you personally.
---
Q27
Q - Frank, can you explain your "pinching" style where you use both the pick and fingers? How exactly do you do it?

A - What I do is take my pick. I take my third finger usually and you don't need to have a long finger nail. I am usually on the D and the E string then I go up and down the neck with those strings. I also do that on the G and A strings. I make it sound like chimes. I use that for background.
---
Q28
Q - Frank, can you tell us how you came to perform with Leonard Bernstein? And is it true you thought he was Beethoven when you first saw him on TV?

A - Yeah, because it was about 68 or 67 and he was performing at the Arts Center. I didn't know Bato or Bach or anybody. Lena from Cafe Lena she knew everybody, she booked me on the David Frost show on a Thursday I think it was. Then it was Saturday that I played with Bernstein. I was really scared because I never had seen a sympathy orchestra before. All those trumpets and bugles. All those fiddles. The big cymbals the guy who hit that thing sounded like he took a sledge hammer hitting a rail. Make your ears ring. And they was playing the bass fiddles with bows. That was the first time I ever wore a tuxedo.
---
Q29
Q - Frank, I really like your latest CD, "Don't Lie to Me," especially "El Nino" and your version of the old Porter Wagoner song, "I Thought I Heard You Calling My Name." Did you record this CD live with the other musicians, or were some of the parts recorded separately?

A - Most the parts were recorded separately.
---
Q30
Q - Frank, what CDs do you have on your player now?

A - For years I listened to Monroe, and since I created my new style I vary seldom listen to anybody, unless they are my enemy or a student. On the road Jim brings live tapes from the 50's and 60's and we sing along in the car, but only to Monroe, Jim & Jesse, Don Reno, Red Smiley, and Flatt & Scruggs. I don't really listen to anything else.
---
Q31
Q - Who are some of your favorite musicians, singers?

A - The feller who's talkin to you. No offense to anyone else, but I am the only one I can learn something from. I guess Monroe & Lester together would be the exception.
---
Q32
Q - Who are some of your favorite mandolin players?

A - Bill Monroe and Frank Wakefield. And that's a fact!
---
Q33
Q - I was wondering do you use F sharp minor when you are playing bluegrass music?

A - I usually don't really need F# minor when I am playing Bluegrass in a band. I play an F# minor when I play by myself on the stage, because it is hard to teach the guitar players how to play in those kinds of keys. SO the only time I use it is when I hit a bad note, when the band is playing.
---
Q34
Q - I've seen you play a lot of times and I took up the mandolin. I hear other people play they only play single parts. What I want to know is how you play 2 parts at one time.

A - I put a tremolo usually on the G string and then I hold that keep the tremolo going then I reach down with my third or forth finger and pick the A E and D strings. Then this way it sounds like it did then then it does now.