Tut Taylor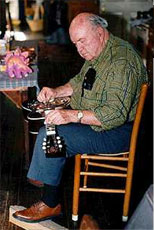 It's hard for me to remember back to a time before I'd heard of Tut Taylor, although I am a little older than that. My first exposure was through the genuine, authentic, steam-powered Aereo-plain. The release of this classic album shaped my musical tastes for the rest of my life; prior to that, John Hartford was the only one of these guys I was really familiar with. As I said earlier, truly the leading edge of the "Newgrass" movement, IMO. I discovered Dobro Country shortly after this, and I was hooked. Although best known as the"flat-pickin' dobro man", Tut is a fine mandolinist,and his Tut Taylor Music also built some mighty fine mandolins under the "Ode" and "Tennessee" brand names. It was during his association with Tut and his Tennessee brand instruments that Bob Givens built the original A-5 style mandolins.

The list of folks that Tut has performed and recorded with reads like a who's-who of old timey, bluegrass, and country music. He played mandolin with Roy Acuff at the last Opry performance at the Ryman, he picked with Bill Monroe and Roland White; he was business partner with Randy Wood in the Old Time Pickin' Parlor.

I could ramble on and on about the man and his music; I could tell the story of how I wore out 2 copies of "Dobrolic Plectral Society"; I could talk about his Grammy and IBMA winning performances, but as I stated before, to followers of the Nashville music scene, the man truly needs no introduction. Tut Taylor should be declared a National Treasure, and I know we'll all be enriched and better informed by having him as our CGOW.

David Drake (Regular Dave)"
---
Q1
Q - I think you must remember a lot of really interesting things, since you ere active in the early development of the bluegrass mandolin world. I have question relating to the Griffith School of Music material, long ago in Atlanta: I've heard that you acquired many interesting things when Mr. Griffith's property was sold in the 1960s, including mandolins, sheet music, and so forth-- could you tell us about that (sale or) auction, and some of the things you acquired? Were there many other people in your part of the country much interested in mandolins and mandolin music at the time? I'm sure that there are many younger mandolin players who would be amazed by the way the mandolin world was back then.

A - The Griffith School of Music was a Gibson representative (dealer, per se ) for many years. They sold, repaired and taught all stringed instruments. They had a huge mandolin orchestra and taught Students from their three story home and basement. The old home place is still there. It is possible they may also have done some teaching back then in a small two room building out back. In any event when I went to visit the little house was full of Gibson catalogs and sheet music. Dr. Wm.B. Griffith was assisted by his wife and one or two sisters in the music school. He played a LLoyd Loar F-5 mandolin. Sometimes his wife used it to teach. The points hurt her legs so he ordered her one without the points...Thus the A-5. I purchased the A-5 and Dr. Griffith's F-5 from a remaining sister in the early 1960's. During this time I also acquired several Gibson Catalogs and a few other instruments. To my knowledge there never was a sale or auction unless it came some years later. There was some interest in Mandolins back then. Particular the Gibsons. There were a few of us that played them back then.
---
Q2
Q - I would like to know how you got to know and came to be so close to the Kruger Brothers. I have Jens' banjo album which I play a lot. They are fabulous musicians.

A - I met the Kruger Brothers at MerleFest the first year they were there. Immediately upon listening to their music something in me acted up. My sub conscience told me that I had been waiting for this kind of music a long time. It hit a very responsive nerve in my musical background. After listening to them a while, I told Jens that all my life I've had all these notes in the back of my head waiting for someone to come along and play them.....he did. I've been very fortunate to been around these guys a lot. Lee and I have had the great pleasure of having them stay in home many times and I never cease to be amazed at their love of the music. This carries over to the people.

They just love to make people happy. In all my years I've had many heroes. Now the Kruger Brothers are my No.1..........Tutbro
---
Q3
Q - Who were some of your main influences on mandolin? A - I listen to just about everybody now and then. I have lots of heros.
---
Q4
Q - No doubt when the A5 Loar mandolin was discovered and introduced to the bluegrass music scene by you that a revolution was started. Copies were being made by most luthiers of the early 70's and still today top luthiers are coping the Loar A5. Can you recall the professionals that you let pick on it back in the late 60's? Since you have recently had the A5 back again on loan you renewed the faith and lore that this is a unique sounding Loar mandolin and possibly the best there is to be found. Other than Monroe's July 9th Loar, tell us other great Loars you have played.

A - I can always depend on you for some unique questions. I need them to keep the ole brain cells moving about, or whatever they do. That A-5 mandolin was and is the love of my life. I've played and seen many,many Loars in my lifetime but nothing like this one. The best I can remember it was played by Herschel Sizemore, Norman Blake, Bobby Osborne, Buck Graves, Harry West, Tom Morgan, Eldon Hooper and others. Bill Never played it. However I have some jamming tapes where we did some duets. Bob Givens was the first to make a coy of the A-5. There have been many since him. I played several Loars......Bill's many times, way back. Also Herschel Sizemore, Jim Smith, Louis Good, Dr. Griffiths and others I have long since forgotten about. I've had my share of the LLoyd Loar Goodtime Hour.
---
Q5
Q - I am curious about Big Mon's Loar. Was it really that great of an instrument? If so, what made it so. I know that we all get attached to OUR instruments and I'm sure we all probably overrate our own in the larger scheme of things,except for Tom and Rob Coleman, of course, who are right about theirs. Another question is about Bob Givens. I recently acquired a 1975 Givens F-5 No. 27 that I just love. The volume and tone are outstanding IMHO. My impression is that this one was built after his time with you. Did Bob have some kind of a special gift or something? Was he as big of a character as people say?

A - I could open a No.10 gallon of worms when I talk of Bill's mandolin. So I will be careful of what I say. You must remember I first heard Bill in 1939. Later met him in Macon, Ga. in the '40's. So I knew him and the mandolin a long time. It was a good sounding one. Bill and the Mandolin go together. Thus the sound that everyone attributes the mandolin to is the combination of the two.

He didn't take good care of it over the years so it suffered in structural, cosmetics and tone. It finally got so bad that he was about the only one to get the tone from it. To give you an example of the two mandolins ( F-5 and A-5 ) . The F is raw and tough....the A is dainty, tough and sweet.

The Loar F-5's do not have that sweet sound. It is truly one of a kind. I've never heard another one like it..........Bob Givens was a giant among craftsmen. Undoubtedly the best I've ever known. It would take a long time to sing all the praise of him. Your mandolin was probably made just after he left us and went back home. He was a thinker and doer.
---
Q6
A - What an interesting question. Soon after moving to Nashville I was invited to a picking party at Slick Lawson's home. Slick was a famous photographer and a lover of BG music. At the same party was John, Norman and Vassar. We were having a blast and laying down some good stuff John was intrigued with my flat picking the Dobro. One of us said " let's get socks alike and go on the road". We did........thus the Aero-Plain Band was formed. Little did we dream of the results when these four guys got together and came up with a different new sound. We weren't trying to achieve this...it just happened. Reason being, John was so easy to work with. He gave us complete freedom to play or not to. It was the combination of four guys doing their own thing together. It was a fantastic time. I learned a lot from these guys. Note: When we did the album John had David Bromberg come in and produce it. David had a little different musical background. He made the final selections. A short time ago another Aero-Plain album emerged. All the stuff we recorded (tons of it) was discovered and thus a more bluegrass oriented one came about.
---
Q7
Q - If you ever met Tut you'd quickly realize that he's extremely enthusiastic about life, always very friendly and seemingly always on top of the world. If more of us were like Tut this ragged old world would be a hell of a lot more fun.

There are 1000's of questions I'd like to ask Tut but it probably would be better for Tut to just talk about his life. He's been deeply involved in the traditional music business all his life and along with the hard times has probably had more fun than a man's allowed in one lifetime.

I'd love to hear him talk about some of his many interesting musical experiences; his first group through all his milestone groups, adventures, mis-adventures, businesses, "most memorial moments", greatest achievements, worst gig, hardest "star" to play with, the leather britches that grew mushrooms after being worn every day for several years ;-) , and the film of Mike Compton playing the legendary Prodigal A5............ or anything he wants to talk about.

We all have a lot we could learn from the Tut, the Nashville Sage.

A - I'm trying awful hard not to be embarrassed. I'm also wondering what happened to all those wonderful years. I receive great pleasure from all the questions on this list. Makes me realize more, that I was around when lot's of great things happened over the years. It's guys like you and others that bring back these memories and experiences. There is some stuff on my web site www.tuttaylor.com . I am in the middle of doing a book on my life and exploits. Hopefully it will be ready late 2003. It will be full of stories and pictures However it's gonna be hard to remember everything. The list helps me with this..........Thanks Tutbro
---
Q8
Q - This I have never understood. People would say, well Bill was a musician, he only cared about the sound, he didn't care about the looks of the mandolin. But, as you point out, caring for the instrument eventually has a bearing on the sound. He seemed to love the music so, and love the mandolin so, what was it in him that he would let this central object of his life deteriorate through neglecting it. Doesn't a good workman take care of his tools?

A - Some do........some don't..... I don't think Bill intended his mandolin to be neglected. He was into so many things and working on the road so much that it probably happened and he didn't pick up on it. You know.........it's like looking into the forest and not seeing the trees.........
---
Q9
A - Like I said before.........I can't say enough about Bob Givens. He almost single-handed brought the whole instrument making process forward. Living in California he had access to all the old vintage stuff through friends and others. Bob was one of the very first to began making 5-string banjo necks for the hundreds of Tenor banjos around. He had an IQ of genius.

Bob was a serious thinker. I've seen him sit for hours contemplating a design for a part or machine to perform certain hand made operations. After he came to Nashville and went to work with us he did the following....... Designed a carving machine for mandolin tops and backs....Built a machine to rout mandolins for binding mandolins, including the tricky F models. An numerous other jigs and fixtures. The man was just the epitome of a great craftsman. He set the pace for the others to follow........I'm glad I knew and worked with him..........Tutbro
---
Q10
A - You're not dumb. I find it amazing the way people learn the music. As for me I don't read or write music. I depend entirely on my ear. I used to be able to play any one my tunes at the drop of the hat. Can't anymore. The memory bank doesn't function as well. By listen was the only way I had to learn back when. I was always a melody person. Sadly today, a lot of people learn the chord progressions and then just throw in a bunch of notes..Now that is.........?
---
Q11
A - The prices for Loars today is interesting. They will go higher because we live in a world that in some areas is trying to capture the past at any cost. Mandolin players are no different. The sad part of this is , that there are a lot of mediocre F-5's that bring the same money. This says something to me. I will never forget.........way, way back, Lloyd Loars were low. I sold one for $800 and just for fun I put and AD in BU for $ 2000. It sold right away. They've been going up since then. Someone accused me of starting the upward trend. So you guys that are paying the big bucks don't look at me. Just figure how much I lost. It's always been fun with instruments over the years. An announcement about the video session will be forthcoming at a later date..........Tutbro
---
Q12
A - There is no prior history of the "Hoss" . At the time it was just another mandolin laying around to be sold or traded. I had no idea of what history would do for it. I am in the process of doing my book. I'll keep everyone posted..............Tutbro
---
Q13
Q - I don't think anybody has asked this question: Who are your favorite dobro players who you like to listen to?

A - My all time favorite Dobro Player is Curtis Burch. I like Gene Wooten, Ferrell Stowe, Oswald, Jackie Ray and hundreds more. They have all added to this instruments growing popularity for which I'm thankful.
---
Q14
Q - The week is ebbing away and I want to hear some good stories about some of our bluegrass pioneers before it's over. Give us a good story or two about Bill or Lester or Earl. I'll even take a good Red Rector story!

A - Most of my stories are already in print somewhere. One time when visiting with Lester and Earl in 1951 they were living in house trailers. Being always ready and willing to move onto other radio stations when the listening area had been covered with personal appearances. We were talking and it was about time to eat and I said "jechet". Needless to say it took them a while to figure out what I was saying . I spoke in my Georgia dialect. " Did you eat yet ". Oh well.......those were the days.
---
Q15
A - I'm a little late with your reply ( I lost it ). Mark was building instruments with me but did not begin Mandolins until after I purchased the defunct Grammar Guitar Company and Bob started with us. To my knowledge Bob was the first to build the so-called A-5 Mandolins with the longer fingerboard. Prior to the the A-5, A-Models had a 12-fret ( to the body ). The A-5 Models Bob built were 15-frets to the body. There is quite a bit of difference in the A-5 of today and the original Loar A-5. Stay tuned to this list. I will have a very important announcement soon. It will make a lot of dreams come true.........Tutbro
---
Q16
THE LLOYD LOAR A-5 MANDOLIN

Tut Taylor is proud to announce the best mandolin news in decades. It has been my desire ever since I acquired the Griffith Lloyd Loar A-5 to share it. I was always inspired by the beauty, tone and punch of it. Due to financial problems I was forced to part with it back in the 70's. Lo and behold I was able to have it back for a while. It had been away for 27 years. I couldn't believe it. I was so shook up by it that I immediately composed a new tune for it, " The Prodigal Five". It had been away and returned like the prodigal son. Now for the good news. My son Mark is introducing the new Prodigal Five this spring along with a custom case like the old ones. We will spare no details to offer you an exact duplicate of the original Lloyd Loar A-5. They will be hand built in lots of twos. This way we keep the tone consistant as possible. More information will follow. If you are interested please send us you name and we will put it in Prodigal-5 folder. We will file these in the order in which they are received. Mark Taylor is no stranger to the Mandolin world. He is the only other one that has had much exposure to this mandolin as I have. Rest easy folks . I will be heavily involved in this magnificent adventure. More later. You may send inquires to www.tutbro@juno.com Since I was honored to be a guest on the list I thought it only fitting that I should make this announcement at this time.
---
Thanks for a wonderful week. You asked a lot of questions, stirred up a lot of memory cells. Thanks for a wonderful week. I will keep you posted on the Prodigal 5. In the meantime, If I can be of service, please let me know.........Tutbro

Tut Taylor "The Flat Picking Dobro Man"
1627 Lisa Drive / Maryville, TN 37803
PH.(865) 977-8181 / tutbro@juno.com
www.tuttaylor.com
KRUGER BROS. # 1 FAN
---
Thanks to Tut Taylor for a great week. Tut, please feel free to stay signed on and participate in the future. We may need to reschedule Tut for an additional week or two down the road. What a repository of great musical knowledge and experiences. I think the Progidal Five is a great idea and I'm sure there are listmembers who will want to order one. Also, I am looking forward to the book.

Thanks Tut.