Tony Williamson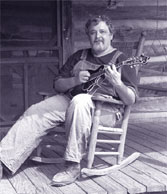 Our Celebrity Guest of the Week starting today is an outstanding advocate of the art of the mandolin. An excellent player whose repertoire spans bluegrass, blues, jazz, swing and classical, Tony Williamson is also a living encyclopedia of mandolin history and lore who, I have long thought, should write a book on the subject.

Tony was born in rural Randolph County, North Carolina, to a family of farmers, woodworkers and self-taught musicians who settled that area in the late 1700s. His grandfather made his own instruments (his personal banjo is in the North Carolina Museum of History) and inspired his grandchildren to play music. By the 1960s Tony had won the mandolin competitions at Union Grove and Galax and he and his brother Gary were making recordings, appearing as The Bluegrass Gentlemen and later The Green Valley Ramblers. A year with The Bluegrass Alliance in the 1970s took Tony on the road and gave him national exposure.

From his home in Siler City, North Carolina, Tony runs Mandolin Central, dealing in vintage instruments as well as those made by some of the top contemporary luthiers. Having his wife and partner, Germaine, to manage many of the day-to-day aspects of the business gives Tony the time to pursue other projects such as his video, "The Sound of the American Mandolin," which many consider the most informative documentary of the evolution of the modern mandolin's design ever made. Building on this idea, Tony next "took the show on the road," presenting programs which showcased a part of his collection of mandolin and guitar family instruments and showing the unique character of each.

Not content to limit his field of musical expertise to Bluegrass, Tony has performed with symphony orchestras and has presented programs at the conventions of the Classical Mandolin Society of America. He has released at least five really fine CDs, both as a soloist and with his brother Gary as a duo, and is an in-demand studio musician for albums produced by many others.

Enough said. My own experience with Tony is that if you ask, he will return a very thoughtful answer. He has a wealth of information in his head that we need to know. So -- ask away!

Max McCullough
---
Q1
Q - Tony, you've seen a lot of mandolins bought and sold over the years. To what extent do you feel that collectors in Japan and other Pacific Rim countries have contributed both to the rising prices and scarcity of good mandolin-family instruments? Are they holding them or reselling? Where do the really good ones go today?

A - The Myth of the Japanese mandolin collector will now be debunked. It is true that there have been insanely ostentatious collections of American guitars and banjos assembled in Pacific Rim countries, and occasionally these collectors will a few mandolins mandolins, but by FAR the mandolins sent to Asian countries have been to players, some of whom are very accomplished. The Japanese people I know love, cherish and maintain their instruments at LEAST as well as our customers as home and are even more dedicated to playing music. My experience with this group is that they are honorable in their dealings and extremely conscientious in representing what they have and expect no less from me. When an instrument gets traded back,it arrives in at least as good a condition as it was when it went over (if it survives the handling, of course). I once underestimated shipping and handling to a Japanese customer, and since there are certain challenges in exchanging international currency, I decided to let it slide. It was only around $50 so I figured, what the heck. Well a week later there was an unsolicited wire transfer of $50 into my account. This has never happened with an American customer.

For a number of years in the late 80s and early 90s, the yen was so strong against the dollar that a Japanese musician could buy American instruments from a dealer like myself, pay my retail price and get a 40% discount when their money was converted. This, along with a dramatic growth of acoustic music at home, created a buying frenzy. Having this influx of foreign money into the relatively small instrument market gave our little business a big shot in the arm and prices soared. A lot of this was driven by vintage electric and Brazilian Rosewood acoustic guitars. But the entire vintage instrument market soared, and mandolins came out of the closet for record sales. When the yen went down, that money disappeared and the market started to stagnate, leaving most of the mandolins in the hands of players,dealers and player/collectors. Most of these people do not want to sell. Of course we are all aware of the US=B9s current financial woes, and the instrument market has slowed somewhat, but the top end prices(Loars and ferns) continue to soar as demand is greater than ever. Good pieces do not come back on the market until the price is dramatically higher than the owner paid. On the other hand, I think most prospective buyers are bargain hunting. If you have the real deal, a prime piece that has not been messed with (yes this includes regraduation!) it will still command top dollar, but it may take a little while to sell. At this point, if you have a collector's item, you are much more likely to sell it at home than overseas... And if you see a purchase opportunity that sounds too good to be true, it probably is.

The Loars are no longer in the attics. Where are the really good mandolins these days? Most of them seem to wind up in either North Carolina or California!
---
Q2
Q - Tony, I have admired your style of playing for a long time. You seem to use more chord solo ideas than many of the prominent mandolin players. How would you describe your style and who were your primary influences? How do you try to incorporate chords into your solos?

A - I play what I feel, and I try to play clean. I want to synthesize all I have learned and channel that into an intelligent statement, but I want the sounds coming from my instrument to be my own. I want my mandolin to evoke pathos, joy, excitement and surprise. I shun idle chatter. My style is a common thread that weaves thru many forms. When I play bluegrass, I want it to sound like bluegrass and when I play jazz, I want it to sound like jazz. When I play duets with my brother Gary, (as on the Rocky River Home CD) you will not hear many Charlie Parker riffs. When I do the old time stuff,I play the style I started with, and it probably sounded very similar 30 years ago. That's why some of my recordings sound very different from others,for example play. Mr. Ambassador from Across the Grain and follow that up with any cut from the Let Us Cross Over the River album, and to most people it would sound like a different guy. I like having many facets, it keeps the music interesting and fresh.

I never had the opportunity to take lessons. My Dad and Grandfather played a style of music that dates back to my ancestors=B9 first arrival in central North Carolina around 1740 (they told their descendants that they came from the British Isles, but in truth they came here from West Virginia!). I started fooling around with the mandolin in 1957 at the age of 4. Since my had played banjo, my grandfather played fiddle & banjo and my brother played guitar, I worked out on the mandolin at every opportunity. The music we played were the old songs, Soldier's Joy, Darlin Nellie Grey, Up and Down the Old Plank Road, Stompin the Clover Sweet Nellie; and Of course the shape note gospel music we sang with my mother and aunts in the Holiness Church.

The first recording of a mandolin I heard was Ted Hawkins from Atlanta. He was the mandolin player with the Skillet Lickers and also did some duos with guitar great Riley Puckett. Boy could those guys play! I also grew to love Bill and Charlie Monroe=B9s music on my uncle's 78 rpm player, and my grandpa had seen them live at the old movie theatre in Ramseur.

I went crazy over Bill Monroe sometime around 1959-1960. My cousin started a lifetime ritual when he drove me to Greensboro, NC to see Bill Monroe and the Bluegrass boys, and was I hooked. Monroe loved kids so much, and in those days, he never failed to make me feel like a million bucks. We would sit on his bus and play mandolins between his sets. I wrote a 90-page biography of Monroe based on these interviews, I think I was in the 7th grade. I sat on the Bluegrass Special with Bill while he slowly read the entire document, and except for some comments on the sections on his break ups with brother Charlie and Flatt and Scruggs, he was delighted with my work. (He was familiar with Ted Hawkins, and he would mention Mose Raglan also) Bill was proud of my schoolwork and encouraged me to continue to my education.

Bill Monroe got me to thinking about music from a chordal approach. I loved the way he would work out of his chop chord voicing (he the first guy to use that voicing, and it really didn=B9t gain prominence as a timekeeper until after Scruggs left the band) but his pinky would dart out and grab the melody note. I was a militant Monroe disciple during those formative years, and I collected his entire recorded work. I eschewed all other styles and performers. Flatt and Scruggs and the Osbornes were way too avant garde,the Stanley Brothers & Jimmy Martin just barely squeaking in under my radar..

I also began writing my own songs as a result of encouragement from Monroe. When I graduated from high school, I received a full Johnston scholarship to the University of North Carolina at Chapel Hill, which was a very liberal place in the late 60s and early 70s. For the first time in my life, I realized there was a big world out there off our farm. It was as if I had been shot out of a cannon. I discovered jazz and classical music, and jammed endlessly with anyone on any instrument. I listened to rock and folk. I grew a beard. At the festivals, I started hanging out with guys like Sam Bush and Courtney Johnson and the New Deal String Band. I collected vinyl recordings of every form. From Maria Scivaritaro Beethoven sonatinas to Homer and Jethro's Playing It Straight to every recording Charlie Parker ever made... just to name a few from the collection I assembled during this period. I was playing gigs with the Green Valley Ramblers and we worked constantly because of the demand the Bonnie and Clyde craze had created for bluegrass music. The money I made playing these gigs funded my record collection as well as my obsession for acquiring fine musical instruments. When I went to see Bill Monroe during this period, he saw a young man in a T-shirt in need of a haircut, so he turned around and went the other way. We got back together in the late 80s and 90s, but for a while he didn=B9t speak to me. I had met David Grisman in the mid 60s when he played at the great fiddlers convention at Union Grove NC with the New York Ramblers. Over the years, he has turned me on to the great wide, wide world of mandolin more than anyone else. Dawg sent audio and video tapes of great mandolin players, and of course it was David Apollon who blew my mind completely! In fact, to this day, Dawg has constantly offered information, recordings and encouragement. More than anyone else, he has raised the bar on the quality and quantity of all things mando!

Also, I was corresponding with Jethro Burns who sent tapes of his incredible mando playing mixed with hilarity. When we finally met, it was an incredible orgy of beer and mandolin playing from which I may never recover! And of course, I never missed a chance to jam with fellow Jethro devotee Sam Bush. In those days he was with the Bluegrass Alliance, a band that I played with a few years after he left.

It was Jethro who really got me thinking about the chord thing. He played all those great chord solos rarely using his pinky. His chord richness blossomed when he became a solo player, because after all if you are playing mandolin all by yourself, you better have something going on. He would play just three notes per chord, but they would be three really cool ones. I started trying to do this myself, taking it a step further and trying to bring Charlie Parker type voicings into my music. At the time I had started a jazz trio with Don Mercz (guitar) and Robbie Link (bass) where we fattened our chords to make our trio sound like a larger band. For example,if the bass is on the root, and the guitar has strong root voicings, this leaves the mandolin free to play the flat five, flat nine, 11ths or whatever tone in the treble that would color the chord with the right spiciness. I would not even bother to play the root! I became very fond of dominant tension and deceptive ways of resolving cadences. Some of this style has been preserved on the album =B3Across the Grain. Check out the trio cuts and perhaps you will see what I mean.

When I started doing more solos, all I had to do was to use these voicings and add a bass line of roots and fifths. I am currently working on a sound which leaves the thirds out all together. This is what James Joyce refers to as empty fifths, which is not unlike Sunday morning at the CMSA.

Today I live and work back on the farm, and sometimes I listen to Ted Hawkins! And of course, we pick all the time, which sometimes keeps me away from the computer and telephone for extended periods. A recent review of my new album, Still Light of the Evening said something to the effect that if I had ever heard any recordings made after 1960, you could hardly tell it. That tickled me, because that was what we were going for on that recording. But ironically, when my son read me that review, we were driving to a gig listening to the new Nickleback CD.
---
Q3
Q - Tony, the first time I heard your playing, it was on the Jerry Stuart album "Rocky Run," on County, from 1978 (?). I was wondering if you could talk about Jerry Stuart some. It seems to me that he is one of the great bluegrass mandolin players, but I would bet that a lot of people don't know about him.

A - The Rocky Run album for County Records was recorded by engineer Bill McElroy in 1977 with Jery Stuart on mandolin, Albert Vestal on rhythm guitar, Bobby Hicks on fiddle, Tom Gray on bass, Gary Williamson on banjo and myself on lead & rhythm guitar. I was working for producer Barry Poss who later started Sugar Hill Records) and I suggested an album of Jerry Stuart's great mandolin playing and songwriting. I was on tour with the Bluegrass Alliance at the time and had to fly in from Thief River Falls, MN, to Washington DC to record at Bias. This recording also marked Bobby Hicks'return to bluegrass after a 16 year stint in Judy Lynn's show band in Las Vegas. Most of the songs were written by Jerry, but I contributed a song "Land of the Dead" that I had written when my high school sweetheart dumped me. I also did one mandolin track-- a harmony tract on Misty Mountain.

Jerry Stuart is a legendary mandolinist from Siler City, NC and a founding member of the Green Valley Ramblers (started around 1962), a band I later joined. He and neighbor Paul Beane were intense Monroe disciples back in the 40s and 50, they had every 78 rpm recording by Big Mon. Before and after each mandolin break, there were scratches from setting and resetting the needle so many time. They absolutly had the Monroe style down, and both admonished me for playing up and down strokes insteadof down strokes as Monroe did in those days. (I switched to all down strokes for several years,I figure this held my mandolin playing back at least a decade :)

Jerry had studied in Washington DC during the late 40s and had a band that included Pete Kuykendall (of Bluegrass Unlimited fame) and Tom Gray (bass hall of famer). They recorded one of Jerry's songs "Rocky Run" with Smiley Hobbs on the fiddle for a Folkways compilation called Mountain Music Bluegrass style. This record was very influencial, sort of a primary version of Down From the Mountin, that also included the great mandolin playing of Earl Taylor. During this period Jerry had a chance to go with the Stanley Brothers, but he opted to come home and focus on family and career. That has been his priority since, and is probably why a lot of younger people do not know about him. He still lives in Siler City and plays great. Last fall, we did a Green Valley Ramblers reunion concert and it was a wonderful festival event. Jerry asked me to play "Land of the Dead" right as "I could see the the sun slowly sinking" (which is the first line of the song), and he slyly evoked the memory of that girl from long ago as I started to sing. Boy was that a magic moment, I still have chill bumps just thinking about it. That's the kind of guy Jerry is, he always knows what to say to get a good performance, and his specialty has always been original songs, and he nurtures originality in others. Thank you so much for bringing up the name of this little known mandolin great.
---
Q4
Q - I own two Gibson Model A's. One is a complete and original 1924 A-1 and the other is a 1926 "Style A" that I purchased from you back in the early 90's. The '26 which you sold me just blows that socks off the '24 snakehead in balance and richness of tone; The snakehead has a slight advantage in volume. I have played other snakeheads that put my '26 A to shame so I'm wondering, would it be an acoustic crime if I were to take my snakehead (the A-1) to a luthier and have it "worked on".

Last week I read intently as John Monteleone described regraduating Mike Marshall's F5 top and back, etc. As someone who obviously appreciates instruments that are in original condition, is such a modification something you feel comfortable recommending, assuming a reputable luthier is willing to do it?

Thanks for finding me a great mandolin, and thanks for your insight into the topic of modifying vintage instruments.

A - I do not recommend regraduating a fine vintage instrument unless all other options have been exhausted. Read my recent posting "The Virzi Vortex" to see why I think Mike Marshall's Loar had to be regraduated.

Set up could make a difference for you. In many instances, people have brought me mandolins that did not sound right, and after about 30 minutes they could not believe how great it was. Make sure your bridge placement is correct, in all three physical dimensions. Moving a bridge 1/32 of an inch out from either will detract drastically from sound quality. If the members of Comando would like to read a description of my method of bridge placement, let me know and I can post that. Also many other physical factors can detract from the sound, for example a loose tone bar, a bad neck set, or even loose tuner screws can all make a great mandolin sound horrible.

If you have a vintage instrument in original condition and you have exhausted all your trouble shooting possibilities and it still does not suit you, then perhaps you would be better off to sell or trade for one you like better. That mandolin may be perfect for someone else who has different requirements/expectations. Finally, in my opinion, it is better to adapt yourself to your vintage instrument rather than to try to adapt it to yourself. If it doesn't work for you, find one that does.
---
Q5
Q - As you evaluate the work of contemporary mandolin builders, what do you look for in a new instrument to convince you that it will develop into a great mandolin? What are some of the danger signs that it may sound good today but not hold up over time? What do you find that your customers are looking for today in a newly-built instrument?

A - I look for symmetry. I like to see the top curve smooth and Pathagorean, gentle arch in the soundboard that crowns at the bridge. Not too much arch, or the balance will not be there. I like to see a clean fit of the neck joint, and smooth lines thruout. When I sight down the neck, I want to see a gentle curve just slightly dropped from perfectly straight, not dips and valleys with a little hump where the neck joins the body. Soundwise, I look for balance. There is a bassy, hollow sound that tells me the top has been graduated too thin, and is in danger of caving in. This mandolin might have incredible volume, but will it last? This and neck problems are the worst thing that can happen to a mandolin, and a maker usually has to make a lot of mandolins before he can predict the future of his product.

The top of a mandolin with medium guage strings has 180 pounds of pressure on it at concert pitch. A mistake of 1/32 inch in thickness graduation can make the difference between a mandolin that will sound awesome and one that will cave in. Each piece of wood has different strengths and tonal properties, and it takes a lot of experience to know exactly how to treat it. You can't just measure a famous mandolin and build exactly like that. The odds are, some may turn out right, but you may also get a few stinkers in there as well.

I think my customers want an attractive instrument with great sound that will continue to improve, with value that will hold or increase. This is my goal for all the new mandolins that I provide my customers.
---
Q6
Q - I'm fascinated by the mandolin/mandola hybrids that briefly appeared in the vintage world, whether from Vega or the famed Loar mando-viola. The general consensus is that none of the vintage builders really got it right, they were either pushing the envelope on the treble or bass side. Have you ever encountered a really nice, well-balanced 10-string mandolin/mandola in any tuning, vintage or modern that passes muster?

A - I must admit I¹ve never played a 10-string that turned me on. I have never played the famous one built by Loar, however. (To Whomever has that, may I come by and play show and tell sometime?) I do not care all that much for the Vegas, much to Walter Kaye Bauer¹s disappointment. I felt that the Vega soundholes were in the wrong place! Besides, I feel that 10 strings are too many to try to keep in tune. Heck, eight are hard enough.
---
Q7
Q - I would like to ask about your main instruments you are playing now. What are your main instruments that you are playing now?

A - I have two resources where I showcase my personal instruments. One is the cd "All for Naught" which features digital recordings made with KM-84 Neumann microphones with no effects or reverb so you can hear the true sound of each instrument. The other is the video "The Sound of the American Mandolin. My main axes that I play on a regular basis include:

March 31, 1924 Gibson F-5 mandolin "Lloyd" This is my main axe. It's the one that I have played since the 70s. I still play this mandolin every day and take it to most of my shows.

January 1927 F-5 mandolin "Fern". The Fern cuts so good I bring it to the stage when thar's banjers to be tamed.

1995 Randy Wood H-5 mandola and 1994 Randy Wood K-5 mandocello. The best sounding ones I've ever owned. Either one will give a Loar a run for the money.

1938 Gibson J-35 guitar. It lived many a night on the poolroom table, but what a sound! Ragged but right.

1931 Gibson L-5 guitar. I use this one alot on the gospel records. It's also the one on the jazz cuts on "Across the Grain"

1936 Dobro model 1937 resonator guitar. All original houndog that would make Curtis Lowe proud!

1937 Martin D-28. This is absolutely the best year for Martin guitars, when great sound met great necks!

1924 Gibson A-1 Snaketop "Old Blackie"

1923 A-4 H-2 K-2 J-1 Red Sunburst mandolin family set.
---
Q8
Q - What else interesting do you have in your collection?

A - I am not a collector. I have a strict 'play me or trade me' policy. That's why I no longer have the wonderful K-10 mandocello. when I got the Randy Wood, it sounded and played so much better, the old K-10 had to find a new home. I consider my instruments to be like hues on an artist's pallet. Sometimes you get to the point in your recording/performance where only a Virzi Loar will do. So it's essential for me to have a lot of different instruments around and I was fortunate enough to get into it back before the decimal place moved so far to the right! I'm not going to list my entire arsenal, however. I will be bringing out some remarkably interesting surprises on my next recordings that my fans have not yet heard. And besides, there's three things a gentleman never discusses with his friends: Religion, politics, and how many Loars he's got... Or where the still is.
---
Q9
Q - If you could add one instrument to your collection, what would it be?

A - Thou shalt not covet thy neighbor's axe. Although there are many wonderful instruments out there, I am so happy for what I've been blessed with. Perhaps a better question would be 'what do I think are the top ten mandolins of all time'?
---
Q10
Q - Would a fair comparison be that a Virzied instrument is to a non-Virzied instrument like a humbucker is to a single coil? That's the best way I could describe the differences I hear in the sound. Most of the musicians on the list would probably understand that.

A - I tend to think of it like the sympathetic strings on a sitar or maybe the second wing of a bi-plane!
---
Q11
Q - What, in your opinion, makes the Gibsons from the Loar/Hart period special? Was it better quality control? Why is it that so many of the snakehead A's sound better than the paddle-head counterparts?

A - I prefer to think of it as the Loar-McHugh period. As I understand it, Hart was the accountant. He also took over as general manager after Loar left and there was no oil varnish at Gibson for 75 years. He saved the factory from financial ruin, but the mandolin quality began a downward spiral. McHugh was the guy in the coveralls with sawdust in his hair. He got the patent on the adjustable bridge, the truss rod, the flathead banjo construction. He had to have been the coolest guy and I bet anything he was the dude that Lloyd went to when he was excited about a new idea: ³Ted, Can we actually build this?² ³No Mr. Loar, that¹s impossible, but we¹ll do it anyway.²

My grandfather was like that. He built everything from scratch, his home, his bed, his rifle & knife. He worked in a furniture factory 10 or 12 hours a day,then pushed a wheel barrow to and from the furniture factory so that left over table legs could find come home with him, then eat some homegrown food or something he shot or caught on the walk home and then go to his shop and build really cool stuff, like the curly maple bed I sleep in or like the banjo that was in the North Carolina museum of history. This was the mid-1920s and this kind of craftsman signed on for life. Meticulous attention to function was the key. All across the world, American made really meant something. Even the cheap instruments from the 20s were great. There was no market for disposable crap because no one disposed of anything.

This is why snakeheads are often better. Gibson craftmanship came to a quality pinnacle in the 20s that carried thru their entire line across the board (ever seen a paddle head from 1924? They are rare, but If you find one, It might surprise your snake). The only advantage of the snakehead is that the strings do not touch each other between the nut and the tuner post. this may make the tone a little clearer and definitely cuts down on buzz. That¹s why the 20s F-5s have the tuner posts that pull away from the gear. They sacrificed that to keep the strings from touching.
---
Q12
Tony¹s top ten mandolins:

Here goes off the top of my head. I have not considered my own mandolins, nor have I included any that belong to friends or customers that I feel may prefer to maintain their privacy. If I were to succumb to mandolin envy, here is a good start:

Bill Monroe¹s July 9, 1923 F-5 Before the fire poker incident

Loar Loar¹s Prototype, June 1 1922 F-5

Dave Apollon¹s 1927 F-5 Fern

David Grisman¹s 1922 F-5

Earl Taylor¹s 1927 F-5 Fern

Howard Frye¹s 1923 A-Jr with modifications

Charlie Rappaport¹s January 1923 with Virzi (the first factory Virzi)

Sam Bush¹s Ole Hoss, 1936 F-5 with modifications and electronics

Red Henry¹s Randy Wood F-5 #1

Ronnie McCoury¹s Gilchrist F-5
---
Q13
Q - Folks would very much appreciate your posting your aforementioned advice on bridge placement technique.

A - The following was excerpted from a series of articles I did for the CMSA newsletter in the mid 90s.

Bridge Placement and String Compensation

The most common complaint I hear about fretted instruments is that they don¹t play in tune. Many, many times we have had customers walk in and say "I have the open strings on this instrument in perfect tune and yet when I play the fretted notes, especially in the higher positions, it sounds terrible". To correct this problem we must first understand the basic mechanics of the stretched string.

Tighten any string and pluck it. Find and hold the point that divides the length of the string in half, and a curious phenomenon occurs. The pitch of the string on either side of the point is the same, and these notes are one octave higher than the pitch of the open string. You will also notice that at this same point there is a harmonic. In other words, touch the point very gently with your finger. Now pluck the string with the other hand and immediately release the point you touched with the finger. The resultant "chime" sound is called the harmonic. It is also one octave higher than the pitch of the string open. (Similar phenomena occur when the string is divided into thirds, fourths, etc. This is how the Ancient Greeks discovered the scale in the first place.) Note that the pitch of the string stopped at the half way point is the same as the pitch of the harmonic at that point.

Plate 1: Drawing for stretched string

Fretted instrument builders place the "bridge" of a musical instrument under the stretched strings with the frets acting as a graph of the scale. In theory, the half way point of the string is at the 12th fret. Since most mandolin family instruments have movable bridges, they are often in the wrong place, but conversely they are fairly easy to adjust by following this simple procedure:

Sound the harmonic at the 12th fret and play the fretted note at the 12th fret on each pair of strings. They should be the same. You may want to use an electronic tuner for accuracy. If they are not the same, loosen the string tension enough to move the bridge and go to step 2. Never move the bridge with full string tension.

If the fretted note sounded flat, the string should be shorter, so move the bridge forward, toward the peghead. If the fretted note sounds sharp, the string should be longer, so move the bridge back toward the tail piece.

If you have a properly compensated bridge, it is suffcient to work with just the outside strings, the E and G on the mandolin, to find the proper position of the bridge. Always be careful to make sure the bridge is not tilted against the top of the mandolin and the strings are situated evenly in the middle of the fret board. Again, be careful to release a good deal of the tension before moving the bridge. Moving the bridge with strings under tension can damage the top of the instrument and/or the bridge.

Bring all the strings back up to pitch and check the harmonic notes at the 12th fret. All should be close and the mandolin should now sound in tune all along the scale. If problems still exist, the bridge may not be properly compensated.
What is compensation? As I said, the 12th fret is theoretically the halfway point of the stretched string. In actual practice, this is rarely the case. The actual string length must be slightly longer than the mathematical scale length because the bending and stretching you do in fretting the string would cause it to go sharp if the bridge was not compensated. And since the strings are of different gauges (diameters) and materials, the bridge must be compensated differently for each string.

Therefore, if you make a radical change in string gauge or string material on your mandolin, you will probably need a different bridge placement, if not a different bridge, to make it play in tune. Similarly, a change in action or string height will require a different compensation, but this can usually be taken care of by moving the bridge as described above.

The Gibson scale (13 7/8 inches friom nut to bridge) was started in the early 1910s and the reasoning recited in the old Gibson writings was that they started with the violin scale which has been standardized at 13 inches, and the added 7/8 for the collective width of the frets. This does not account for th 29 fret F-5s, or for wide frets often used today. I think it suffices to say that 13 7/8 inches is a fairly comfortable scale to play, and has, through its survival, become the stardard mandolin scale. Interestingly enough, the Lyon and Healy company shortened their 13 7/8 scale around 1920 down to 13 inches in an effort to attract more violin players to the mandolin. The old Gibson adjustable bridges from the 1920s were compensated very accurately for medium gauge strings, the E and A being plain steel and the D and G being wound with a softer alloy like brass or nickel silver.

Mandolin Central was the first music store to offer a very faithful reproduction of this bridge. (We feel that several bridges that have been on the market over the years, especially cheap Asian imports and the1950 to 2002 Gibsons and most Flatiron models, have very poor compensation).

If you are still having intonation problems and have a non-standard scale, action or string gauge, you should have a qualified repairman make a custom bridge to correct the problem. (A good example here are the Thomastik strings which are all wound require a slightly different compensation than strings with plain (unwound) As and Es. Once you have arrived at a set-up that works for you, change your strings one at a time being careful that the bridge doesn¹t change position.

Remember that no fretted instrument plays perfectly in tune. Octaves and fifths are pure, but other intervals require tempering, especially when playing in keys with lots of sharps or flats. To do this, check various fretted notes with your tuner and make sure the roots and fifths are correct in the key you are in.

Being in tune makes playing more fun for you and more listenable for the people around you. With a little care and knowledge, anyone with a well-made mandolin should be able to make pleasing sounds for all to enjoy.
---
Q14
Q - I have a question regarding the idea of having "drone strings" in a mando as some fiddle manufacturers have used to thicken the sound of a fiddle in some way.Has this ever been tried by a mandolin builder?

A - No I have never experimented with drone strings, but would be interested in hearing about it if someone else has. Sometimes the odd tunings (like Bill Monroe's Get Up John and Bluegrass Ramble--the latter which is the inspiration for Jerry Stuart's Rocky Run) give a certain effect that I think might be what you would be going for. A mando-sitar? Why not!
---
Q15
Q - Someone mentioned a while back (and this may have been three or four years ago, time flies on Comando) that there is a known problem with fret spacing on some Gibson mandos from 1924 (maybe other '20s years too but I think that was the reference). Can you shed any light on this? I have a '24 A-1 that sounds great when I play it by myself but sounds out of tune when I play with other people in other than first position. I've done all the right stuff about setup, bridge placement etc. that I know how to do or have read how to do. Is there any hope other than having a new fingerboard put on?

A - Yes, there was a bad batch of A-model fingerboards in late 1924, usually associated with the plainer snakeheads. I seem to recall discussing this in the past with Norman Blake and Max McCullough. Sadly, the frets are in the wrong place and your options are to either fill and refret the existing board or install a new board. I would have to see the mandolin to know for sure if yours is one of those, but that sounds like the case.
---
Q16
Q - I would like to eventually purchase a 1924 Gibson F4 mandolin that a friend now owns as it was left to her by her mother. My friend is not actively trying to sell it, but she does not play mandolin, so she offered to sell it to me when I can get the funds ($4,500) to spare. It's a really loud, toneful F4 that is great for nearly everything except bluegrass. Sounds great all the way up the neck and it seemed in excellent condition, especially for its age. Problem is, while a luthier was in the process of changing the strings and a maintenance check, he discovered two cracks in the top hiding under the pickguard. They are neither very fine cracks nor very major cracks and they do not run the length of the top although they might worsen before I can actually buy the mandolin.

My question is: How do you think (without actually seeing them) these cracks might effect the dollar value of a vintage F4, and, even after the cracks are repaired by a qualified luthier and it is inspected for other problems such as loose braces, should I be concerned over this F4's future structural integrity?

A - Without seeing the mandolin, I cannot tell you whether or not you should buy, or how much it is worth. Usually cracks are a sign that something went wrong, and sometimes fixing the cracks does not fix the problem. There could be a loose brace involved, which can lead to top sinkage. Top sinkage is a major problem and could reduce the value of an instrument as much as 75%. However, minor cracks are usually caused by abrupt changes in temperature and/or humidity. These type of cracks do not distort the symmetry of the mandolin, and can be rendered harmless by a good repairman. Sometimes, they can be made to disappear by a great repairman. However, great repairmen are expensive, and you should also be prepared to be patient yet respectfully tenacious in getting your work done. You need to factor in these costs when deciding whether or not to buy. Also a primary consideration for me would be how does it sound?
---
Q17
Q - Do you use a practice routine or a set of exercises to warm up before playing or performing? If so, what are they?

A - I begin by stretching. Tips of the fingers on a desk, push from the elbows, flexing the wrist. Twenty reps. Then, I do the same thing only with the backs of my fingers on the desk. Then rotate the wrists, twenty more then stretch the whole arms against the wall. Only then do I pick up my axe, and slowly begin playing scales. Major, minor, modes, whatever, just slow and do it in all twelve keys. First start the scales with the index, then, do again starting with the middle, then ring and again starting with the pinky on the first note of the scale. By this point I am ready to play some fast exercises I have develped for building speed. Then I proceed to learning new material or rehearsing for my next show, or play myself a concert!
---
Q18
Q - Tell us about that first Loar you got (which I believe you still have today). Getting your first Loar to a mandolin picker is like having that first baby. Give us your thoughts and how it changed your life, the price you paid back then and in the words of Big Mon how "it's never let me down". Do you know the history of this Loar before you got it?

A - It was Harry Sparks (see my post about the Alliance) that taught me about the Loar thing. I had already gone thru hundreds of instruments, but I was always in agreement with Jerry Stuart, it's the player not the mandolin; if it costs over $500 walk away!

It was Thanksgiving weekend, my first one away from home. I had the worst case of the flu in the history of the western hemisphere. I really think Sparks and Bickel thought I was going to die. Sparks went to see his friend Bill Lewarre and got that Dec 24 Loar of Bill's. (Come to think, that one should be on the top ten list too). Sparks put that mandolin in original case in bed with me. Almost immediately I began to recover. What a mandolin, what exquisite textures, what response. But it took a while for me to find the sweet spots, the places where the golden tones were hidden. I'm sorry, but a lot of guys will never get it. You have to lovingly caress the tones from the mandolin, not make the mandolin servant to your beatings.

The next week I played constantly, I mean even more than before. I recorded Charlie Parker's Dewey Square with that mandolin and that's still one of the most satisfying sounds I've gotten in the studio.

Bill's a great guy for loaning us his mandolin, but he had to have it back once I recovered. Man was it hard to watch that mandolin go. I almost started getting sick again. Two weeks later, on December 6, I was down in Sparks' shop helping him get ready for a trading trip to George Gruhn's in Nashville. All I could say was I wonder how much do Loars cost?

We stayed up all night, smoked about 2000 cigarettes and drank forty cups of coffee and headed to Gruhn's. I walked in the door and there was Lloyd under the glass. I was speechless, I just stood looking at it. Sparks did all the taking, and somehow the mandolin got in my hands. From one end to the other, it was everything I wanted and better. It had the dark sound, like 2000 years of wind in a hidden river cave that nobody ever hears. I really do not remember much about the negotiations, I remember Sparks getting some money off because the peghead had been redrilled. You know this mandolins consecutive to Larry Sledges' which had the rhinestones on the peghead. (Hey, that's another one that ought to be on my top ten). Anyway, George Gruhn will always be high on my list for letting us walk out of there with that mandolin for $500! Don't get excited, he said to get him $6000 more within a week. I had 35 cents in my pocket so Sparks wrote a check.

The next week I sold off my entire collection, 50s D-18s for $300, snakeheads for $150. I practically had a yard sale. I was $2000 shy and made the call home and my pappy loaned me the money which I paid back $100 a month from my gig money. My friends said I was crazy. The mandolins have already peaked they said, they will never go over $5000! I never looked back, I still play that mandolin every day, its attached to my soul.

My Lloyd belonged to a classical player, Charles Barnes in New Hampshire. I called him up and he was very informative. It had originally belonged to a classical player in the Baltimore area. Joe Murphy found it in the early 70s and sold it to Mr. Barnes, who commented that out of the ten Loars he had owned, this was the best sounding one. I have talked to my friends in Baltimore, but no one has been able to name the original owner, but as you know their orchestra was very Loar oriented. Anyway, that's my story of Loar fever and I had it bad. Dawg's diagnosis is that I am afflicted with extreme Loarism.
---
Q19
Q - Your Mapleshade CD sounds fabulous!! I enjoy playing a fine mandolin, and I also am an audiophile, I like my stereo system to have the warmth and presence of real intruments, and after all, I know what a mandolin sounds like after 25 years of playing. Most CD's sound like a mandolin played through a PA system, not like a mandolin in the room. I suspect part of it is from close miking. Nobody listening sticks their ear right at the soundhole, except maybe for a few fanatic Comandos. Close miking can get a great sound, especially if recorded analog, a fine example are Grisman's Tone Poems Cd's on Acoustic Disc.

I knew about the Mapleshade label through the audio world,......they are known for being eccentric, but for getting great recordings........ and to my ear, the great sounding results on your Still Light of the Evening CD, captures a live sound . I'm not sure if it translates to a car CD player or a boom box, but through my home system, with tubes, It sounds like you boys are in my living room. This kind or realism is typically heard more on classical music recordings than with other genres. Could you talk a bit about how it was recorded that is different from most BG recordings. I read all the technical details in the CD....... and there is a lot of information there....... but from a pickers viewpoint, how was this session different? Do you appreciate the results?

A - Thanks so much, notes like that make it all worth while. The Mapleshade project was a great treat, probably the most fun I have ever had working on a record. Pierre Spray is a very interesting genius, and I wanted to offer up some music that would be worthy of his minimalist approach. He was constantly coaching us on where to stand, and fiddler Rex McGee had to sit down, while Tom Gray had to stand about two feet up in the air on an impromptu plywood and cinder block platform. Pierre was finally happy with the balance and we got going. Then, it was just a matter of pickin in an ancient home. That's what I do on a normal evening!

Gary and I stood facing the tip of the wedge, and Don Wright and Larry Perkins stood on either wing. There was so much presence in that 400 year old staircase, I was afraid the recording would sound hollow, like we were singing into a barrel. This was not the case at all, rather there's the richness of that old three story staircase. Its like we started with old spruce and maple instrumetns, sent the vibrations bouncing off old maple, oak and pine and then it ws all funnelled (by the wedge) into an old analog reel to reel. Without a doubt this is the most natural sounding recording I have ever been a part of, like pierre says, no reverb, no effects, no overdubbing, no mixing console, no microphones -- just music.

I am also an audiophile and have a great sounding room in my cabin for listening. Have you tried Pierre's interconnects? Man, you can transform an average stereo into an audiophile system for a few hundred bucks.

The only downside to recording this way is it does not sound good on cheap systems, boom boxes, or on the radio broadcasts where they use so much compresion. This one was made for the living room and we are pretty proud of it.

PS. the next instrumental recording I have coming out was recorded digitally in 5.1 surround sound in the ground floor of an old mill. Sort of the oppsite end of the tech spectrum. With me were Jeff Autry, guitar, Robbie Link, bass and Rex McGee, fiddle. Its got some pretty wild & original sounds.
---
Q20
Q - You've listed 2 F-5 Fern (vs 3 Loars) in the top 5. How would you compare mid twenties Ferns to Loars in term of construction, quality, volume and sonic qualities. Do you think they are undervalued right now in relation to the Loars?

A - It depends on which Fern and which Loar you are talking about, but more on that below. The primary break that marks the line between the Loars and the Ferns was the change in finish. The finish Loar required from his people took around two months. When Loar walked out the door, there was never another spot of oil varnish applied to a mandolin at Gibson. The finish Guy Hart, the accountant turned general manager, supervised took a few days. As far as construction, tone bars and measurements, there were several phases during the Loar era and quite a few more during the rest of the pre-war period. Of course only the point caps remained grained ivoroid while the other bindings went to white plastic, and the silver plating was done away with. In short they dismissed all the expensive time consuming aspects of the mandolins and developed a more efficient design to make. These were still high quality mandolins, but finish also continued to evolve in favor of simplicity of application and this was detrimental to tone.

Varnish finishes have more complex tones with a certain warm edge that continues to blossom and mellow over time. Like a 1970 Margaux compared to 2000. Nitrocellulose applied thinly and without reducer, as the 25 to 29 ferns were, tend to have a very comanding, cutting sound, very strong in the upper mids and high end. It still improves with age, but it tends to become even crisper, more like vintage Dom Perignon. As a Frenchman, I'm sure you can appreciate these analogies.

As far as money, the Ferns have always lagged at slightly more than halfway behind the Loar's in price. This is for the finish and the signature, and from a market collector point of view, that seems about right.
---
Q21
Q - You say that Earl Taylor's F-5 is a '27 (I thought it was a '26 and Jimmy Gaudreau mentioned the other day that his (ex) F-5 was a '25, and these two mandolins have consecutive serial numbers!). Do we have a clear way to date post Loar instruments, based on serial numbers or factory numbers?

A - Yes, Jimmy's fern was 84270 (FON 9140) and Earl's was 84271, mine is 84682 (FON 9334) and Doyle Lawson had 84684. There were a batch of mandlins right around these numbers that have the same measurements as the non-virzi 23 Loars. Mandolins from the 9100-9300 batches are almost always killer and downright scary in terms of the "woody chop".

There is no clear way to determine the exact date of these mandolins. You have to keep in mind that the mandolin age had declined significantly by 1920. Loar was hired to invent a better mandolin, much like the ghost dancers tried to bring back the buffalo. Also the 1929 fire (which is rumored to have been started when they stored the nitro too close to the acetate. Whoosh! that'll teach them to quit using Loar's varnish formula!) may have destroyed what records there were. I have done a lot of research and collected data about shipping dates and sales records to come up with the dates I use. Also, keep in mind that if the the production models were 4 months behind the prototype, this might be an indication of how much time these mandolins spent in process. That means the top of Monroe's mandolin may have been carved sometime in March.
---
Q22
Q - You mention that the first factory Virzi was installed in January 23. Does that implies that you consider that previous instruments equiped with Virzi were not factory made? It makes sense for the mando-viola, but what about the "Parrot" Loar? Do you consider this instrument as a prototype still?

A - Refering back to the Virzi Vortex post, the parrot mandolin did not have a Virzi when it first left the factory. At a later date, the back was removed and a 1924 spec Virzi was installed backwards because that's the only way it would fit. You see, the tone bars on Virzi mandolins are spread out slightly from the non-Virzi design.
---
Q23
Q - I've seen Tony participate in many mandolin workshop sessions at Merlefest over the years playing with the likes of Sam Bush, Thile, McCourey, Marshall, etc..I'm curious if there are any mandolin players that he is interested in doing a possible duo project with.

A - It is totally exhilarating to go toe to toe with those guys; let's throw in Dawg and whew! what a bunch of mandolin pickin that would be. And don't forget Evan Marshall, Jesse McReynolds, Don Stiernberg, John Reischman, Wayne Benson, Dan Tyminski, Adam Steffey... Hey, let's invite Gertrude Troester, Katerina Lichtenberg and Rhonda Vincent, I'd say take me now Lord I will never know it this good again! But if I could record a duo with someone, there is no question it would be Charley Rappaport. I think Charley is the greatest mandolin player living on this planet today, the best teacher and the most humble guy I have ever met. If there any record producers out there, please bankroll this project!!!!
---
Q24
A - Monroe¹s mandolin and top ten lists:

In my posts evaluating various mandolin tone issues, I have tried to respond based on my personal experience, mano a mando, rather than drawing my conclusions based on recordings or stage performances where sound reinforement issues play such a big part. All the mandolins I have chosen have left lasting impressions when I held and played them, and I have not chosen any that I have not inspected up close.

Why was Monroe¹s axe so great? Three reasons: 1) It was originally constructed with sound acoustic principles as per the Cremona masters of the 17th century. 2) It was set up with high action, which causes the top of the instrument to vibrate like crazy with every stroke. 3) Monroe played it constantly, I mean really played it, not tickled it. The more a mandolin top vibrates, the more it can vibrate, which brings us to Red Henry¹s very accurate post about instruments waking up.

Why did it lose its astounding sound in later years? A person or persons officially unknown beat the crap out of it with a firepoker. This destroyed the integrity of the top and stopped its ability to transmit vibrations. Charlie Derrington lovingly and painstakingly put it back together, but the flow of energy across that sound board will forever be interupted by the countless glue joints, which cannot transmit sound as efficiently as a crackfree piece of spruce. Minor cracks, or even a well repaired major crack can be overcome. Not a complete shredding.

A great mandolin is a complex machine. If all the components are not lined up correctly, it may not sound good at all. Far too often, I am regaled with comments that would go like: "I played a Loar (or a Randy Wood) and it was awful. My Kentucky sounds a lot better than that!" This tells me more about the person speaking than it does about the mandolin. Maybe the action was too low and it was buzzing on the frets. Maybe it had the bridge in the wrong place, or a tuner gear had worked loose. Any number of things can make a great instrument sound awful, and there are also a few tricks that can make a mediocre mandolin sound pretty good. If the Qi ain¹t flowing in your axe, it cannot do its job.
---
Q25
Q - It's interesting in reading your bio that you have played with symphony orchestras ... what kinds of music have you played? Who did the scores (if these are not classical mandolin pieces already scored for orchestra)? How were you and the mandolin received by the classical symphony players? When you play these performances do you use your Loar, Fern or something else such as a Lyon and Healy? Do you see this as opening up opportunities for other mandolinists to play similar programs?

A - First, I played the mandolin serenade from "Don Giovanni" by Mozart with the Duke Symphony in 1976. Jim Watson, my good friend and the great mandolin player with the original Red Clay Ramblers recommended me for the gig. I had to audition, so I drove to the conductor's house whopped, out my axe and played Dusty Miller. I thought that was pretty classical. He handed me the music. I guess time was running out and he didn't have any other choice. Anyway, I said no problem and left. There was but one problem: I didn't read music. Not a note.

So I went to the record store and got a copy of Don Giovanni's favorite hits and went home and learned the thing note for note. At the first rehearsal, I showed up with no music. The conductor said, son where's your music? I said, "I don't need it!" A low gasp came from the rest of the orchestra as the conductor glared at me. Very well, he said and raised the baton. I played da-de-da-de-da-de da da da. No No no! shouted the conductor, you're playing swing music! Staccato! We tried again, I did the same thing, the conductor glared. Then he hummed how he wanted it to go. Ah ha, I realized, down strokes! I played again, this time real stiff and all downstrokes. That's it said the conductor. Hmm, I thought, it all comes back to Bill Monroe. As we were leaving, an old dude from the back row of fiddles whispered to me, "Go ahead and swing it, son!"

Since then I have taught myself to read music enough to get by, and have played in classical settings many times. Memorable performances: at Meredith College in Raleigh where the North Carolinas Symphony did the Disney medley for 45,000 -- I was mandolin soloist. (On my CD, "Across the Grain," I have recorded the mandolin ensemble version of this) In this setting I chose the fern, because I wanted to stick out above the orchestra a la Apollon. More recently, I performed for Mr. Luciano Pavarotti at a dinner/reception following his farewell concert at the RBC center in Raleigh. "What an evening!" said Mr Pavarotti, and he could not have been more gracious. When I played "O Solo Mio" his diva gave me a look that made my socks melt inside by shoes. Incidentally, I played the '24 Loar on this one and dressed in tails.

I love classical mandolin and collect music and records from all periods. I am a big fan of Howard Frye (No mandolin collection is complete if you do not have his memorial album, on Plucked String-- listen to the bells of that A-jr), Hugo D'Alton, Ugo Orlandi, Giovanni Paracelli (in fact I almost listed Paracelli's mandolin in my top ten, but I had never seen it in person. The tone he got on "Captain Corelli"s mandolin" soundtrack is simply gorgeous), Gertrude & Katerina and Skya and of course Evan Marshall! Also, I really like the old Italian bowlbacks, especially the Vinaccias and Calace. Also the more modern Emberghers are great. I also have had a number of great Lyon and Healys, mostly style A. Those mandolins have a better varnish than Gibson used! But, quite frankly I prefer playing my Gibsons unless I need authenticity for a specific program.

Finally, how am I received when I played with the symphony? There is an old prejudice among the guys who use bows against the sweet little mandolin. My experience in many instances is that the closer you get to the front of the stage, the bigger the attitude! Mr. Pavarotti was an exception to this rule however, he really dug the ole Loar. Does this open things up for mandolin? I don't know, most of the mandolin players in this genre tend to surround themselves with other mando family instead of the bow guys. If you really want a treat go to the CMSA and hear the 100 plus piece mandolin ensemble. The sound of that many tremolos in sync is transcendental, its like being in a duck blind and have 1000 geese take off around you, flapping their wings all in time.
---
Q26
Q - and Max have both mentioned a K-10 mandocello at different times -- I didn't see that on the Video and cant find a reference to it in Gruhn's books or anywhere else. Is this a filament of someone's imagination or did Gibson really make one of these?

A - Ah ha, you're going to keep me honest here. As it happens, Gibson's K-5 had the same exact body chamber as the L-10 guitar. David Grisman had a really beat up L-10 and he sent it to Steve Gilchrist and Steve converted it to a K-10, using all original parts from that period. It is an astounding sounding instrument. I used it on "All For Naught". Grisman traded it to me when he got the K-5 #1 prototype that you can hear on his "Tone Poems". I traded it off to get the Randy Wood K-5 which is shaped like a giant mandolin. After all, I am the big mandolin man!
---
Q27
Q - I expect your year with Bluegrass Alliance was an interesting one. Who was with the band back then, and do you have some "road" stories you'd be willing to share?

A - I first got the offer to go with the Alliance when Vince Gill put in his notice. I went out to Louisville in the summer of '76 when they had the big tornado that destroyed half of the old part of town. I hung out and practiced a little, but there weren't any gigs. I went back to Chapel Hill and immersed myself in jazz and classical music until the spring of 1977 when I got the call from Lonnie Peerce to come on back, he had us booked solid.

As I drove into the hometown of Hunter S Thompson the second time, I was horrified to see an awful dark cloud on the horizon, and still shell shocked from the tornado, I immediately decided to hunker down in the nearest place which was called Burger and Suds. I walked into the place and there sat Sam Bush. So we waited out the storm together, which turned out not to be so awful this time, and quaffed a few more brews....and a few more...anyway, I was a bit late for rehearsal, which is unlike me, and furthermore I smelled like a beer barrel. Lonnie gave me a long lecture on the evils of alcohol and ended by warning me against associating with hoodlums like Sam Bush and Courtney Johnson. Silently, I proceeded to play my mandolin and got most of my parts right the first time thru, so Lonnie eased off. Little did he know Sam and Courtney were the best friends I had in Kentucky and two of the biggest reasons I was anxious to live there.

Lonnie Peerce was a little man with a pencil thin mustache turned up on the ends. A lot of people did not realize how thoroughly he knew the fiddle, especially Texas styles. His tape collection was a library of Benny Thomasson, Texas Shorty, and on and on...and he knew an infinite number of fingerings (I immersed myself in this with zeal). His stage execution, however, gave no hint at the vastness of his knowledge. But he could book a band. He owned the name and the motor home and paid us per show.

Other members were Garland Shuping on banjo, Keith Sanson on guitar and Keith¹s cousin Darryl on bass. Our material was bluegrass pop: Fox On The Run, Smokey and the Bandit, Take It Easy, and of course the twin banjo salute to Foggy Mountain breakdown (yes, I played second banjo)! Gross me out! I was too cool for that in those days, but I was a team player so I gritted my teeth and went on with it. We did that stuff at least once a night, sometimes twice a day. I never even considered the fact that, here I was an honors graduate making $50 per show.

From off the farm to the ivory towers of UNC, now to the dirty reality of Third St. in Louisville. And furthermore, the summer of '77 was one of the hottest, muggiest, unbearably hot summers on record in the Ohio River Valley. When we weren't playing, I was the phantom of Lonnie¹s motor home--miserably sleeping in there the few hours I was not pickin, or prowling the riverfront. Now the riverfront in Louisville was a cool place before the flood and before they built that infernal downtown Interstate. There was a club called the Great Mid-Western music hall and on a given week you might see John Hartford, Bill Monroe and the Bluegrass boys, Asleep At The Wheel and Joe Pass. I once left the club with Joe Pass in the middle of his gig to find a pizza joint with a TV so we could watch the 1977 world series. You know what, I cant even remember what teams were playing.

One night I was in the Mid-Western listening to Byron Berline and Sundance, when a couple of Daniel Boone look-alikes walked in and Berline made some crack like, "Look out! the Sparks are Bickellin!" I was hanging with Vince Gill and had been moaning the blues about living in that infernal motor home. Vince explained that the guys in the buckskins were Harry Sparks and Harry Bicker, and if I really wanted to have fun in this town I should get to know them. "In fact," said Vince, "I rented a room from Bickel when I was in the Alliance. Maybe we could get you in there."

So the introductions were made, rounds were poured, and the next day I moved into the Harry Bickel Home for Wayward Musicians. That next year was beyond belief. The four story Victorian mansion (in a sad state of disrepair at the time) near the old Cherokee Park section (just down the street from where Hunter S Thompson grew up) was filled with pickin on every floor, day and night. In Harry's music room was the most incredible collection of tapes, records, acetate and cylinders documenting the entire pantheon of rural music styles. Down a narrow stairs from the kitchen was a dirt floor basement where Harry Sparks¹ shop was. He built and restored instruments.

In those days Harry had no equal for the quality of his instrument restoration, and there was a constant flow of Loars, flathead banjos and herringbones--even an occasional D-45 got refretted standing on that dirt! One day he sat me down and explained, now these Lloyd Loar mandolins were made for guys in suits and tuxedos. Its a classy thing. Always be sure to dress cleanly and wash your hands before you pick up your Loar. This from a guy who shot and made squirrel's head stew at Friendship, Indiana! And everybody came there for their work on their instruments. (Sparks still refrets ole Hoss for Sam Bush). And to party and pick. Entire bands camped out when they were travellin thru. The Bluegrass boys, the Bluegrass Cardinals, John Hartford, New Grass Revival, Jerry Douglas, Wes Golding, Terry Baucom, all were regulars. Bela Fleck and Mark Shatz were into jamming on Charlie Parker tunes with me. Doc Hamilton was a next door neighbor, and we traded tapes and stories. Buck White and his girls were friends, and so were Norman and Nancy Blake. Nick Boone, a direct descendant of Daniel, slept on the couch and kept us all in the finest leather goods. One night J D Crowe and the New South had played at the Great Midwestern and the whole crowd, including Keith Whitley and Jimmy Gaudreau, came back to Bickel¹s. What we liked to do at that end of an evening in those days was eat White Castles. You know, those stainless steel and porcelin faux-castles that sold little square wads of grease 10 cents each? Anyway I went by the White Castle and got 200 hamburgers and took them back to Bickel¹s. As I recall, Bickel challenged Crowe to a White Castle eating contest. Keith almost recoiled in horror as he realized that Gaudreau and I ate more than the contestants.

Then the Alliance would go on the road. We toured all over the country playing festivals, colleges, night clubs and music halls. From Buffalo to Montgomery, from DC to Columbus and St Louis. I remember being onstage at a festival in Indiana when our show was interrupted so they could announce that Ronnie Van Zant and most of his band had died in a plane crash. I was so sad I was dumbfounded, I'll never forget that moment.

Then, we were off to California. When we got to San Diego, Geoff Stelling was kind enough to put us up. I donut think he realized what a dent we could put in the keg when Lonnie wasn't looking. Did I mention we were constantly picking? We played at Norco, I did a set with Dan Crary and met a lot of great folks. It was about 3 am when I staggered up against a motorhome and heard the most beautiful banjo-led band imaginable. There was no mandolin, so I just started playing along. On the other side of the motor home the cats playing heard the mandolin, and they made room for me to take a break on "Charmaine." I took my best crack at it, and on we went for nearly an hour before they walked over to see who I was. That's when I met Craig Smith and Dennis Fetchit. Later Craig and I played together in a band called ASH&W. It was an awesome band that was so much fun. We only made one record: We decided to play straight-ahead tasteful grass. I regret we never made the "hot" record we had planned as a follow-up!

Next we went to San Francisco and played at the Great American Music Hall to a packed crowd. We were right across the street from the infamous "O¹Farrell Street Theatre" where Hunter S Thompson was the night manager at the time. Fear and Loathing in San Francisco. After OUR performance was over, I remember being in the arms of two beautiful Asian girls when Lonnie announced we were driving all night to get out of this den of iniquity. I came so close to quitting the band right then and going off with my new girl friends. How different my life might have been had I made that choice. Can you imagine me one of the California cats? Naww, I put my mandolin in that accursed motorhome and up the coast we went.

What great times I had in Eugene and Seattle. Banjoist Ken Landreth was living in Seattle at the time, it was nice to see a face from home, and we picked all night. The next day I bought a killer 1938 D-18 in a local music store for $350. I do not remember the names of those guys in that store, but they were great folks and treated me like a king.

After many more gigs, we drove back across the Rocky Mountains and the blasted motor home broke down in the middle of a blizzard. We were towed to Vail, Colorado (you guessed it, not far from Hunter Thompson¹s Owl Farm.) Lonnie cursed, Garland slept and Keith and I caroused the ski lodges. Finally settling into a good establishment, we began to wine and dine the new friends we had met. Funny thing was, we were making fun of Lonnie, because he blew his entire share of our tour earnings on his motor home repair. When the waitress brought us our check, we were astounded. I had no idea a few steaks and 8 bottles of wine could cost so much. You guessed it. Every cent of a six week tour was now gone.

No worries, we had one more gig, a week long stint at what Lonnie said was a "show bar" in Topeka. Great, I thought, another week of Fox with the Runs. We arrive in another blizzard at a club that had a giant red Marquis. In small letters underneath, it said, "Bluegrass Alliance this week only!" In giant neon above glowed the words "Nude Dancing." Wow. Now heres a gig this 24 year old bachelor could sink his teeth into. From noon until 7, the girls would do their thing to an endless procession of Bee Gees hits and from 7 til 9, we played Smokey and the Bandit and Dueling Banjos while the girls drank with the customers. I never played Fox on the Run with any more enthusiasm. After 9, the party really began. Garland slept in the motor home, Lonnie fumed at the accursed iniquity and me and the Sanson boys acted like we had just got off the farm. Well, we had.

Anyway, I wound up moving in with one of the dancers. She was Sonia from Dostoyevsky¹s Crime and Punishment! She literally worked her butt off, pulled in the bucks all day, and would take me down to her digs on the East side where she showered her impoverished neighbors with food and presents. Her generosity knew no bounds, and one morning in the wee hours, the neighbor lady's baby got sick, we drove them to the hospital. We stayed in the emergency room all night, Sonia paid the bill, took them back home and then off to the club for another day of picking, dancing and partying. I got the Sanson boys to come with me that next night and we picked for Sonia and her friends all night after we left the club. Clearly one of the best weeks of my life. This is why we tour in Bands, right? It was a black, sad day when we had to leave. I teared up and she bawled like a baby. Lonnie had the new motor running, and no she could not come with us. I never saw her again.

Back in Louisville, we had a busy winter. Playing mostly local clubs, Lonnie had hired Ricky Burch, Curtis¹ younger brother. Ricky was one of those guys who could pick anything, and yeah, we picked all the time. Around this time, I decided to take on some mandolin students. A young kid named Mike Schroeder showed up at my door eager to learn some mandolin. He was a bright eyed, intelligent, well groomed young man with such an innocent look on his face. Well, we started in on the mandolin lesson...how can I put this,...well it was three hours later and we were just beginning to get started. In those days most of my musical epiphanies came between the hours of 1 and 4 am and I was eager for Mike to learn the right way. He was a quick study, and his mandolin playing blossomed, but some folks say he was never the same. Today, Mike Schroeder is 1st chair mandolin in the Louisville Mandolin Orchestra and the president of the Classical Mandolin Society of America. Way to go, Mike!

Around Christmas, I was homesick so I talked Harry Bickel into having a Christmas party. Everybody came. All the musicians I've talked about, plus some. All the buckskinners came, Hershall House the great flintlock rifle maker was there. Crowe and band doing Jimmy Martin covers in the kitchen. Danny Jones singing in the living room. And Sam Bush and I played mandolin duos from dusk til the next dawn. My friend Nick Davis followed us around with a little tape recorder and I still have that tape. There is a 40 minute version of the Texas style "Don¹t Let You Deal Go Down" in G, where we traded solos, traded fours, harmonized, pasteurized and agonized every frequency that vintage spruce contained. This Christmas party became an annual event, and for the next three Christmases I would somehow manage to buy another Loar from someone who came to the party. Maybe this year it's time to go back.

I better stop this tale before I get into trouble.