Radim Zenkl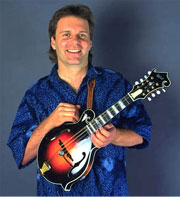 Radim Zenkl was born in Opava, Czech Republic. He grew up in the town of Ostrava (about 200 miles east of Prague), where his father teaches classical music at the University of Ostrava. Zenkl began his musical studies with piano and singing, then later on classical guitar. In addition to classical music, his early influences were folk music and Czech unique "tramp music". He began playing the mandolin at thirteen. The discovery of bluegrass music came by listening to records that were smuggled in via those that had escaped from this communist country. The sound of a bluegrass mandolin initiated the spark that launched a decision to play music as a career at the age of seventeen and subsequently led Zenkl beyond bluegrass to an eclectic array of styles. Zenkl's choice of mandolin came as no great joy to his father, who claimed that the instrument had no "real" repertoire, fueling his desire to create one of his own. He started transcribing music from other instruments and later on began composing.

Between 1984 and 1989, Zenkl played in and led several bluegrass bands and also performed as a soloist with the State Opera Orchestra of Ostrava and the Janacek Philharmonic Symphony of Ostrava on several occasions.

In 1987 Zenkl won the Czechoslovak Mandolin Championship. His bluegrass (newgrass) band, Tyrkys, won the national band contest "Porta" in 1988. Besides playing with Tyrkys, Zenkl performed with his new acoustic duo "Mondo Mando" (inspired by the music of David Grisman) all over the country as well as in Poland, Germany and Hungary. In the spring of 1989 Zenkl recorded his first album, "Mandolin Parade", (also the first mandolin album ever made in Czech Republic), featuring him on ten mandolin family instruments.

Zenkl escaped from Czechoslovakia four months before the fall of communism for political freedom and to be closer to his musical influences. Once in America, he settled in the San Francisco Bay Area, California. After only a short period of time, Zenkl was performing at major music festivals and sharing the stage with artists such as Jerry Garcia/David Grisman, Tuck & Patti, Bela Fleck & The Flecktones, David Grisman Quintet, Preservation Hall Jazz Band, Tim O'Brien, Peter Rowan, John McCutcheon, Dan Hicks and many others.

In October 1991 Zenkl played for the newly elected president of Czech Republic, Vaclav Havel, at a reception on the UCLA campus. Playing his own compositions, Zenkl won the prestigious U.S. Mandolin Championship held in Winfield, Kansas in 1992.

Zenkl went on to record two CDs for David Grisman's record label "Acoustic Disc". "Galactic Mandolin" (1992) is comprised of 13 original solo works, each in a different tuning. "Czech It Out" (1994) features original and Czech and Slovak traditional tunes on solo mandolin, mandocello and mandolin banjo.

On several occasions in 1995 he substituted for Mike Marshall in the classical group Modern Mandolin Quartet.

In the same year, Zenkl signed a recording contract with Shanachie Records and recorded "String & Wings", which was released in 1996. Included in this CD are improvised duets with 20 different artists such as Jerry Douglas, Bela Fleck, David Grisman, Tony Rice and Rob Wasserman among others, featuring 20 different acoustic string instruments. A new CD entitled "Restless Joy" was released in November 1999.

Currently, Zenkl's touring presents both his solo and duo program with Leo Chern, which includes original and Eastern European music, flavored with string jazz, new age, bluegrass, Irish, flamenco, classical and other styles. These performances feature Zenkl's own innovative playing techniques such as modified "duo-style", which sounds remarkably like two instruments simultaneously. Several mandolin family instruments are used, such as mandola, Irish bouzouki, mando-ukulele, slide mandolin and others. When off the road, he teaches private and group mandolin classes.

Today, Zenkl's virtuosity and innovation have placed him at the forefront of the modern acoustic music scene.
---
Q1
Q - Please let us know; what INSPIRES you!? What music, dance, visual art, weather, poetry etc. Be as honest as you dare.

A - I assume that you mean an inspiration for composing. It can be just about anything in life, a reflection of your feelings.

But some tunes are more concept driven. For example my "Galactic Mandolin" CD has 13 tunes in 13 different tunings. I tuned the mandolin to any of those tunings and played around with it knowing, that I am looking for a piece of music in that tuning. And I had to do it 13 times, also making sure that there is enough variety among the tunes and that they follow each other in a musically logical sense (It was a lot of fun by the way.).

Sometimes there is a need for a certain type of a tune, for example to be at the beginning or at the end of a live performance. I think of the mood that it should evoke, the tempo and rhythm. If it is a solo piece, I think of the technique (for example single melody line, chord melody, fingerpicking, duo style etc.) And you just wait for the melody and harmony to arrive :-
---
Q2
Q - I'd be interested in knowing what your musical influences were prior to your move to the United States. Contemporary musicians, Czech/Eastern European folk music, classical?

A - Oddly enough, it was mostly American bluegrass on LPs. Bluegrass was (and still is) quite popular in the Czech Republic. The other influences were as you assumed - classical, jazz, flamenco, contemporary folk and traditional Eastern European music.
---
Q3
Q - It seems to me that when I saw you perform six or so years ago you played an Anderson mandolin with a somewhat wider neck than I had seen before. Is this something you find helpful, and if so, in what way?

A - Most of my instruments have wider necks. I find it very helpful since my hands are fairly big. It gives me more room on the fretboard and it is easier to play clean.
---
Q4
Q - Last nite I re-read the article on you from Mando Mag. On the cover (I think), it looks like you have a stick-on pickup behind the bridge. Could you tell us what kind that was, and how you like it? Any other electronic gear you use in a live setting?

A - It is a Schaller 'Oyster' piezzo pickup. I like its tone; it seems to be 'warmer' than bridge pickups. It was important to find the 'sweet spot' on the mandolin for its placement.

These days I use the Fishman Pocket Blender in live settings. Sometimes just the pickup, other times the pickup and a condenser mini-mic.
---
Q5
Q - Radim, you list several different influences on your music and tehnique and appear to have successfully gone beyond the limitations of a bluegrass-centric style. Where are some of the places you would like to take the mandolin that it has not (or has seldom) been before?

A - I think that mandolin can be used in any musical style. Currently I am working on developing a larger chord (and chord voicings) vocabulary, something that has been already done for guitar and piano.

I am interested in adopting some playing techniques from other instruments such as fingerpicking, slide, clawhammer, bowing, and developing new techniques such as the fingerpicked duo-style. I like to experiment with open tunings and electronic sound effects.
---
Q6
Q - Radim, we are glad to have you aboard this week. You have many fans and admirers on our list. At some point, a guest has to tell us about all of his/her instruments. What all do you have?

A - Here is a list of my main instruments:

Capek custom F5 Mandolin, 1999
Breedlove custom 4 string Mandola, 2001
Breedlove K Quartz Mandolin, 2001
Andersen A-special Mandolin, 1990
Chris Berkov Nylon String Flamenco Mandolin, 1997
Krishot F5 Mandolin, 1987
A. Leone Irish Bouzouki (octave mandolin),1998
Beacon Mandolin Banjo, 1915
Mandocello, Czech, early 20th century
Breedlove SD20 Focus Guitar, 2002
---
Q7
Q - Any good exercises for building the right hand?

A - This is a very big topic, but here are a few to start with:

Playing tremolo on one string, changing speeds from very slow to fast, keeping it even. Changing the volume and also the distance from the bridge.

Crossing the strings "shuffle style" - two notes on one string and one note on another string, using the alternate picking (always down, up, down, up...)

Strumming exercises - play your favorite backup rhythm style using different gauges of picks.
---
Q8
Q - Could you please comment on the method you used to learn to play at fast tempos while still playing cleanly and accurately.

A - I described some of it a few questions back. I think that one of the main tricks is to play only at such speed, where you can still play cleanly and accurately. Repeat it many times and gradually increase your speed. We learn by repetition.
---
Q9
Q - Could you please comment on how you learned and continue to work on improvisation. Did you transcribe solos of others? Just noodling around? Etc?

A - Learning how to improvise is a lot more complex issue than learning how to play fast. There is no one and only way to do it. It can be (or rather has to be) approached from many different directions.

Here are few of them:

- learning as many tunes as we can of the particular genre, in which we plan to improvise (bluegrass, swing, blues, etc.)
- knowing scales and arpeggios on the fretboard
- understanding the chord theory, harmony
- being able to play by ear
- being technically very comfortable at a speed we plan to improvise
- being able to transcribe other players' solos and licks
- being able to write our own solos

I think that learning and improving our improvisational skills is a life long effort. There is always so much more to learn and I love it for that aspect.
---
Q10
Q - Radim, who are some of your favorite mandolin players that you like to listen to? Who are some of your favorite musicians in general? What CDs do you have on your car stereo?

A - Few questions back I mentioned quite a few mandolin players as my early influences. These days I certainly enjoy listening to every mandolin player I come accross, they all have something to offer. My big appreciation goes to those who bring the mandolin to another level or direction. Players such as Paul Glasse, Evan Marshall and Chris Thile.

"Favorite musicians in general?" This is a very broad question. There are so many of them. In order not to completly avoid the answer I will list some, whose live shows 'took me to another world': Chick Corea, John McLaughlin, Bireli Lagrene, Stanley Jordan, Bela Fleck, Mark O'Connor, Tuck & Patti, Michael Manring.

In my car stereo the is currently some Irish music. Not much of the fast reels, rather some slow ballads and airs.
---
Q11
Q - At your recent workshop in Toronto you made several suggestions for building speed. Could you describe the process you went through in order to play at speed for the first time for my fellow COMANDO beginners?

A - It was answered a couple times a few questions back. But to add something else - I would start with simple piece and futher modify it to make it even simpler. Our only objection at this point is the speed. My breaktrough tune was Devil's Dream. I simplified it by:

- substituing the 2 string crosspicking with linear lines
- using lots of open strings
- no pinky, just three fingers
- only outside string crossings (for example down on a string and up on e string, as oppose to down on e string and up on a string, which would be an inside crossing)
- playing quietly

This way you should be able to play it fast relatively soon. Later on we can always go back to the original, more difficult version.
---
Q12
Q - There was some recent discussion on the list regarding finger pain from playing. You had a couple...innovative warm-up exercises--could you describe them for the group?

A - - stretching
- massage
- hot water
- rubber glove

Playing an instrument is a physical activity, we need to take of our body. Regular practicing is good but we are facing the danger of strain by repetitive motion. I would always start very slow and gently. When we play on regular bases, our body will tell us pretty soon, what works for us and what not. And we should listen to it... :-)
---
Q13
Q - What are the basic skills and techniques do you believe are the most important foundations to instill in beginner mandolin players who aspire to reach advanced playing levels?

A - To tape yourself regularly, both lead and rhythm playing. We always hear ourselves differently while we play. There is this gap between 'perception and reality'. Becoming a better player means narrowing that gap, among other things.
---
Q14
Q - What do emphasis most with your beginning students? (i.e., Quality of tone, right hand technique, rhythm, etc.)

A - This really depends on the individual needs. Though quality of tone needing improvement or unsufficient volume for lead playing occurs quite frequently.
---
Q15
Q - I am a beginning mandolin student and am still searching for the best pick position. One outstanding mandolinist I know told me that the pick should be held as if one were playing tremolo. He holds his pick perpendicular to the manodolin (even a little bit of an angle upward). He then turns it a little clockwise so that the pick is not exactly parallel to the strings. How do you hold your pick and why? Do you attempt to strike both strings on both the up and down strokes?

A - I hold it turned down clockwise about 30 degrees most of the time. But it really depends on the gauge of the pick and specially the shape. For example the David Grisman Dawg pick can be completely parallel to the strings and still it has a nice round tone. The more 'pointy' our pick gets, the more we have to turn it in order to preserve the round tone.

So now we can change the tone from round to thin (bassy to trebilly) by turning any one pick. It works sort of like the tone knob on an electric guitar. And yes, I strike both strings on both the up and down strokes.
---
Q16
Q - I had the opportunity of touring the Breedlove factory in Oregon last year and ended up buying a quartz oval hole a few months later for which I am very happy. How did you get hooked up with the folks at Breedlove?

A - The whole management team of Breedlove Guitars came to my concert in Bend, OR in March 2000. Peter Newport, the president, offered me a collaboration. In his words they were looking for a progressive mandolin player who goes beyond traditions, who would be a good match to their non-traditional mandolin design and progressive sound.
---
Q17
Q - You mention that you play a 1920's vintage Czech mando-cello. What is the history of mandolin family instruments in Czechoslovakia? I only know about American adaptations of the viol family to the mandolin family (Gibson, Lyon and Healy, etc). Are the European origins similar? Were there mandolin orchestras in 1920's Czechoslovakia? Are there Czech mandolas and (egad) mando-basses dating back to that same vintage?

A - There were many mandolin orchestras in Czechoslovakia and surrounding countries in the 1920s. They used first mandolin, second mandolin, mandola (tuned an octave below mandolin), (some had mandocello), guitar, bass, (some had mando bass). These days you can still find those old mandolas (octave mandolins) in some used instrument stores. But I came accross only one other mandocello such as the one I have.
---
Q18
Q - I'm interested in your practice tendencies. Do you structure your time similarly among various sessions?

A - I do not. Every aspect of our playing needs a different practice routine. Finding the right routine may often be more than a half of our battle.
---
Q19
Q - Any favorite exercises?

A - Not really. I would rather play music or jam with others. :-)
---
Q20
Q - What is your philosophy, or lack thereof, around practice?

A - When you find a need to improve some aspect of your playing, go for the practice full speed untill you get better.
---
Q21
Q - What, if anything, do you do to avoid injury so you can keep on pickin' and pickin' while you slowly turn into a ripe old geezer (eventually)? Physical warm-ups, exercise, yoga, regular massage, heavy drinking, boxing?

A - Yeah, man. Heavy drinking, boxing and regular practice is a sure way to create an original style... But the rest of it should get you there.
---
Q22
Q - You're quite well known for your solo performances. Can you say some things about that mode of performance? What attracted you to solo performance in the first place?

A - When I moved to the United States in 1989 my original plan was to put together an instrumental band. But it was not easy to find the right players immediately. (I also didn't have a car the first year, which made it more difficult to commute to meet others, go to rehearsals etc.) Besides there were quite a few great bands already existing. I wanted to focus on something more unique, in another words to 'find a need and fill it'. I conteplated the solo mandolin possibility since I have seen many great solo guitar or piano performances (even a solo bass guitar concert by Michael Manring!). I also knew of (and really admired) Jethro Burns' solo LP "Tea for One" which showed me that mandolin can be an unacompanied solo instrument.

Then David Grisman played for me a tape of an upcoming solo CD by Evan Marshall "Mandolin Magic", which has classical and popular standards in a beautiful duo style arrangements. It really opened my mind toward the mandolin technical possibilities and I decided to write my own music for the solo mandolin. It was not particularly easy at the begining but one thing I had was the time to practice and write, and I was very committed to it. Later on I came up with the fingerpicked duo style, which allowed me to add more variety in sound combinations. I also started using regular fingerpicking and other related instruments such as mandola and Irish bouzouki.
---
Q23
Q - What do you find to be the most rewarding and least rewarding aspects of solo performance?

A - You can probably imagine it. Here are just a few thoughts:

Pros:
- great freedom in many aspects of musician's life
- possibility to change things on a fly during a live performance
- one airline ticket
- it is easier to make a living as a one man show rather than supporting a whole band

Cons:
- you have to do all the work
- missing the opportunity to jam with others and get inspired
- missing the joy of a "locked groove" of several players
- missing the companionship on the road
---
Q24
Q - What were the difficulties, both technical and psychological you had to work through when you began developing your solo style?

A - I believe this was answered a couple of questions back. (As far as I know, there were no psychological difficulties though I haven't checked with my doctor recently... :-)
---
Q25
Q - Are there other solo stylists you admire?

A - Evan Marshall, Jethro Burns, Chris Thile and basically anybody who has put together a solo mandolin piece.
---
Q26
Q - Can you explain something of the theory/technique behind duo style playing?

A - The traditional duo style - the player plays tremolo with a pick on one string (let's say e string) while picking a single note on an adjacent lower string (a string) with the same pick, then also skiping across that string to the next lower string (d) and the next one (g) while still maintaining the tremolo on e string. You can also combine tremolo with strums.

My fingerpicked duo style - I use a modified index plastic fingerpick for the main tremolo and a plastic thumbpick for the accompaniment, which can be arpeggios, strumming or another tremolo on a different string.
---
Q27
Q - The first time we saw you back in the early years I seem to remember a story about how when you were growing up, you had very little access to bluegrass music and even had trouble getting a proper tape player to listen to what tapes you did have. Anyway, the story was something like your only tape player played tapes fast and you learned a lot of the initial bluegrass songs at a speed that was somewhat faster than it original (already fast) speed and that circumstance required you to develope your techniques to match that speed.

Btw, please skip this question if the story is not true but otherwise, I bet comando's would like to hear the story and anything unusual you did to manage that problem.

A - It was very difficult for us to get any products from the West at that time. The process was that somebody would smuggle a bluegrass LP into our country and then through a network of musicians you would eventually get a copy of the LP on a reel-to-reel tape. Many times it was a several generations old copy. As the speed of the reel-to-reel players was not consistent, many times the copy we ended up with was in a different speed resulting in having the music in a different key. I remember in particular that we played the David Grisman's tune "EMD" in F minor key (originally in E minor) for a while (it was very fast). But soon we figured it out during a more detail oriented transcription where we could hear the open strings and thus determine the right key.
---
Q28
Q - Radim, we have had a good bit of discussion with our CGsOW about alternative turnings. For instance, Simon Mayor, one of our first Guests, said that he had never played in alternative tunings and had never heard the Mon's "Get Up John" and "My Last Days on Earth" which I referred him to. I think he went and found himself a copy. You obviously have done a lot of experimenting with tunings and playing styles. Based on your experience, what would be a good alternate tuning for us everyday mando players to start out with? Why do you suppose that there has been so little experimenting in the mando world with alternate tunings, say in contrast to the guitar? Is there a mando DADGAD out there waiting to be discovered.

A - I would recommend g-d-a-d and g-d-g-e to start with (both are low to high). It is a lot fun to experiment with tunings and find your own ones as well.
---
Q29
Q - Radim, we always like to get any good stories from our Guests about the pioneers of our instrument such as Bill Monroe, Jethro Burns, Dave Appolon. Do you have any good stories to share?

Q - I met only Bill Monroe from the above. In 1990 when my girlfriend Katarina (from Slovakia) visited me in the USA we went to a concert of Bill Monroe and the Bluegrass Boys. After the show she went to see Bill and asked him to sign a CD for her. He said: "sure, but first I have to kiss you..."
---
Q30
Q - I've been asked to inquire about your playing of a Beethoven Sonatina performed in the styles of various well-known players including Bill Monroe, Jesse McReynolds and others, and whether or not you had any plans to record this piece played in this manner?

A - I wrote the "Variations on a Theme by Beethoven" back in 1993. There were about twenty of them at the end, in the styles of Rudy Cipolla, Bill Monroe, Jacob do Bandolim, Jesse McReynolds, David Grisman, Sam Bush, Niles Hokkanen, Paul Glasse, Mark O'Connor and many others. There are plans to record it at some point for sure.