Peter Ostroushko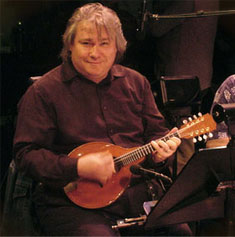 When they write the book on Peter Ostroushko, they may mention that he loved his family and music and cooking and baseball. But there's no doubt they'll say he was one of the most accomplished instrumentalists and gifted composers of his generation.

The die was cast early on. Growing up in the Ukrainian community of northeast Minneapolis, Peter heard mandolin, balalaika and bandura tunes played by his father and family friends at get-togethers in their home and in church. It's the music that still echoes in Peter's memory and provides the basis for many of his compositions.

The musical road that led Peter to this point has had its share of twists and turns. He was still in high school when his career as a professional musician began. Asked to compose and play the music for a one-man staging of A Christmas Carol, Peter fell in love with theater. Soon he was honing his skills at the Children's Theatre School in Minneapolis.

He began to take up instrument after instrument, finally opting to concentrate on fiddle and mandolin. During the next three decades, he made his mark as a sideman, session player, headliner and composer. His first recording session was an uncredited mandolin set on Bob Dylan's Blood on the Tracks. He toured on a regular basis with Robin and Linda Williams, Norman Blake and the Rising Fawn Ensemble, and Chet Atkins. He also worked with the likes of Jethro Burns, Emmylou Harris, Willie Nelson, Johnny Gimble, Greg Brown, John Hartford and Taj Mahal, among a host of others.

As a solo performer, Peter has produced a number of recordings, including Down the Streets of My Old Neighborhood, Slüz Düz Music, and the three albums that make up his Heartland Trilogy: Heart of the Heartland, Pilgrims of the Heartroad and Sacred Heart. His latest is Meeting on Southern Soil, a collaboration with longtime friend Norman Blake.

Peter has spent more than 25 years as a frequent performer on A Prairie Home Companion, and for a few seasons, he did a stint as Music Director for the popular radio show. You may have caught Peter on TV, too. He's appeared on Austin City Limits, Late Night with David Letterman, even Mr. Rogers' Neighborhood.

Peter's talents extend beyond the realm of folk and jazz. Several years ago, the Minnesota Orchestra hired him to play Mahler's Seventh Symphony. The whole piece only has about 15 minutes of mandolin, and that's not until the fourth movement. Peter figures that Mahler must have had a brother-in-law who played mandolin and needed work. You can bet if Mahler had known Peter, he would have written the mando a bigger part.

When the Saint Paul Chamber Orchestra's season included a mandolin concerto by 18th-century composer Giovanni Paisiello, they called who else, Peter Ostroushko. And they did the same when they presented Vivaldi's mandolin concerto and his concerto for viola d'amore and mandola. Finally, they decided to perform one of Peter's own compositions, the exquisite "Prairie Suite."

Composer Peter Ostroushko has undeniably come into his own. His works have been performed by the Saint Paul Chamber Orchestra, the Minnesota Sinfonia, the Rochester (Minnesota) Symphony Orchestra, the Des Moines Symphony and the Kremlin Chamber Orchestra, among others. Twin Cities Public Television commissioned Peter to provide music for their nationally distributed programs, The Dakota Conflict and Grant Wood's America. Ken Burns used music from Heart of the Heartland for his PBS documentary Lewis & Clarke, and Peter's haunting arrangement of "Sweet Betsy from Pike" was underscore for Burns' Mark Twain.

And remember the Children's Theatre Company, where a teenage Peter Ostroushko first developed his interest in performance? Decades later, they commissioned their one-time student to write the music for a production of Little Women.

In 2001, Peter was the recipient of a Bush Artist Fellowship for Music Composition. And, along the way, he has picked up a N.A.I.R.D. Indie Award, and a couple of Minnesota Music Awards. His music has made its way around the world. Wherever it's heard, there's another bunch of fans eager for more.
---
Q1
Q - I am curious about the mandolin you play. You are shown on the Gavin Baird website as playing on of his mandolins. What characteristics led you to play one of Gavin's mandolins? How does it compare to other top mandolins that you have tried?

A - I do own, and play a mandolin made by Gavin Baird. The mandolin that Gavin made for me was a "custom" model. First thing you need to know about my mando prefrence is that I am a oval hole kind of guy. I play strictly on "A" style mandos. The one that Gavin made was his basic A style with a few modifications that came from my main work horse mandolin. That mando was made by a violin maker in New Mexico by the name of Peter White. Peter along with Ken Keppeller, and myself built the mandolin that has become my work horse and signature sound if you will. That instrument (built in 1990) was taken off the blue prints for an old Gibson A style. Peter made a few modifications of his own. The thickness of the top, back and sides were quite a bit thinner then what the Gibson blue prints called for. I also wanted a little bit wider fingerboard. The neck which was carved by Ken was carved in a pretty dramatic "V" shape as per my instructions. Peter, being a violin maker also finished the mandolin with a violin varnish rather then the usual lacquer that is put on mandolins. All of this put together made for a very incredible instrument that totally changed the way I viewed playing the mandolin. As I said this instrument became my main mandolin but over the years I've had a lot of problems with it and cant always depend on it to be in a playable condition.

Heres where Gavin came into the picture. I met Gavin up in Winnipeg Manitoba (Where he lives) and became friends with him over the years. He showed me a number of his F-5 and F-4 style mandos (they were quite nice) but I told him that I was strictly an A guy. When he built an A style mando then we might talk buisness. A few years back he was visiting MPLS. and brought over to my house a A style mando he had just finished, and I really liked it. I was having trouble with my Peter White mando at this time, and the brown faced Gibson A-4 that I had also been playing wasn't able to give me the "Sound" that I was creating with the Peter White mando. I needed to get another mando that could give me the "sound" I was used to. Gavin had created such an instrument. Of course every instrument has it's own sound, but I had played enough of Gavins guitars and mandolins to know his instruments were quite consistant. So I told him to make me one with a few changes to reflect my Peter White mando. The wider fingerboard and the V shaped neck were done. Also, I had him use banjo frets rather then the standard mando frets on the fretboard as per my Peter White mando. Gavin gave me a color option which included some pretty odd colors. I chose "Eggplant", which has a very purple hue to it. It is a great instrument. It has a sound all it's own. Some where between my Peter White, and an old Gibson A style.

You might ask why I didn't have Peter make me another mandolin as a spare, and I did talk to Peter about it, but building mandolins was just a side trip for him, and he didn't want to build anymore. His true calling is to build violins, violas and cellos. I own a few of his violins and they are quite excellent. I have been very lucky to have found Peter and Gavin to build me the mandos that I have. I actually don't know of any one else who is building A oval style mandos. There are a lot of mandolin builders out there making fine instuments, but they are mostly building F-5 copies. There may even be some makers who are building A style mandos, but I don't know who they are. Of course, finding an old Gibson A style is always an option, but I've found that about one out of a hundred is a great mandolin and the rest are pretty good to okay. Being an old Gibson makes it a wise investment however. In general I've found that the best old Gibsons are the ones with a black face. I believe I own the best one. It's an 1912 A-4 I got from Norman Blake. I'm also very taken with old Lyon & Healy A style mandolins, but they have a completely diffrent sound then the Gibsons do. I especially like them for playing classical music. Of course these old instuments are getting quite pricey if you can find them, so I highly recommend Gavin Bairds mandolins if your looking for that special unique A style sound.
---
Q2
Q - Tell us about how you get your tone- I don't know how to describe it, but I think you really make a mandolin sound like a mandolin!

Is it a conscious effort, or a byproduct of other things, that produces your tone?

A - I believe my tone is a by-product of four things:

1.) The mandolin that I play. For the past 17 or 18 years I've pretty much played on A style oval hole mandolins. I prefer that sound for how I choose to express myself on the mando. A models have a darker tone in general. Since I'm a "dark" kind of guy the A model suits me to a 'T'! I also believe that the A style mandolin has more sustain then the F model. Having more sustain means that the note stays around much longer, so that if I'm playing a slow piece (like most of my origionals are) I don't feel that I need to use a tremelo all the time to sustain the note. The tremelo then becomes a color that I use to create a mood rather then a necessity. Now if your goal in life is to play bluegrass music that has that Monroe sound, then the A model will disappoint you. That is not my goal. My goal is to express my emotions on my instrument, and I believe the A style gives me a much larger pallet of colors to work with. One other thing about sustain. The mandolin as an instrument is one of the least sustaining instruments in the world. Therefore it needs all the help it can get. I use banjo wire for frets (up to the 12th fret) on my mandolins. Banjo wire is a little thicker and wider then mando frets. This gives the string a little wider space to fibrate against, hence a little more sustain.

2.) I use mona-steel strings. GHS Silk&Steel strings to be exact. Mona-steel strings aren't as bright as bronze strings, but they last a lot longer then bronze strings do. For a guy who hates to change strings as much as I do thats a great plus. I usually change my strings about twice a year. One time I played on the same set for about three and a half years! Needless to say I rarely break strings. Mona-steel strings just feel right to me when I first put them on. They feel like I've already broken them in for a day or two from the get go. Bronze strings irrate me for about a week until they start to sound good and then they go dead shortly after. Every mandolin is different however, and you should experiment on your instrument to see what sounds right for you. I do believe that the Silk&steel strings help define my sound.

3.) I use a extra heavy Tortoise shell pick to play with. I dont care what any one else says, it makes the tone louder and clearer then other picks.

4.) Yes I did make a conscious effoft way back when to try and get good tone. Over the years that I've taught mandolin I always would ponder why my students tone was awful. That made me sit down and really try and evaluate how I picked so that I could show my students how to correct what they were doing. I finally came up with some picking exercise's to help develop good tone. I use them today as a warm up before I play. It wouldn't do me or you any good for me to try and describe them over the internet. Perhaps someday I'll be doing a workshop near you and I'll be able to enlighten you in person.
---
Q3
Q - Can you describe some of the techniques or ornaments typically used in your more old-timey and bluesy playing? You and Norman Blake are such masters of that old-time sound and feel.

A - The techniques that I use in playing oldtime music or blues really is summed up in one word: Listen! Listen! Listen! Playing different styles of music, is really like speaking different kinds of languages. The basic concept is the same, but you have to make diffrent sounds in other languages, and the word structure is often different then the way we put sentences together in English. In order to learn to speak a new language you really have to listen to someone who can do it. In my youth I was fortunate to have heard some great blues men live. Son House, Mance Lipscomb Sonny terry, and Brownie MaGee. They moved me to no end, and I got their recordings and listened endlessly to how they sang and played the blues. Charlie Patton, Robert Johnson, Mississippi John Hurt, J.B. Lenoir. Now thats some heavey shit! What I'm trying to say is that these guys taught me how to express myself in their language "The Blues". It wasn't about studying blues scales or arpeggios. It was a sound with feelings that after I listened to it enough it started to show itself in my music. I heard the blues mandolin players like Yank Raychal,and Carl Martin, but I didn't so much study their licks as I let their language become part of my vocabulary. The same thing can be said about Old Time Music. I listened and learned. Hobart Smith, Roscoe Holcomb, Buell Kazee, Doc Boggs, Uncle Dave Macon, Gid Tanner and the Skillet Lickers, and endless more. I listened until their language made sense to me, and I could converse with them. I also will say without hesitation that Norman Blake hisself was one of my great mentors, and he made it a lot easier for me by watching, and listening to him play old time country music. He truly is a living link to the glory days of country music.
---
Q4
Q - How does your Slavic music creep into your American folk music and vice versa?

A - Slavic music creeps into everything that I play. Being a first generation Ukrainian in this country, really gives me little choice in the matter. I do have an iffinity towards playing in minor key's because Most Ukrainian music is that, and that kind of music is what I grew up on. Once again though, it's not just the music that defines the Slavic nature of my music, it's the soul of my people and how they view their world and choose to express themselves. It wouldn't matter if I was playing San Antonio Rose, I would still be expessing (for better or worse) througth my Ukrainian Roots.
---
Q5
Q -Didn't somebody make a Peter O model mandolin? What's the story with that?

A - One of the A style mandolins that I play was made for me by Gavin Baird up in Winnipeg Manitoba. It was a custom made instrument made with some ideas of my own(see my response to Woody Snyder for a detailed description of those ideas) Gavin asked me if he could market the mandolin as a Peter Ostroushko model, and I said "Sure, have at it". I'm not sure he's had any takers yet, but I trust him to build mandos with my namesake on them.
---
Q6
Q - Tell us all about working with Jethro Burns on your "Buddies of Swing" CD. I'd like to hear something more in depth about how he picked and what he was like to pick with as opposed to he was a great guy, and funny, etc...Thanks

A - Jethro once told me that, if you were to ask him what he considered his place in the entertainment field was, he would say he was a comedian. That he was a great mandolin player was secondary to his biggest goal which was to make people laugh and have a good time. That may be why so many people respond to that question you ask by saying he was a great guy! He was funny, and he made us laugh. He did, and that is why we say that. It would be impossible to talk about Jethro, and not talk abouy his sense of humor. It wasn't just about his persona or jokes, but how his persona and jokes became part of the music. The way he played. his devil may care improve solos. The way he could quote passages from one tune into a solo of another was not only brilliant, but incredibly funny also. Jethro like a lot of musicians I've met over the years who came from the 1940's had a incredible memory. He could quote to you the day he first heard Django play the guitar, what song it was, and quote you instrumental passages from the tune like it was yesterday, but in fact was 50 years earlier. He came from a time when musicians looked at themselves as entertainers rather then hot pickers, so their catolog of jokes were every bit as important as their catalog of licks. Jethro was a consumate elderly gentelman when I first met him, and even though he loved to sit around and tell jokes while downing a six pack of beer he was also very much the professional. When we recorded the two tunes on the "Buddies of Swing" record, we had very little time to do it. Jethro came in to St. Paul to do a Prairie Home Companion broadcast on Friday, which is when we'd reherse the show for a Saturday live show. Before the rehersal we went to Studio M which is across the street from the Fitzgerald theatre and spent about two hours recording "Tico-Tico", and "Liza". We didn't even need the whole two hours to do the recording. Things went so smooth and sounded so good that we could have used the first take of each tune, but since it was going so fast we did about 4 takes of each tune, and would just decide at a later date which take to use. For all I know we might have used the first take, but I don't remember anymore. That was a lot of notes ago! Jethro in true jazz style played a diffrent improve solo each time we would run through a tune and they were all incredible. He got a great tickle out of the fact that I had learned note for note harmony parts to his melody on these tunes, both of which he had recorded with Homer many years earlier in his career. That was how I learned them, and was able to come up with the harmony parts. Jethro had a great time, and had a huge smile on his face as we recorded the tunes, he perticularly enjoyed Butch Thompson's playing on the piano.
---
Q7
Q - What is the scoop on the latest Mando Boys CD and will transcriptions be available?

A - The new Mando Boys CD has about 20 tunes taken from recordings of live shows. For the most part these were excellently recorded by engineers from public radio stations that were going to use them for later broadcasts. The best part is that the recordings come from a time period when the Mando Boys were at their peak. About five of the tunes were live versions of tunes from their studio recording, but the rest are tunes people only got to hear if they were at one of the Mando Boys rare concerts. In my opinion the arrangements for these later tunes were way better then the pieces they did on their first recording. Some people may not like this, but when I put together the material for this CD I decided to try and make it as much of a live performance as possible. Consequently I put in a selected amount of stage talk in between tunes to let the listening audience know what they were missing from having missed a live show. The Mando Boys weren't just a mando quartet, but they were four thugs with attitude. Equally adept at creating delicate mandolin mayhem and also petty crime. The recording itself is done, the reason it is not available is that I'm doing this on my own, and consequently can only devote so much time to the project (which is very little). The biggest stumbling block is a lack of funds to finish the packaging, and pay for the copyright on the music. You will see it this year if I win the lottery other wise, who knows.........The plan is to try and get the arrangements together for publication, there by making them available to you to purchase. This is also a big job because very little of the mando boy arrangements were written down, so they will have to be pieced together by ear, by yours truly. The last I heard the Mando Boys were sheep herding somewhere in the bowels of Uzbekistan, so they won't be much help in this matter.
---
Q8
Q - What is your take on the black face mandolin mystique and do you still perform with that beautiful old Gibson "A"?

A - As for black-faced mandolins, I wasn't aware that there was a mystique about them. I can only speak of the two that I personally owned, and they were exceptional instruments. The A-4 that I currently posess I think is the best Gibson A model ever built. In general I have to say that the black faced Gibsons that I have played were far and away superior to other A models. Go figure! I rarely perform with a Gibson any more. For the past 14 years I have played on my Peter White A style copy or my Gavin Baird A style copy in concerts. Thank you, very much!
---
Q9
Q - You were one of my first mando heroes. I bought Sluz Duz shortly after starting to play and started to work on many of the tunes way befor I was ready. I can playa few of them now, but your tremeloe on a tune like Katerina's Waltz, is something else. Do you just have to have a name so hard to spell that people shorten it to the first letter to get that Ukranian sound? Any tips?

Also you mention somewhere that you started mandolin first then added fiddle, and then later took some lessons and had to correct some technique. Was that on the fiddle or both, and what sorts of things. Many more years of playing and great success to you,

A - In the Ukrainian neighborhood that I grew up in your last name would have been shortend to the first letter, so if your not satisfied with your tremelo I guess that rules that theory out! Thank you for your kind words. I'm not sure how to be someones hero, but as I type this out I decided to wear strechy spandex, and a cape to get into that hero mode. It's not pretty, but satisfying in a complex way. The tremelo came natural to me. I don't remember ever struggling with it. Perhaps it does come natural to us slavic types. You might try adding a bowl of borscht with sour cream once a day to your eating plans. I did that when I was young. It may have helped me with my tremelo, but even if it doesn't work for you you'll still get a good meal out of the deal. You might try drinking a triple esspresso, and smoking a camel straight before practicing. That worked for me for many years before I realized I was killing myself. How bad do you want a tremelo? The tremelo is a wrist action movement. There should not be any tension involved during the movement. I plant the heal of my hand right behind the bridge, and pretty much keep it there while I'm playing. There is no preasure involved, it just rest's there. >From that position I just start rotating my hand in a back and forth quick motion to get the tremelo up to speed. I use an extra hard tortiouse shell pick in the standard pick shape. I do not play with the tip however, but with the rounded edge. You might try that and see if that changes things for you. As per your other question, I did start mando first, when I was about 4 years old. My dad was a mandolin player so there was one in the house. There were always mandolin jams at my house because it seemed that most of the Ukrainian types in my neighborhood played the mando or guitar. I bought my first fiddle when I was 16. I never took lessons on the mandolin. For about one month I took guitar lessons in St.Paul at Bellsons studio. Had I known at the time that Albert Bellson was one of the great mandolin virtuosos in the world I would have taken mando lessons instead, but I didn't find out until way after he passed away. I taught myself how to fiddle as well, but the fiddle is a very unforgiving instrument. I've taken violin lessons on and off over the last 15 years mostly to try and help my reading skills, and to try and get a grasp on Baroque playing. I love Bach, so I'm always tring to get a handle on his solo violin sonatas. Most of the time is usually devoted towards correcting how I use the bow. When your self taught you tend to develop what ever comes easiest. But in tunes like Bach there are a lot of things that are very untatural with the bowing that you really have to work at to be able to do them. Like the mandolin, where the use of the pick is the key to success, the use of the bow is the key in fiddling. I should mention that I did take a week's worth of private classes from Evan Marshall in Los Angeles back in Sept. of 2001. I was trying to get a handle on that duo style of mando playing that he so expertly does. That was quite enlightning.
---
Q10
Q - Tell us about your on going work on Irish/Celtic style music on piano? Any Mandolin thoughts on this?

There are a lot of celtic players on the list.

A - I have not done any studies on the piano particular to Irish music. That must be some mis-information. I did take up piano studies a few years back mostly to get aquainted with the keyboard to help me out while composing.I have been working on a book of transcriptions of Irish fiddler John Doherty. Doherty's fiddling style is very mandolin friendly so when I get done with that book that may be of interest to mandolin players interested in Irish music.
---
Q11
Q - Tell us about your Mandolins? I know these folks would enjoy hearing about them.

A - In an earlier response to another set of questions I talked about this, and also about the instruments that I use so I will direct you to previous answers about those.
---
Q12
Q - Tough one here.. Fave mandolin player or players?

A - As far as other mando players I have to say that I'm not quite up on the mando players of today. I don't spend a lot of time listening to music in my spare time, and don't keep up with things the way I used to. The players that I studied and listened to a lot in my younger days were; Muxailo Czerniak a great Ukrainian mandolin player from my neighborhood. Sam Bush was always one of my favorites. Norman Blake was a great mentor of mine. I continue to study the playing of Brazilian Jacob do Bandolim. Jethro Burns was a big influence along with Johnny Gimble for swing and jazz mandolin. I've also enjoyed listening to Ugo Orlandi from Italy for Baroque mandolin.
---
Q13
Q - The most fun you've ever had on a gig/jam playing mandolin?

A - Since I've been playing professionally for almost 40 years now it's hard to come up with a single great jam session that sticks out. They all seem to blur together in the memory. Two that come to mind happened in Canada. Many years ago while performing with Robin and Linda Williams at the Winnipeg Folk Festival at the hotel I found myself with Robin & Linda and the Hot Mud Family jamming old-time music at the hotel. In walked Tony Bird from S. Africa and starts to listen. Tony being a very intense songwriter about the racial injustice of S.Africa. After awhile he picks up a guitar and asks if we would back him up on some of his tunes, he says that he had a vision of playing these S.African tunes with a bluegrass band. Being three sheets to the wind we said sure. It was one of the best cross cultural music jams I've ever been involved in. Another time at the Winnipeg folk Festival, I sat and jammed with Bela Fleck and Lorraine Duisoit on Mandola for about 7 hours straight! Some of my favorite jams were when I was on road with a Praire Home Companion, and the touring band was Chet Atkins, and his rythym section. Johnny Gimble on fiddle, and Butch Thompson on the piano. Often I would get a late night phone call from Chet and he would say he was having trouble getting to sleep and would I mind picking a few tunes with him. Sometimes it was just the two of us, and other times we'd get the whole band up for a late night jam, looking through the hotel for a room with a piano. Those were fun times!
---
Q14
Q - Peter, how did you begin playing mandolin? What make and model of mandolin(s) are you playing now? Can you talk about your work with Norman Blake?

A - I started playing the mandolin about the age of 4. My father played the mandolin as did many of the Ukrainian people in our neighborhood. Every weekend there would be jam sessions at our house or somebody elses house that we would go to. They were always family affairs with lots of food featuring sour cream and garlic. Lots of homemade potatoe vodka too. So I grew up hearing Ukrainian mandolin music all the time. It was a very special way for them to hold on to their culture. I was niether encouraged to play or not to play. It was just a natural thing for me to want to play after seeing the adults in my life having such a good time with it. So thats how I got started on this road of petty crime and mandolin playing. As far as the Norman Blake questions go, I will refer you to previous answers that I have given to other questions about Norman.
---
Q15
Q - Your recordings are usually about equal parts mandolin and fiddle tunes. Have you ever thought about doing a recording that was only mandolin or only fiddle, and if not, why not?

A - I would call "The Mando Boys" recording an all mandolin recording. However if you are refering to my own musical compositions that I've been concentrating on over the last some years then yes I have not made a strictly mando or fiddle CD. Since I love to play both instruments I don't feel restricted to having to do one or the other. I also believe strongly that as far as my own origional music is concerned, I am serving the composition. What I mean by that is, I mostly compose on the mandolin, but will often choose to play the piece on the fiddle if I believe that the purpose of the music will be better served by that instrument. To me it's all about creating the feeling or mood rather then what instrument I'm playing. For instance people have often asked me to play Heart of the Heartland on the fiddle, and I just can't do it because for my ear I express that tune better on the mandolin. Jay Unger plays it on the fiddle and thinks of it as a fiddle tune, but not I.

I have dreamed about putting together a recording of just Mandolin music from all over the map. Some Ukrainian, some Brazilian, some Irish, some Puerto rican. Also some classical pieces, blusgrass, and jazz styles. Kind of a over view of the mandolin world literature. It would be a huge expensive project, and thats probably why I havn't done it yet, but I'm still thinking about it. I'm also planning on recording a companion CD for the John Doherty transcription book I hope to have done soon. That would of course be all fiddle. So, perhaps I'll soon get around to all these projects (if I win the lottery). Of course people tell me I first have to buy a ticket in order to win.........
---
Q16
Q - I've heard that you are publishing some transcriptions of John Doherty's playing. Is this true? If so, when will they be appearing?

A - What you heard is true. I've been transcribing John Doherty's fiddle music for the last 5 or 6 years. I probably have a couple hundred of his tunes done, but I still have at least that much more to do. Just in the past year I've gotten 2 CD's worth of Johns music from private sources. Many of the tunes I have in my private collection, but there are some gems that I hav'nt heard before. Also with Johns music you have to take a restrospective approach to putting something like this together. Just last week I got a version of John playing "Lord Gordans Reel" that I'd not heard before. I already had done a transcription of this tune from a recording of a younger John Doherty. This new version I got is so totally diffrent from the one before that I have to transcribe it too. That is the thing about Johns fiddling. He was a great improviser, and always reworking tunes, often times changing the keys he would play them in. I have about six versions of "Bonnie Kate" that I've already transcribed, and a few more versions to go. So as you can see, this project is a very big project, and I need to do it right. I'm not just trying to put down a version of a tune, but get at the essence of Johns genius. So it's still going to be a while (at least a year if not two), before I'm done with this, but it will be well worth the wait. In the mean time you can down load one of the transcriptions I've done of the way John played "The Oak Tree" off of my web site, www.peterostroushko.com. One final word about John Doherty's music. John was an incredible fiddler from County Donegal in Ireland. Donegal has it's own style of fiddling that is quite different from other styles of fiddling from Ireland. John played in this style, but also had a very personal style that was distincly his own do to his virtuosity, and also his knowledge of very archaic tunes. For those of you in mando world who want to get knowledge of playing Irish tunes on the mandolin, I highly recommend listening to Johns fiddling. It is very mandolin friendly. Not always easy, but because of the way he bowed tunes, it works very well for us plectrum types.
---
Q17
Q - I've enjoyed your playing very much over the years, but have only seen you perform once. I'm in the SF Bay area. I saw you in Berkeley must be 15 years ago when they were in a little hole in the wall. I know you've been out this way since then, but any plans for a swing West to the Bay Area?

A - In general I don't tour as much as I used to. I have been to the Bay area a number of times scince you last saw me. Just last fall actually. At the moment there are no plans to be on the west coast anytime soon, but it will eventually happen. Check out my web site now and again for my tour schedual. My web site is at www.peterostroushko.com
---
Q18
Q - Hey Peter- What choro tunes are you doing in public lately? Also what are the names of the choro tunes you did with dean on "duos," besides flight of the fly?

A - Many of the choros that I play came from home made tapes that people have sent to me over the years, and they didn't list the titles. so many of the tunes I don't have names for. Some titles I do have names for that are on the current concert set list are; "Ginga do maine", "Benzinho", "Porque tu saxaphone", Brasilierinho" to name a few. The medley that I recorded with Dean Magraw on the "Duo" CD are named "Voo do Mosca", "Muy Chorinho", and "Noitas Cariocas".
---
Q19
Q - Can you give us an update on the John Doherty project? I look forward to its completion. By the way, I use to enjoy seeing you play at the old Napoleon Cafe with Dean Macgraw. Those were some of the best concerts that I'd ever been to.

A - Check out some of the prior answers I've given to some other folks about the John Doherty project. I don't think I've got a whole lot more to say about it at this time. Thanks for the comments about Napoleans. Those stand out as some of my favorite concerts also.
---
Q20
Q - Peter - Slüz Düz Music is one of my favorites, but the cassette version I own has no liner notes. So I ask:

What's the inspiration for these tunes? Who else is on the album? What does Slüz Düz mean anyway? And, given your stated preference for A-styles, is the F5 you're holding on the cover just a prop?

Also, I just learned that you played mando in a performance of Mahler's Seventh Symphony. The fact that there's a mandolin in the score was news to me. Are there other Mahler works scored for mandolin?

A - Sluz-duz is an Americanization of a Ukrainian phrase my mother often use's. In Ukrainian the whole phrase is "S'hlooze dooz zehowv". There is no direct translation into the english language, but it basically means "Off your rocker" or "One french fry short of a picnic basket". Back in the early 80's I was in a band called the "The New Prairie Ramblers", and the guitar player in the band was my best friend Tim Hennessy. I would teach Tim some Ukrainian words every once in a while, and he particularly liked that phrase. It got americanized over time, and we would use it to describe some incredible or weird music we had just heard. For instance we would just say something like "Charles Sawtelle must have sluzed his duz on that guitar break"! Anyways, after awhile people kept coming up to me and saying that my music was just like "Dawg" music, referring to what David Grisman was calling his music. Now I like Grisman as much as the next mando player, but I didn't think our musical styles were the least bit the same. So I would answer these people by saying "It's not 'Dawg' music it's Sluz-Duz!" This was done tongue in cheek so to speak, but some how it stuck around for a while. I don't use it anymore to describe my music, but do use it in it's original Ukrainian meaning when I'm speaking in that language. The inspiration for those tunes on the record are many. To many to go into totally. "The Last Stand" was a fiddle tune I wrote to commemorate a last concert I was playing with my musical partner back in 1976, Dakota Dave Hull. "Christans Creek" was inspired by a creek of that name that is in the Blue Ridge Mountains of Virginia somewhere between Staunton and Charlottesville. "The Sluz-Duz Polka" was written as a mandolin exercise for myself trying to get better in playing in strange key's like Gb. "Sleepy Jesus Rag" was written as a birthday present for Butch Thompson, the stride piano player who was in the house band of "A Prairie Home Companion" back in the late 70's and early 80's. We played it together on the show for his B-day. I can't really take the time to explain all the titles, but that gives you a taste. The mandolin that I'm holding on the cover was the instrument I used on the recording. It was an F-5 copy made for me by Rod Bellville in Mpls. This was recorded before the time I knew I was supposed to be playing an A style mandolin. I did play the mando part on Mahlers 7th symphony with the Minnesota Orchestra. I actually got to play it with them when they were touring on the east coast, and got to play it in Carnegie Hall. Quite the incredible experience. I've also got to play a piece by Mahler with the MN. Orch. called "Das lied von der ered". The opera soprano diva Jessie Norman sang on that. I know Mahler used mandolin in some of his other symphony's, he liked the 'everything but the kitchen sink' approach to his composing. I just figure he must have had a brother in-law who played the mandolin. Was just trying to get him some work!

P.S. I forgot to mention the players on the "Sluz Duz" recording. My friend Tim Hennessy played guitar on a lot of it. Irish guitarist extraodinaire Daithi Sproule played guitar on the Irish sounding stuff. Norman and Nancy Blake played on some of it. The Bluegrass band Hot Rize played on one tune. Butch Thompson played piano. Irish accordionist Paddy O'Brien and Irish banjo player Mick Maloney played on a tune, and two local boys Bruce Calin on bass and Bruce Allard on violin. I think that's everybody?............
---
Q21
Q - "The Mando Boys" is one of my favorite mandolin recordings. Are the arrangements that you and the boys played on that record available for sale? I'm especially interested in "Victoria Elizabeth Waltz." I think it would be a good number for the Minnesota Mandolin Orchestra and other mandolin orchestras, too.

Do you have any stories to share about performing with the Mando Boys?

A - At this point none of the mando boy arrangements are available, simply because when the mando boys worked out the music most of it was done by ear. None of the 'Boys' was a good reader of music, so once in a while parts would be written out in tab but, usually who ever arranged the tune would just play the persons part onto a cassette and they would learn it by ear. Now, it is one of my goals to try and recreate some if not all of the mando boys arrangements, in the future, but at present I'm sorry to say they are not available at this point. I would like to share some stories about traveling with the mando boys but, due to the fact that minors can log onto this site I will refrain from polluting their young minds with stories about how low, to what abysmal depths mando playing could take a person. I can't do that with a clear christian conscience.
---
Q22
Q - Sluz Duz Music is one of my favorite cds. Marjorie's Waltz(key of eb minor) and Sluz Duz Polka (key of Gb major) are very beautiful tunes. Can you give us any insight into how you think while playing in these keys.

Scale positions, chord shapes, arpeggio fingerings or any reference material which led you to a mastery of these keys would be a great help.

A - Both of those tunes began as exercises to help build up strength in the use of my little finger. What I would do is play a tune like "Sailors Hornpipe" in the key of G, and then move it all up one fret and basically use the same fingering, but substituting the 4th finger for the note that would have been an open string down in G. Then I would practice that tune chromatically up and down the neck. Then I would do the same thing with tunes in other key's like A or D. In the process of doing that I would occasionally hit an open string by mistake, and it would lead me to a different harmonic idea. I believe I was doing the chromatic thing on "The Clarinet Polka" playing it in Gb out of the closed position when I hit some clunkers that sounded good to my ear, and out of that came "The Sluz-Duz Polka". Theres no great secret to playing in all the key's. You just have to do it with purpose. Do it as a study with a plan. Practice your scales and arpeggios up and down the neck. Don't be afraid to get high, so to speak. You'll find that once you've done it for awhile that the fingering is really no different then the fingering is down by the nut. The other thing I did to help me playing up the neck, was to buy some violin etude studies and practice those for a few hours a day. My reading skills improved greatly and I learned about the positions on the high part of the neck. Two great books I would recommend are by Whistler. Learning the positions volumes 1 & 2. You'll find these in any decent music store in the violin section.
---
Q23
Q - I had the pleasure of hearing you in Victoria, BC in Autumn 2002 ... I'd been jamming weekly at the local Bluegrass club, for almost a year, as a beginning mandolin player, and it seemed to me that everyone just wanted to play fast and loud ... then I heard you ... you opened up a whole new world of mando-playing ... such sensitivity you put into your music ... dynamics of phrase, rhythm, tempo, feeling ... your influence was a real turning point in my attitude towards my mandolin and how I might learn to play it ... thanx!

Can you tell me what influence has affected your playing?

Do you have any exercises/techniques to suggest to develop dynamic phrasing in mando playing?

A - Dynamics and mandolin don't usually go together in the same sentence. Therefore I congratulate you for doing that and also involving me in the process. I know what your talking about at jam sessions where people just play loud and fast and it just sounds like a hive of angry bee's at starbucks. Some times it's fun to do that especially if you just got dumped by your lover, or got fired from your job, however most of these types of mandolin players deal with there emotions as though they are the next wave of ax murderers. I like to believe that you can express the full gamut of emotions on the mandolin rather then the professional wrestling approach. These people are not really into playing with others. They don't listen. Especially to the silence, where all music begins. I believe it is really easier to play with dynamics when you have the right mandolin. For me that became a oval hole A style mandolin. They have a much broader range of sound then the F style mando. They are not as loud, but that is why microphones were invented. My whole world of playing changed with my first good A style mando. There was a depth to the low tones that an F style couldn't compare with. It made me want to caress each and every note and make it linger like a good kiss. It's hard to do that when your playing as loud and fast as you can. I discovered that there were so many colors ,and voices, and landscapes in the mandolin if you just listened to the silence and worked with your instrument rather then beat it up. I do admit that beating it up on occation is fun (and sometimes nessecery) but that is such a small part of the big picture. I did practice dynamics in my playing, especially on the tremelo. I'd work from a dead quiet to as loud as I could and back again over a one minute time space and then over two minutes and so forth. It was a good excercise. I applaud you for trying to find beauty in an ugly world.
---
Q24
Q - I'm intrigued by the tune "Chickamauga" on the "Meeting on Southern Soil" CD (with Norman Blake). I think I recognize one of the parts as Tam Lin and another as one of those Big/Little Liza Jane tunes. Was it an intentional pastiche or did it just come together that way? Want to give us a hint as to what some of the other parts might be? Love that CD by the way, especially Oklahoma Redbird.

A - "Chickamauga" like a lot of my tunes just came to me. I wasn't thinking of any perticular tune or tunes. If there was any deliberate thought at all, it was to write a piece in the style of my favorite fiddler John Doherty from County Donegal Ireland. The piece started going through my head as I was walking through the Chickamauga battlefield park in N. Georgia. I was picturing General Longstreet's soilders jumping off the train and rushing into the battle giving the South the edge. Looking at the serene Chickamauga creek as it stands today, picturing 63,000 dead soldiers laying in it back then. I don't know, You might hear Liza Jane, but I was hearing something totally from another world.
---
Q25
Q - As a fan of yours as well as of Bob Dylan, I'm interested in your involvement with the "Blood on the Tracks" album. Did your playing end up on the record or was it lost in the mix? Did you play mandolin on the sessions?

A - I did play on Bob Dylans "Blood on the Tracks" CD. I played mandolin on one tune which was "If you see her say hello". It is not lost in the mix, but very much there. Bob himself can be heard playing the mando in the very beggining of the tune and also at the end. My part was an arpeggiated cross pick kind of style through out the tune, but Bob wanted some tremelo at those places that I mentioned, so he picked up my mandolin and went out into the studio and did a overdub. So there are actually two mandos on the tune. If your interested in reading about the whole making of "Blood on the Tracks" tere is a new book that just came out called "A simple Twist of Fate; The Making of Blood on the Tracks" that you should read. It's a very good book, and truly delves into being in the right place at the right time!
---
Q26
Q - Peter, Your the first person that I've heard play "NOLA". Where does the tune come from and has anyone else recorded it that you know of?

A - Nola was written by a fellow named Felix Arndt who was a piano player back in the old tin pan alley days. I remember hearing it as a kid watching the Lawrence Welk Show on TV. Usually some one would tap dance along to it. The version I learned came from an old tape I had of Jethro Burns at a jam session. Jethro recorded the tune a number of times. Theres a version on Acoustic Disc (Grismans label). I think it's called "Tea For One". I also have a recording of the Nashville string band doing it on one of their records. The Nashville string band was a recording band that consisted of Homer & Jethro, Chet Atkins, and sometimes Johnny Gimble on mando and fiddle. I also have heard a great version on the 5-string banjo on a recording by Bill Kieth. Of course there is always the version done by the Mando Boys...
---
Q27
Q - Many, many years ago, I was fortunate to take a few mandolin lessons from one of your old bandmates---Bob Douglas. At that time, he was playing a Ferrington mandolin, that I believe he told me he had bought from you. As he is mostly known as a guitar builder, can you please give us a little background on that particular instrument, as far as how you came by it, etc. My memory remembers that as quite a nice mandolin.

Also, I have heard that Bob is now playing a mandolin built by Lloyd LaPlant---I was curious if you know whatever happened to the Ferrington mandolin?

A - You were fortunate, Bob is one hell of a mandolin player. I met Danny Ferrington in Nashville back in the mid 70's. He was working as a builder and repairman at Randy Woods old shop 'The Old Time Pickin Parlor'. He and I hit it off really well, and formed a friendship. He had just finished a F-5 copy and had strung it up when I came to town. I played it and instrument lust bit me hard. Of course that mandolin was spoken for so I asked him to make me one. He obliged, and about a year later I got my mando via the UPS truck. At first I loved it. It was a deep honey colored instrument fading into black around the edges. It had a curved fingerboard with wide frets as I asked for. Most importantly it sounded just like a good F-5 should sound like. After a while I noticed that it was really hard to get the thing in tune. Now I know mandolins are notorious for not being able to get in tune, but this instrument was impossible! I could futz with it all day and not even get close. The problem just got worse as time went on, and finally I took it back to Danny and told him to fix it. He worked on it all day, and by the end of the day he had the bridge set at a 45 degree angle, and finally it sounded mostly in tune. I knew a bridge shouldn't be sitting at a 45 degree angle however, and pointed that out to him. He agreed but, I think he was sick of working on it so I didn't push him any more. You see, he was selling me this instrument on the instalmet plan. So I took my 45 degree mando back to Minnesota. It bothered me however that something was wrong, and I needed to get it fixed. I took it to my friend Ed Beatty who worked at Hoffman Guitars, and he decided that the frets were not layed out right. There was no way that this instrument was ever going to sound in tune. So I had him put a new fingerboard on the mando with different fret spacing and sure enough, the thing could get tuned. However, I kind of had had it with that mandolin by the time it was playable. It became my spare mando as I went back to playing my Bellville F-5 copy. When I started playing with Bob Douglas in the "New Prairie Ramblers" in 1979, Bob was playing an old Gibson F-4 that was one of the best F-4's I've ever heard. Someone had loaned it to him on a somewhat permanent basis, but that fateful phone call came one day, and the owner wanted his instrument back. Bob was heart broken cuz he loved that mando. He tried and tried to get the guy to sell it to him, but to no avail. We were pretty darn busy as a band at that time because we were the house band for 'A Prairie Home Companion'. Bob needed an ax! So I loaned the Ferrington mandolin to Bob, and he had it for a few years. That was probably when you took lessons from Bob. He never bought it from me, I always owned the thing, and when the band eventually broke up (like all bands do, except for the Rolling Stones) he gave it back to me. By then I had seen the light, and was playing a Gibson oval hole A style mando. The Ferrington went back in the closet. Now I'm not one to hoard instruments. I believe an instrument needs to be played, and deserves to make some owner happy. I sold it to a student of mine, a doctor from Mpls. named Mark Wedel. He moved to San Diego, and became the head of the ICU at the Scripps instute (heavy duty job!) and in his spare time went back to college to get a law degree! Needless to say he didn't have much time to play the mandolin. He sold it to Joe Trimbach who played mandola with the Mando Boys. I believe Joe is still playing on the Ferrington. Bob Douglas is playing a Lloyd LePlant mandolin now, and he's very happy with it. Now that was a long winded response to your question, but I just got done watching the Twins home opener on TV, and they came back from a 4 run deficit in the 8th inning to beat the Indians 7 to 4. I'm a little pumped! One last thing. I told Norman Blake about my adventure with the tuning problems on the Ferrington, and he said 'No wonder'! 'What do you mean no wonder' I said. He explained to me that the blue prints that they used at the "Old Time Picking Parlor" at that time, were blue prints that were made from a Lloyd Loar Gibson F-5 that I believe was owned by Bill Monroe. All the mandolins that were built at Randy Woods shop used that blue print. So all the mandos that Danny built were made from those blue prints. Well the mandolin that the Blue prints were made from had a fingerboard with the wrong spacing on it. Consequently all the mandos that came from that shop were defective. After a few years, and many complaints from customers they tracked that Gibson F-5 down, and re-measured the fingerboard. Sure enough, the fret placing was wrong. Just goes to prove what I've been saying all along. I wouldn't trade an A style for all the Lloyd Loars in the world! They are not everything they are cracked up to be. I lost track of Danny Ferrington in the early 80's. I heard he had moved to L.A. to try his luck there. Many years later I see an article about him in 'People Magazine'. The guitar maker of the Stars, the headline reads. He's living at Linda Rondstat's house and making guitars for all the rock stars. Danny has done really well for his self. That mandolin might be worth a lot of money some day, but I still wouldn't trade my A style for all the........