Mike Marshall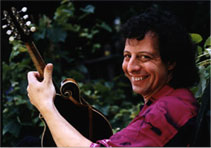 Mike Marshall's touring and recording career began over 20 years ago as a member of the original David Grisman Quintet in 1979. Since those days Mike has been at the center of the acoustic music scene can be heard on hundreds of recordings of acoustic music. His mastery of mandolin, guitar and violin and his ability to swing gracefully between jazz, classical, bluegrass and Latin styles is rare in the world of American vernacular instrumentalists.

Mike has performed and recorded with some of the top acoustic string instrumentalist in the world including Stephane Grappelli, Mark O'Connor, Bela Fleck, Edgar Meyer and Joshua Bell.

In 1983, Mike formed a partnership with violinist Darol Anger and together they formed the Montreux Band with pianist Barbara Higbie, bassist Michael Manring and steel drum virtuoso Andy Narell. This group released five recordings on the Windham Hill label and toured extensively throughout the U.S., Canada, Europe and Japan from 1984 to 1990. The Montreux band pointed the way for much of the acoustic instrumental music of the 80s and 90s.

In 1986, while still a member of Montreux, Mike founded a classical string quartet of mandolin family instruments (two mandolins, mandola and mandocello) This group, The Modern Mandolin Quartet, released four recordings for Windham Hill Records which redefined the mandolin in a classical music setting. In 1995 the Quartet made its Carnegie Hall debut and in 1996 received a 'Meet The Composer' grant from the Lila Wallace Foundation.

In 1995 Mike traveled to Brazil and fell in love with Brazilian choro music. Upon returning Mike began an in-depth study of the style and the result was the CD Brasil (Duets) on Earthbeat! records. This project showcases Mike at the top of his form as a mandolinst in duet settings with many of the top instrumentalists of the day.

Mike has continued to push at the boundaries of acoustic instrumental music. His most recent collaborations include a trio CD entitled Uncommon Ritual on the Sony Classical label with Edgar Meyer (bass) and Bela Fleck (banjo). Their 1997 release was on the top ten Billboard classical music charts for over three months.

Mike has recently connected again with his long time partner Darol Anger in two very different configurations. One is the bluegrass super-group Psychograss (Sugar Hill Records) with guitarist David Grier, banjo player Tony Trischka and bassist Todd Phillips. The other is a jazz inspired quartet in which the two explore the outer reaches of their improvisational skills in the Darol Anger – Mike Marshall Band with bassist Derek Jones and drummer Aaron Johnston. Their newest CD Jam has been released on Compass Records in Nashville.

In late 1998, Mike produced two holiday recordings. The first is a solo guitar CD entitled Midnight Clear on the Acorn Music label; the second is A Christmas Heritage on Six Degrees Records with Alison Brown, Darol Anger, Tim O'Brien, Todd Phillips and Phil Aaberg. As New Grange, this same group of musicians completed a second CD, also on Compass Records.

In late 1999, a quartet recording featuring Edgar Meyer, Sam Bush, Joshua Bell and Mike was released on Sony Classical.
---
Q1
Q - Mike, we are glad to have you this week as CGOW. A number of CGOWs (Tony Williamson, Dawg, John Monteleone) have given their version of the "Virzi-otomy" that was performed on your Loar. Do you care to set the record straight as to what really happened on that famous incident?

A - That is funny that this would become such a tall tail.

It was a full moon night, (that much I remember) in Oakland CA on Park Blvd in the basement apartment of an old house that Todd Phillips was renting. He is quite a good craftsman and at the time he had a shop set up doing instrument repairs and such.

He had Frank Wakefield's Loar there at the time and was refinishing it. Frank had spray painted the face of it red using epoxy paint. So Todd and I were scraping all of this stuff off using Acetone, cue tips and toothpicks getting inside each grain. It was nasty work but we did it and Todd put a very nice varnish finish back on it.

So we decided to take out my virzi on this night.

Todd took a really long screw driver and bent it just right so that we could stick it in through the end pin hole and smack it with a hammer and dislodge that sucker.

Well... I cradled the mando on the bench like a football and he stuck that thing in there and gave it a smack with a hammer. (!) Well ..... nothing happened. That thing didn't budge! We both were amazed. So he did it a couple of more times until finally we heard this loud crack and clearly something had happened.

It turns out that these things are pinned in with a tiny nail into the face. They are also inlayed into the tone bars. So they don't come out very easily.

It did eventually drop however and then we had to figure out how to get it out of the mandolin. So were had to break the Virzi by lifting up on one side of it through the F hole while holding down the other side of it through the other F hole.

It was quite a nasty experience generally but it came out in two pieces and we glued it back together and I have it on my mantle. I thought of it as an historic moment for sure so I ran a tape recorder of the whole procedure. We have this whole episode on tape someplace. I'll burn a cd of it one of these days for you real trivia freaks.

Shortly after that John Monteleone put new tone bars in it and did some light regraduating on the face. It did sound a lot better. Actually the basic character of tone didn't change that much at all but it just felt looser and you didn't have to play it for 20 minutes for it to open up as was the case before.
---
Q2
Q - Mike, I think somebody is not telling the whole truth here. Monteleone was CGOW last winter and he told of having a mayonnaise jar full of shavings on a shelf in his shop from regraduating the top of your Loar. We may have to put some of you guys under oath. I am a 30-year lifelong professional trial lawyer and I will be glad to handle the questioning of our suspects! We'll ask J.M. and see what his story is now.

A - Yes he does. As I said. He re-guaduated the top, so yes he kept the shavings and the old tone bars.

Oh and yes...that is my 'final statement'.
---
Q3
Q - As an obsessive choro player I'm thinking of a trip to Brasil in the future - I'm thinking of either Sao Paulo or the Northeast - any recommendations on which area (or other regions) to find the hard core choro players?

You were kind enough a year back or so to answer my question by e-mail on a passage in Descenda a Serra, for which I'm indebted. Brasil duets is currently playing in the background... high on the rotation... see you in Barre Vt. [Will Patton]

A - I have only been to Sao Paolo and had an incredible time and found lots of choro particularly in the Italian district in the cafes and on the streets. Look for a mandolinist named Isiais do Bandolim. But they tell me that Rio is where the really big choro scene is. Where ever you end up in that country you will have an insanely great time with all the music. Each region has it's own style and music just permeates every aspect of life there. Very rich and wonderful stuff.
---
Q4
Q - Can you tell us a little about your mastering process for Into the Cauldron? I think I remember reading somewhere that you (or someone) played it back in a chapel of some kind to get a natural reverb sound? anyway just curious thanks.

A - Yes we recorded to a multitrack in a dry room. Then brought everything into a beautiful church. We put my Genelex speakers at the front of the church and put Chris into the left speaker and me in the right and played the tape back through the speakers.

We tried different mic placements and volume levels until we got what we considered a nice sounding reverb and recorded this sound onto two separate tracks of the multitrack machine.

Then we brought the tapes back to my studio and this became the reverb sound for the CD. We could use as much or as little as we wanted this way.

We also played around with delaying these reverb tracks to fit the space of the tune. It has the effect of moving the mics closer or further back from the speakers. (bigger or smaller reverb).

We also added some digital reverb as well.
---
Q5
Q - I remember when you first moved out to Calif to join the DGQ. Todd had a shop in my art glass studio, and you guys hung for a couple intense days with Todd showing you the mandolin parts, since he was switching to bass. I'll tell ya Mike, you were like a tape recorder. Todd would go da-da-dittity-ditty-da, and you would just play it back da-da-dittity-ditty-da, once thru & you were jammin' on it. Have you always had this ability since you were young? I know you came up in a band of kids, much like Nickel Creek, where you started at a very early age, touring, festivals, etc. Did you have this skill then or develop it through time, with practice and experience? Were you always good at hearing and connecting from your ear to brain to fingers, to the right spot on the mandolin, in nanoseconds. Any suggestions for us reg'lar mandolin players to help develop this skill? I wanna be like Mike!

A - It's very hard to say where that ability to play back and remember melodic phases comes from. Yes it seems to have always been something that I was able to do. I think it does save a lot of time and it enables one to sift through lots of musical material quickly. which is quite handy.

Whether it is something that can be taught I am not sure. It seems to be some kind of brain pattern thing and it could be that some people just retain this stuff and can put it onto the instrument easily and retain it. I am just happy that I got blessed with that little skill. It has come in handy. And it seems that with the little bit of age that I have now, I have noticed that I do need a few more repetitions these days compared to when I was in my teens.

I would say try to sing a melody and then find those notes on your instrument. Even if it sounds silly I believe that if could go a long way to making those connections from the 'melodic mind' to the fingerboard. It might be the leap needed to get you out of just playing by the finger patterns method.

I think that transcribing solos from recordings can also help one make these connections. Slow it down so that you really integrate it into your body and mind at a deep level.
---
Q6
Q - How do you prepare for performing things like Contrapunctus, or Uncommon Ritual? This is a big departure from the hard driving nature of your work with Grisman, or Darol Anger, or the many other ensembles you've been part of.

A - I would say that to read from the page is yes a different kind of experience from playing by ear and improvising so much of the music like I do most of the time.

There's also the sense of counterpoint going on with Bach that is potentially confusing until you have played the piece many times.

Then there is the practicality of keeping your eyes on the page even though you are used to looking and around at the other musicians when you play. If you lose your place in a piece like that it can be very difficult to find your way back in.

So all of this is a big challenge but so satisfying when it works and you get to hear the music really sounding like it should.
---
Q7
Q - When you play huge venues like Telluride or Rockygrass does hearing yourself through the main speakers ever distract you from the task at hand? It's quite a different audio dynamic from a small club or not being amped at all.

A - I actually enjoy hearing the sound coming from 'out there' whether it's a festival or a large nice sounding hall. It gives you a sense that the audience really is sharing in your experience of enjoying the music.
---
Q8
Q - There seems to be a little dialog regarding Chris Thile going on right now on CoMando. Since you have played and recorded with him, what impresses you most about Chris' playing, rhythm, technique, tone, etc.? Do you and Chris improvise a lot and play off each other?

A - Yes we improvise a lot but there is a lot of worked out stuff as well. maybe 50/50 but who knows.

Chris is just astonishing. What else can be said. He has that super clean clear sound on every note. Just such a spectacular sense of detail in everything that he does.

But that is balanced by his ability to stretch and push at the outer limits of even his limitations in a way that gives the music a nice charge. Tone-great rhythm-great technique-ridiculous.

Let's have more like him.
---
Q9
Q - Congratulations on your new Serenata recording. It is awesome! Who do you recommend we listen to for those of us interested in Choro?

A - Jacob do Bandolim is considered the kind of Bill Monroe of the classic Choro sound. Grisman has two volumes of re-issued recordings from Brazil of his sutff. Fabulous stuff.

But also check out Paulo Mauro, Paulo Sergio Santos, Rafael Rabello, No Impingo DAugua, Hamilton De Hollanda, Mauricio Carillo, check out the label Kuarup discs http://www.kuarup.com.br/sitekuarup/index.asp and also Acari records. Great selection. It's a deep deep well of music down there so be careful. You might never come back.
---
Q10
Q - One of my favorite recording is the one you did for Menus and Music, called "Tasting the Wine Country" as the Mike Marshall Quintet. Do you plan on releasing this under your new label. Anymore MMQ recordings planned?

A - Yes we are currently working on releasing this but meanwhile you can get the cd and the cookbook combo at Amazon.
---
Q11
Q - When I interviewed you for Mandozine, you said you wanted to do a guitar album. I know you did the "Midnight Clear" album (beautiful!), do you plan on any more guitar albums?

A - Not soon but who knows.
---
Q12
Q - I've seen reference to you having big hands. Do you like big mandolin necks? Do you find that smaller necks cramp your style?

A - I actually have a fairly small neck on my mando. This is an interesting and good question. Because of the size of my hands I can actually play two pairs of strings with the tip of my finger without bending down into a bar type of position. So this is an advantage to the combination of big hands/small neck width.

Then again some folks who have really small hands and slightly wider necks can actually play with two fingers in the same fret between adjacent strings. This is a nice approach but I suppose you could make the argument that you lose a finger when you do this, but in the end it becomes what works for you and feels right and comfortable.
---
Q13
Q - Who are your favorite stringed instrument players, who did you try & emulate when you were coming up? From your point of view, your generation, were you aware of the early mandolin masters? Did you hear & study the music of Monroe, Appalon, Jethroe Burns, Tiny Moore or the music of Django & Grappelli and other earlier generation players? As a young stringed instrument prodigy, did you learn about the earlier generations by osmosis through the playing of guys in the generation ahead of you, like David Grisman & Sam Bush? And then possibly delve into the older cats in more detail as you got older, as a youngin', did you wanna play like Dawggy & Sammy?

A - Yes yes and yes. All of the above. I just dove in to it all and learned as much as I could from all of those people. Transcribed solos from records. Sat and played with people up close and tried to learn everything I could from everyone I came into contact with too. Sometimes from people who weren't that famous or even considered that good per say. I might understand something from some aspect of their playing that would influence me. It's all out there and it's all possible.
---
Q14
Q - I've enjoyed your playing soooooooo much over the years, be it DGQ, MMQ, Psychograss, duets with Darol or Chris, playing with Edgar Meyer & his collaborations, or your Choro band. You are incredibly versatile as a musician, from Dawg, to classical, to BG, to jazz, to New Acoustic originals, to Brazil and back, you've shown me that it is ALL MUSIC, and I've learned to appreciate more genres from following your career. Thanks so much for the inspiration. The only other mandolinist I've seen who approaches your range is Chris Thile... in your opinion, and this might be an awkward question... just how good is the kid?

A - It's just very rare and extraordinary when folks come along with his level of basic ability. Coordination, smarts, an incredible imagination, his ability to learn things so quickly and retain them. That's just all really wonderful stuff to have as part of your vocabulary. Also his openness to new things is quite fun and exciting to be around. He just keeps learning and stretching himself to get better and that just is great for the music.
---
Q15
Q - Could you talk about your relationship with Edgar Meyer.

A - We met in Bloomington Indiana when he was in school there. I was on tour with the Grisman quintet and we had Bela out with us on a few dates as a special guest.

Yes, Bela had told us about this amazing bassist and we all met Edgar after the show at a party. We all of course had our jaws dropped seeing this cat.

It would be many years later before Edgar and I would connect musically and that would be through our classical music connection. I had asked him to write a piece for the Modern Mandolin Quartet with us and bass. He did this for our Nutcracker Cd actually.

Later we would begin to develop a duo repertoire that has been evolving and getting more cohesive with time as we get to perform it more and more.

Of course he is one of the most import musicians I have encountered both in terms of what he has done for the instrument and what he has shared with me about his thoughts on music and playing in general.

Just an amazingly well informed and brilliant thinker about music.
---
Q16
Q - What was your first mando-cello?

A - That Monteleone was the first one. yes sir. I had been playing Grisman's K-4 from the teens up until then. When I got John's M-Cello I instantly felt that the concept of a mandolin quartet could work because of the power and range of this instrument. It's ability to carry the low end of the group as well as go into the upper registers, to me made it possible to think that a group like the MMQ could exist. A very exciting thing for me. Thanks John.
---
Q17
Q - Ybor City. What a great tune! Do you still perform that one?

A - I just re-recorded it for the Menue's and Music cd/cookbook Tasting the wine Country. Yes... love that one and of course the Cuban coffee there in the Tampa area.
---
Q18
Q - How did you get hooked up with Chris Thile? Is he taking good care of my mandolin? As he is notorious for beating up his instruments, when I sold it back to him I told him the sale was conditional on him taking better care of it this time. I hope I don't ever have to take action but I would do anything to protect Dude No. 5.

A - I first met Chris when Scott Nigard brought him and his dad to my house to record something for a Sugar Hill Christmas cd. We hit it off right away and anytime we would be at the same festival we would connect and share thoughts about mandolin playing and that eventually led to us recording together.

As far as I'm concerned, as good as Chris plays there should have been a kitty taken up for him to just play the damn thang;) As far as being hard on instruments. I don't think I have much of a leg to stand on with that one.
---
Q19
Q - I have a question about your tone...I know it is a subjective topic but here goes. In general when I've heard your playing it sounds brighter than most players almost like you play closer to the bridge? Is this a conscious effort or is it just naturally the way it happens for you? Or do you play more towards the neck and that is just the way your instrument sounds?

A - It's probably a combination of both. Ones' sound is a very personal thing that begins with choosing an instrument and then develops over time with these thousands of tiny choices we make along the way. Everything thing from what type of pick? how to hold it? where to play on the string? how hard to attack the string? Ultimately I believe the sound is in your head and then you have to find a way to get at it through the skills you have.
---
Q20
Q - Also I have a question regarding your approach to improvising over fiddle tunes like Whiskey BB, or Fishers Hornpipe etc etc, When you take the melody outside the box so to speak but still retain some really important melody notes what do you base these excursions outside the melody on, ie arpeggios altered scales?

A - I think that this stems from my involvement in Texas style fiddle music probably via Mark OConnor when he was playing the DGQ. That art form has evolved to a very sophisticated level in that tradition and it is worth all of us mando player checking it out. Since so much of what we play is fiddle tune based music I would say that learning how to 'improvise' over a tune in this way is invaluable. It gives your playing cohesion and form. It's really something between 'blowing over the changes' and just doing a variation on the theme. It really is a combination of the two.

Also I would have to point to my having learned so many tunes is so many styles. All of this is music and it all relates. I see it as developing a nice sized vocabulary of sentences to draw from. I don't do this consciously but I believe that all of that musical information must make it's way into your hands and then at some point it finds it's way back out of the instrument in some new form.

I am excited to check out this new book by John Mcgann where he writes out all of these variations on these simple fiddle tunes.

Also Matt did his master's thesis on this subject where he analyzed O'Connor and Benny Thomason playing over a bunch of tunes.

But doing this from a book can be very hard. I would suggest taking the first part of Blackberry Blossom. (just the opening 8 bars) and try to see if you can create three different ways of playing that line. It's the best way to unlock that door that I know of. If we distill that melody down far enough we eventually get G, F#, E, D, C, B, A , D.

So....?
---
Q21
Q - Fiddle was your first instrument, wasn't it? When and why did you start mando? How do you stay so good on both instruments? How about doing some Bay Area workshops, since they'd be close to home for you?

A - Yes actually I am working on putting a Mandolin Symposium together right now with David Grisman and Chris Thile.

We have not started advertising yet but it will be the first week of Aug. 2004 at the Univ. Of Cal in Santa Cruz.

You'll definitely hear about it soon.

Oh and I started mandolin because the bluegrass band that my teacher started needed a mandolin player. So that was me.

I love to play the fiddle. It is so satisfying, but I don't bring to it all of that fiddle angst that so many poor guys end up with. I just do it for fun and it feels great! They're tuned the same so it's not that different. Guitar and mandolin are more different. That dang B string throws everything off on a guitar. I like to say that on mandolin you don't need to know what string you are on because the interval that you are looking for will always be in the same relative place but on guitar you have this extra bit of thought that is needed depending on where you are.

Of course with the fiddle you got that darn bow... oh and no frets. I almost forgot about that.
---
Q22
Q - Playing choros mostly from the books, with a lot of listening as well, to Isaias, Waldir, Jacobo, Joel Nascimento, I don't hear a lot of improvising over the changes... a lot of embellishment, but not that semse of just taking a ride over the form. Also the books seem to indicate that AABBAACCAA (rondo?) structure. Are these tunes sometimes just wailed on, or do most choroistas stick pretty close to the melody and structure? (Sometimes we just wanna go... out, y'know?)

A - You are right. In choro (at least in a traditional sense) there really hasn't ever been a lot of improvising on the changes per-say like in American jazz and swing. After all choro means 'to cry'.

I think this is because of it's classical music roots. Musicians will create their own variations to certain parts of a tune and then use those at specific points. The true artistry of the great choro musicians I am learning is in the way that the players phrase a melody. To play against the rhythm section to create a kind of tension in the band. This is where they would be creative. Sometimes racing ahead with a phrase and then leaning way back the next time. This comes from the Portuguese Fado tradition influence. If you listen to the way that the singers sing in that style they do this kind of stuff. Also the great Portuguese guitar players like Carlos Paredes do this. It is fantastic. So unlike everything we think of about in bluegrass where all of the eighth notes have to line up.

You also have lots of Italians who immigrated there and the romantic styling became and influence on the music of Brazil.

But I am starting to hear young guys actually blow through changes occasionally. Like Hamilton de Hollanda. Amazing chops and heavy improviser. Or Rodrigo in No Em pingo D'Augua. So I think that you will begin to hear the next generation take this music to some new places that will be very interesting and exciting. They will influence us and maybe we will influence them a little too.

Do your thing with it. It sounds like you are doing your homework too and really listening to where the music came from and that's important but in the end we have to be who we are as American mando guys and gals.
---
Q23
Q - Speaking of the mando-cello. How do you get such great tone. Many times when I here someone playing one the tone sounds a but mushy but the tone you get makes me weep. Although Grisman did a great job on the cuts with cello on his latest album with Sam.

A - That mando-cello just happens to be one of the greatest ones I have ever played. It is just an extraordinary instrument in every way. (thanks John Monteleone). I also have a Lloyd Baggs pickup in it which gives it tons of low end when I play live. But in the studio I just use the mic.
---
Q24
Q - Anything in the works with Anger on possilby a new album? I really enjoy the albums you two have doen together

A - Yes Darol and I are planning another CD. This time we are going to overdub a bunch of our instruments and create a kind of studio CD with all lots of sounds. We are in the writing stage right now but we hope to be done by late Spring and I will put it out on my new label Adventure Music

We'll have to learn to play these tunes as a duo after it's all done though.
---
Q25
Q - Mike, are any of the duo arrangements from the Marshall/Meyer combo available?

I am working with our band's bass player as a little side project; we're trying a Grisman/Meyer duo ("Mando Bass Boogie Sonata") I found posted on the Acoustic Disc site, among other things.

A - So sorry that now of that stuff has ever been committed to the page. If anyone out there has transcribed it please let me know.
---
Q26
Q - Could you share how you approach "coaxing" the best or most expressive tone out of your mandolin with your technique ---- including the nuances and differences in technique that you might apply to various styles or types of music (classical for example)?

A - For me it's just a question of really listening and enjoying the sound of the instrument and the music you are playing and the musicians you are playing with. It sounds simple but that's about it.
---
Q27
Q - From that space comes the ideas and the thoughts about tone color changing and dynamics and your actual musical part changing to fit the musical moment.

A - There are so many places that the pick can strike the string with so many variations of dynamics and color. Sometimes I'll have my students play open D strings back and forth and we will see just how hard we can hold the pick and just how loud a sound we can make, moving back by the bridge and then gradually start backing it off until it gets quieter and quieter and over the fingerboard until there is almost no sound and the pick gets looser and looser in you right hand until it finally falls out onto the floor. This is the potential range of dynamics that are available to us as mandolinists, and I think it's easy to forget something like this. I think many of us just go into a kind of auto pilot way of playing. That is, to just turn this thing on and then turn it off.

Once you become aware of this range then there is the possibility of actually using it. But first things first. You have to feel how this stuff feels in your body and feel how it effects the music and get excited about that.

I must say the all of the experience that I have had playing classical music with the MMQ really helped develop a sense for this for me. The music demanded a lot of color and dynamic shift in order to bring out the nuances of that music. I would say that now when I play other forms of music, I bring those kinds of tonal thoughts with me.
---
Q28
Q - Could you comment on your right hand technique and provide any tips or insights on how to develop speed, smoothness, etc.?

A - PLAY SLOWLY!!!!!
Really that is it. Until we break down the problem areas into manageable bits we can't really see where the problem is and we can't fix it. When students play for me and they are having a problem I can usually find one little spot where they are making the pick go the wrong way or using a strange fingering for one note and it is this little piece that is causing the problem. It can sometimes take a lot to get the person to stop and really understand what it is that they are doing. They often don't even know it. All of the great players Chris, Edgar Bela do this. They stop and analyze what's going on and they play the stuff really slowly and gradually build it up. From there, if your have taken the problems out ,you can play it at any speed.
---
Q29
Q - Could you also comment on how to develop a good, clean tremelo?

A - Angle the pick slightly with the front edge forward so that the pick slides off of the string ever so slightly. You can do this by lifting the headstock of the mandolin up a little rather than by twisting the right hand into a strange angle. To do this you might need to be sitting down and use a foot stool for your left leg.

Also: Don't dig the pick into the string so deeply. Again, so that the pick moves more freely.
---
Q30
Q - Mike, I remember seeing a performance on I think the Grammy Awards a year or two ago with you and a couple of new acoustic type guys playing with Joshua Bell, the young classical virtuoso. How did you get hooked up with Joshua Bell. The perception of most of my friends is that classical musicians are technically more proficient that musicians who play "popular" types of music.

What is your impression of Joshua Bell's chops in comparison to say Daryl Anger or Mark O'Connor. (You can duck any part of this question that one don't want to answer ) Do you have anything else planned with Joshua Bell?

A - Getting connected with Joshua happened because of he and Edgar Meyer's long time friendship and musical association. They both went to Bloomington, Indiana to the Univ. there and knew each other from when Josh was very young, 15 or so maybe.

They had always wanted to do a project together and so when Edgar and he ended up on Sony Classical together it seemed like a natural time. Edgar thought that having a quartet with he, Josh, Sam Bush and myself would be a great combination.

Personally I was not familiar with Josh's playing at that time and was really amazed when I found out just how incredible he really was. This project ended up being an amazing kick in the pants for me and we just had a blast. With Sam there just firing up the rhythm section and Josh burning up the violin, it just turned into a real joyful musical experience. A coming together of musical worlds with tons of respect on both sides of the isle. I have to say that it was Edgar who really threaded the needle there. Creating the musical format for each musician to play to his own strengths and of course dealing with the strong personalities in such a way as to make it all light and fun at the same time.

As far as classical musicians being more proficient than other types of musicians. I just can't agree with that one at all. To me these are simply different areas of musical expertise. They are more like different languages that these musicians speak. To say that one is better or more complete than the other is just not true and doesn't give an accurate picture. It can actually get me pretty riled up and excited in fact because it makes me think about classicism and even racism at times.

Joshua himself would be the first to admit that what Darol and Mark do is really special difficult, and he could not even begin to do what they do. Their ability to improvise and create spontaneously interesting and swinging melodic lines through moving chord changes is just another skill. That is where they have spent their hours of study. Their ability to groove and really understand the inner workings of these other styles is just not something that classical musicians are trained to do.

Of course Mark and Darol could not get up in from of an orchestra and play a Beethoven Concerto. Which is Josh's skill. This is where he has spent countless hours on his instrument. But to say that one skill is better or more complete somehow I think is unfair and really kind of dangerous.

These are musical worlds that we all inhabit. Classical, Jazz, Bluegrass, Latin, Pop.

To do any of these styles at the very top level has to become a life's work and takes tremendous focus and training and time and lots of skills. I think in the past there has been a false truth spoken that if you study classically and gather all of this technique on your instrument, it is going to enable you to play 'anything'. Of course the current generation of musicians understands that this is just not true.

It may give you the chops to play any row of notes at a very high speed, but as we know, to truly speak a musical language and inhabit that world is another thing all together.

So I think this is something that the best players in any genre are beginning to understand these days.

The thing that I would like to be careful of is the cultural bias and perhaps even a social class problem with how we as a society might view certain types of 'folk' traditions versus what we think of as high art forms or classical or western forms. And it is my hope and I think a goal for our society to bridge this gap and to understand that some of these 'folk' traditions take just as much work and demand just as much skill and study and are just as important to our social fabric as our classical or Western art forms.

I think of this gap as really a social one. The fact that one part of society has access and another part does not can be the real issue. We are in the process of understanding this as a society, but until we do I think you will continue to see these splits in genres and classes. It is my hope that a day will come when the idea of genres is so blended that these terms actually become meaningless. At that point what will we have?

Bach was the great composer who took all of the musical forms that were happening around Europe at the time and blended them together into this incredibly cohesive style that is so rich and stylized that it is the essence of everything that came before him and everything that was happening around him and became the basis for everything that happened after him (in Western classical music) because he was such an incredibly talented human and because he could see how all of this fit together and could work.

We are in a very messy period at this time in my view. We have so much access to all of the musics of the world and this has happened so quickly when you think about it in human time that I think that we have not had a chance to really take it all in and study it all and have it become the essence of who we are. It has only been 100 years since the advent of recorded music. Before that you had to travel to these places to share music from another place. And now only a few years of the internet where you can sit at home and check out what's going on anywhere in the world at any moment. That's big stuff.

I really think that it will take us as a society many many years to understand the deep meaning of this and to create a musical form that embodies all of what we as humans have created and collect it together in a beautiful form that really speaks to all of us and is representative of all that we have created up to this point.

It's going to be a really big job but I believe the potential ramifications of this could be very far reaching and could possible answer many many questions that we as as a society can't seem to find answers for at this point.

God, I'm rambling...let's get to work.
---
Q31
Q - I have been a huge fan of yours and Chris' for years. I was lucky enough to catch your set with Chris at Merlefest 2002 and couldn't wait for the release of "Into the Cauldron".

I read, with great interest, the liner credits for "Acoustic space enhancement: Old First Congregational Church, Berkeley, CA." I have speculated about your technique - record in studio and re-record in the church or maybe create a digital effect using the church ambiance or what? Can you share how that was done?

There has been a fair amount of discussion on the list with regard to this effect. I am curious why you didn't go for an effect that reflected more the intimacy that you and Chris so obviously have on the stage.

A - I just love the sound of a musical instrument in a nice big acoustic space. I'll take a beautiful nice sounding hall rather that a bedroom any day. I understand what you are saying but for me whenever I am with my instrument in one of these spaces I am just inspired. It's what gets me going. What can I say?
---
Q32
Q - My wife absolutely loves you because you smile so much when you perform. She says it is because you enjoy what you are doing and it comes through in your music. I say that it is from too many facelifts, what with your being the California guy that you are. Which is it?

A - No face lifts yet, but you'll be the first to hear about it that's for sure.
---
Q33
Q - I'd like to ask Mike for memories of his time with the David Grisman Quintet--good times, bad times, wild times, whatever. I'd also like to ask about how they worked up arrangements: was it figured out by the Dawg in advance, or was the process more collaborative.

A - The process was extremely collaborative. Dawg is one of those great band leaders who surrounds himself with musicians that he really respects and then let's them 'find their way' to a large degree. When they hit on something that he digs he will ask them to stay with that concept and perhaps refine it a bit. But I never saw so much as a chord charge when I worked with Dawg let alone a previously worked up arrangement per say.
---
Q34
Q - I got to see the fabled "Mandolin Madness" show at Wintergrass '02 and immediately started writing a quasi-Celtic parody saga about it called, "The Shriveling of the Gonads" to describe the effect you guys had on every mandolin player within 10 blocks. Even the ones that weren't in the room.

Anyway, technique and style and influences are all terrific, but...you look like you're having more FUN up there than nearly anybody I have ever seen playing on stage. How does a guy have such a good time and not spontaneously burst into flame?

Semi-serious question - you move around a lot more than most mandonians, except maybe Sam Bush. We seem to be a tense bunch. What keeps you accurate in the midst of all the movement? (Hopefully, thinking about the question won't spoil it...)

A - If the music moves me then I move but it certainly is not conscious. When I play really intricate single note stuff I probably don't move nearly as much as when I'm playing a rhythm part. No?
---
Q35
Q - Both yourself and Chris Thile are well known for transcribing "classical" music to the mandolin family instruments. While I know that the majority of the COMANDO listmembers lean toward bluegrass, I was wondering if you or Thile considered getting together and putting together a transcribed collection of Bach, Mozart, Beethoven, etc. (such as, Brandenburg Conc., Valvaldi's Four Seasons, etc.). Also if you fellows might work together on some Choro?

A - Chris and I have in fact connected on choro on our last cd. There is a tune called Desviarada that is written by the multi-instrumentalist great Garoto from Brazil. He was playing in the 30s and 40s and wrote tons of great choros that are still played to this day. Guitarists mostly record this tune but he actually wrote it on the mandolin.

I will be releasing a cd of my group Choro Famoso sometime this spring with myself, clarinet, guitar and percussion that is a pretty straight ahead choro format.

As mandolin players we have at our disposal pretty much all of the violin music that is out there. Same tuning etc. Of course that does mean reading music which I feel very strongly about. If you go to the Modern Mandolin Quartet web site you can find lots of those arrangements available.

I have bought tons of books written for two three and four violin family instruments or recorders or flutes. All of this can be played on the mandolin very nicely. (yes someone must learn to read alto and bass clef for viola and cello but heck, that's not so bad).

I would guess that you can already find four part arrangements of things like the Bach preludes and fugues from his keyboard works. So I don't know whether there is a great need for mandolin specific transcriptions unless we are talking about needing Tabliture. In which case I feel strongly against it anyway so...

I guess my argument is. Can't we just play the Brandenburgs as they are written if we have a large enough group. If you need a quartet arrangement, then yes I could see someone making some decisions about what to leave out etc. No plans for me immediately, but check that MMQ web site and of course Plucked String Pub. and Dix Bruce has some nice things at Mel Bay.
---
Q36
Q - What a great week this has been, thank you for taking the time out to be the CGOW. Being in such a free, open environment can be pretty difficult for some people. Were there any adjustments that you had to make in order to fit in, or was it natural for you?

A - It just takes a bit of time and but it's not too bad. I try to find moments here and there.
---
Q37
Q - I'd like to ask Mike for memories of his time with the David Grisman Quintet--good times, bad times, wild times, whatever. I'd also like to ask about how they worked up arrangements: was it figured out by the Dawg in advance, or was the process more collaborative.

A - The process was extremely collaborative. Dawg is one of those great band leaders who surrounds himself with musicians that he really respects and then let's them 'find their way' to a large degree. When they hit on something that he digs he will ask them to stay with that concept and perhaps refine it a bit. But I never saw so much as a chord charge when I worked with Dawg let alone a previously worked up arrangement per say.
---
Q38
Q - How do you know when you are finished with a composition? Sometimes, I compose things that come out right to my ears the first time but other times (make that most of the time), they don't. Do you have tunes you've been playing for years that just never seem ready?

A - Yes of course. It's exactly the same for me. Some just pop out almost completed in full bloom and others sit around for years as just an A section and the B just won't come till.... later. I think you can get aggressive and try to push things and that can help. But the best ones of course usually show up finished.
---
Q39
Q - On that same topic, have you ever recorded that tune "Vodka Before Lunch"? Would love to hear it again with "Whiskey Before Breakfast" as I believe you played it as a duet medley at one of the Klezmer Festivals in Berkeley.

A - That was written by my wife Kaila Flexer and we started a CD last years so at some point we'll get back around to finishing it and that tune will probably make it on there.
---
Q40
Q - My favorite shows include DGQ at the Bottom Line circa 79 and the Tony Rice Flood Benefit at GAMH especially when you and Darol played "Gator Strut". Do you have the opportunity to play from Gator Strut any more?

A - Oh yes Darol and I just did a CD last year for Compass called 'At Home and on the Range' and Gator Strut is on that one.
---
Q41
Q - Do you have plans to release a version of "Peter Pan" anytime? I don't get to listen to KQED Radio's Forum program often enough to hear it as much as I'd like.

A - Thanks for reminding me of that tune. Lots of folks have asked me to record it and now that Darol and I are thinking of doing another Cd it might be nice on that recording. We'll see.

But yes when you hear something everyday like that it really takes on some kind of strange importance and a life of it's own.

It's the theme song for KQED's form radio show every morning in S.F.
---
Q42
Q - Lets talk duet partners. You've recorded with the best in the bidness, your duets with Edgar Meyer for example are fabulous, BUT what you have with Darol Anger goes beyond two great musicians, somehow one and one adds up to three. You share so much experience and growth together over the years it is almost telepathic. I think of other great duets like Chick Corea & Gary Burton, or Jorma Kaukonen and Jack Cassidy, maybe The gasoline Bros... Grisman & Rice, what does it feel like to have that kind of communication with another musician? Do you agree that the Anger/Marshall connection is a special one?

A - When we met it was an instantaneous connection. One of those rare moments when you feel something that seems to be transcending what you are talking about or the music you are playing. Darol is a brother, a musical brother. I feel very blessed to have had so many musical experiences together. It just keeps growing. We're very different than each other. We know our strengths and our weaknesses. We don't dwell on them. We just work at the music and stay positive and keep encouraging each other to take chances.

v He has a very creative way of thinking about music Almost from the inside out. Me, I'm very direct and kind of bottom up. So it's been really good for both of us, I think to be forced to deal with another perspective.

Sometimes I don't understand what he's getting at but as we work at it and I hang in there there is a moment where a light goes on and I see it from his angle. Very cool stuff.

Funny that you might mention Chic Corea and Gary Burton because we had always been such huge fans of theirs. Then once the DGQ opened up for them in Canada and Darol and I just stood by the side of the stage thinking. 'Yes now that is something to aspire to'. wow!

Later we talked to Chick about playing in different kinds of formats and he said that a truly great artist should be able to play in any number of various sized groupings and still make great music happen. Solo, Duo, Trio and on up. So it always stuck with us. You don't always even need guitar or bass which has become a continuos point of revelation.

The other concert that has always stuck with me was a duo show I saw when I was 15 or so in Fla. where John Hartford played with Vassar Clements. Too much for words.
---
Q43
Q - I've just had the good fortune of hosting Simon Mayor and Hilary James for a concert and workshop here in Goshen, IN. I'm wondering if you've had the chance to hear/see them perform and would care to comment on them, especially Simon's playing. If you haven't, I strongly encourage you to catch them while they're still in the States. I, for one, would love to hear a Marshall/Mayor collaboration.

A - Yes I have seen these two and I remember really enjoying the heck out of it. This was 8 years ago or more so I can imagine that their thing has really developed into something very very cool. Simon writes great tunes and Hilary sings and writes wonderful songs. What more do ya need?
---
Q44
Q - Saludos from central Mexico. Tell us about that first trip from Florida to Mill Valley in 1978. How did it happen, and what did it mean to you as a musician? The first time I saw you, you had just turned 21 and was onstage with Stephane Grappelli. Obviously, your teaming up with Darol was every bit as fortuitous as it was with the Dawg. Would you talk about what those relationships has meant to your musical growth?

A - For me to get to play with those musicians at that time was like being launched out of a cannon. It was like flying every night on stage. It was the most incredible experience you can imagine.

I had been a huge fan of Tony Rice's playing and of course David's too. So when these two decided to form a group to play new music together I knew it was going to be something really special.

Well the result far exceeded my and I think many peoples ideas of what could be. The first quintet record set a new standard for New Acoustic music and started a huge wave of musicians finding their way down this new path.

I had known Tony and he had told David about this young kid in Fla who was pretty good. So when I took a trip out west I got in touch and David he said 'hey come on over and jam with us.' So here comes this kid who knows all the bands tunes off of the record and I think it was quite a surprise for them. So we just started hanging out and playing together right away.

Actually they were recording the soundtrack for the movie King of the Gypsies and they brought me down to LA to record with Stephan and a full orchestra. So that was like some kind of psychodelic dream come true. Just about too much to handle.

If there is something of a musical soul mate I have found such a thing in my relationship with Darol Anger. This thing between us was present from the first notes we ever played together and from there it has just been an amazing musical journey. Really something very deep and profound happens with Darol when we play together that is very rare in music making. There is a level of respect and trust present that seems to enable chances to be taken and with this the potential for a kind of magic. I am just eternally grateful that I have gotten to have this relationship with him.

We keep sharing music concepts with each other and we are very open to the strangest of ideas. From that I believe can come some really electric music. It is fragile of course because there is often no netting but the rewards have always been worth it.
---
Q45
Q - I was wondering what your daily practice schedule looks like, if you have one

A - It's hard to keep it as regular as I would like. We have a 4 year old daughter and there is a lot on my plate with starting the record company and just generally spending too much time of the phone dealing with concerts and things but I do the best I can.

It seems to go it spurts probably like every one.

I'll get on a roll with some concept. Either practicing something like playing through jazz tunes or working on the Bach solo violin stuff or composing and then I'll mellow out on it and some time might go by where I don't actually work very much at all.

That's ok. I think some of those moments away from the instrument can be times where we are mentally preparing ourselves for what we are going to do next. Writing or practicing in our heads say.

But then there are the moments where I just 'need' to get something done because of a deadline of some sort. Either a concert coming up where I have to be prepared or a recording scheduled where I have promised to have some composing done. So those can be good for just getting one motivated.

Some folks I know go and ahead and book a concert just so that they get moving on something that they been telling themselves to do for a long time.

Nothing like a little potential public humiliation to get one motivated.
---
Q46
Q - Do you have any good exercises you can share with us? Right hand/left hand/tremolo/whatever?

A - Check out Wayne Fugate's new book coming out for Mel Bay. He was a student of mind for a short time and included some stuff there that I show people.
---
Q47
Q - What do you think are the most important areas for budding mandolinists to develop?

A - Good tone. Accurate rhythm playing, both single notes and chords. Right hand string crossing. Reading music. Playing in all keys. Playing in a variety of styles.
---
Q48
Q - Also, the local jazz station here in Denver (KUVO) has been playing a CD by Jovino Santos Nato (probably got the name wrong). I've heard them play Joabim's tune 'Wave' several times, and there's a real nice mando solo on it. Is that you? Is that from your new CD?

A - No. I am guessing that that was Don Sternberg but not sure. My cd with Jovino is the music of the great Brazilian Composer Hermeto Pascoal. Check out his stuff with his group. It's mind blowing!!! Jovino was in his group for 15 years.

So much good music from down there. It's a shame that most Americans think of it as only Bossa Nova and Samba because there are some 20 other styles in that country. Very rich and amazing place for music.
---
Q49
Q - What approach would you recommend to someone who would want to branch out into classical music for mandolin? A good instructional book? What pieces of music would you recommend as "starter" pieces?

A - There are so many great beginner methods out there. Some for mando but more complete for violin of course.

If you are a complete beginner then you might want to get an instructor but it sounds like you are playing other types of music at this point so you probably have some basic technique.

I have spent time on all kinds of books that are out there. Going back to the Bickford, Christafaro and Pettina stuff from the mandolin period in the teens to classical violin method books The Doflein method is pretty great.

Also I used to just pick up anything and everything that looked interesting.

Duets for two violins come in all kinds of levels. Go to used books stores and comb the racks. You can get this stuff really cheap.

Basic violin pieces for violin and piano or flute and guitar or recorder music can be pretty easy sometimes. I just got fanatical about reading everything I could get my hands on when I stared to get into classical music. Of course you can't lose with the Bach solo violin stuff but it can get pretty hairy. Start with just the first part of any of the tunes that look easy. Take them to the first repeat or just 16 bars of something and just enjoy the music.

You know, there really isn't a prescribed method for the mandolin in this country so it becomes a catch as catch can type of thing for most of us.

But that can be a good thing because it enables us to check out music for other instruments and get a handle on a wide variety of music from many places.

Mel Bays books by Dix Bruce of classical duets are nice.

Playing through the Irish fiddle books is good. The Real Book. Jazz sax and flute studies are great. Scale patterns books for Jazz. All of it.

The Brazilian choro fake books are more advanced but great. Call 800 727-5876 Luzo Brazilian Books in NY and they import a two volume set.

The key seems to be making sight reading a regular part of your daily schedule. Just tell yourself that you are going to sight read for just 5 minutes each day. Set a low goal like that and once you sit down and start doing it you won't be able to stop I guarantee it. You will be amazed at how quickly your skill ramps up. It really isn't that hard.
---
Q50
Q - Can you name your five Desert Island Discs?

A - John Hartford 'Steam Powered Areo Plane'
Hermeto Pascoal 'Festa Dos Deuses'
Tony Rice and Ricky Skaggs
Something by JS Bach (probably Hillary Han solo violin or Glen Guold piano solo)
This is too hard...It actually hurts to think about!
---
Q51
Q - What type of music was your main source of inspiration as you were growing up?

A - The first music that really caught my ear was Bluegrass and the social aspect of playing the music at festivals. In particular, the late night jams and hanging with friends and sharing musical ideas and tunes.

Next came all the late 70's contemporary bluegrass young guys. Hartford, Rice, the DGQ,, Bush, New Grass, Doc Watson, Trischka, Statman, Barenburg, and all the new acoustic ideas floating about at that time.

Then the 80's jazz fusion stuff. Jean Luc Ponty, Weather Report, Chick Corea Herbie Hancock. Shakti also the Almond Bros. and Little Feet and of course Stephane and Django.

From there I moved to CA and joined Grisman's group so my horizons really expanded hanging out with those guys. Began to try to understand the whole history of jazz from swing, many of the musics of the world music and western classical music.

Started the Modern Mandolin Quartet gave me the opportunity to explore a wealth of classical music literature and to experience it from inside the music.

Since then it has been a basically expansion on all of the above and to dive deeper into different aspects of each of these categories and learn what I can each day.

I never ends. Music is a deep deep ocean and the further in you go, the more you learn is there for you to play with.
---
Q52
Q - What advice would you give a begining improviser? What should I do to improve on this aspect, which I feel is the most important aspect of playing music?

A - Get yourself familiar with all of the keys and then start transcribing solos from recordings. Find a way to slow them down so you can really understand the nuances of every moment.

Play with musicians who you love and feel free to take chances with.
---
Q53
Q - Also, it's amazing how times never change. Back in the 40's and 50's, as you know, Parker and the be-bop guys got a lot of flack for playing what they felt like playing, for being as expressive as they could be. Today I hear people talk about your's or Grisman's music in the same vein. I believe Bill Monroe or Ralph Stanley once called NGR ShitGrass Revival, or something to that effect. Have you experienced anything like that?

A - I have never felt any of that stuff personally though I know that it exists. Music is a very powerful force and people tend to view it as something very personal which it is. That's why we do it right?

The same emotions of joy and euphoria have a flip side to them that can be very negative.

When a music comes along that is so powerful that it completely changes peoples basic musical DNA, like Bluegrass did and like Bebop did, then I think it takes a long time for people to incorporate that into their vocabulary. Once they do and it gets set, I think it then takes just as much force and time to move them to a new way of thinking and playing. It's like the 100th monkey thing. Or the fish in the pool experiment.

It's important to remember that when Bill Monroe came along with Earl Scruggs it was like these guys were from Mars or something. That was the most far out stuff happening at the time. Nobody had ever played like these guys up till they came along. They were all taking their instruments to a new place everyday. These were the pioneers.

That said, I think that there is a place for people to preserve what has come before and to continue to do that which is great and powerful and timeless.

Whether it's J.S.Bach played on period instruments or Renaissance music or old tyme music or Bebop, I think there is an important place for those people who wish to preserve and study the classic forms and keep them alive. I think as musicians we just have to figure out for our selves where we are comfortable sitting on this continuum. Looking out into the future and taking risks or looking back and preserving. No one seat is necessarily better than the other it's just a question of where you personally are more comfortable.
---
Q54
Q - For sheer display of musicianship, it's hard to top your switch from mandolinist for the David Grisman Quintet to guitarist for the David Grisman Quartet on one week's notice, when Mark O'Connor broke his wrist skateboarding in 1979. Could you explain how you pulled that off? How were you able change your thinking, technique, and role in the band so quickly?

A - I had grown up playing guitar and always had it as part of my vocabulary so it wasn't like I ran out and bought one the next day.

I already know all the music, so that helped a lot.

It was obvious to all of us what kinds of arrangement changes we would have to make. So from there it was a question of strength and endurance really. The guitar in that band at that time was a really intense position. You had to really hold down the strings and get that fat ringing sound to fill out the group and drive the time.

Those were some big shoes to fill so the mental part was certainly a challenge. But after a while with enough encouragement from the band and fans I felt good about it and actually felt like I develop something of my own way of playing in that role. Hey I got to take a lot more solos in that position.! I think that playing the mando really helped my guitar playing. I think being able to play a bunch of the instruments a little and to have experience sitting in those different seats gives you an insight that is really invaluable. It helps you understand how a band functions. How rhythm really works and how you fit in to the different positions.

You would be surprised at how many great sax players in jazz can sit down at the piano or the drums and just tear it up. It's part of the bluegrass tradition for everyone to be able to play a little on each instrument for sure. I grew up playing all of them.

Did you ever hear Chris Thile play the fiddle?
Darol Anger the drums?
Grisman the Banjo?
Edgar and piano?
Bela the mando?
Stephan Grappelli the piano?

Amazing stuff! These guys would floor you. This is all about being a complete musician is how I feel about it.

I keep trying to find time to get deep into the piano. It think that would really help expand how I think about music in many ways.
---
Q55
Q - I've tried a couple of times with little success at getting started playing the violin. I just can't seem to get past the initial scratchy stage. Deep down, I think I'm just not as motivated as I was when I started on the mandolin. Perhaps I should take up fiddle instead of violin Any advice?

A - Yes definitely the fiddle. Not the violin. I love it cause I just do it for fun and don't really 'have' to be able to play it.

Yes getting over that hump is a tough one, especially on your close family members. That's why they call it the woodshed right?

My poor mother! I had been playing all of the string instruments as a kid. guitar, mando, bass, dobro. the banjo was a little tough but when I brought home that fiddle man she said 'ok this is too much...' and pointed to the door. 'Out with you!' I used to walk the neighborhood. (pretty tolerant neighbors I guess).

After a while it gets better. What else can I say? Try to pretend that you can actually do it. Just pretend that you are a classical virtuoso and can rip it up and you'll be amazed at how the body naturally falls into a comfortable place. I remember that being a turning point for me.
---
Q56
Q - Mike, we know you love your Loar. Are there any current builders out there now who have caught your attention?

A - I am currently in a flurry open mindedness about this whole bizness. I would love for something to just grab me and take me to a new place. Currently so many people are trying to get back to what the Gibson company was doing from 1921-24. I understand the fascination and reverence and I applaud all the efforts of all the great builders out there. But I just don't know if it's possible to recreate something from another time like that.

I keep hoping that someone will come along with some other entirely different concept of tone that will change all of our thinking about what we think of as 'good'.

It hasn't really happened yet, but I am ready to go all the way outside the box to see it happen. I think we have to be open enough to abandon everything for this.

I think that we are all too in love with this shape perhaps. The esthetic of the F-5 is so amazing and classic and timeless that it may be making us blind to the other possibilities that may be out there. I don't know. I'm not a luthier. I've been having some pretty open conversations with all of them though and we are at least getting the discussions going which is a start.

I've got a little wish list...
I wish the things were easier to play and still have nice volume. I wish they stayed in tune longer than 1/2 of a tune.

I wish that we could play with a string quartet and not get buried when they go for to their loudest dynamic. I wish we could have more sustain without giving up punch. Yes I want it all. Is that too much to ask?

I'm sure that these things are the same things that the great luthiers have been chasing for centuries.
---
Q57
Q - I would like to ask you to tell us a little more about Stephane Grappelli. I have long thought he was one of the great musical geniuses of our time. His playing seemed so instinctive, fluid and emotional. What was he like to play with? Was he laid back, intensive? Any pictures I have seen of him playing (sadly never got the opportunity to see him live) he is grinning from ear to ear (much like yourself). Can you tell us any stories about him. I know you were a young pup when you played with him but did you get to hang with him and soak up those many years of amazing talent?

A - To play with Stephan was an incredible dream like experience for me. I was 19 and I had been listening to these old recordings from the 30s and 40s for 4 or 5 years. He had kind of disappeared from the touring scene for many years so I was amazing to find out that he was still alive and playing.

When Grisman and all of us first hooked up with him he was 70 plus years old. Very fragile when you would look at him. Full of that French class and charm. So worldly. So elegant. So much history in this little man. Most of the 20th century was his. The World Wars. Paris in the 20s. All of the musicians he had played with. What a history!

So powerful though when he picked up that violin.

He would just come to life. You know when you hear Stephan on tape you think you are hearing something light and airy sometimes, but I have to tell you, when this guy wanted to kick it in the pants it was getting kicked in the pants. Very intense and muscular if he wanted to be. Just that beautiful, rich, deep range of expression. From whimpering and sweet to screaming and bold.

And he just was on fire on those tours. He would just bury us every night is how I remember it. Us young guys hanging on for dear life to this frail old guy. It was a lesson in efficiency of energy. I think it was a kick for him to play with all these young guys who had this different idea of rhythm than most jazz guys he was playing with. And of course harmonically and rhythmically he had this whole other language that he was speaking which was so profound and rich compared to what where we were all coming from.

I cherish very dearly the few tours we did and I tried to hold onto every moment that I was getting to be with him like it was a flower. It was something truly remarkable, as you can imagine.
---
Q58
Q - You touched on learning to improvise. I've heard you play chorus after chorus on three chord fiddle tunes with improvised variations, but this question is for more complex chorded tunes. I'm inquisitive about how you think when blowing over the chords to a swing tune or a Dawg tune.

I've watched you take it to the edge, fingers flying, notes popping out like a machine gun, up & down the neck to the edge and back. Do you think an improvised melody in your head & play it?

A - When I'm really relaxed and things are clicking... yes.
---
Q59
Q - In these kinds of tunes with walking chord sequences, do you think ok I'm on Dminor, now I'm playing over Amin, heading to C7th, now the turnaround, or do you know, or feel, the jist of the chord changes, hear the direction the chords are going and maybe start and finish on track? Do you think scales or pentatonics over the key the tune is in, but not think about every chord you are passing over? My guess is you don't know exactly what notes you are playing for every single note, but know patterns or relationships from one note to another. It just goes by too fast, especially at your level of playing. It would be difficult to see the whole picture if you were thinking so hard about where you are and where you are going. So, do you play out of positions and know relationshups to other positions?

A - I would say at the beginning of learning to improvise you have to break this stuff down and really sit with it and do repetitions of things like arpegiating each chord, or playing in the scale of each new chord. You can practice this stuff over a tune or do it systematically over the circle of fifths or however you want to get familiar with it. But whatever, you need to get familiar with the theory in order to not freak out when you see an Abm7b5 chord.

These things should just lay under your hands quickly and without a lot of thinking.
---
Q60
Q - Seems the mando is kinda handy for this, since just moving a fret or two , or up or down a course of strings, you are in position to be over a different chord or in a different key. So Mike, when you're blowing your brains out, how much are you thinking about the exact notes you are playing and how much is intuitive based on your years of practice as an improvising musician?

A - I would say that after years of learning all this stuff and playing over different types of chords there comes a point where you turn a corner and the stuff starts to get less about thinking and more about feeling the changes at a deeper level and your melodic mind takes over and actually plays through the changes in a natural way.

It must have something to do with how the brain works in terms of needing a certain amount of repetitions before something becomes intuitive.
---
Q61
Q - And continuing in that train of thought, how much emphasis do you put on what you are playing being a recognizable variant of the melody?

A - I would say that that depends of the musical style and the appropriateness of what is going on. If it were a Texas tune I would put a lot of emphasis on it but if it were something that I wrote myself I might not put so much emphasis there.

There are times when it is bizarre to just start 'going off' on the changes on say a fiddle tune or something with a tradition that precedes it. But then again with something more contemporary, after you have perhaps explored some other types of improvisation within the tune then it might be the right moment to step 'out'. These are big questions and they must be looked at from the standpoint of knowing your history and the framework of the style you are in at the moment and having done your homework and what the other band mates are comfortable with etc.

P.S. A good exercise it to just play even eighth notes through chord changes and make the notes fit the chords at whatever moment. This will serve you well.
---
Q62
Q - Mike - You're such a great composer, "Gator Strut", "Frogs on Ice", and "Hot Nickels" among others. How about making some sheet music available?

Mark O'Connor's website sells sheet music direct. Seems like a good idea to me. Your music gets more widely played (that's what I'd want if I was composing) and the publishing revenue goes direct to you.

A - I'll have a book of my tunes coming out on Mel Bay next spring. Some of those tunes will be in there anyway but mostly mandolin stuff.
---
Q63
Q - Mike, have you ever played a high end bowlback? It does require a whole paradigm shift in terms of the what you look for in a mandolin but there are some of those qualities that work (see your quote below) whereas the Loar model does not. Perhaps to add just another color for your sound palette.

A - I understand it from the standpoint of a different color. I also understand the the brightness will potentially enable you to cut. But I can't give up the midrange punch or the fat lows.
---
Q64
Q - As you play a lot of Brazilian music, have you considered performing and recording with a bandolim in your quiver? If not, why not?

A - Yes I have thought about this one a lot. It actually makes sense because once you are playing with percussion you could argue that these F5 type mandos get lost in the mix.

The Bandolims have that bright cutting sound of a flat face instrument and often have bone bridges.

I just haven't found one that feels good to my hands. I'm sure there is one out there. Also I miss the warmth of my F5 of course. I just have to turn myself up in the mix.

i am curious about whether these things we think about what a good tone is are social and historical or scientific. I am sure they are some kind of combination.

If Monroe had played a round hole would all of us bluegrassers be playing those? Don't know, but I am sure that most Brasilians play those types of Bandolims because Jacob do Bandolim played one. The bigger question is..if he had had access to an F5 would he have played that or did his instrument develop out of a a natural need tonally to cut through these types of groups.

I also am attracted to the 'difference' of hearing this music on our types of mandolins. To me it expands the horizon somewhat.
---
Q65
Q - And, where can I find a 7 string player in Tucson?

A - That is a hard one. Man! and that music really needs those bass lines to make it sound right. I feel your pain and have worked hard here in the Bay Area to fill this space. There are a couple of guys around here but even though they are Brazilians they didn't grow up playing choro. They have been studying the music right along side me really. It's like going to some foreign country and someone thinking 'hey your American.. let's play some Dixieland!' You might know how to do that but then again maybe not.

Keep pluggin.
---
Q66
Q - Back in March of 2000 I had the privilege of attending tribute shows in honor of Rudy Cippola at the Freight and Salvage Coffee House in Berkeley which included you, and a virtual who's who of the Bay Area Mandolin/Acoustic music Community.

Can you talk about what you learned from Rudy Cipolla musically, intellectually or academically that influences your musical approach today?

A - Being around Rudy was something all of us felt very dear about. Rudy was from another time and yet what he was doing connected so closely to what we were all doing.

He had this passion for the mandolin and the mandolin family so there was that. But more than that, he had this intense dedication to his craft and what he believed in and would not let anything stop him. He just kept writing and writing music. What and incredible thing. He wouldn't let the outside forces of the music biz sway him in anyway or get him down.

Yes he would bellyache about not having any good concerts and not a regular working band but he kept at it. Who ever was around him at the time, he would write a part for them and include him in his group.

All you had to do was show up and something cool was going to happen. Hats off to David for putting out his music and generally taking him in and saving his music and showing it to the rest of the world.

In many ways I feel like Rudy was one of the first waves of American World Musicians. He was from Italy so he had under his belt this rich traditional music. But then he lived in SF since the early twenties and was hearing music from all over the world. So when he wrote music he would toss it all together into this very American soup. He loved very dramatic movie music and so this is reflected in the tunes. Big Crescendos and lots of rubatos with sweat dripping off and tear jerking moments. But that was Rudy. One of the last true romantics.

When you play his music you feel like you are in golden Gate Park and is it 1925. He was as if the swing era never happened. He showed us that it was ok to be obsessed and so passionate about your music that it could completely consume you and it would in the end take care of you in some mysterious way.

Thanks Rudy
---
Q67
Q - Also, could you give us some insight into what it was like to be part of that huge ensemble (and it's many mini-ensembles) and the practicality of playing Rudy's compositions alongside so many mandolin fanatics? As I recall - even Darol Anger played mandolin during the performance.

A - These large groups where like being on a rickety old ox cart that was always about to lose one wheel and you were all going to go tumbling off the road and down into the weeds or something.

His actual charts were always in a state of disarray. He would write so many versions of a tune that sometimes charts would get mixed up and one person's part wouldn't exactly match someone else's. So you had to kind of intuit this stuff cause there was never enough rehearsal time to figure it out exactly. But in the end you just shook your head and said 'well heck... it's Rudy music'.

Always a joy. Always uplifting.
---
Q68
Q - I wanted to chime in on the discussion about different cultural standards of tone. I spent six months living in Bahia, Brazil on a college semester abroad. I took mandolin lessons at the public university there from a great teacher, Paulo Emilio. At my first lesson, I played him a couple choros and laughed, telling me I played well but with a strong american accent. He later took me to meet his friend Aroldo Macedo, brother and bandmember of the famous Armandinho, and a fantastic mandolinist and brazilian music authority himself. Aroldo was really stuck by my tone -- he said it was the strangest he'd ever heard a mandolin sound. He said, "it's so dark! mandolins usually have a bright, clear tone!" I played him a few fiddle tunes and he was really into it -- he said it opened his eyes (ears?) somewhat to different mandolin sounds he hadn't considered before. so yes, standards of tone are clearly cultural, and sounds we aren't used to can take a while to sound "right," but that's just part of exploring outside the little slice of music that is American. I also played Aroldo "Desvairada" from Into the Cauldron and he loved it!

Incidentally, when I had my first lesson with Paulo at the university, he said my sound really reminded him of an American mandolinist he heard on a CD his brother brought back from a trip to the states, but he couldn't remember the name. It turns out it was a MMQ cd, and Mike was the mandolinist he was thinking of. I know I haven't spent a ton of time working with you, mike, but what you taught me has clearly had a huge impact on shaping my playing, so thanks for all the help and inspiration. [Jesse Appelman]

A - Thanks for the kind words and yes I think that we live in a rather isolated musical/tonal world here. I think if we folks traveled more and saw and heard these different musical styles in their own environment we would be more inclined to be open to different approaches.

Only time will tell if the Brazilians choose to lean a little towards our approach or we lean towards theirs. It'll be interesting to watch that's for sure.

Meanwhile play what feels good to you and be honest and open and good things will come.