Emory Lester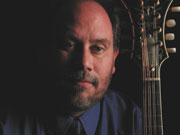 Emory Lester is one of this day's foremost exponents of the acoustic mandolin. The power and attack of his mandolin playing are unmatched, and his sound is infectious. His 1993 recording "Pale Rider", and 1995 recording "The Emory Lester Set" has placed him among the elite mandolinists of our time. So much so, that more and more imitators with black-faced mandolins - Emory"s trademark - are starting to show up at festivals far and wide.

But there is more to this musician than first meets the ear. He has long been an accomplished multi-instrumentalist, and has performed with many jazz groups as a violinist, and with several new age ensembles playing a variety of instruments. His jazz playing retains the energy that is the trademark of his bluegrass playing, while his new age compositions show a lighter and more flowing style of his music.

Emory was born into a musical family in 1962, with his father, Jake Lester, performing around the northern Virginia area as a banjo and guitar player. Soon Emory and older brother, Dale, began to take up the interest, playing fiddle and bass, respectively. At age 6, Emory was on stage with his dad and brother, playing shows for local radio stations and schools in their immediate area.

Teenage years and high school saw the Lester brothers into the rock & roll arena, forming and maintaining several rock bands with local talent.

It was when he first heard the music of the Country Gentlemen in 1973, and more particularly the mandolin playing of Jimmy Gaudreau and Doyle Lawson, that Emory caught the bug to buy a mandolin. The next few years saw him back into bluegrass, playing mandolin in and around the state of Virginia, with several local bands. In 1977 he first heard the music of David Grisman, and Emory realized that there was more to the mandolin than just bluegrass. He formed a band in 1979, named "Hollywood", with banjo/mandolin player James Hann, guitarist Sheridan Minnick, and bassist Missy Raines, and the band performed a mixture of bluegrass and new acoustic jazz.

Emory"s first solo mandolin album, "Jerusalem Ridge", was recorded in 1983, followed by "Mando-Motion" in 1985, a new acoustic effort with Emory playing all the instruments tracked one at a time, and writing all the material.

With a big move to Ontario Canada in 1988, Emory began a five-year musical journey that saw him win the Central Canadian Mandolin Player of the Year award four times, and perform bluegrass and new acoustic jazz throughout the entire country. "The Great Chase", Emory"s third mandolin project, was recorded for Rodeo Records in 1991, with distribution across Canada, but limited availability in the U.S.

The early "90s also saw Emory forming his own new acoustic band, called "the Emory Lester Set", and become a working sideman to one of his new age influences, guitarist William Ellwood.

Moving back to Virginia in 1993, Emory produced his highly acclaimed recording "Pale Rider", featuring such sidemen as Tony Trischka, Ray Legere, and Slavek Hanzlik. A breakthrough project for Emory - it established him as one of the top new mandolin talents in the business.

On the new acoustic front, the 1995 release of "The Emory Lester Set", an all acoustic jazz project, with band members Marion Linton on violin, bassist Kene Hyatt and guitar player Allan Gorman, also received rave reviews, and showcased Emory"s mandolin playing in a jazz setting, as well as his songwriting abilities.

In 1995, Emory joined up with local banjo legend Bill Emerson, and former Virginia Squires leader Mark Newton, and has been appearing with the "Emerson / Newton Band" for the past four years, playing shows all over the eastern U.S.

On the jazz side of his music, Emory has performed many shows with his long time friend - jazz guitar virtuoso Francois Vola, and his band, in and around central North Carolina, contributing his violin and mandolin playing to the group. The summer of 1997 saw Emory performing a series of jazz concerts in Martha"s Vineyards alongside jazz guitar legend Babik Reinhardt - son of the great Django Reinhardt - and the Francois Vola Group.

Since 1999, Emory has been extremely busy travelling, performing, and recording all over the U.S. and Canada, as mandolinist with the Gary Ferguson / Sally Love band; as guitarist / mandolinist / vocalist in a duet with clawgrass banjoist Mark Johnson; and selected performances of his Emory Lester Set. He has been teaching master series workshops at various locations, and has produced several recording projects in the past year. His brand new CD, entitled 'Cruisin' the 8', has just been released, and is sure to make it's mark as a mandolin standard in the acoustic music world.

Emory and his wife Barb have moved back to Ontario Canada during November 2002. Future plans include building a recording studio for acoustic music.
---
I want to tell all of you how honored I am to participate as a CGOW, and tell those who created this idea and those who make it possible what a great thing this is becoming. I'm a 'mandolin freak' just like all of you - I just can't get enough of them, and everything about them fascinates me. I'll do my best to answer your questions thoroughly, and will enjoy every minute of participating here. Thank you all.
---
Q1
Q - How did you first get interested in playing mandolin?

A - Name dropping time. Benny Cain, Doyle Lawson, Jimmy Gaudreau, John Duffey, Jethro Burns.

'Benny' - my dad was playing banjo for Benny & Vallie Cain in the northern Virginia area back in 1972, and after following my brother's interests into rock&roll guitar, I was just struck by how 'cool' that mandolin looked (the 'F' style shape), and how it sounded.

'Doyle' - I went to the Prince William County Fairgrounds in Manassas, VA, and saw the 'Award Winning' version of the Country Gentlemen (Doyle, Bill Emerson, Bill Yates, Charlie Waller), and was bowled over by the 'single note' style of Doyle's playing - clean & clear...heard every note. Awesome. He also had a 'drive' and 'attack' to his playing that I hadn't heard before, and that definitely has affected my playing to this day.

'Jimmy' and 'John' - listening back through the Country Gentlemen records at that time, it was hard not to be influenced by both John and Jimmy, and their playing styles. John had guts, man....some of that stuff he did - and Jimmy was always very musical in his note choices for solos.

'Jethro' - when I was a kid, and all excited about playing the fiddle like my grandfather, Hunter Lester, and my uncle, Dee 'Pee Wee' Lester, my dad bought me this fiddle record by 'Wade Ray & the Country Fiddlers'....great fiddle standards, with a bluegrass band in the background. Banjo and mandolin breaks were mixed in. Man - that mandolin player was KILLER - of course it was Jethro, and he outplayed everyone on that album, with solos done at a skill level not reflective of 1968, but of today's players! Interesting rhythm by Jethro - no chop, but rather a 'guitar like' strumming...

I've since had the honor of playing some of the mandolins that inspired me - John's Gibson (now owned by Akira Otsuka), Doyle's Paganoni #9 (my altar), Jimmy's old Gibson Fern (now owned by John Paganoni). and Grisman's old Fern. Life is good.
---
Q2
Q - Emory, a number of our Guests have shared memories of Bill Monroe. Did you have a chance to meet him and do you have any good Mon stories to share?

A - One of the biggest regrets I'll always have is not getting the chance to meet Mr.Monroe during his life, even though I did get a chance to hear him live once. He certainly has had a big impact on me and my music - and will always be treasured. I did get to spend a lot of time with some of those who were Bluegrass Boys, and some who had close relationships with Bill - and I've heard so many stories about him and some of the things he did, that they are too numerous to repeat...
---
Q3
Q - In reading the summer 1999 cover story on you in Mandolin Magazine you mention that you had John Monteleone build you a custom black face F-5 with a round neck, a radiused fingerboard and medium fretwire. Then Bruce Weber at Gibson Montana built you a Gibson with the same features. You mention in the article that you were conspiring with your Canadian friend Oliver Apitius to build a prototype with your favorite features. Did Oliver get that one finished? If you, tell us about it. By the way, you have covered a number of the builders in our upcoming Mando Builder's Super Summit. What instruments do you currently have in your herd?

A - Oliver Apitius has always been a close friend of mine, since my first days of living in Ontario back in 1988. I lived up there between 1988 and 1993 before moving back to Virginia. During those years Oliver and I became great friends, and did a number of great things together, such as take rides in old biplanes at Rhinebeck, New York (I'm a huge World War I aircraft buff), travel around and search out mischief, and just hang out for hours into the night laughing. I spent some time in his shop as well, learning what all goes into these little multi-string things we all love. He built me an F-style mandolin way back in 1990 - awesome instrument, but financial hardships forced me to sell the instrument, which I believe is owned by David Blakney in Michigan now - a radio DJ in the Detroit area I think. Then, when I won the Canadian Mandolin Player of the Year award back in 1993, Oliver presented me with a killer little A style, complete with a pick-up system, radiused fretboard, etc. Playing that was like driving a Ferrari...awesome mandolin. After several years, and being deficient of a good guitar (I was playing a Takamine or something then), Bill Emerson traded me a Santa Cruz brazilian Tony Rice model for that mandolin, and it eventually wound up with Mark Newton, who has used it extensively on gigs with Tony Rice, and can be seen on the cover of his CD, "Living a Dream". That mandolin was a dream.

After spending a week several years ago down at the Outer Banks in North Carolina (my favorite place in the world), we've been meaning to come up with the ultimate instrument, but as 'life' began to consume my time, as his, we haven't had the chance to finish the plan, but I'm sure now that we're living not far from each other again, we'll continue the plan shortly.

Another great maker and panelist is currently making an instrument for me, Michael Heiden. I'm really excited about owning a Heiden, as Michael and I have also become good friends. He lives in the neatest place, in the backwoods near Chilliwack, British Columbia.

As of right now, I only own the 1996 Gibson F5C (built by yet another great maker, Bruce Weber), and an old 1920's H2 Mandola that sounds wonderful, but is in need of some repair, but is playable.
---
Q4
Q - I live in the mandocentric San Francisco Bay Area and can't recall you ever playing in our neck of the woods. Have your travels as a musician taken you to Calif? I certainly enjoy your pickin' and would like to catch a live performance.

A - I have been out there a few times in recent years....one of which was with the Emerson/Newton Band several years ago - at a festival for the California Bluegrass Association, somewhere near Sacramento I think. I have plans in the works for some California visits, hopefully later this year, and definitely next year, both with my new band, the Emory Lester Set, and with clawhammer banjo player Mark Johnson, and the duet act we've been travelling around promoting. You are so lucky to be in a place that is rich in mandolin talent...I've envied that for years, and have several times resolved to moving out there for just that reason. Most of my travels in the past few years have been up and down the U.S. east coast, central and western Canada, and several trips through the U.S. central and midwest regions. Being a 'day job' guy, planning time off has always been a thorn in my 'you know what', but I glad to say that I have finally worked myself into a position that I can soon get out of that burden for the first time, and devote all my time to my passions - performing and recording music. So keep an eye on my schedule on my web site - I'm on my way!
---
Q5
Q - Where did Emory get the idea and the title for the tune "King's Quest" on the album Cruisin' the Eight. I love the album and that tune especially. Like many of Emory's best tunes it took a while to sink in but now I think it is one of the gems of that album.

A - 'King's Quest' was one of my 'laboratory experiments'...wasn't totally sure that the tune was going to work out at first, but it developed as the recording session progressed. Like 'Pale Rider' and some other tunes I've written, I originally came up with the tune as a fingerpicked guitar 'chord passage', and later adding a melody line over it with the mandolin. If you listen closely to the track, just for interest's sake, try to listen past the mandolin to the fingerpicked guitar line, and you'll hear what is 'originally' the idea for the tune. I had only two parts for that tune, but true to my 'new acoustic' tendencies, I wasn't satisfied with only two parts, and had to create that third part, which the first time around featured mandolin, and the last time thru featured a twin fiddle melody with mandolin dancing around that. That part was influenced by listening to some Fleetwood Mac CDs, of all things....
---
Q6
Q - Can you elaborate on the effect John Duffey had on your music and specifically on your mandolin playing?

How do you approach rhythm playing and backing up a singer?

A - This may be a subject of debate, but I've always believed that John Duffey had more skills and knew more about the mandolin than most people with ever give him credit for. Of course living in the northern Virginia area in the early '70s, at that time, in bluegrass music, the Country Gentlemen and the Seldom Scene were the hottest bands going, with 'Fox on the Run' and 'City of New Orleans' being hits, etc. My appetite for 'all' their records, and learning 'all' the mandolin solos back then (being a bored teenager) was enormous, and obviously John's playing was an influence, maybe in a different way than the others. I think he had more guts than the other guys, taking more chances, exploring different ways to play the instrument, both picking and rhythm backup. Like a lot of the early bluegrassers, he was a little eccentric in his ways, and I can share one story with you. One time I went down to the Birchmere Restaurant in Alexandria Virginia (one of northern Virginia's bluegrass meccas) with Doyle Lawson, and we arrived there early, and in the back room I heard somebody playing the mandolin very clearly and melodically. It sounded like Doyle's or Jimmy Gaudreau's style, just clean clear notes. We went into the back room, and I was blown away that it was John, sitting there in a quiet moment, just noodling around on his mando! I'll never forget that as long as I live - thinking to myself, 'Man - if he played like that on stage, he'd REALLY blow us all away with his playing!' But he was such an entertainer, that I guess he had more fun 'acting up' with it at times, I don't know. I loved that man though - I was at the funeral home for his viewing, and seeing a hero lying there like that took something out of me for sure. A tough day that was.

I LOVE rhythm playing. I LOVE doing things with chords and rhythm patterns that may not necessarily be noticed by the audience, but leaves them saying, 'I'm not sure what was happening, but the band really sounded good tonight!'.....I'm guilty of having 'too much fun' with chords and 'colors' behind vocalists, trying to create 'counterpoint' lines with chords. Can't stop creating, man. I can tell you that for years, I was guilty of 'pushing' the time too much, causing both me and the others to react by 'speeding up' during a song. Thanks to the patience and experience of the amazing Bill Emerson, I went through a 'wonderful' period of 'calm down' during the 90's, and also getting an appreciation for basic melody. Speed kills. Content and melody rule. Good rhythm playing also rules.
---
Q7
Q - Emory, how would you describe your mandolin style?

A - I've always loved the clear tone of the instrument - it just has a sound that is so special. I love players who put in the effort and time to make sure we all can hear every note and chord they intend for us to hear. I went through several stages early on - playing fast - being 'hot' - being sort of competitive - all that stuff that good young players go through, often with different results. I really believe that I started to become a 'musician' somewhere around 1983, 10 years after taking to the stage with a mandolin. I say that because that is the time when I started to realize the difference between 'making music' and 'picking the mandolin'.

What became most important to me was to make quality music, and try to get the most out of a tune - whatever that meant.

But in the case of playing the mando, I love these words: drive, bounce, clear, clean, tone, excitement, inventive, big & bold, and, above all, musical.
---
Q8
Q - What CDs are you currently listening to? I've been listening to Home by the Dixie Chicks, but I have the volume turned way down.

A - My listening habits are extremely 'varied'....I love so many kinds of music, and it all adds to the 'melting pot' of what I do. I carry a little bag of CDs with me, and today, this is what's in there:

Our Old Home - Sally Love/Gary Ferguson
Wind & Whispers - Michael Jones (new age pianist)
Trouble in ShangriLa - Stevie Nicks
A Thousand Smiles - Craig Chaquico
Time Passages - Al Stewart
Mike Auldridge & Old Dog
Sunsets I've Galloped Into - Archie Fisher
New River - Denny Zeitlin & David Grisman
Gord's Gold - Gordon Lightfoot
Swingsation - Dee Specker
Opening of Doors - Will Ackerman
---
Q9
Q - Emory, what happened to your John Monteleone F-5? Do you know who owns it now?

A - I really do miss that mandolin....arguably, but I'm pretty sure, that was the last F-5 style he made, completed in the summer of 1985. Maybe those more knowledgable can respond to that claim. But it was the easiest playing mandolin I've ever owned. I sold it to a man who I believe is from the state of Georgia - I can't remember the name, but I'd probably think there's a good chance he'll be reading this post. A friend of mine told me he saw that mandolin at a workshop out here on the east coast he was teaching at, and a lady was in possession of it. He told me he approached her and said 'What are you doing with Emory Lester's mandolin?' That's hilarious....and I think that several years ago I received an email from this lady, and somehow it disappeared off my computer. Drat. In life, sometimes great instruments come and go, and that was one.
---
Q10
Q - 1) How does fiddle playing influence mandolin? Do you separate the two?

2) You cite a number of mandolin influences, who are your favorite Fiddle players?

3) What are the different roles the mandolin and fiddle play in traditonal bluegrass and in your music?

A - 1) That's a tough question for me - I'll try here. Fiddle was my first instrument when I started playing music as a kid....I learned all the old standards, such as Old Joe Clark, Arkansas Traveller, Soldier's Joy, Cindy, etc. A bit rough on the bow technique, but not bad for a kid. Obviously learning those tunes, and how to handle a fiddle, directly transferred over to the mandolin, as my left hand noting technique was already alive and kicking - I just had to work on the right hand, and make sure it was ready to meet the demands of my left hand. After playing rock&roll in high school, and learning some pretty complex lead guitar, that also ended up helping greatly. Today, I don't spend nearly the time I'd like with fiddles, but I hope to do more soon. Some of my latest creations require fiddle (or violin, whichever term is desired), and working with that should get me going again. I play enough mandolin that it doesn't seem to suffer much at any time. Mandolin and fiddle played in unison is a special sound - if you haven't tried that, it's really a cool mixture.

2) So many....I'll just name a few. Billy Oskay (a jazz/new age artist..had the group 'Nightnoise' on Windham Hill), Darol Anger, Jean Luc Ponty, Mark O'Connor. I love everything Ray Legere has ever played on a fiddle - if you've never heard him, you must make a point to do so. Andy Leftwich, Michael Cleveland, Ronnie Stewart. On and on. I hate to name names, because so many get left out -

3) In traditional bluegrass, the roles for these two instruments were obviously defined by Bill Monroe's band, Flatt & Scrugg's band, etc. Has always been a big part of everything I've done. In my music, mandolin is what I've featured in all my recordings, because I love it so much, and no matter what realm of music I get into, it will always be part of it somehow. Fiddles allow me to be extremely 'lyrical' and 'voicelike' in some of my passages, and the attack of the mandolin lines really contrasts well with anything else. I don't do many 'tremolos' on mandolin, but I rather try to hit the notes and get some 'sustain' from them - a tall order for a mandolin, but I've seemed to get it without too much problem. Fiddles and mandolins work so well together - so much you can create musically with those.
---
Q11
Q - What is your main mandolin now (I just read that you sold the Monteleone). Also, did you play the fiddle on the song Pale Rider from the young mando monsters album or was that someone else. By the way, that is my favorite song on that album and your mandolin playing is just excellent on that cut.

A - My main (and only) mandolin now is the 1996 Bruce Weber Gibson, and it has really developed into an exceptional instrument. I can climb all over that thing, and it hangs right in there! It has a 'ToneGard' on the back of it....I can hear and audible difference with it as opposed to without it. David Grisman turned me onto that thing at the Grey Fox Festival in New York several years ago. Obviously, when he speaks, I listen. I've always professed to be one of those guys who only wanted one or two mandolins, so I wouldn't neglect any lying in a case for periods of time. But, I'm beginning to rethink that philosophy! My weakness is showing, and so many good mandolins are being made these days.

By the way, I've had the chance to play some tunes on quite a few Lloyd Loars over the years...some great, some good, some not too great...but can't help but love 'em. It's really awesome to see some of those in the hands of great players, who can bring out the most in them. And thanks for the comment about 'Pale Rider'...I WISH I could play fiddle like that! That was one of my favorites, the incomparable Raymond Legere. If you tied a string from a tree branch to it's base, he could play the hell out of it! He and Chris Thile were the only ones I've ever heard that could rip that tune the right way....and that was back when Chris was a tiny guy years ago...
---
Q12
EMORY'S FUTURE:
Since 1980, after graduating from high school, I've basically chosen a career in Computer Graphics, and have been doing that ever since. I've worked for firms such as IBM, TRW, Marriott, Mobil Chemical, Bristol Meyers, Procter & Gamble, and many others. I've only been able to pursue my music on a 'part time' basis, but I've managed to travel a bit and do quite a few recordings over the years. If you haven't heard of me, or heard my music before, this is probably why. I'd be lying to you if I said I didn't sit on the job and wish I had pursued music full-time...I feel that lure every day. After an asthma attack that nearly took my life in December of 2000, I realize that every day is a gift, and I may not always have a chance to dedicate myself totally to my passion - recording, writing, and playing my music. I'm 40 years old now, and thanks to my wonderful wife Barbara, I now have a realistic plan to get into music full-time within the next 2 years or so. My touring schedule has picked up significantly over the last several years, and between my new band, the Emory Lester Set, and my duet show with Mark Johnson, I'm extremely excited to 'finally get my chance', and give everyone a chance to get to know me and my music better. You should soon be hearing a lot more from me. Man...I'm just getting started!

As of late I have been singing a lot, and featuring some of that on my shows with Mark Johnson. This new version of the Emory Lester Set is featuring vocals, harmonies, as well as a bunch of bluegrass/new acoustic instrumentals. My next CD, which will be a band CD, should be ready hopefully by year's end.

Please check out the Bluegrass Now magazine this month - Mark Johnson and I are on the cover, and the wonderfully written article on us was written by David Higgs. 'Acoustica' magazine also had us on their cover last month.

Some of my graphic work will be on display on my website soon....there will be 'free' downloadable mandolin desktop images there, check them out....we'll announce here on CoMando and on Mandolin Cafe when they'll be ready for you....

LESSONS:
I've been asked countless times about teaching private lessons, and I do take students with time permits. I occasionally get down to the Washington D.C. area, and have been taking students in that area when I get down there. If anyone is interested in lessons when I'm around, please contact me through my website, www.emorylester.com, and we'll set up a time.

ABOUT GIBSON
Bruce Weber is an awesome maker of instruments, and a wonderful human being. I appreciate his workmanship in the quality instrument I play today. When I flew out to Belgrade Montana in 1995, I had such a good time hanging with Bruce and the others at the Gibson plant. They treated me 'first class', and really listened to me when I told them the things that were important to me as a player, and what I wanted out of this mandolin. Bruce did an awesome job. We had talked about an 'Emory Lester Model', but shortly thereafter the plant was moved to Nashville, and I fell through the cracks somehow, and it never materialized. I'm so glad that Bruce has continued in the lutherie business, and I think that Danny Roberts, Charlie Derrington, and Todd Wright are all doing an unbelievable job at Gibson, producing mandolins that will be legendary in the future. I'm so glad they are featuring some of my friends with models: Adam, Wayne, and Alan all deserve that honor. Maybe Gibson and I can get back together somewhere in the future.

SOME THOUGHTS FOR STUDENTS....
Melody is it. Play it clean and clear. Let us as listeners hear every note that you intend for us to hear. You want to play it, and we want to hear it. You don't have to play a gazillion notes in a solo to be good....I don't care if you only play 2 or 4 notes in a solo...just play them clearly, and with conviction, and you'll be a good player.

Listen to what's going on around you, and what the other musicians are doing. That way you can always be a 'team player', and contribute to what they're doing, and make the overall sound of the group special.

Tripletts are cool, no doubt. I remember sitting with Ray Legere playing mandolins, and trying to do as many tripletts in a row as we could...just to see how long we could keep that going. What a charge, but and awful thing for listeners. Too many of these quick things can lose the listeners, so choose where and when to put them into your solos wisely...nothing beats a good melody. This isn't a contest...it's music.

OTHER GOOD'UNS....:
Dempsey Young (one of the most inventive players I've ever heard - with Lost & Found)
Jeff Midkiff (haven't heard in a while - years ago with Lonesome River Band)
Andrew Collins (a Toronto based mandolin ace...will be working some with the Emory Lester Set in the future)
Troy Engle (plays with the Mark Newton Band - great young talent)
Matt Mundy (one of the more interesting players I've ever heard)
Gene Johnson (now with Diamond Rio...played with 2nd Generation years ago)
Wayne Lanham (plays fiddle now with Virginia's Patent Pending)
David Propst (currently playing with Virginia's Shenandoah Blue)
---
Q13
Q - Emory, I would like to hear more about your non-bluegrass ideas for the expansion of the mandolin in other types of music.

A - As far as non-bluegrass ideas go, I've broken a lot of rules, just trying to get more out of the instrument in general. I've tuned it differently, I've used a capo (just to make it sound differently when open strings are played), but my technique has remained the same. I know my buddy Radim Zenkl has really stretched some of the boundaries, as has Evan Marshall.

I love bluegrass, I love the music of Bill Monroe and his mandolin playing - all those traditions are so important. But I think it is also important to know that there is still much to be discovered, invented, and explored when it comes to the mandolin - I just love to hear that tone in my music. Two of the tunes on 'Cruisin the 8' have mandolin featured in a new age kind of setting - 'Impressions' (a song I wrote on guitar), and 'Autumn Blue' ( a Craig Chaquico tune).

One of the things I love about mandolins is that they sound so good in ANY kind of music. My interest in other musics has led me to some challenging situations, as far as playing the mandolin is concerned. I remember recording in the studio with new age guitarist William Ellwood. His music is so beautiful, but the feel of the tunes was so different for me -they were almost 'behind' the beat, so to speak. So much of the music I had done up to that time on mandolin was 'ahead' of the beat, or slightly, to get that 'drive' - that always worked well for bluegrass and new acoustic stuff. A lot of the instrumental music I write now is either on guitar or piano, and not a whole lot on mandolin. I guess I usually come up with an idea on guitar, and then take out the mando afterwards.
---
Q14
Q - Emory, you mentioned Doyle Lawson's Paganoni as one you admire. BTW, Doyle is scheduled to be CGOW for the week of April 13. Can you tell us more about Doyle's Pag and what you like aobut it.

A - Doyle Lawson's 'style' is directly responsible for the 'attack' and 'power' I get when I play. In the 70's he was my biggest influence, and I made it a point to learn every mandolin break he did on every Country Gentlemen album - all the tunes.

I had some pictures, magazine articles, etc. of the Gentlemen showing him playing this mandolin that said 'Paganoni' on the headstock. It was the neatest mandolin I've ever seen up to that time....it looked almost like the top graduation was exaggerated - almost a little 'bloated' - it's hard to describe. After meeting John Paganoni soon after he had moved into my area, in northern Virginia, I asked him about that mandolin, and he said it was his number 9 - the ninth one he made.

It sounded so good - lots of that 'woody' type sound, and Doyle knew how to get that sound out of it. The same mandolin that's on the cover of his 'Tennessee Dream' album.... I'll never forget the day that John called my house, and said, 'hey - can you come over in a bit, Doyle and I are just sitting here messing around with mandolins.' I was so excited - there just isn't a word for how nervous I was to meet the man who's every note meant everything to me. I walked into John's house and there he was - such a great guy - I would have been less nervous meeting Michael Jackson. We talked for a bit, and I asked him about that mandolin, and he opened a case beside him, and there it was - the #9 - he called it his 'Old Buzzard'....I got to play on it a bit....I can't tell you how cool that was. Not long after that, he started playing some other Paganoni's, and I know he's had many over the years since.

Doyle - if you're reading this, or when you read this, don't laugh...this is all sooooo true - we've become real friends since, and I can never repay you for what you've done for my mandolin playing - such a great influence and inspiration. And I'm so glad your health is good now, and wish you all the best.

One of my favorite comments of all time came from Doyle after he and I did a mandolin thing on stage up in Ontario once. Someone came up to him while we were standing there and said, "Isn't that Emory something on that mandolin?" and Doyle replied, "Yeah, but I still have a few tricks up my sleeve!" I love it!

Someone please ask him during his CGOW where the number 9 Paganoni is.
---
Q15
Q - Emory, have you ever had a Paganoni and if not why not? Is John Paganoni still making mandolins? I've played one, owned by Gary McElwee and I was very impressed. Don Stiernberg commented that mandolins are like snowflakes--no two are alike. I've seen mandos by many makers and I invariably like some and don't particularly like others. It' pretty subjective when you get down to it, isn't it?

A - I've never owned a Paganoni mandolin - another of my regrets. I've borrowed his #13 to record a demo with one time...great mandolin. It was - and still is to my knowledge - his own instrument that he keeps. Last I checked, he had a 'mint' condition Loar in his possession, and also had Jimmy Gaudreau's old Fern. I haven't seen or talked with John in a few years...his son Chris is a great guitar player, and I think John still occasionally gigs around with his mandolin. He was always so busy in his day job - that he often had to push himself to do work in his shop each evening - I know how hard that can be.

I've seen many I love, and many I didn't care for particularly. Each was a different story. It's certainly up to the individual.

One of my wishes in life is that I could one day own an instrument from each one of these makers, especially after I've come to know them and become good friends with them.... I just respect them for what they do, and the fact that they can do this for a living - I envy that. And even though I haven't had a whole lot of money in my time, I can't bring myself to ask for a 'free' one, because I realize that the time and materials invested in producing one of these mandolins is great, and I feel that should be respected by compensation to them of some sort. I know that before I can part with a fortune to acquire a Loar someday, I would rather support the all of my luthier friends who are so talented making these 'future' gems - many of whom are on this MBSS panel -, but that's just how I feel. One of the things I hate in this life is having to part with an instrument that I love, due to financial situations in life, etc. I've already had to do that several times in this life, and if I could have those back, I would. Money and time. Money to buy them, and time to enjoy them.
---
Q16
Q - Emory, did you mention our former CGOW, Jimmy Gaudreau? What has been your relationship with Jimmy, musical and otherwise?

A - Jimmy Gaudreau has been, and will always be one of my heroes, and greatest friends in this music. Not everyone will actually bend over backwards and do something for you, will all respect and honesty, but Jimmy is that kind of guy.

After spending years learning every note he played on record with the Country Gentlemen - one of which was that timeless harmony part to Bill Emerson's banjo on the Beatle's tune 'Yesterday', I followed his career with Eddie Adcock's 2nd Generation, J.D.Crowe, his great band Spectrum (in which he launched the careers of Bela Fleck and Mark Schatz... I know they can't thank Jimmy enough)...and with Tony Rice.

One of the first things Jimmy did for me was include me in his compilation project, the 'Young Mando Monsters'...something he didn't have to do, but wanted to. At the end of 1993, I moved back to Virginia from Ontario, during an extremely low period in my life - I was battling depression big time, with my marriage ending and my 2 sons up there. But only 3 days after getting back here, and not knowing what the future held at all, Jimmy came over, stuffed me in his car, and took me down to North Carolina, and put me on stage with Tony, Jerry Douglas, and the Unit! I, of course, didn't set the world on fire with my playing that night, but I can't tell you what that did for me psychologically - I know that was the turning point for me, as everything after that looked 'up'.

After that, his newly formed label, VAMP, took on my 'Pale Rider' project, re-releasing it and giving it more life, and a continued future.

Jimmy also introduced me to using a capo on the mandolin - just for 'sound difference', and I think it's really neat, even though that gets sneered at.

Since then, I've become great friends with Jimmy and Gloria, and we've done some gigs, and I got the chance to record on Jimmy's up-and-coming project, due out soon.

Now that I'm playing more guitar and singing, maybe we can do some duet things or something in the future.

Jimmy Gaudreau is a treasure, and not just for being a top-notch mandolin player and vocalist, but for being a 'real' friend, and for definitely having a hand in my success, both personally and musically. I can never repay that. Thank you Jimmy.
---
Q17
Q - I have a few questions of the tunes from your fantastic CD Pale Rider. You play "Rattlesnake2 in Gb(minor), is it possibel that You have tuned down Your mando a half tone and are playing it in G(minor) position anyway? And I am thinking of the "Mandomedley" is it really played in Ab or is it also tuned down and played in A position?

A - I did tune it down for those....something I used to do a lot, and sometimes still do, although not nearly as often anymore, because I'm singing now. I used to love to tune the mandolin down, sometimes even more than that, because it gave the instrument, and my music, a 'dark & mysterious' feeling. One of my rock & roll guitar heroes, Robin Trower, used to do that to his Stratocaster when he did concerts back in the 70's and 80's. He tuned it down on purpose, and then used heavier gauged strings to make up for the slack - but I've never done that on a mandolin - hmmmmmmmmm......maybe that's something to try....!
---
Q18
Q - First, I've got to thank you for being such a huge influence on my playing and mandolin musical journey. I can remember when Pale Rider came out in the early 90's and what an impact it had on how I thought about the mandolin. Up until that time I was mostly into the traditional bluegrass stuff: Monroe, Lawson, Duffey, etc..., but also was a big fan of Dawg music and Tony Rice's new acoustic stuff with Reischman, etc. Then I hear the Pale Rider album and am completely blown away with the extremely intricate style of playing that had lots of drive, yet was extremely clean and clear. Very fast and fluid with lots of tone and taste that I hadn't heard before. All wrapped in a style of music that was a logical extension of everything that I was already into. Then along comes Chris Thile and I hear this same incredible playing that just opens new doors for mandolin music. It's obvious (at least to me) that there's no way to get to Thile in the evolution of mandolin playing without going directly through Emory Lester. Have you and Chris discussed the similarities in your styles and the possible influence that you have had on his playing? What do you credit with being the influences in your playing that allowed you to break out of the traditional bluegrass mandolin mold?

A - I, like many who are close to Chris, am extremely proud of where he is and what he's done with the mandolin. I met Chris in 1993, at the Vancouver Folk Festival. He was just a little thing then, and he was out there playing with Richard Greene. I heard him and was obviously floored. My 'Pale Rider' CD was brand new, and I gave him one. Not long after this, I received several letters from Chris, saying how much he loved the CD, and that song 'Pale Rider', and how he had learned it, and played it to win the Mandolin Championship out there! That was the biggest compliment I'd ever had. I sincerely believe that the good techniques he has were instilled in him by John Moore and John Reischmann. I also believe that I had an influence on Chris, in that after hearing my CD and playing some mandolin with me, all the barriers and doors blew down, and the 'green light' was given to explore the 'entire' mandolin neck, and maybe abandon some traditions in order to search out new places and techniques. Chris' dad Scott and I have talked about that several times, and it became so evident in his playing. He has of course continued on that path, and really taken it to new heights. I especially love it when I see and hear how amazed fans and players are when they hear him play, because I kind of feel like 'he's my revenge on the world!' hahaha I read an article on Mark Johnson and I recently, and it was stated in there that I had taught Chris how to play...that is certainly not true at all, but I know I did have an influence on him early on.

I've had so many influences on my style - Lawson, Gaudreau, Burns, Marshall, Grisman, Monroe, Bush, etc.etc...... But I can tell you that a large reason I play this way is because of Tony Rice....I learned so much of that style on guitar back then, that a lot of the techniques bled over into my mandolin style. But, I'm a 'rule breaker' too, and I'm very guilty of doing things with the mandolin that have not been accepted yet...oh well.
---
Q19
Q - Hi, Emory! Very happy to hear you're headed towards full-time musicianhood! Question: since you're playing more and more of your original music with the EL Set and Mark J., how does that affect the way you approach straighter genre material, like jazz and bluegrass? Do you have a fresher approach, and are you more inclined to play within the traditional "pocket" now that you have a greater outlet for your own compositions and arrangements?

A - I've always marched to my own drummer, so to speak. I love to create music, and most of it is created without regard to which genre it will land in. That becomes a problem sometimes, because some of my best material may never make it to the stage. But with the new Emory Lester Set, I am singing now, and I can do some traditional songs, and some new material, all arranged in a 'fresh' way, with respect to the integrity of the songs. With my bass player Kene Hyatt, and fiddler Marion Linton (two awesome musicians who were with me in the prior E.L.Set), I can do this new material, and then without hesitation launch into any of the instrumentals I've recorded from 'Cruisin', 'Emory Lester Set', or 'Pale Rider'...something I've been wanting to do for years, but just now getting the chance to do. A real 'Emory Lester' show. I've been a sideman with others for so long, that I really need to do this. And I'm so happy now. Also, my stuff with Mark Johnson is different again, and 'fresh' as well. Mark is such a cool guy, and we have so much fun doing this. I get to play a lot more guitar with him, and stick in some mandolin here and there. 'Acoustic Campaign' CD is doing great, and we've gotten some great exposure lately. Lately, I've been doing a 'solo' mandolin piece - a medley of 5 different tunes from 'Cruisin' the 8'....that's one of the most difficult things I've ever done on mandolin, but I'm really satisfied with it....fingers are pretty sore after that one!
---
Q20
Q - I was wondering about cutting through a bluegrass jam session. How much = of a mando's ability to be heard is instrument quality versus musical = technique? Is there a technique (such as a double stop) that is better = at cutting through a lively bluegrass session?

A - Bluegrass jams are a lot of fun, but are 'uncharted waters' almost every time. There is no clear cut method here. Like a good general, you want 'all the advantages' before you go into battle...oops...join in the session. Obviously, mandolins are at a disadvantage against multiple banjos, fiddles, etc. It really helps with you are jamming with players that WANT to hear what you're doing, and they are more apt to 'quiet down' during your mando break.

A loud mando obviously helps. Also, your technique can either help you or hurt you. If you use a 'hard' pick, medium strings, and have no problem bearing down into it while you play, you'll have a better time of it, so long as you're satisfied with the sound your getting. If bearing down causes bad tone, missed notes, erratic technique, then it won't make you or anyone else happy.

My advice is to take it slowly, and maybe at first, play a break with not that many notes, and see if you can get what notes you do play clean, clear, and so everyone can hear them.

A jam session is not a 'recording' session, so maybe your best tone will be sacrificed, but if everyone can clearly hear the notes you are intending to play, then it should be enjoyable for all. Maybe stick to the melody, so that not only the people you're playing with can identify with what you're playing, but those who can't play, and are just there to enjoy listening to the music. Instead of playing 'over their head', play 'right into their hearts!'
---
Q21
Q - I would like to ask Emory what he spends most of his practice time working on.

A - To tell the truth, I've been guilty of not spending enough practice time, and I'm usually doing all I can to get comfortable, or 'recover', before a show. A lot of times I end up sounding fine, but I don't 'feel' like it was easy. But nowadays, I've been getting in some playing each day, and I find that now I'm much more settled when gig-time comes, and I can get the sound I want much easier now.

As far as what to practice on, I'm not a big 'scales' guy...sure, there is some good that can do, but I think that clarity of melody, comfort, and smoothness is the aim, so just spend some time making your mandolin 'sing' a song just like a voice would. Smoothness comes from confidence - take the time to really get to know what it is you'd like to play. For instance, if you're in a band, and you have a particular tune that you have a mandolin break on, maybe work up in advance what it is you're going to play as your break, and play it enough times so that if you want, you could 'play it in your sleep'. Then take that to the gig, and spring it on your listeners. Once you get that comfort, then maybe experiment and venture out away from it a little. Pretty soon you'll find out how to be confident and comfortable, and that will come through in your playing and your sound.