Doyle Lawson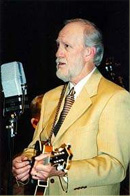 One of the top mandolin players in bluegrass music since the early days of his career in the 1960s, Doyle Lawson incorporated traditional gospel quartet singing into his music after forming his own band, Quicksilver, and honed his unique bluegrass-gospel sound to a remarkable intensity. Lawson was born in unincorporated Ford Town, TN, near Kingsport. Several members of his family sang in local gospel quartets, but the Lawsons also listened to the Grand Ole Opry on the radio during the years when Bill Monroe was creating the music that took the name of bluegrass. Monroe inspired young Lawson to take up music and to learn the mandolin. He borrowed his first one at age 11 from a member of his father's gospel quartet and eventually taught himself the five-string banjo and guitar as well.

In 1963, Lawson began playing banjo with Jimmy Martin & the Sunny Mountain Boys. He moved to Kentucky and played with various groups before joining J.D. Crowe & the Kentucky Mountain Boys in 1966, first on guitar and then on mandolin. Lawson made his recording debut with Red Allen on the album Bluegrass Holiday and temporarily returned to Martin's band in 1969 but otherwise stayed with Crowe until 1971 and recorded two albums with him.In 1971, Lawson joined the Country Gentlemen and toured Japan with them the following year. He remained with the Country Gentlemen for eight years, recording ten albums with the band. Lawson also recorded an album of mandolin instrumentals, Tennessee Dream, in 1977; the album also featured Crowe, Jerry Douglas, and Kenny Baker.

In 1979, he put Quicksilver together, including banjo player Terry Baucom, guitarist Jimmy Haley, and electric bass player Lou Reid. In 1980, Quicksilver released its eponymous debut album and followed it up with Rock My Soul. In 1981, Quicksilver Rides Again, featuring Douglas, Mike Auldridge, and Sam Bush, came out. The group also released a gospel album, Heavenly Treasures, which sold better than the group's initial secular LPs, and Lawson himself proclaimed in 1985 that he had rededicated his life to Jesus Christ.Lawson's next album, Once and for Always, appeared that year and featured both bluegrass and gospel tunes.

In 1986, Lawson recorded the all-gospel Beyond the Shadows with new players Scott Vestal on banjo, Curtis Vestal on electric bass, and Russell Moore on guitar, and the following year brought the first of several a cappella gospel albums, Heaven's Joy Awaits. Lawson & Quicksilver gained a reputation for razor-sharp gospel harmonies that incorporated virtuosic vocal moves drawn from the African-American gospel tradition as well as from white quartet singing (some of it already rooted in black styles). Lawson recruited new members into Quicksilver but maintained consistency in the group's style. Continuing to record mostly gospel music, Lawson explored styles and presentation modes of the past in such albums as Gospel Radio Gems (1998), which was recorded with only a single microphone.

Several of the 1980s Doyle Lawson & Quicksilver LPs were re-released in pairs on CD in the late '90s by the group's longtime label, Sugar Hill. Lawson resurfaced with the new gospel albums Just Over in Heaven and Gospel Parade in the early 2000s, and in 2002 Lawson released the masterly Hard Game of Love, his first secular disc in some years. He bounced back from coronary problems later that year and continued to perform. Married and the father of three children, Lawson is the longtime host of his own Doyle Lawson & Quicksilver bluegrass festival in Denton, NC.
---
Q1
Q - Doyle, we are very pleased to have you as this week's CoMando CGOW. Many of our Guests of the Week have shared memories of Bill Monroe. You must have had many opportunities to play with him and get to know him. Do you have any good Mon stories to add to our collection?

A - A lot of times when we were on shows together, I'd come backstage or into a dressing room and Bill would be there picking his mandolin. I'd get my mandolin out and Bill would say, "I just wrote this tune, play the twin part to it", which made it kind of difficult since I hadn't heard the tune. Then Bill would give me direction about I should play it, "Do this right here". I think he was just checking up on just how on my toes I was at picking up "Monroeisms"

Bill also had a real humorous side to him that I enjoyed. He loved to do what he called "pulling a joke" on people. One night our phone rang between 2 and 3AM. Suzanne answered the phone and then said it's for you. And like most everyone else you think a phone call at that hour portends bad news. I said hello and this mandolin starts to play, and it plays a whole tune and stops. This voice says "Do you know who this is"? And I said "Yes, Bill, I know who you are I'm just not accustomed to you calling me at this hour of the night." Bill said, "I just wrote that number and I wanted you to hear it". And he hung up. And I never heard that tune ever again. I'm sure when he hung up the phone there was a big grin on his face and a twinkle in his eye.

Yes, I have a lot of memories. He was my Mandolin Hero.
---
Q2
Q - Doyle, I understand that Gibson is going to put out a Doyle Lawson signature model mandolin. What can we expect from this new model Gibson?

A - Recently I signed an agreement with Gibson OAI to produce a Lawson Signature Model F-5 Mandolin. In talking with Charlie Derrington, Danny Roberts, and Todd Wright of Gibson, I explained that I wanted the mandolin to have a different or unique look, something different from the other mandolins they were building. We talked about different things and came up with putting binding around the F holes, different shape of the finger board, and a floral pattern inlay in the head stock. This mandolin will not be a limited number mandolin, but will continue to be in production.

We agreed in talking about the mandolin that we wanted tone and consistency in everyone. I am extremely happy with the results. Having played 3 Lawson Model F-5's so far, they have been consistent in the warmth of the tone. I think musicians will be pleased with what they see and hear.
---
Q3
Q - Saw you at our festival last summer in Minnesota and I'd have to say you're a class act. Could you tell us about your right hand technique and what kind of pick you use , and I'll hang up and listen

A - I'm glad you enjoyed Doyle Lawson & Quicksilver in MN. We had a great time at the festival.

I started trying to learn to play mandolin when I was eleven years old or so. Things were quite different for bluegrass in the mid 50's, since there were no instruction videos or books. There might have been a Mel Bay Chord Book some where, but in Sneedville, TN where we lived on a farm, there wasn't anything. I was self taught and any help I got was from what I could hear on the radio, and from what few records we had of Lester Flatt & Earl Scruggs, and Monroe. I used to slow the 45 RMP records down to 33 1/3 RMP just to try and pick out the notes and figure out the licks. However, not knowing anything about the technique of playing, I played with a stiff wrist, all arm motion, and it was really hard for me to play fast with a stiff wrist.

I had worked around for different people and finally managed to save $10 and buy a Silvertone Mandolin. During the Christmas season of 1958, I had the good fortune to meet Jimmy Martin, who is also from Sneedville, TN. Jimmy's brother-in-law took an interest in me and saw to it that I met Jimmy that Christmas when he came home for his yearly visit. Jimmy got his guitar out and an F-4 Gibson Mandolin and we started playing music. I mentioned to Jimmy then that I had trouble playing fast and I had trouble with my tremolo. Jimmy took the F-4 and said you're playing with your whole arm and the motion you need to play with is from your wrist to the tip of your fingers. Jimmy told me he had learned how to use his wrist properly when he worked for Bill Monroe. And now he would show it to me. He then told me about his mandolin player and tenor singer named Paul Williams. Paul had a wonderful wrist particularly playing tremolo and doing slides. He specifically mentioned his song "Ocean of Diamonds" as a classic. Then he said after you leave here, when you practice, practice using your wrist like I've shown you. Practice using a tremolo only, and do this for hours or weeks or as long as it takes you to get the tremolo and then start playing the tune.

I did that exactly as Jimmy told me for about three weeks. Then I started playing tunes and sure enough I couldn't play with my arm again. It was always with my wrist to the tip of my fingers.

People remark to me to this day that my wrist reminds them of Mr. Monroe's wrist action. I am certainly flattered that they think that because he is the reason I wanted to play mandolin. I don't anchor a finger or any part of my hand on the top of my mandolin.

As far as the pick I use, I've gone through phases of different picks. I prefer a tear drop shaped pick that I usually round off on the edge to make it not quite as pointed. In the early days I used plastic picks. For years I used Tortoise Shell picks and I still do occasionally. For the last year and a half I have used a Fender Deluxe Heavy Pick (the white ones). I like the tone it gets. I like my picks to have a little flex in them. They tend to give you less pick noise when you pluck a string. It's been my experience that the heavier pick, the more pick noise you get. It's especially annoying to me when I am recording to hear a lot of pick noise. Even my Tortoise Shell Picks have a little flex. I don't buy tortoise shell picks from endangered species.
---
Q4
Q - Doyle, many of us mando gear heads associate you with Paganoni mandolins. What is your history with Paganoni mandolins? What mandos do you currently own? Have you seen any mandos lately that you covet?

A - I met John Paganoni for the first time in November, 1972 in Georgetown, Washington DC. I was working at the Shamrock Club with the Country Gentlemen and he came in one night with Tom Morgan. Both John and Tom were in the US Air Force. After Tom introduced me to John, John told me he built mandolins. I guess the timing couldn't have been better because the mandolin I was playing was not up to standard. I can't remember what mandolin I was playing at the time, but I told John I was really having trouble keeping the mandolin in tune. John looked at the mandolin and indicated that it looked as though the scale was off on the fingerboard. John asked if I would be interested in him building me a mandolin. I said I would be interested and that I would like to play one first. John said he would bring one with him the next time he came to town. He was stationed in Nebraska at the time.

Two or three weeks later John was back in town and brought Paganoni #4 with him. I took it out of the case and hit a couple of chords, and after the first intermission I went on stage with it. I remember when I stepped up to take my first break, Bill Emerson asked "Man, what in the world are you playing? That thing is as loud as my banjo." I told him it was one of John Paganoni's mandolins. We finished that set and I came off the stage and told John I had to have one of his mandolins.

In January 1973, John was back in Washington DC with Paganoni #9. That was the beginning of a professional and personal friendship that still goes on today, and I still have #9.

I played Paganoni #13 while John was stationed in Saudi Arabia. After his tour was over, John was stationed in New Hampshire. I then bought Paganoni #26 in October 1978. My wife Suzanne and I took a delayed honeymoon in October and we went to Portsmouth, NH to visit John and his family. I played #26 when we got there and bought it.

By 1980 John was stationed in Manassas, VA. I stopped by to see him on my way to a concert in New York City in November. John had Paganoni #30 almost finished. I played it, loved it and just had to have it. I invited John to ride to New York City with us and he brought #30 along. That night at the concert, I sold #26 to a fellow attending the concert. I don't remember his name and have only seen him one time since then. That one time I saw him I asked him if he still had #26 and he said "Oh yes". I asked him if he would sell it back to me and he said "Oh no". I haven't seen him since.

I played and kept #30 until I had an opportunity to purchase the 1923 Gibson Lloyd Loar that I have. I sold Paganoni #30 to Jerry Fox. Jerry sold it and the last time I heard of it, it was in Ricky Wasson's possession.

A few years ago John and I started the Paganoni DL model F5. To this date, there have been eight made. I three DL models and Paganoni #9.
---
Q5
Q - You have been able to pick on some very fine mandolins in your long career. Can you tell us what they were, who made them, models, years, etc? And what were you best mandolins that you really liked other than the Loar you now play? What do you look for in your mandolin as far as tone, how it plays, etc? You were also one of the few professionals that got to play for a long while Lloyd's Loar F5. What was that experience like?

A - As far as other mandolins that I own, I have a 1915 Gibson F4, a 1923 Gibson F4, I have the prototype of a Tucker A Mandolin, a 1924 "A" Mandolin that once belonged to Ira Louvin, a 1950 F12, a Gibson Bellevoce A style mandolin (one of a kind), and my new Gibson Lawson Signature F5 Mandolin. In 1988 Jim Triggs was working for Gibson and they built me a Gibson F5, hand varnished mandolin. It was the first one they had done that way in years. I later traded that mandolin for a 1926 Gibson Fern mandolin. I played that mandolin for a good while and eventually traded it for a 1929 Gibson Fern that was owned by RC Snoddy. I played the 1929 Fern for a while and recorded "Hallelujah In My Heart" with it. I later sold it to a fellow in Atlanta.

I don't covet anything. I see mandolins that I really like and appreciate, but I don't covet. And I have seen nothing lately that I have felt I wanted to own, at least not right now. I have so many good mandolins and feel happy and fortunate about what I have.

In mandolins I look for a warm tone, a balance across the strings, EAGD and having a good balance as far as volume across the board. To my ear a warm tone is having a good balance between the low end and mid range and clarity. I like to have a little low end and a little bright to it too. Just the right blend is what I'm looking for in a mandolin. I like my action set just high enough that the strings don't buzz when I chop. It's a myth that having action really high makes it louder, I feel. What it really does is it jeopardizes the intonation. The higher the action, the sharper your notes go.

For about 4 years I played John Paganoni's "Lloyd Loar F5". The first thing that caught my attention when I first played that mandolin was the smallness of the neck. It plays beautifully. The tone is impeccable. As much as I loved to play it, it didn't belong to me and the responsibility of such an instrument as "Lloyd Loar's F5" put a lot of pressure on me. Even though John never worried about me taking care of it, I was some what relieved when I returned it to him. You are right, that mandolin is certainly a piece of mandolin history.
---
Q6
Q - I was wondering if you could share some anecdotes from the Bluegrass Album Band days. How was it getting together with those guys? Whos idea was it? How did it happen etc? How much time did you put into material selection and rehearsal or did you just sit down and play a bunch of tunes and decide hey this is cool we should put out an album?

A - In 1980 I got a call from Tony Rice. I was living in Concord,VA at the time and playing with my own group, Doyle Lawson & Quicksilver. Tony told me he wanted to do a straight down the middle, bluegrass recording and that he had talked with JD Crowe and Crowe was agreeable. Tony wanted to know if I was interested. I was and immediately said yes. Tony asked me did I think Bobby Hicks might me interested. I said I thought he would be and gave Tony Bobby's telephone number. Todd Phillips was already in Tony's band. As a result JD, Bobby and I flew out to California in September 1980 to record what we thought was the only recording we would do together. JD and I booked the same flight out so on the way out we put our heads together with some song titles and after we all got to Tony's house, he had written down some titles he liked. We picked out twelve songs, ran through them a couple of times to see who would break where, and went to Arch Street Studio in Berkley, CA. We recorded them live without overdubs to keep that early bluegrass feel to the music. If one of us played something we couldn't live with, we would do an edit. The whole band would play that section for the edit. We used that formula pretty much for all the material for the 6 recordings that we ended up doing together.

Although I had worked with JD and Bobby in the past, that was the first time I had the opportunity to sing with Tony. Our voices just blended so well together. I remember on a couple of the songs, Tony had not heard of them at all so I'd sing a verse and chorus of the song and told Tony that's the way it was all the way through the song. Tony is a natural and that's all it took for him to be able to sing a song.

We had a really good time. We ended up doing six recordings, a few concerts, and one extended tour in 1983. It's indescribable the enjoyment I got from being with this bunch of guys recording or working.

Just recently we did a couple of songs at the 2003 IBMA Bluegrass Award Show. And that magic was still there.
---
Q7
Q - Hello, Mr. Lawson... What an honor to get to rub shoulders with you (well, sorta) for a while.

It's quite a coincidence that you should be CGOW right now. I've been wearing out the Rounder "The Bluegrass Album" (#1) and am learning Molly & Tenbrooks. I really love Model Church also. I plan on collecting all the rest of these. They are SO good.

I was just curious about your thoughts on this album and time frame, how you felt about your playing, what it was like working with Tony, J.D. and Bobby... any memories or thoughts you might have.

I'm also completely self-taught and have a question about that. What have been your biggest obstacles or enemies over the years in staying motivated, keeping things fresh and maintaining your technique?

And just one more concerning technique... You play so cleanly, is this something you have had to consciously work on or practice or did it just happen as you played more and more?

A - I think I've pretty well answered the first part of your question in my comments to Ethan. So let's go to the topic of you being self taught. My personal biggest obstacle that I had was the time consumed trying to figure out how to play what I was hearing. As I mentioned in an earlier question, I had no TV, no videos, no Acutab Tapes, instruction books etc.

I stay busy with recordings, I've written countless instrumentals that I haven't used yet, I do a lot of writing on the bus particularly in the early morning hours, and that keeps me motivated and keeps my hands in shape. My technique is very melody conscious so I try to play my notes clean so as to keep the melody established. Someone once told me that being the ultimate pro is knowing what not to play.
---
Q8
Q - So, tell the story of the CE Ward A50 conversion that you played when you were with the Gents.

A - Before I joined the country Gentlemen in August 1971, I was playing guitar with JD Crowe and I didn't even own a mandolin. When I got to Washington DC to start playing with the Gentlemen, I had to get a mandolin. There was a group called the Grass Menagerie and one of the members had a Gibson A50 conversion mandolin and I bought this mandolin. The conversion was done by CE Ward of Charlotte, North Carolina. I recorded "The Award Winning Country Gentlemen", and played the 1972 Japan tour with this mandolin. It was a great little mandolin but it was a little week when playing along side the powerful 5-string banjo of Bill Emerson. After I acquired my Paganoni #9, I traded the A50 to George Gruhn for a 1960 Martin D28. I sold that guitar to my sister-in-law and later bought it back. The A50 was in North Bend, IN the last I heard.

By the way, I also have one of C E Ward's custom mandolins. It's being repaired.
---
Q9
Q - Doyle, who are some of your favorite mandolin players that you like? What do you have on your CD player this week?

A - Well, it's a good list: Bill Monroe, he set the stage and he was why I wanted to learn to play. When I was learning to play, I wanted to learn to play exactly like Bill. Then I came to realize that no one plays exactly like anyone else. As I progressed in my playing I became aware and came to appreciate other mandolin players. I love the work Paul Williams did with Jimmy Martin. I really like the fiddle note influenced playing of Bobby Osborne. I love the work of Red Rector with Hylo Brown and Carl Story and the recordings he did with Don Reno and Red Smiley. I loved Jethro Burns jazz influenced playing even though it was beyond my capabilities. Those are some of the people that I listened to and that I was impressed by in my early years of playing. I suppose I've taken a little of all I've heard and incorporated it into how and what I play now.

I also enjoy some of the current players like Ronnie McCoury and Adam Steffey.

Right now I'm not listening to anyone. I'm gathering material for a new bluegrass project so I'm listening to a lot of demos.
---
Q10
Q - Thanks for the comments on your Paganoni and Bill's Loar. You are one of the first persons that have stated the fact of the player and instrument going together. Many years ago when I was dealing in instruments most of the banjo players were looking for an old flathead that sounded like Earl's. They never realized that Earl and the banjo together had that distinct sound. --Tut Taylor

A - Tut, it's nice to hear from you. I did briefly play the Prodigal 5 at the IBMA Trade Show this year. It was hectic and noisy, but what I could hear, I liked.
---
Q11
Q - If you can stand some more technical question, what type of strings are you using now? Does your string choice change depending on the mandolin? Do you find that some strings are better suited to either older or newer mandolins? You mentioned set up being very important. How do you set up your instruments?

Here in KY we have a PBS program called Jubilee. They film local musical events and air them throughout the year. I've never seen you and your band on any of these shows. How can we change that?

A - I am currently using D'Adarrio Strings for all my mandolins. I like the coated EXP74 strings. It's the only set of strings I've been able to use that includes a .015 second string. Normally I would use a .016 second, because I play rather hard and tend to pull a regular .015 out of tune. D'Adarrio Strings are the most durable strings I've found to date. I have found that some instruments require a different set of strings. On some of my mandolins I like a ll.5 E string. Rarely do I go heavier than .040 for a 4th string.

Set up also depends on the particular mandolin and how it responds. As I mentioned earlier this week, I like the string action high enough that the mandolin doesn't buzz when you're playing rhythm. It will vary from mandolin to mandolin. F4s always set up different than F5s and I think that the shorter scale in the F4s has a lot to do with that. I think too that it's a matter of personal preference, and how it feels to the individual.

DL&Q haven't been on any TV events so far this year. We have been on radio. We were on Woodsongs and we're going to be on Mountain State in Beckley,WV on November 2nd. We hope to be on the Opry before the end of the year. We've appeared twice on the Opry this year, but we haven't made it on the televised portion as of yet.
---
Q12
Q - Doyle, I've really enjoyed listening to you live and on record over the years, but a particularly great performance that I'll never forget was at a small club in Knoxville called "Sackett's", around on the back side of Western Plaza. I have been told that it was one of the very first performances of Quicksilver. Is it true it was either the first or second performance of the band and do you remember what year it was? Also, I think you participated in a mandolin workshop here at the World's Fair in 1982. If I remember right, it was you, Red Rector, Dave McLaughlin, and maybe Jethro Burns. Can't remember for sure, am I close? Thanks for all the great performances over the years!

A - I do remember playing a place called Sackett's in the Western Plaza. But it wasn't the first nor the second performance of DL&Q. Our first performance was at Buddy's Barbecue out on Kingston Pike on a Thursday night in 1979. Our second performance was at the Down Home on a Friday and Saturday. We played a bluegrass festival in Pickens, SC during the day on Saturday and drove back to the Down Home for Saturday nights performance. This all was some time in May of 1979 because we rehearsed for about a month before we started performing.

Yes, it does seem like I did a mandoln workshop at the Worlds's Fair in 1982, and I remember Red Rector and Jethro Burns but I'm not sure who else.
---
Q13
Q - Doyle, how would you describe your style? Do you consider yourself basically a singer, basically a picker, or equal parts of both?

A - I think I'm pretty well a singer and picker. As a child growing up, I grew up around harmony singing and it was accapella. What I try to do is compliment our voices with my picking and I always try and stay close to the melody and still leave room to improvise.

When I write my instrumentals, I don't hear it just as an instrumental, what I hear in my head is just melody which could in a lot of cases be set to words. A couple of my mandolin tunes have had words set to them by writers.

I've been told by several people that my style is hard to capture. I don't know if that's good or bad. I guess when it all comes down to it, I've tried not to try and play more notes than I could play cleanly nor get too far away from the melody of the song.