Joe Carr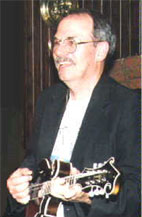 Joe Carr is a self-taught string musician and singer originally from Denton, Texas. His first professional performances were with the Texas-based bluegrass band Roanoke. In 1977, Joe joined the internationally known bluegrass band Country Gazette as an emcee, guitarist and singer.

In 1984, Joe left the road to join the Country/Bluegrass music faculty at South Plains College in Levelland, Texas. The program is the largest of its kind in the world and Carr specializes in Bluegrass and Western Swing music. He teaches lessons on mandolin, acoustic and electric guitar and fiddle in addition to vocal and ensemble classes.

Joe is a prolific writer and has been producing music instructional materials since 1975, including books and more than 30 instructional videos for Mel Bay Publications and Texas Music and Video.
---
Q1
Q - What can you tell us about Roanoke? As far as I know you only released one album before you and Mike Anderson joined Country Gazette. What happened to Roanoke, and how did you and Mike end up moving to CG?

A - The original Roanoke band included Dan Huckabee, Gerald Jones, me and various bass players. Jim Grotjan was one of the first bassists. We all met around Denton, Texas and NTSU (Now University of North Texas.) The band also included, at various times, Bill Honker, Debbie Bridgewater, Dean Morrow, George Giddings and Mike Anderson. We struggled as a part time band around the DFW area and finally got a job working fulltime in the Texas based "Chelsea Street Pub" circuit.

Slim Richey noticed increasing popularity in the dobro and asked Dan to record an album (Why Is This Man Smiling) for Slim's Ridge Runner label. Roanoke and Country Gazette also played on the album. It was my first time in the studio. At that time I was playing an F5 copy co-built by Lee Bridgewater and Rolpe Gerhardt of Unicorn Mandolins. I don't know where that mando wound up.

Roanoke eventually recorded an album for Slim shortly after Gerald Jones left the band. He was replaced by Mark Manicalco on banjo. The personnel at that time was Huckabee (dobro, guitar) Carr (mandolin, guitar) Maniscalco (banjo) and Anderson (bass.) Alan Munde had met me at the Huckabee session and later asked me if I would like to play guitar with Gazette. Bill Bryson (bass) decided not to stay with Gazette so I asked Mike and he agreed. Roanoke evolved into a country band and for all I know they are still together!
---
Q2
Q - Yours was the first mandolin instruction book that I found truly worthwhile. How was Merlin's Magical Mandolin Method created?

A - Thanks so much for the nice words. Comando lister John Hatley is responsible for Merlin. John asked me to record and tab some songs for him. Then the idea grew into a book. We recorded it on John's cassette recorder, John took all the pictures and I even held John's Monteleone for the cover picture. John had it reproduced into book form. I'm sure the old original Merlin's are now worth ...oh....maybe as much as $2 or $3 a piece. We sold all the book copies and eventually sold it to Slim Richey who still sells it I think. (not in printed book form).

This was the nearly the first tabbing I tried to do. I didn't understand how to notate time, so I just stuck the numbers in the right measures without timing.
---
Q3
Q - What instrument did you learn first -- guitar or mandolin? Also, could you give us a history of the mandolins you have owned over the years, and which one was your favorite?

A - I started guitar using "The Colour Way" method at age 13. I bought a used $10 Mexican made mando a few years later. The action was horrible and I couldn't play above the 5th fret. A year later I took off the tailpiece and I found the original price tag. $3.50! And I bought it for $10! Man I was steamed!

I played Debbie Bridgewater's beautiful plum colored F-4 when we were in "Supergrass" together. (before Roanoke.) I bought an 1960s A-40 and played that awhile. Lee Bridgewater (Debbies dad) help me take the back off, regraduate the top and put a extended neck on it (snake head). I didn't know what I was doing and I believe several luthier's organizations still have a price on my head. In my defence, A-40s really were not very nice.

I actually bought a new A-12 from Lee and stuck a little piece of white tape on the scroll thingy to make it look like a real cut out scroll.

Back then several people were producing unfinished F-5 bodies which you then could complete. Givens was doing this and I didn't buy one (should have). I think Bobby Clark played one for years. As I remember it was unfinished and routed for binding and Bobby just played it like that.

Rolphe Gerhardt made a body for me and Lee finished it. I played that mando on Why is This Man, Jazzgrass and Roanoke. After I joined Gazette, I bought a Randy Wood because I liked Rolands so much. I had to sell that mando for moving money when I left Gazette. I hated to see it go because it was everything I want. And of course, now in my memory, that mando gets better every year. The one that got away.

I replaced that instrument with a Kentucky KM 600. It was the nicest A model they made back then. Texas Fiddle Favorites is recorded with that mando. In the early 1990s, Dexter Johnson sold me a beautiful Gilcrest A model. It should have been the last mando I ever bought but . . . I used it on two Alan Munde and Joe Carr albums for Flying Fish. Well - I guess it sounded too modern for me. The chop was great and low notes were great but the highs were loud and hard. I eventually traded Gerald Jones for a Duff F-5 that looked and sounded like my Randy Wood. (first love, you know). It is very balanced, highs are pretty and well that's enough. I also have a Triggs A model which is labelled "mandola." The body is bigger but the scale is mandolin length. I use it to teach on and I experiment with it. Sometimes it only has 4 strings and is electrified. Sometimes its strung like a mandola. I've even put octaves on the G and D.
---
Q4
Q - You and Alan left Country Gazette and both became teachers at South Plains College. What made you decide to stop playing with the Gazette? Did you and Alan ever consider continuing the Gazette as an "Album band", so you could do both?

A - Gazette was on the road 200+ days a year. I missed alot of my daughter's first 2 years of life. I decided to leave the band so I could be home when my son was born (he's now 20!) I had played SPC with Gazette a year before I left the band. They asked about me and eventually I was hired to teach guitar and mando in 1985. Alan was hired 2 years later. Alan has kept a Gazette group off and on through the years. He and I of course worked as a duo through much of the 90s. He has now formed The Alan Munde Gazette. Roland has gone on to be involved in many great projects.
---
Q5
Q - I always liked you "Guitar" album, Otter Nonsense, a lot. The title track has a gypsy feel to it, do I sense a little David Grisman influence? Also on Otter Nonsense was a very interesting version of Stoney Creek, that you called "Stoned Creek". What are you doing with the timing? I have tried to learn that version, but I must admit it is beyond me how it is counted.

A - Yes Yes we were all listening to Grisman back then. KERA TV (13) in Dallas played the Muleskinner show about 4 times in one week. I audio taped that show and wore it out! The theme to Otter Nonsence is a Django/Clarence lick played on the "wrong" guitar strings. The intro was played on an old Gidson mandolincello loaned to me by a friend in N.C. I had been listening to Dave Brubeck's "Out of Time" album when I noticed that "Unsquare Dance" (in 7/8 I believe,) was similar in some ways to Stoney Creek. It sounded "messed up" so I called it "Stoned Creek." Only the first and last A parts are played this way. Count " 1, 2, 3, 4, 1, 2, 3."
---
Q6
Q - I know we are a mandolin group, but many of us also play guitar. The tune Alajuba Bamalee appears to be a homage to Clarence White. Was that intentional, or am I reading something into that arrangement that isn't there?

A - I was all about Clarence in those days. Right after I joined CG I was playing all those Clarence and Colonels breaks. Generally I was playing as close to Clarence as I could. I was surprized when I first heard a recording of Clarence playing mandolin. It was so straight! Apparent;y, he didn't "hear" the same subtle sounds on the mando.
---
Q7
Q - The last Country Gazette CD, "Keep on Pushing", was recorded at South Plains College with two new members (Dawn Watson and Chris Vandertuin) playing mandolin and bass. Were Dawn and Chris students, and how did you come to the decision that this would be the last Country Gazette CD?

A - Dawn and Chris were students although both became teachers at the school later. Dawn had only been playing a little while (2 years maybe) when she came to SPC but she made incredible strides in a short time. She may be the most dedicated student I ever encountered. She of course has gone on to record an instructional video and write for Mando Mag. Chris still builds great guitars right here in Hockley County, Texas. The decisions regarding CG were all in Alan's hands. My only involvement in the last project was some fiddle on a Bob Wills tune I had worked up and showed to the band. "Get Up There and Dance" Alan still has some unreleased material from this last album which may appear someday on a Camp Bluegrass release.
---
Q8
Q - In one of your recent replies you mentioned that you have a son and daughter. Are either following in dad's footsteps musically? If you tell me they are in an Ozzy Osbourne cover band I'll be crushed.

A - Neither my daughter (UT Graduate) or my son (still in college) got the music bug. When Ashley was six, she said she wanted to play fiddle so we rented her a 3/4.

After a month of lessons from me and with Mom on her case about practicing, I let her quit. She didn't want it. My wife had been regularly yelled at to practice piano, but I didn't learn that way. I played because I loved it and I didn't want to force anybody to play. It's supposed to be fun! Chris can play electric bass amazingly well considering he never practices. Ashley at 22 listens to Classic country a lot - which really surprises me!
---
Q9
Q - One of the smarter things I have done recently is purchasing the cassette you offered to the list, "Texas Fiddle Favorites for Banjo and Mandolin." It has been in my car tape deck since the day I got it. My favorite cut is "Twinkle Little Star." You really tear it up in the middle with a very Tiny Moore sounding break. That break sounds single string and maybe even electric. Is it? What mando(s) do you use for recording & do you use different instruments for live gigs? Also, where can one hear more of the playing of Ricky Turpin, the fiddler on the tape?

A - Thanks very much for your kind words. That music is now available on CD from Mel Bay with transcriptions. (MB98404BCD) Yes I used single strings on several breaks on that recording to get the Gimble/Moore sound AND to make things easier on the right hand. (I may have been noticing the effects of MS way back then - 1989 ) It's all acoustic.

Generally, I have only owned one mandolin at a time. This was recorded on an 1980s Kentucky KM 600 A model. I think I bought it new from Slim Richey at the discounted price of $300.

Ricky Turpin (from Lubbock) went on to play with Asleep at the Wheel. He recorded on one of the Wills tribute albums and others. He now freelances in the Austin area.

I just finished a mando project for MB using several mandolins. I used an older Martin roundhole and on the rest I used Gerald Jone's incredible Gilcrest and a Johnson octave mandolin.
---
Q10
Q - Ok Joe - others may be too shy to ask - but not me - what's the deal with your health?

A - Ok, I asked myself this question so I could talk about physical limitations to picking. After 15 years or so of increasing symptoms, I was finally diagnosed last Aug with MS. I am really relieved to have some real answers now and things are good. I'm walking with a cane now and long airport walks are difficult which is why I stopped touring with Alan. It also has become more difficult to play rhythm for 45 minutes in a guitar/mando/banjo duet setting.

I had noticed increasing difficulty picking over the years and I have tried several strategies that have helped to various degrees. It also helps me understand my students difficulties better. We get real creative in devising ways to play that may or may not be "standard."

So, there is hope for everyone unless you just can't move your hands at all. After using 1.21 mm Fender picks for years I gradually moved to thinner ones. Did my tone suffer? Well sure but hey I'm still picking! My action is at an all time low and requires regular adjustment if I want to keep it at optimum settings (Thanks Bryan Kimsey!) It helps to know that a number of today's hottest young players also keep their action as low as it can go. Gone are the days when we cranked our bridges to the sky and played sloppily to get some supposed volume increase. (I never noticed any increase from cranking up the action) String gauges also can be adjusted although I'm using D'Addario Flattops (11-39) right now and like them a lot.

The thinner picks seem to help the most. I have a big variety of them ranging from .50 for Irish tenor banjo to Fender heavies. Upstrokes seem to give me the most trouble and my accuracy suffers as I tire. Oh yeah. I took up Irish tenor banjo about a year ago (same as mando tuning/one octave lower.) The volume of the banjo allows me to play with much less force. While my mando playing has slowed way down by bluegrass standards, I am able to play some pretty respectable reels and jigs at medium session tempos because of the Geometry and physics of banjo. I NEVER thought I would ever own a banjo. Isn't life fun?

I'll talk about this more if anyone has questions about their own issues. I hesitated to talk about it for a while , but I realized - We all have challenges to deal with - even our heroes. Check out the MP3 link and listen to "Ack Varmeland" to hear me playing now. Thanks for this space and the soapbox.
---
Q11
Q - I've recently been backing up a fiddler, we do a duo fiddle/mando thing, and we play lots of texas-ish fiddle numbers. I was wondering about 'texas-style' backup, like guitar players do, only on the mandolin. Is there a generic formula for this style? Take a tune like Cattle in the Cane/Corn for instance. Any suggestions for backup other than 1/4/5??? Can this style be applied effectively to non-texas stuff as well? Sorry if this has already been covered...

A - What a great question. I love this stuff. I played this style first on guitar. Then I heard Roland doing something like Texas backup on Bluegrass songs. He inspired me to try my guitar ideas on mando. It works great backing swing tunes, fiddling and bluegrass! My first article for Mandolin Magazine back in 99 discusses this approach applied to "Ragtime Annie" in D. Ginny was nice enough to put up a PDF of the article at www.mandolinmagazine.com/workshops/carr/summer99.html Ok so how do you do it? "Sally Gooden, "Tom and Jerry," "Grey Eagle" and numerous Texas style tunes in A will take this first progression. G tunes like "Sally Johnson" and "Leather Britches" take it too. The basic idea is to embellish the chords and to change every two beats (generally.) Here is the basic chord structure - each number equals 2 beats:

1 1 4 4 1 1 5 5 1 1 4 4
5 5 1 1

in A that's

A A D D
A A E E
A A D D E E A A

Texas players might embellish it to look like this:

1 17 4 4#dim
1 1 2 5
1 17 4 #4dim
5 5 5aug 1

In A:

A A7 D D#dim
A A B E
A A7 D D#dim
E E Eaug A

Here are the chord forms I would use written from the G to E string. Notice that some of the forms are only three strings with the fourth muted.

A = 9745 A7 = 654X
D = 745X
D#dim = 546X
B = 4467
E = 467X
Eaug = 567X

Once you have this memorized, it is easy to move it down 2 frets to G. There is no real formula unless you want to get into chord substitution. Which is what you are doing. I had to get this from guitar books like the old Micky Baker Book and the Ronnie Lee book. Then I rethought it for mando using mostly three string chords (like Jethro.)

I'm going to go look in my CDs for a version of Cattle in the Cane and then write a rhythm arrangement. I'll post it later in the week. (I don't play that tune much) The hardest part of this rhythm thing for me was to stop thinking about the mando like it was a guitar. Many times on guitar we try to place the name of the chord as the lowest note in the chord. Not so for mando. Let the guitars play the boring notes. We are the mando players! Let's have fun!

The version of Cattle in the Cane I have is from The Best of Texas Shorty (2 album CD set) with Sam Bush on mando. This version is in A minor so its not 1 4 5 at all. (available at texasshorty.com) The changes are not really Texasized much although the accompaniment is in Swing style. This album would probably be a good intro to this style anyway. Mark O'Connor plays some mando on the album also. The sound is a Texas/bluegrass hybrid. (If you learn a bunch of Shorty's music note for note people will say you've be listening to Sam.)

For Texas style rhythm, take the ideas I supplied earlier and try to apply them elsewhere. Anyplace you have a long one chord you can always vary it by moving though the major, the major 7 and 6th chords. In G it looks like this:

1 1 1 1 = G GM7 G6 GM7

G = 455X
GM7= 445X
G6= 425X

In D:

D DM7 D6 DM7

D= 745X
DM7= 645X
D6= 445

Notice that D6 and GM7 are the same shape. Figure that out and you are a long way toward understanding all this.

Answer: 445X = B, F#, G

With a G root (from the guitar) these notes are 3,7,5
With a D root these notes are 6,3,1

A Major 7 chord is: 1357

A 6th chord is: 1356

The chord tones can be in any order.
---
Q12
Q - Thanx for sharing the effects MS is having on your playing ... progressively decreasing physical abilities take some adjusting to get used to ... May you continue to find and play the music that matches your abilities and preferences ... My own pain-messages, from too much nerve irritability injury, give me no choice but to learn some techniques to make playing possible & enjoyable ... but, being still fairly new to the mando, I never know if it's me or that I still need to learn more how-to-play-techniques ...Have you found any tricks, that you would be willing to share, about making mando playing easier/possible with physical limitations? ... like ... how to ... hold your mando ... position your body ... ease off shoulder & left-hand muscle tension ... hold your pick ... keep up regular practise techniques ... what about those marathon pickin' jams the upcoming bluegrass festivals ... or even the once weekly 3-4 hour sessions ... how do you pace yourself? ... any other ways to make it easier on our bodies and still continue to play?

A - I'd love to share my experiences and I hope these obvious solutions help somewhat. In addition to the accommodations I mentioned earlier I have become very selective with my music making these days. Friends will tell you I've never been much of a jammer, but now I'm even more selective about when and with who I make music. It isn't an elitist thing its just . . . I want to make nice music. If everyone is playing louder and faster than I can, I just listen. I hope folks don't think I'm being a snob. I just don't want to play poorly. That's no fun for me or anybody else.

When I visit my good friend Gerald Jones, we'll sit around and pick - maybe just a mando and a guitar. Maybe I'll teach him a new tune or he'll show me a hot lick. Its just a different approach now. Not so athletic as a full jam with multiple guitar, mando, fiddles and banjos. It the same advice I give my flatpicking students who complain they cant hear their own picking in a jam. "Don't try to be heard in the jam." Grab 2 or 3 sensitive players and move into the kitchen, Start your own slow or quiet jam. Let the cowboys and racecar drivers do what they do and you do what you do best. Many of us have beautiful music inside, but we can't get it out when we cant hear or its too fast. Sorry I got wound up - I now hand back the microphone.

As far as pick holding is concerned - I used to think I played in a relaxed manner. I have had to consciously turn up the relax knob. I just thought I was relaxed before. Now I work at being loose and relaxed.
---
Q13
Q - I recently posted a list of essential tunes for beginners to learn. Do you have any recommendations for an essential list? Maybe a list for Bluegrass, and one for Swing?

A - I haven't checked your list but I can suggest some more obscure tunes that were important for me.

Bluegrass

Bluegrass Part One - Monroe - This one still gets me
Bluegrass Stomp - Monroe - so good
Arab Bounce - Vernon Derrick - What an under rated player - He fiddled with Jimmy Martin (Don't even think it!)
Daybreak in Dixie - any of the many different ones
Johnny The Blacksmith - Played by Kenny Baker. The second part really helped me learn hammer-ons and pull-offs.
Big Country - Vernon Derrick again. Sam plays this as "Small Change" on the Sam and Alan album. Shenendoah Valley Breakdown" - learned from a live tape of Sam. I wore that tape out and learned every note. I still use those licks every day.
Kentucky Chimes - Wendy Miller - a great tune that appears on a Larry Sparks album. When Gerald and I figured out the banjo/mando duet, we thought we were too cool!
Buck's Run and Indian Blood from the first Buck White Album. What a fresh mando voice! I still love him. 3 notes and you know its Buck.

Swing

Little Rock Getaway - in C and G. This is advanced
Panhandle Rag - Jimmy Arnolds first album
The Preacher - Jazzgrass
Any of the Rags - Cotton Patch (C), Beaumont (F), Lone Star (C) Joe Bob (D)
All the Western Swing Greatest Hits - Faded Love, SA Rose, Maiden's Prayer, Right or Wrong, etc.
The Kind of Love - shows how swinging a 2 chord song can be.
---
Q14
Q - Tell us a little more about your use of the Johnson Octave Mandolin. Is it the Celtic model or the MA-550 with the cutaways? What kind of stuff to you play on it? Other than chord voicings, what changes in technique do you make when switching over? Etc.

A - It's the Celtic model with the "Johnson" name on the headstock and "Trinity College" stamped inside the body. I use it a lot for rhythm on my new "International Mandolin" project from Mel Bay. I also use it for lead and rhythm with my Irish ensemble at SPC. I use it more on airs and ballads, while the tenor banjo comes out for the jigs and reels. This may change soon. I am talking to John Garrity (see this month's melbay.com/mandolinsessions) about building a custom octave for me. I sure it will be much louder than the somewhat wimpy octave I have now. I've actually never played a nice octave. I got this one in a trade for 2 bajo sextos (don't ask!) The short mando chord voicings I like (usually only a 4 fret stretch) work great on the octave. These are tenor banjo forms. I also use a thinnish pick (from Thinland.)
---
Q14
Q - I have admired your playing for past 30 years, and have enjoyed everything you have recorded from Foggy Mountain Rumba to Ack Varmeland. It's was your inventive flair, and eclectic selections of tunes that pulled me into learning your style of mandolin.

How do you come up with your variations on a tune? For example, I have multiple versions of you playing "Cotton Patch Rag", and they are different and unique. Do you ad lib a lot, or do you sit down and constantly revise your arrangements?

A - It's kind of scary to know you've been stalking me all these years. If I'd only known, you could have helped drive and load in equipment! BTW, If anyone can record the "Roanoke" album to CD, I'd love to put "Foggy Mountain Rhumba" up at the acousticmusician site. It would show what a Sam imitator gone horribly wrong sounds like. I worked hard to get variations to fiddle tunes. Texas fiddlers have very strong ideas about what is and what is not part of any given tune. Generally, anything I play on a fiddle tune is a variation I learned from a fiddler or a variation of that variation. I don't believe in jamming to fiddle tunes.

I really bugs me someone says, "Hey do you know Dusty Miller?" "No, but I'll play something on it." Don't jam on Dusty Miller. Just play rhythm tonight and learn it later. Remember that dirty look I gave you? That was me thinking: "NO JAMMING ON FIDDLE TUNES!" What do you jam on? Banjo Tunes! We can't play the real melody to Foggy Mountain Breakdown anyway, so we can just freely improvise. I'm sure writing a lot in these answers. Alan Munde would have warned you not to get me talking. In the old CG days a set consisted of first song, Joes talks, last song, sit down.