Red Henry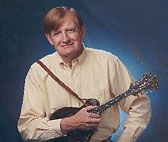 Red Henry, a long-time music professional, began playing mandolin in 1967. He counts Bill Monroe, Frank Wakefield, Jethro Burns, and Sam Bush among his strongest musical influences. Most of Red's career has been spent with Red and Murphy & Co., a bluegrass band led by Red and his wife, the talented banjoist, singer, and songwriter Murphy Henry. For 11 years (1975 to 1986) the band performed music full time, touring extensively around the Southeast. They played a lot of festivals, a lot of clubs, and a lot of concerts. Red may someday describe this unforgettable experience in a book to be entitled "Creative Living with Music and No Money."

Red and Murphy released ten band recording projects from 1977-1995. These were all self-produced, and several were recorded in Red's professional-grade recording facility. Many favorable reviews were received from the Bluegrass trade publications. More recently, Red compiled all his best work along with several new recordings, and released it on a CD entitled "Bluegrass Mandolin and Other Trouble."

In 1982, Red and Murphy founded the Murphy Method, a family business marketing music lessons taught by ear on tape. In 1986 the tape business became a full-time occupation, and now offers an extensive catalog of video tapes and DVDs for the bluegrass instruments. Red progressively became the production/duplication/graphics/accounting/order/shipping department for the Murphy Method business. This often interferes with playing the mandolin.

In 1971, Red was fortunate enough to acquire Randy Wood mandolin #1, a terrific bluegrass instrument. Since that time, he has never suffered an attack of MAS. However, two Decembers ago Murphy secretively acquired Randy Wood #3, which had been owned by Bill Monroe since it was new, at the Monroe estate auction in Nashville. She brought the mandolin home and gave it to Red for Christmas (pretty cool). Within six months, RW#3 had inspired construction of a one-piece violin-inspired maple bridge, a rapidly-spreading concept which, in the last sixteen months, has made for much entertaining controversy (and a lot of good-sounding mandolins).

Red will be glad to answer questions about picking, performing, recording, mandolins, bridges, and other more or less unrelated subjects, including his just-completed project of converting an old archtop guitar into a mandocello. His homepage is headquartered at www.murphymethod.com/red2.html and visitors are welcome any time.
---
Q1
Q - Let's start off with the story of the Bill Monroe - Randy Wood mandolin. Tell us the whole thing - how it came to be made, how you got it, what it's like to own it, what it sounds like and plays like.

A - Thanks for the question. That RW#3 mandolin, which Bill owned, is one of the finest around, and I'm always ready to talk about it.

As far as I know, Randy Wood himself actually started off the modern trend of making F-5 copies. A few had been made before, but when Randy started building them some of his mandolins got into the hands of famous pickers, and suddenly the "F-5 copy" idea caught on in a big way, and came to dominate the mandolin field. (That's another story, and maybe we can get to it later in the week). This was in 1968.

After Randy made his first mandolin, he brought it out to a festival to show it to Bill Monroe. Bill liked it so much, even though it was brand-new, that he played it on stage and carried it around with him all day, and then tried to buy it from Randy. But Randy already had it sold! Bill cornered him backstage. Randy says, "There I was, this 22-year-old kid, having to say 'No' to Bill Monroe!" (And that was lucky for me, because I bought that mandolin myself when it became available in 1971. One more story for later.)

Anyway, Bill didn't get RW#1, and Roland White got RW#2 and started playing it in Lester Flatt's band. (He still has it, too, and I doubt if he'll ever let it go.) By the time Bill got around to actually ordering a mandolin from Randy, he got the third one. I believe that it was the only instrument he ever ordered, to have made for himself. Randy dated the mandolin January 15th, 1969, and wrote on the label, "F-5 copy 0003".

Bill played the mandolin a good bit the first year or so that he had it, and played it on the Opry and recognized Randy on the air. He told Randy that he'd recorded several numbers with it. This (1969-70) was about the time he was recording some of the "Blue Grass Time" and "Uncle Pen" cuts, so the mandolin may be on some of those-- I can't tell well enough from listening to those albums.

Then Marty Stuart was going to work with Lester Flatt, and apparently he didn't have a really good mandolin to use right then, so Bill lent him RW#3 to play with Lester's band. I want to find out more about this, and find some Nashville Grass photos showing Marty holding the mandolin, but both Randy and Roland (who, of course, was there) say that Marty played RW#3 when he was with Lester.

Marty gave Bill the mandolin back after that, and it didn't get played much for quite a while. Then Roland borrowed it for several months about 1980, while his own mandolin was under repair, and then brought it back to Bill's office, and... it was lost. One of Bill's employees put it away somewhere, and neither Bill nor anyone else know where it was. This went on for years.

Since I had RW#1 and was interested in all of Randy's early instruments, I had heard of this #3 mandolin and had already thought about it for years. We played a festival along with Bill's band at Cocoa, Florida, in about 1985, and I spoke with Wayne Lewis about the mandolin. He said that it was still lost. Apparently it stayed lost for a long time after that, too. I wondered if some acquaintance of Bill's had made off with it, and whether anyone would hear of it again.

Now-- fast forward sixteen years.

When the Bill Monroe estate auction was announced two years ago, I wondered aloud in our house one day whether RW#3 would be in the sale. I checked through the list of sale lots, and there were some Gibson Master Models and other mandolins in the list of auction lots, but no Randy Wood mandolin was listed. Apparently the mandolin was still lost, perhaps for good.

However, my wife Murphy picked up on what I'd said about the mandolin. She made some calls to friends in Nashville, and found out that RW#3 was indeed in the auction, although it was described in the sale catalog as a Gibson. Wheels began turning, although I didn't know it. Murphy announced to me that she was going over to Nashville to the sale to pick up a few souveniers of Bill, and with my mother as her co-conspiritor and acomplice, she went over there and won RW#3 in the auction. She brought it home and gave me the mandolin for Christmas. This was pretty neat.

At that point, the mandolin may not have been played for 20 years or more. It had six rusty strings on it and no truss rod cover. As soon as I could bring myself to change Bill's strings, I put a set on. Right away, from the first notes I played, the mandolin was REALLY loud. I started playing it every day, and more mellowness began working back into it. Last year Randy reset the neck, and then I started making maple bridges to go on it, trying to channel that exceptional volume into more low end and easy responsiveness. Today, with maple bridge #100 installed on it, it has excellent balance and richness to along with the volume, and this mandolin, RW#3, is the instrument which I take and pick at almost every gig we play.

Not only was giving me RW#3 a tremendous thing for Murphy to do, but a few months later, the mandolin inspired the whole series of maple bridge experiments. So all this resulted not only in me having the mandolin, but also in the maple bridges, which have helped the sound of a lot of mandolins so far (and the number is growing). All because of a chance remark I made that day in the house...
---
Q2
Q - Great response to my first question about Randy Wood #3 - thanks. I understand that you're a known as a Monroe-style player. What advice do you have for us about really picking up the Monroe style? Your son Chris has a Monroe style video out - did he primarily learn it from you? Also, could you tell us about your CD "Bluegrass Mandolin and Other Troubles"

A - Learning the Monroe Style-- well, that's a book (or a career) in itself, and it's just not as easy to do as it used to be. It actually was easier when a dozen or so recordings-- a good study group-- used to be grouped on an album. Now, for example, some of Bill's most important recordings are scattered through a big CD set instead of being available on the "Bluegrass Instrumentals" record album. (Not that I can complain about that; I'm glad the music's available at all.) Anyway--

What I can say is "Listen, listen, listen," and "Play, play, play." Find some recordings of Bill and listen to them until you have the sound in your head, and then start trying to pick out the music. Keep going back to each tune or break, and you may find that you can hear and play more each time. Modern Monroe-influenced players such as Frank Wakefield, Mike Compton, David McLaughlin, Ronnie McCoury, Danny Arnes, and others are great to listen to as well. Whenever you can get around good Monroe-influenced players and listen to them on or off stage or ask them questions, take the opportunity, because I think live musical transmission is really the best way to learn this kind of playing. There's something about those live notes--

I think that the idea is to learn enough of Bill's music to understand the great musical spirit of it, and then to incorporate some of that in your own style. The spirit of Bill's music may be impossible to define in words, but it's not impossible to understand some of it and to play it in your own way. I really wish that I could hear more of that spirit in bluegrass music today. (This does not mean trying to play like Bill all the time. Somebody's already done that.)

Also, when I get in a jam session that's playing one of Bill's tunes, it's obvious who has learned from the recording and who has learned the tune second- or third- hand. I like it when people have listened to Bill play "Big Mon" or "Wheel Hoss" or "Roanoke", for example, so that they know at least the outline of how the tune's notes actually go and (even more important) they know the phrasing, the dynamics, and the overall sound of that particular tune, so that they can play it (even in their own style, which may be very different) and still make it SOUND like that particular tune. I think that great tunes deserve that, instead of being all mixed together so that they all sound about the same.

My son Chris, who is 22, did record a Monroe-style mandolin instruction video this year, and he has a heavy Monroe influence in his playing. By this I don't mean that Chris plays many tunes or breaks just like Bill did (although he can do that if he wants, and teach it too as he did on the video), but rather that he has absorbed some of Bill's musical intensity into his own high-energy musical style. Where did he get it? Maybe it's my fault. But for about a year in our family band when Chris was 11 or 12, an important formative time for him, David McLaughlin played guitar with us. (David doesn't care, he'll play anything.) David still plays several dates a year with us on bass or guitar. I think that between David and myself, we provided the impetus for Chris to listen to Bill and absorb some of that sound.

About my CD-- Years ago, when we were playing music full time, we recorded seven record albums. All those projects were self-produced and financially successful (even if it was on a small scale), which is an important thing when you're making a living in music. But who listens to albums now? Not too many people I know. So three years ago, I assembled all the best things I had recorded, and added in some previously-unreleased material and a few new recordings, and brought out that CD, "Bluegrass Mandolin and Other Trouble". It's become a successful project, and I'll reorder it soon. But we're working on more. Right now, Chris is recording a CD himself, primarily bluegrass, and I'm helping him on a few numbers. Next, we may record a "Red and Chris" CD, which would feature some of the bluegrass and folk material that the two of us perform together on stage. Then, there are a lot of tunes I'd like to record on a future CD myself with family and friends. All these ideas, and so little time!
---
Q3
Q - Practice schedules have come up in the past, and am curious of your take on this. How do you suggest players break down their practice time? What types of excercises would you suggest for various skill levels? What key things do you think are important for new bluegrass players to work on to develop a good foundation?

A - Thanks for the question. This is an important subject. I confess, though, that with my daily business activity (running the Murphy Method tape business) I can rarely maintain a regular practice schedule. At times I can get into practicing for an hour in the early morning, but then other things will crowd in and that regularity will disappear. I do however, try to play for a while every day on each of my mandolins, RW#1 and #3, and now also on the mandocello conversion. I like to keep my fingers limber and the instruments awake-- the feeling is so rewarding, to pick the mandolin up and hear it sound great from the start.

Exercises: I have never done any, except for a few random scales. My exercises were always fiddle tunes. You can really keep your brain and fingers active with them. Play lots of tunes such as "Rickett's Hornpipe" and "Sally Johnson" and "Dusty Miller" and "Paddy on the Turnpike", and your fingers will get some great exercise. Play some tunes in several keys. Learn good, authentic fiddle melodies as well as Monroe-style melodies, and you'll have a lot of variety to play on each tune. The tunes you play can advance along with your skill level.

A well-known b#nj# player once claimed in print that the greatest professional musicians never practice-- to which my friend John Hedgecoth retorted, "No, they just play all the time." You do have to put in the time, if you're going to get the results. And I have found out that at my advanced age (54), it takes more time and effort to get in shape and stay in shape. Sometimes it's quite a struggle to do that, but if you want to play, you'll do it. Some important things:

1. Timing: Make your music stay in a regular beat. I don't say practice with a metronome, but you really need to stay in time if you're ever going to pick with other people.

2. Clarity: Play the notes clearly. Make a musical statement when you play. Then other people can hear you better, and will like your music better.

3. Musical focus: Bluegrass may be an improvisational music, but the sky is not the limit. If you play bluegrass, I suggest that whatever you may improvise on a tune, make sure it still sounds like that tune.

4. Don't just practice, but also listen. Listen to the kind of music you want to learn, and keep trying to figure it out. Keep going back to the record and learning more, because the masters in any musical field will have a depth in their music which will take many years to comprehend. Listen, and play. Listen, and play.
---
Q4
Q - Fill us in on your early years as a mandolin player, first influences, first groups, stories about experiences with the greats, and/or anything you think would be of historical interest down the Bluegrass trail. I'm sure you have many good stories.

A - History: You might way that I was just lucky, coming up at the right time. When I was 18 and in college (in 1967), an uncle of mine, John Hedgecoth, started me off playing mandolin. There wasn't any financial reward for playing bluegrass-- in fact, you could hardly give it away in north Florida, where I lived-- but there were picking parties. Soon I was going to them. Lots of them. There was a big group of enthusiastic pickers who were putting together weekend-long picking parties once a month or so, and this went on for the rest of the time I was in college. You could go to one of these events, usually held at someone's house in the woods or on a lake outside town, and just pick and nothing else for two or three days. I could learn a lot that way in just a weekend.

I was really lucky, because the pickers were really good musicians and good people. The participants in these parties included such folks as John Hedgecoth (banjo player, now also a mandocellist, and instrument expert, now in Nashville), Mike Johnson (long-time leader of the Sounds of Bluegrass, still in Jax), Dale Crider (well-known Florida folksinger), and many others like that. Those guys had all been playing for a years, and it was really inspiring to get with them and play. Soon we were organizing free weekend-long shows at places like Salt Springs and Green Cove Springs, where lots of bands would play and everybody could come and have a good time.

But this was a really isolated musical environment. It had been years since the Stanley Brothers and Jim and Jesse played down there, and there wasn't any bluegrass festival scene like there is now, so we didn't get to see any of the great bands. But then we found out about a new idea which Carlton Haney had come up with: bluegrass festivals.

In 1967, some friends of mine went to the third bluegrass festival ever held, at Berryville, Virginia (the festival had been held near Roanoke its first two years), and they came back raving about it. So when the summer of 1968 rolled around, about ten or fifteen of us headed for Virginia. I was riding with Dale Crider, and we rolled into Watermelon Park early in the week-- and it was an indescribable experience, but I'll give it a try.

Think about the bands who were there-- they included Don Reno; Red Smiley; Jimmy Martin; Ralph Stanley; the Osborne Brothers; Bill Monroe. Some of these guys were starving (I think that even Bill Monroe booked his band in there for $600.00 for three days) but they were full of music, and were delighted to find people to share it with. Bands did workshops every day, sitting on apple crates down by the stage area, and you could sit right next to them and see what every one of them was doing, and talk to them about it. You could talk to Bill Monroe and hear his mandolin close up, and see how he was getting the notes, and absorb the fine phrasing of his music-- I liked that.

You could see things then that you could not see since. You could see a famous banjo picker with a prewar tone ring he'd just bought slung around his neck, and wonder why anybody would pay $80.00 for a tone ring. You could hear two fiddlers angrily arguing at night, and climax the argument with, "All right, let's go ask Bill!" You could see instrument dealers arrive with carloads of D-models, F-models, A-models, and Mastertones, and spread the instruments right out on the grass for anyone to try. An A-model was $80.00 and an F-2 was $175.00.

You could watch Ronnie Reno and Bobby Osborne play twin mandolins on "Paddy on the Turnpike". You could pick with Don Reno or Kenny Baker in the parking lot (actually, a cow pasture). There were hours and hours of stage shows, and there was picking every night. How many pickers? The place was like an anthill. That was my first bluegrass festival, and you can imagine how it was to be there, after I'd just been playing mandolin for about nine months. It was the best introduction to bluegrass music I could imagine.

This was the perfect time to be getting into bluegrass. Carlton Haney, who produced those first few festivals, then began putting them on in other states (I think Camp Spring, NC was next) and then the idea spread-- and literally within four years, by 1972, it seemed that there were bluegrass festivals all over the place from Florida to New England.

Uncle Sam called me into the service when I got out of college in 1970, so I went into the Air Force, which sent me to flight school in Del Rio, Texas. Something happened then which now seems pretty remarkable and extremely fortunate. In the spring of '71, while I was out there in Del Rio, Mike Johnson wrote me and said, "Amos Bigham's carrying around a mandolin, Randy Wood #1, selling it for Bernie Michelle. This is THE mandolin. Here's Amos's number." The price was $800.00, much more than I'd ever heard of anyone paying for an F-5 copy, but I trusted Mike and knew that he knew what I was looking for. So I called Amos and arranged for someone to meet him at the festival in Lawtey, Florida, and bring him the money.

Lucky for me, Amos still had the mandolin when I called, so I got the mandolin which I like best in the world. Randy Wood #1 great distinction is that its tone sounds a great deal like that of Bill Monroe's old mandolin. (I think that's why Bill wanted to buy it so much, when it was brand new.) If you want to play bluegrass mandolin music with that hot "Monroe" sound, this mandolin will do it. When you care to play a Monroe tune right off the record, it will sound right. However (especially with the maple bridge), RW#1 has a good deal more volume than Bill's mandolin has, which is good for me since I like to pick a lot in jam sessions, which are a very difficult environment if you can't hear yourself.

I managed to get stationed at Dover, Delaware in 1972-73. Every weekend I wasn't working, I could to to some bluegrass festival or an old-time festival or some godawful picking party. It was wonderful. I had never known many other mandolin players, but I started running into a few. Don Eldreth really impressed me with his timing and taste. Herschel Sizemore I always admired. I met Charlie Bailey, who has his own distinctive, graceful mandolin style (I rented a house trailer from Charlie, in fact-- another story). But probably the greatest thing was being able to see Bill Monroe play at festival after festival.

I was not a really proficient mandolin player by this time (I had only been picking for a few years), but I listened to Bill and liked what he was doing. To me, it seemed that the music he was playing was a great sound to get out of a mandolin. I never conciously tried to imitate Bill or anyone else, but I sure liked his approach.

Then I was stationed down the east coast at Charleston in 1973-4, and ran into a girl who was a banjo player, named Murphy Hicks. By the end of '74 Murphy and I were married, and we moved to Florida in '75 and started playing music full-time. There was a tremendous bluegrass festival movement in Florida and Georgia in the late 70s and early 80s, and we were glad to be part of it. That was a comparatively easy time to be playing music for a living, so you might say that we were lucky again. I think so.
---
Q5
Q - As a mandolinist who also plays guitar, how do you change/alter/transmogrify "mandolin" tunes (such as Roanoke or Gold Rush) to accommodate the entirely different acoustical properties of the guitar?

A - On guitar, I go for many of the mandolin notes and as much of the mandolin "feel" as I can, if I'm playing one of those tunes. Sometimes you do have to change the melody quite a bit. On other material I just follow my nose, but some great guitar influences are George Shuffler (whom I was honored to meet at the IBMA convention this time) and the late, great Chubby Anthony. I was never a great guitar player, though, and only played it in our band by necessity.
---
Q6
Q - Since you own two of Randy Wood's "homage" instruments ("slavish copy" is such a pejorative term), what observations can you provide on the differences between RW#1 and RW#3 in terms of construction or tone; about RW's progression/evolution as a luthier between then and now; and about any residual Monrovian mojo that may still linger about RW#3?

A - RW#1 and #3 differ quite a bit in construction, and the sound is very different. RW#1 has a very low arch to the top and is finished in a dark brown sunburst (very much like RW#2, which you may have seen). I think it is much more like a Loar than any other of Randy's mandolins I have seen. It also has a very substantial neck. RW#3 has a higher (and thicker) top and is finished in a lighter sunburst shading to black. RW#1 has binding very much like some of the Loars. RW#3 has a very slender neck and has the inlays placed much higher on the headstock.

RW#1 has a sound so woody you can get splinters listening to it. RW#3 had a lot of treble power, which I finally managed to channel into richness and balance with a maple bridge.
---
Q7
Q - As a leading proponent of the Monroe style, what suggestions can you provide to those folks who must study without the benefit of a playing mentor? What Monroe (or other mandolinist) LPs, CDs, DVDs, VHSs, etc., might be useful...

>> (Notice that this question deftly provides you with a perfect opportunity to shamelessly promote your own CD and Christopher's DVD, as well as the rest of the Murphy Method enterprise.)

A - Thanks for the opening. For those who are not near a good mandolin player to learn from, I would suggest listening to all the Monroe material you can find, from the Monroe Brothers and the 1940s era on through the end. There are SO MANY good mandolin licks there, and by listening (and picking) you can start to comprehend. The big boxed CD sets are really good, but they are also large and expensive, so it's good that some Monroe material is available now on such CDs as "American Traveler" and "Kenny Baker Plays Bill Monroe".

Also, for a pick-up and a flash of brilliant imagination, listen to Frank Wakefield, several of whose recordings are currently available. For more great stuff, listen to Mike Compton. Listen to what David McLaughlin played on the old Johnson Mountain Boys records. Listen to the mandolin work on the old Stanley Brothers records (and learn what "Daybreak in Dixie" sounded like). Listen to Ronnie McCoury, too. There are several good Monroe-influenced pickers whose records are available, and the listening helps the understanding. Not that you need to pick like Bill, but I think that understanding his music helps you understand bluegrass mandolin playing.

And if you don't live near other pickers, I suggest that you GET TO A FESTIVAL OR WORKSHOP when you can, because it's great to get with other musicians!
---
Q8
Q - An additional aside: Gail, with the help of the Murphy Method beginning bass VHS, has now successfully played twice in public! We sang"Shall the Circle Be Unbroken," and she did a great job of maintaining beat (despite the audience's propensity, at one point, to spontaneously provide contra-puntal and then arhythmic clapping). She is buoyed up by the experience and looks forward to more complex tunes. I, on the other hand, am having a very hard time keeping my hands off "her" bass.

A - It's really good to hear that Gail has made such good progress, and I'm glad that the video did the job so well for her. That sounds just like a typical Bluegrass performing situation, too. Been there many times. Good for her. Ya'll take care.
---
Q9
Q - You've been in the bluegrass biz a long time now. What are a couple of the amusing or interesting anecdotes you have about your interactions with some of first or second generation bluegrasser pioneers? What was the most gratifying experience you've had as a musician? What's the strangest thing that ever happened to you at a festival or concert?

A - I suppose that every professional bluegrass musician will build up a supply of stories illustrating the joys of playing music. Perhaps I can dare to remember a few (no doubt, more are still suppressed).

One really poignant moment for me occurred in 1979, as we pulled into a festival in Alabama. The promoter, such as he was, was at the gate. He said, "Did you guys bring any sound stuff? We didn't know whether any of the bands were going to bring any sound stuff, so we rented some stuff at the music store in town." I got that old, familiar "Oh, no!" feeling when I heard that. This guy is putting on a festival? And he expected the BANDS to bring the sound gear? What have we gotten ourselves into? --

Sure enough, the audio equipment which the fellow had rented was unusable. Fortunately, Bill Fowler was there with his band of young, high-energy pickers (I'll remember their name in a minute) and he had enough sound gear with him to take over and do the job. Not that the festival really deserved his efforts. Altogether, over the weekend, we figured that there were more people on the stage than in the audience. At least we got paid.

When you're working with a new promoter, you always worry about getting paid. I remember a weekend Florida festival where we got real suspicious of the promoter's financial intentions. He paid us on Sunday with a check, and we somehow sensed that there might not be much money in his account-- so on Monday morning I got in the car in Hawthorne and drove to the fellow's bank in Melbourne, five hours away, and cashed the check, and drove back. Good thing I did, too-- the bands who deposited their checks at home had their checks bounce. Not that we never did that ourselves.

Other things are better to recall. I remember an apocalyptic scene on stage at a festival finale on a Sunday in 1972, I think at Crazy Horse Campground near Gettysburg. It was Lester Flatt in a bright red suit, Don Reno in a bright white suit, and Bill Monroe in a bright blue suit, all three of them buck-dancing energetically on stage side-by-side as Curly Ray Cline played "Sally Goodwin".

Something like that is hard to forget.

People probably all have their own favorite Bill Monroe stories. One Saturday afternoon at an Indian Springs festival in 1973, I was picking with a bunch of people under an awning in the pasture, and who should stroll up but-- Bill Monroe! There was a battered Loar in the group, and they pressed that into Bill's hands and asked him to play. "Dusty Miller" was the tune we all decided on, and away we went.

Bill played a couple of breaks, then passed the tune to the fiddle player, who did adequately. Bill played the tune again, and passed it to me. Fortunately, I knew the tune and had also heard Bill's version, so I mixed some Monroe-influenced licks into the fiddle melody and then passed it back. Bill made no comment as I, young and foolish, played harmony with him the whole last time through his break.

The next morning I was standing on the hillside above the stage with Kenny Baker, listening to the show and chatting. Suddenly I heard a familiar voice behind me say, "You're a mandolin picker!" I turned around, and sure enough, it was Bill.

I extended my hand to shake and said, "Yes, Sir. My name's Red Henry." He ignored my hand. But with a delicious sidelong flicker of his eye toward Kenny, he said, "Name's Monroe." Then he ambled away down the hill.

I turned back around and looked at Kenny. He said, "The old man's in a mighty lively mood this morning."

But a gratifying experience? Well, there was something that happened very early in my musical career that I can look back on that way. This must have been in 1972. From where I lived in Dover, Delaware, I had gone up to a club where Ted Lundy and Bob Paisley and their band were playing. I always liked to hear those guys play. They did bluegrass right, with terrific rhythm and lead.

Donnie Eldreth was the mandolin player. Donnie broke a string during a set, and since I had a mandolin with me, he motioned to me to go up on stage and play a few tunes with the band while he changed the string.

I hadn't been playing very long and also I didn't know Ted and Bob very well, but I was willing to give it a try. I took that mandolin out and got up on the stage, and started hitting rhythm chunks behind the band. I played for a few measures, and then wondered how I was doing, and looked up. Ted was looking at Bob, and Bob was looking at Ted, and both of them were smiling at the sound. You talk about gratification and encouragement-- I figured that I was doing all right.
---
Q10
Q - I remember you (and Murphy) from the Beef 'n Bottle days in Gainesville. I started BG picking when I purchased Ray Valla's mandolin method (with album) from the music store that was on University Ave (later was a home brew store). Can't remember the name. You've come close recently but do you have plans to play down this way again anytime soon?

A - Thanks for your note. Ah, yes-- back in Gainesville, Florida-- Those were the days. We lived near there from 1975 to 1986, years, one year near Melrose and ten years near Hawthorne.

The Beef and Bottle was quite a nice club, and brought in some of the best talent to be seen in Gainesville. We played there a time or two, but I remember going to see lots of amazing performers there, including Chubby Anthony, Gamble Rogers, and Moondog & Muledeer. The B&B, by the way was the scene of the very first performance by Gamble Rogers of his incredible story "The Honeydipper", and deserves to be remembered with affection for that distinction alone.

I think that the store you mention on University Avenue may have been the one called Strictly Folk, owned by a couple named Bill and Barbara Koehler. Murphy and I both taught music lessons there for a while before moving to Sabine String Shop in 1977 or '78.

Florida bookings: We don't have any family band work down that way, but Christopher and I have been playing some folk festivals in Florida each year. We're already booked for the Will McLean Folk Festival (Brooksville) in March, and for the Gamble Rogers Folk Festival (St. Augustine) in early May. I want to play at White Springs, too (Florida Folk Festival, Memorial Day weekend) but I haven't been able to firm it up yet. If you make it to one of those festivals, come and say howdy.
---
Q11
Q - These are great stories. I can relate to these early Festivals since I was at the first two Roanoke and the music was everywhere as well as on stage all the time. I got into that Florida scene in the early 80's with Wild Country and you guys were everywhere. I remember one Festival where the Johnson Mtn Boys had just gotten McLaughlin on mandolin and we had followed them and then you guys came out and just tore up the crowd. What a band you had back then. You would walk in a BG bar and there would be your newest LP playing over and over. Everywhere I went you had no problem finding your LPs in stores that catered to Bluegrass. You dominated the radio too.

Did you do your own promotional work back then to get booked on so many shows? or did you have a manager/agent to do it? And the tone of "That" No. 1 Wood was so woody and smooth on those recordings back then. Did you use any studio tricks to get that like special mics or compression or was it a straight run?

A - Thanks for your kind words, and thanks also for remembering those old times. That sure was an active Florida bluegrass scene on down into the early 1980s-- we could work 20 or more festivals a year, and clubs and small concerts the rest of the time, and not have to drive out of state. In our show, we always did try to put plenty of originality and energy into the performance. At some times this was more successful with the crowd than at others, but we tried hard.

So you guys had to follow the JMBs on a 1981 show-- that would have been a tough spot to be in! Those guys always laid the audience in the aisles in those days. I'm glad we didn't have to follow them that day!

Airplay: we were able to get a little airplay by sending our albums out to probably 100 stations nationwide. Those were all the stations we could find out about that had bluegrass shows. So the market was a bit thin, but we got some airplay out of it. We actually took in enough airplay royalty money, on our original numbers, to pay for the albums we sent out! We thought that was pretty good.

We did all our own promotion, and almost all our own booking. Blade Agency, in Gainesville, Florida, arranged a few jobs for us, but those were usually outside the bluegrass field. However, they did arrange some really neat jobs, such as our appearance on the "Fire on the Mountain" TV show.

I'm glad that you like RW#1's recorded sound on our albums. When mixing, I sometimes used some processing on the mandolin and sometimes not. If I had a difficult mix, or the mandolin player (me) had really leaned into it and sent the mandolin level up sky-high somewhere during the track, I'd often use a little compression to control it. Also, by the early 80s, I had worn and dressed and worn and dressed the original frets on RW#1 so many times that they were really worn down to almost nothing, and they could give a little bitty "tink" on the top edges of the notes in a quiet, civilized studio situation with a sensitive mike-- so I would EQ that back down until the mandolin sounded on the tape track the same way as it sounded to me when I played it. I finally broke down and re-fretted the mandolin myself in about 1984.

For our first five albums, 1976-81:

"Riding Around on Saturday Night",
"Fast Picks and Hot Licks",
"Pall Mall Reds",
"My Everyday Silver is Plastic", and
"Sweet, Sweet Dixie" (later renamed "I Ain't Domesticated Yet" when we re-pressed it), we recorded at the Warehouse Studio in Jacksonville. The studio guys usually used an AKG 451 on my mandolin, but occasionally they'd use one or two larger-diaphram condenser mikes. I never really liked the close-miked condenser sound much, though, and tried to EQ the mandolin track a little in the mix, to match what I thought it ought to sound like.

For our last two LPs:

"Just Remember Where You Could Be" (1983) and "Reel Time Reel" (1985),

we recorded in our own studio, which I had built in 1981-2 and equipped with all Ampex recorders. I usually used an SM-58 to record the mandolin! --and sometimes not very close-miked, either. I really liked the solid, punchy sound of that Shure mike. If I needed compression I could use a dbx compressor we had, or else one of my six tube limiters. I mixed those albums from an Ampex AG440 8-track down to tube Ampex 2-tracks, and really enjoyed the whole process. The LPs did get good reviews for music and sound in the trade publications.

Trivia: most of our seven albums went into re-pressings, altogether probably 11,500 LPs, and we don't have many left. Sold a lot of 8-track tapes and cassettes, too. This all made a BIG difference to us when we were doing music for a living.

Mercy, I've gone on. But you asked a lot of good questions!
---
Q12
Q - Tell us about the "Murphy Method." I read music, can sight read for singing, but have always learned mandolin exclusively by ear. I'll never replicate someone else's playing note-for-note, but I think I get the essence of a tune. Is that the approach the method is after?

A - Thanks for inquiring about the Murphy Method. I spend most of every day running this business, and so although I'm not a teacher, I know something about it.

The Murphy Method is a system of teaching music by ear, logically, clearly, note-by-note. We don't use any printed material at all, but all of the music is taught by the teacher on screen. We have five mandolin-instruction videos and one DVD. Each one runs between 1½ and two hours, and each has several lessons on it.

On each lesson in our mandolin videos, the teacher typically plays the tune through at the regular speed, and then at a slow speed, and then goes all the way through the tune line by line, showing (with close-ups) and specifying verbally which notes are being played, and often the fingering as well. This is done all the way through every lesson. Sometimes the pick direction is mentioned also, in places where it might be confusing, as we try to provide you all the information to play the tune. At the end of the lesson the teacher plays through the tune again at a speed which the student can play along with once the tune is learned, and then often again at a faster speed.

It takes a long time to teach a tune this way, but we believe that the retention is good and that the students learn to play with better tone and timing than from paper. The whole idea of this way of teaching is to help the students get the notes and licks in your head, so that eventually they can recognize them when they come up again, and they can start to pick out the tunes by themselves.

Murphy does not recommend that a student always play a tune in her arrangement (or any other particular way, for that matter), but encourages the students to work out their own arrangements and variations after they've learned the way a tune goes to begin with.

Presently we have five mandolin videos and a DVD available. You can find out more about what we have at www.murphymethod.com.
---
Q13
Q - I read where you refretted RW#1 yourself in 1984; what other nips and tucks, refrets, finish touch-ups etc. has that mandolin seen? Has the back ever been off since it was completed?

At the classical mandolin society swaree' in Atlanta; down in the lobby you were pickin with Butch and some others; but I can't remember who else was there (Thile?). That's the first time I ever heard you pick! I was with a friend there; and you gave him a "Bluegrass Mandolin and other trouble" CD; I was REALLY glad he doesn't like BG and gave that CD to me!!!

"Red's Zeppelin" I learned (still trying to get the crosspicking clean as you played it) from that recording along with the help of the precious (to me) tabledit file of that tune. There are so many great tunes on that one recording; it is one of the very best bluegrass albums I have ever heard. All the musicians on that recording were great. Thanks for putting EMD on there; it is ssssmokin'!

A - Glad you like the CD. It was a lot of fun to bring it out, and it's always good to hear from folks who enjoy it. That session in the lobby at Atlanta (the first night I was there) was me and John Hedgecoth and Butch B. and Chris T. and a guitar player whose name I don't know. Someone took a snapshot which-- surprise-- was published in the next CMSA newsletter. It was a good time all around.

About Randy Wood mandolin #1: Thanks for asking. For a long time the instrument had a hard life, and it was my fault. At first, I didn't realize what this mandolin was, and didn't take care of it the way I should have. It has scared me several times. Here's a brief history of an amazing instrument:

1968-- Randy Wood builds his first instrument of any kind, a copy of an old Gibson F-5. I've asked Randy about it, and he said that he'd never built anything before, but he thought about it and couldn't see any reason why he couldn't build one. And the sound of this mandolin? "I was just lucky," Randy said. Sure. Lucky? If you ask me, he's good at what he does.

Randy sold the mandolin to Bernie Michelle for $750.00. Bill Monroe wanted it but couldn't get it, because Randy had already promised to sell it to Bernie.

1971-- People kept borrowing the mandolin from Bernie, so he decided to sell it, since he didn't get to have it around much. He gave it to Amos Bigham, an instrument dealer who went to a lot of southeastern festivals, to carry around and sell for him. I was stationed in Texas, but at a small Florida show, my friend Mike Johnson saw and played the mandolin, and realized that it was THE mandolin. The price was $800.00. Mike wrote me about it-- I had someone meet Amos a few weeks later at the Lawtey, Florida festival and buy it-- my mother was coming out to Texas for a visit a little after that-- so I had the mandolin. It was in very nice condition, looking like it hadn't been played a great deal. (After a couple of thousand shows and parties, it's pretty battered now.) And it came in a late 30's Gibson f-shaped red-line case, a classic case, and the mandolin's still in it.

1972-3-4 -- Stationed at Dover, Delaware and Charleston, SC-- Lots of picking. Lots of festivals, lots of parties. I (and everybody else I was picking with) could always hear that mandolin. I didn't yet fully realize what I had in that instrument, but I did notice that I never liked any other mandolin as much as this one.

August 1973-- A huge mistake in my life-- I left the mandolin in the truck cab one day, and let it get hot. When I took it out and hit a G chunk chord, it came out in E. Oh, noooooo--- and I think that this triggered all the repair trauma since then.

Bernie Michelle was living in Jacksonville by that time, so I got the mandolin to him. He reset the neck, and then saw that the instrument could still use some more fingerboard angle. The bridge had always been pretty low. So he went over to Mike Johnson's shop and made a maple wedge to go under the fingerboard, as is sometimes done on fiddles. The precision-made wedge is about 3/16" thick under the fingerboard extension, tapering to a point at the nut. Results? Higher bridge. More volume. A mandolin with a Bill Monroe tone, and not intimidated by any banjo.

1975-86 -- Full-time music, playing a lot and often. One mishap--

1978-- Played at the South Florida Bluegrass Festival-- had a hot day with hot rain-- the back started to come off the mandolin. So when we got home, I took the instrument to Steve Peck, an excellent repairman who at the time was working at Sabine String Shop in Gainesville. Steve removed the back and reglued it.

1982-- Mandolin workshop at Winfield, Kansas, a real highlight of my whole mandolin-playing career-- What business did I have sitting up there with those guys? Not much, but they liked the mandolin too.

c. 1983-- The neck started moving-- it was coming out again! I carried it to Nashville and had it reset by the repair-shop foreman at Gruhn Guitars. He did a good job, but it took months and I suffered severe separation pangs. c.1984-- I refretted the mandolin, the first time for it since it was made. I had worn and dressed those original frets so far down that when I pulled them out, the frets were thinner than the tangs. Put banjo fretwire in there, and liked it a lot. (In fact, I liked that fretwire so much that I immediately refretted my other mandolin, a 1981 RW, with it.)

1986-- We moved to Virginia, and were greeted with a REAL HOT summer with no air conditioning. The mandolin's action began rising fast and alarmingly-- the top was giving way and the instrument was threatening to implode. This was real trouble. Fortunately, we had a couple of gigs in Florida a month apart, and I left the mandolin with Randy Wood in Savannah.

Randy explained to me that the top was collapsing laterally, with potential permanent cross-wise damage to the grain. He mentioned that he'd re-topped two Loars that had had that happen. "But since this is THIS mandolin," he said, "I'll give fixing it a try."

During the month I was gone, Randy removed the back and pressed the top back out with steam-heated towels. He did this two or three times, then put the back on it again. When I picked the mandolin up, not only did the top look better than it ever had since I'd owned it, but it sounded great! I was (and am) extremely grateful. The mandolin was saved.

c. 1989-- The neck started moving again. Oh, God-- not again. I didn't want this to happen ever again on this mandolin. Never. So I went to Nashville for a weekend and saw a good friend there (name not mentioned to protect the innocent. The following was my idea, not his) and I persuaded him to epoxy the neck back in for me. In two days it was done and restrung, and the neck has not moved since. Sigh of relief. From then on I kept the mandolin in the house most of the time (downstairs, where it's always cool) and usually took my other mandolin to gigs.

Summer, 2002-- The frets had gotten pretty worn-down again (again, they were thinner than the tangs), and I felt lazier than when I was younger, so I left the mandolin with Randy to re-fret it for me, with the same medium fretwire. He did an excellent job (much better than the job I had done years before) and the mandolin plays great and sounds like no other.

The day after I picked the mandolin up from Randy, I started trying different designs of maple bridges on it. The fourth bridge I made did it: keeping the tone and balance exactly the same, while increasing the volume and sustain by about a third. ("Right," mandopicker Eldred Hill said. "Like that mandolin really needs to be louder!") And now I just play it every day to keep it happy.
---
Q14
Q - I've seen you and Chris twice at Randy Wood's and have enjoyed your performances very much.

One thing that struck me was the aggressive nature of your playing. I think Chris commented that you all can get "violent" at times.

Have you always played that way or did it develop over time?

When I try to play louder or harder, my accuracy rapidly declines. To my ears, with all the speed and volume, you both were right on the money. Any tips for beginners on building this aspect of technique?

Can you comment on the quality of mandolins that RW is currently making? How are they similar or different to the two that you own?

Finally, a Murphy Method comment and question. I purchased Chris's video and like the selection that he has on it, but I find it difficult to use as a learing tool. I'm sure this is due, in large part, to my lower levels of skill and mental capacity. Have you and the Murphy Method gang ever considered providing tabs or tabledit files to be used in conjunction with the other materials provided or do tabs not fit in with the Murphy Method of teaching?

A - I'm glad that you enjoyed our shows. We had a good time there! And thanks for the questions. These are things I have thought about quite a bit.

Aggression: I enjoy playing gently on the mandolin, listening to the fine tone and sustain of the notes, but then sometimes I enjoy really exercising the instrument, too, and getting a lot of sound from it. RW#1 really taught me to do both over the first several years I had it, since this mandolin can take more dynamic playing than any other that I've owned or even played. This is one reason I like RW#1 so much. It will give you a lot at just a touch, but you can also really lean into it and this mandolin will never break down. It keeps on giving you more and more as you put more into it. It takes me a lot of practice to be able to do that and play well, but once I get over the hump I have speed and accuracy available, and a lot of sound.

All I can say about it to those who are learning is that to make energetic playing worth while, you need the rare mandolin that will really give you a lot of quality sound. Otherwise, you'll be thrashing, expending energy, and not getting any good notes out of the mandolin in return. If you have a mandolin that will deliver that sound, then it takes a lot of practice to get there and do it. For me, it's a whole different technique from everyday playing.

I think that Randy Wood's new mandolins today are made at least as well as the ones he was making thirty years ago. But (as with mandolins from any maker) you'll have to play these new ones for some time to see how they'll really turn out. I really can't say how long RW#1 took to mature, because I was just learning to play it myself and I didn't own anything in its league to compare it to. My 1981 RW F-5 took about 15 years to really come into its own, but now it is a really pleasing, woody, loud, and responsive instrument. It's the one my son Christopher plays.

The Murphy Method tapes: We don't provide any material on paper. Murphy discovered long ago with her students, that when they learned some of their tunes from paper, they couldn't play them as well as the tunes they'd learned by ear. I think that Tabledit (since it provides the sound of the notes, in rhythm, often with the chords too) is a different thing altogether, and very superior to learning from paper. However, thinking of the tunes on our Bill Monroe Style video, Bill's original recordings of those tunes should be your guide. If you have a way to slow the recordings down, that would be the greatest teaching supplement in the world. (I learned from his albums that way, but the days of 16 2/3 r.p.m. are long gone!)
---
Q15
Q - Red, how do your RW mandos compare to Roland's? What number is his? I have played Roland's RW a number of times and I would say that what stood out to me was that it has a lot of sustain. Roland told me that he has always tried to use the extra sustain in his playing. Do either one of your RW mandos have that sort of sustain?

A - Roland's mandolin is RW#2, and my RW#1 is a good deal similar to it. The two are enough alike that he and I like each other's mandolins, a lot. Roland's has a larger body, and may have a slightly larger headstock. Both of my mandolins (#1 and #3) now have exceptional sustain thanks to the maple bridges (better, for example, than you would normally find on a two-piece-bridge mandolin) and at a party several months ago in Nashville, Roland liked #3 so much that he played it for an hour or so.

The maple bridges give sustain that can be pretty amazing, if you're not used to it. My H-2 mandola now sustains an open note for an extremely long time, and the mandocello conversion which I just built using an old archtop guitar body (of course with a one-piece maple bridge) seems to sustain into next week. Richness and sustain-- the resonant, coherent blending of the string harmonics in very good ways-- are the hallmark of these maple bridges.
---
Q16
Q - I've enjoyed reading about your tests regarding maple bridges of various sizes and even different materials.

>In order to perform a fair test, I'm sure you would have to remove one bridge, replace it in the proper location, tune up and play your test sample noting any tonal differences. I imagine this would have to be done in a fairly short time, while you are still able to remember the sound complexities of the first bridge configuration.

>What do you do to make such a swift swap? I'm imagining something along the lines of an Nascar pit crew, but I'm sure I'm wrong.

A - Good question, and one that is important to the bridge tests.

Right, I have become pretty fast at changing out bridges, which at first seemed like a difficult thing to do. But with the new Schaller tuners I put on RW#3, it is actually pretty easy to make these bridge comparisons. I can change out a bridge in just two or three minutes or so.

First I play the bridge that's on the mandolin for a while, to get that sound firmly in my head, up and down the neck, loud and soft, single notes and chords. Then I put the mandolin in my lap with the neck extending away from me, and working with both hands for speed, I loosen the tuners just enough to get the bridge out easily. Usually with the Schallers, that's 10 half-turns on each tuner button.

Then I put the new bridge in there, check the position (usually 14 1/16" from the nut will give me pretty good intonation), put the mandolin back in my lap, and tighten up the strings about 6 or 7 half turns with both hands. At this point I check the bridge seating on the top, making sure that the bridge is not leaning at an incorrect angle and the bridge feet are firmly in position (this is important).

Then I put two or three more half-turns on the tuner buttons and start tuning the strings to my Seiko tuner. Once the strings are on pitch, I play the bridge for several minutes, giving it a good chance to settle down and start vibrating right and be heard. Again, I try it all over they neck, with both single strings and chords, concentrating on listening to the sound.

This way, I have done A-B-C-D-E comparisons of a half dozen bridges or more in a short time. Changing out the bridges is not as hard as if seemed to me at first; in fact, it seems pretty fast and easy. And as you have guessed, making fast bridge change-outs is quite important in evaluating the new bridges.
---
Willie McCraney said:

> I guess it's safe to tell this on Red. Back in the Florida days my band was on the bill with the Red and Murphy consortium, along with several other bands.

Red: Oh, mercy-- you're going to tell a story on me. You're talking about ancient times here.

> Back then, sound men had not learned how to mic acoustic instruments.

Red: Or much of anything else.

> The D28, in particular, with its boomy voice would bring feedback invariably. Red was playing guitar on this occasion.

Red: God, yes. That was D-28 serial number 74706. Early 1940. Small, playable neck, good balanced sound. What a great guitar! But since we didn't have another experienced rhythm player, I had to play both rhythm and lead on that herringbone, through those primitive 1970s festival sound systems. At times, my fingers seemed to ooze body fluids. To make my lead work audible was a big issue for me.

> So it was, 'strum', 'booooom', 'strum', boooooom', until Red got aggressive (in a nice way, of course). He said to the sound man, 'Turn ALL the bass off, and turn ALL the treble on.'

Red: Sounds like good directions to me. I said that a lot of times back then. The sound guys didn't like me for it, either.

> Naturally, the SM demurred, but Red insisted, and all of a sudden the D28 sounded like a really good guitar. And the band did a fine show.

Red: Thank you very much.

> I'm sure these days equipment and operators have improved to take care of most of this type of problem.

Red: I think festival sound crews are a lot better now. Back then, some of them couldn't have gotten much worse.

> At the time probably one-in-ten might have had any real feedback control, except to turn down the volume.

Red: Or to turn it up, and ruin the show entirely. It's been done.

> So, one more paradigm broken. Of course, when the rest of the bands came on, the SM went back to his tried and true settings. Oh, well.

Red: The other bands should have harrassed him too.
---
I hope that some folks might be interested in a brand-new project here, since it's a potential way to have yourself a good instrument without the long wait and heavy expense of either ordering something new or waiting until what you want comes on the market used.

For years, and especially ever since my first CMSA convention, I've wanted a mandocello. The trouble was that the old K-models rarely seem to come on the market, and they're high now anyway, and ordering a new 'cello from a good maker was impossible for me because of the expense.

So when I went to flea markets, I started looking for guitars. I needed an old guitar, preferably an archtop and preferably cheap, with a sturdy body that had no big problems. This summer I found that guitar at the Harper's Ferry flea market. It's a 1930s or 40s laminated archtop with a nice big body. Some of the binding was loose and there was one side-seam separation, but overall it was in (cosmetically) battered but (structurally) excellent shape. A few weeks ago I started work.

Fortunately for me, the neck was wobbling loose in the neckblock. This made it easy to take it out and work on it apart from the body. I dowelled in the guitar tuner holes, glued a pearwood overlay onto the headstock to hide the remains, and reshaped the peghead into a snake-head design, so that the future 'cello strings could all go as straight as possible through the nut. I drilled the peghead for a new/old set of Saga A-model tuners I still had in the box (I like Saga tuners a lot), and then was ready to work on the shank of the neck.

John Hedgecoth sent me the measurements from his 1928 K-1 (small neck, with truss rod) and I narrowed down this neck down to that width. Shaped it for pretty easy playing. Prepared to reset the neck (there was a lot of slop in the joint. Shimming and filing, shimming and filing) and finally got a good tight fit there. Fine-sanded and then finished the neck with some water-base stain and oil varnish-- that's easy-- and then got ready to glue the neck back in.

I didn't want to use Titebond or Elmer's to glue the neck in, after I found out with the maple bridge-ebony top experiment how that kind of glue could deaden a joint. I didn't have the materials and equipment to make hot hide glue. So I put the 'cello neck on with industrial 24-hour epoxy. "But now." I hear someone say, "You can never get the neck out to reset it." Right, but now it will never need to be reset in the first place. It's very close to being an integral neck and neck block.

I made a bone nut and a few maple bridges to try, and put a cheap mandolin tailpiece on there, and strung my 'cello up Monday before last. I didn't know what to expect, thinking that that 3-ply body might be boomy or tinny, or might just not have much sound in it at all. Surprise!-- instant sound-- excellent volume, gratifying richness, long-lasting sustain-- great satisfaction. I've been playing it every day. I took it to IBMA late in the week, and some of you saw (and heard) it at our Murphy Method booth.

I've tried three bridges on it so far. An American maple bridge did better than European maple on this f-hole instrument. This was a bit of a surprise too, because usually I expect European maple to do better with f-holes, but then I'd never experimented on a plywood instrument before.

The point of all this is that you can make yourself a mandocello out of an old guitar. It's fairly easy, too (it took me maybe 10 or 15 hours' work), and if you have the right guitar you'll really get a pleasing instrument out of it. Now I'm eager to get this 'cello around some others, to see just how I've done.

It's not beautiful. That is, until you close your eyes and listen.

But the flea-market price of the guitar? Fifteen dollars.

That, plus strings, is my cost for the whole project.

The moral: Keep your eyes open at the flea market.

Best regards,

Red