George Gruhn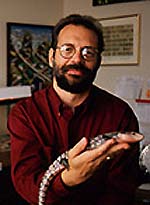 "Since 1963, George Gruhn has distinguished himself as the one to see in Music City - or anywhere for that matter - if you're in the market for a vintage stringed instrument . . . He categorizes his interest in guitars - like that of his staff and most of his clientele - as beyond obsession. 'Those with a serious interest have an addiction, and we've got the goods,' Gruhn says of his customers, who include the heavyweights of popular music - Eric Clapton, Neil Young, Johnny Cash, Lyle Lovett, Vince Gill, George Harrison, and Paul McCartney, just to name a handful." - Bone Magazine

Gruhn moved to Nashville in 1969 after getting his bachelor's degree from the University of Chicago and doing graduate work at Duke University and the University of Tennessee. In 1970, he established Gruhn Guitars, which is one of the largest dealers of vintage and used instruments in the world, located right behind Nashville's Ryman Auditorium. The "guitar guru" has been a featured columnist for Pickin', Frets, Bluegrass Unlimited, Guitar Playerand Vintage Guitar. He is the former vice president of research and development for Guild Guitars, and his designs are currently featured on a line of Tacoma guitars.

George Gruhn is the co-author (with Walter Carter) of Gruhn's Guide to Vintage Guitars, which is the comprehensive field guide to vintage fretted instruments, and the companion volumes Acoustic Guitars and Other Fretted Instruments and Electric Guitars and Basses. These books chronicle the history of American stringed instruments and are beautifully illustrated and exhaustively researched. His articles are published in numerous magazines.
---
Q1
Q - Do you think the market for high-end mandolins is different than the market for high end guitars? If so, why?

Correct me if I'm wrong, but in the past you have expressed some concern that the continued escalation of guitar prices may cease when the boomer generation reach the "liquidation" age for their collections. Will mandolins prices suffer a similar fate?

A - The market for pre World War II F-5's almost seems to have gone crazy. From 2000 to the present prices on Loars and 1920's fern F-5's have more than doubled. They have to some extent carried along this price inflation to other model Gibson mandolins (but not nearly as much) and also have had a strong impact on the prices of high grade hand made instruments by makers such as Gilchrist, Monteleone, Kemnitzer, and Dudenbostel. During this same period Gibson 1959 sunburst Les Paul standards have also escalated fully as much, but most other model guitars have been more stable with the exception of arch top acoustic jazz guitars many of which bring less money today and are harder to sell than ten years ago.

I remain concerned that the prime buyers of most high end vinatge fretted instruments are baby boomers who are aging upwards. If this market is to be healthy five to ten years from now, we need to see more younger players willing to invest in these instruments. For the immediate moment, the market for mandolins is red hot, but there should be some degree of caution that as with any market that has escalated so rapidly, it could overheat and busrt the bubble.

George Gruhn
---
Q2
Q - We have talked here about the decrease in value of a vintage refinished mandolin (usually a Gibson). Do you have a set guide to go by for a refinished one to put a price on it? I am talking either a pro or factory refinish not your average quick fix.

What is the best way to touch up bare wood showing?

Do you have set charges for common repairs like mandolin resets, fret jobs, French polish?

A - George's reply was not specifically aimed at mandolins. He says a refin done by a pro-he named Kim Walker, Tom Murphy and Dave Lautner- would devalue an instrument by one third. A factory refin could devalue it by one half.

If I were going to have an old Gibson mandolin refinished (someone would have had to scrape ALL of the original finish off for refinishing to be the solution) I would want someone as knowledgable about old Gibson finishes as Steve Gilchrist.

My choice to protect bare wood is french polish. Then if you have to add color, seal that with amalgamator and french polish again when dry. Hope this helps.

John Hedgecoth
Gruhn Repair Shop
---
Q3
Q - What vintage mandolin models (oval sound hole Gibson F models)are good values for the player and not yet valued highly (or perhaps "over-valued") by the collectors?

A - Gibson A models and F models from the teens and twenties are still good values, though the prices are going up. Gibson A-50s from the thirties. Lyon & Healys. Thirties Epiphone carved tops, if you can find one. GTR A and F models from the seventies are good professionally-made instruments from Japan.

John Hedgecoth
Gruhn Repair Shop
---
Q4
Q - What new makers represent good value points (meaning that rising reputation has not yet driven up prices) for a player?

A - George mentions Summit mandolins as being a good value in new instruments.

John Hedgecoth
Gruhn Repair Shop
---
Q5
Q - What changes do you think the Gibson company would have made in their mandolins, if the mandolin market had not declined so badly during the 1920s? In other words, if the classical and popular mandolin market had kept up its demand for large quantities of instruments, making experimentation and innovation as profitable as before, what new features do you believe Gibson would have brought to their mandolins?

A - George is not able to reply personally as he is out of town, but I spoke to him on the phone and this is his response: Gibson mandolin development peaked in 1922-23 and has not been surpassed since. Had mandolin orchestras and mandolin music remained popular, Gibson would have looked for ways to manufacture the instruments less expensively. End of story.

My synopsis, unfortunately, lacks the color and depth of George's comments, sadder for you.

John Hedgecoth
Gruhn Repair Shop
---
Q6
Q - Has Gruhn's Guitars, the tourist destination, detracted significantly from Gruhn's Guitars, the premier music store? It has for me. Has it for the staff? Or are things better than ever since the Visa commercial?

I've learned never to visit on Saturdays or on holidays. It's just too crazy. 50 customers in the shop, folks grabbing prewar Martin's off the wall and having no idea what they have in their hands, etc. When I'm there during those times, I feel the stress you guys are feeling. I don't like being there at those times. It's a joy when things are "slow".

A - Since downtown Nashville has become a tourist destination it brings with it a mixed blessing. Being a tourist destination certainly increases pressure on our staff, but these folks do buy things. We do our very best to help all our customers, whether it be the serious collector or the first time buyer or the tourist purchasing the t-shirt. We have increased our accessories line to accommodate the walk-in traffic. Folks who may not be in the market for a guitar are buying books and videos and CDs and t-shirts and hats. We have multiple employees to wait on customers and handle crowd control. We have try out rooms and we can find you a private place to try out a guitar. Our goal is to make sure every customer is waited on. The Visa commercial was over 10 years ago and we are now in a larger building with a much larger showroom which gives us more display room. We have had a store in downtown Nashville for 33 years and we have grown with the city.

Christie Carter
---
Q7
Q - The mandolin orchestras spawned by the "Spanish Students" tour in the late teens could not hold up under all that pressure to change. They required a fairly large amount of people for a musical group, and these musicians -whether or not they were amateur- required a significant amount of practice and rehearsal time. That means that mandolin orchestras were a good fit for rural areas where the population could count of some significant "down time" in the summer and the winter. When people moved to the cities, mandolin orchestras lost their musicians.

A - I seem to remember reading in something by Mike Seeger or in one of the mando tutor books, that upland rural (Appalachian etc.) areas adopted both the banjo and the mandolin after these instruments had already lost their vogue in the cities. (Let us pass over the banjo on the plantation) -- The banjo craze was urban, even though it celebrated nostalgia for the rural via minstrelsy etc., and thereafter the banjo migrated back to secondary rural markets as urban musicians traded them in, pawned them, sold them, or otherwise abandoned them. Likewise for the mandolin craze, at least from the source I am remembering. Every mandolin orchestra picture I have seen was of apparent urbanites, which doesn't prove much, since rural folks might have dressed up 'citified' for such pictures.

John Hedgecoth
Gruhn Repair Shop
---
Q8
Q - John, this is like a two-for-one week, so I am going to poach over into your "other life" as a member of the Nashville Mandolin Trio, and ask....what is like?....how often do you all practice?....how do you go about selecting pieces of music, and arranging them for the Trio?...who is better to work with, Butch or George (, no, just kidding)...is there another album in the works for the Trio? ...do you ever use an octave mando, or cittern, as opposed to your mandocello?

A - Thanks for asking about the Trio. The interesting problem has always been how to juggle the band elements-lead, harmony, chord rhythm, bass line-among the mandolin, mandocello, & guitar while passing the breaks around. We usually hammer out basic arrangements and then improvise off of them in performance-hopefully keeping the most successful parts.

We usually rehearse when we're working up arrangements and before performances-nothing regular. The Mandolin Ensemble used to rehearse once a week for the first six or seven years. Now we only call regular rehearsals to work up new material or break in a new band member.

As to music selection, everyone is free to bring in charts of their ideas. If a chart makes it through rehersals we'll try it in performance a couple of times. If it's a Trio chart the three of us decide whether to keep it or not. If it's an Ensemble chart Butch makes the call.

Duke Ellington said "Every leader needs a gimmick to keep a group together. I have a gimmick. I give them money." Both Butch and George are excellent in this respect. They're both very good to work with because they both have their focus on the bottom line-the success of the venture.

No plans for a new Trio project. The Ensemble just finished recording a new CD to be out in the Fall. Some J.S. Bach, Beatles charts, old-time fiddle tunes, David Grisman, Django Reinhardt, Hoagy Carmichael, and a new piece written for the Ensemble by Roger Hudson called "The Rite of Strings".

I've never used an octave mandolin or cittern but I'd like to get my hands on one of each and explore the possibilities. Right now I'm using my 1928 Gibson K-1 ("Blackie"), and my 1995 Gilchrist 5 C mandocello ("Blondie"). I'm trying to get a 10-string 'cello to have a pair of high "e" strings. That would take care of the octave mandolin.

John Hedgecoth
Gruhn Repair Shop
---
Q9
Q - I have read that Stephen Gilchrist started his career working with you. Do you have any good anecdotes or observations about Steve to share with us?

A - Stephen Gilchrist has been making mandolins since 1976. When he came to work at Gruhn Guitars in the early part of 1980 he had made at least 80 mandolins - as he said himself "The mistakes never made it out of the fireplace". George recalls the revelation as Steve was able to examine and work on Loar and Fern F-5s "in the flesh". George recalls the first mandolin he made in March of 1980 as being a "totally new instrument in sound and appearance". Steve made 20 instruments between March and December of 1980 including at least one L-5 guitar, an incredible H-4 mandola with a larger body and longer scale than Gibson had used, and a "piggy" guitar (so named for it's body shape-two points like an F but no scroll) designed by George.

Steve is the best woodworker I've ever seen. I'd walk by and see a block of maple dogged down to his workbench as he picked up his gouge and mallet. Thirty minutes later he'd have an F-5 back roughed out-scroll, recurve, points- needing only final scraping and sanding. He would finish a mandolin "in the white" in about two weeks. No mystery there. Just a guy who knew what he was about enthusiastically liberating mandolins from blocks of wood.

John Hedgecoth
Gruhn Repair Shop
---
Q10
Q - we have had quite a bit of discussion on the Virzi Tone Producer, originally stirred up by John Monteleone (John was not a fan of the Virzi). You must have had numerous opportunities over the years to come to some opinions about the Virzi, its pros and its cons. Can you add to our discussion of the Virzi?

A - George says in his opinion the Virzi gave the F-5 a bright focused sound, excellent for classical or jazz but no good at all for the deep, dark woof needed for Bill Monroe music. No "scream", no "roar".
---
Q11
Q - Have you ever come across an acoustic 10-string mandolin/mandola (scale length of a mandolin or mandola or in-between) that could adequately handle both the high and low strings? If so, detail?

A - Nope, never have seen one that worked.
---
Q12
Q - Who are some of the "name" performers (including session hot-shots) who have gotten mandos for their own use from Gruhn's? The more unexpected (of the musician) the better.

A - It is Gruhn Guitars policy not to give out names of customers who buy from us. Most artists who purchase high end instruments don't want it publicized. George, however, mentioned Norman and Nancy Blake and David Grisman as artists who have purchased many fine instruments from us over the years.
---
Q13
Q - Any opinions on what would be the most useful type of wang bar to install on a 17"inch scale 5-string mandocaster ? (GDAEB tuning, low string an octave down from mandolin). Want to be able to get the guitar sound on the early Chris Isaak albums.

A - Bill Baldock of Gruhn's repair shop recommends a Kahler.
---
Q14
Q - How do you rate the new Gibson Master Models? How about the new Don McRostie Red Diamond vintage model? What other makers do you think are up there with the best of the best?

You must have seen many original Loars and Ferns during the course of your career. Musically speaking, are some Ferns better than some Loars? Do you have an unusual story on the finding of an original Loar?

A - George has no inclination to rate new mandolins or makers. Loars and Ferns are different instruments. Apples and oranges. George says in over 40 years he's seen everything but will not elaborate.
---
Q15
Q - I would be interested in any opinions by George Gruhn on mandolins made by Gavin Baird, a luthier from Canada.

A - George is not familiar with Gavin's work.
---
Q16
Q - I would like to hear about Montana made Flatirons vs. Nashville. Do you think that the Nashville made Flatiron will someday be more collectable?

A - George thinks it will be quite a while before either Montana or Nashville Flatirons will have a collectable value.
---
Q17
Q - Are there any other fruits, vegetables, cheeses, or state birds y'all would like to see as mandolins?

A - How about an Ugli fruit? By the way, George loves the sound of your Watermelon mandolins.
---
Q18
Q - John, I understand there is a NME live project recorded at Salter Auditorium at Wabash College in Indiana a while back. Actually, I was there, and it was an incredible performance! Any idea when we might see that?

A - Thank you. I'm glad you enjoyed our performance. We are putting together a two CD set of material from live shows, some of which will be from the Wabash College date. No release date is set, but it should be out on Butch's Sound Art Recordings sometime in the Fall.

John Hedgecoth
Gruhn Repair Shop
---
Q19
Q - John, I've often heard about the acoustic advantages of hide glue in fiddle, mandolin, or guitar construction and repair. Could you fill us in on what using hot hide glue entails, and some of its advantages?

A - Hot hide glue forms a thin, hard bond that is acoustically transparent. It does not absorb sound vibration so it allows the various wooden parts of an instrument to ring as one. The absence of a dampening influence allows the overtones of a note to come through along with the fundemental, giving the note superior richness and color. Hide glue is mixed with cold water, allowed to soak, and slowly brought to a temperature of 140 degrees F in a water-jacketed kettle until dissolved. It is then ready to use. The preferred grade of glue for instrument assembly and repair is usually #379, though glues of other gel strengths are used in special situations.

For those of you inclined to pursue this for yourselves, you will find all the information you will ever need on the subject by contacting Bjorn Industries, Inc., 551 King Edward Rd., Charlotte, NC-Ph 704-364-1186, Fax 704-364-1098. You may also access their web site by typing Bjorn Industries, Inc. into any search engine.

John Hedgecoth
Gruhn Repair Shop
---
Q20
Q - John, in the last few months we've had a lot of humid weather (to say the least) here in the eastern states. Instrument tops may naturally rise under these conditions, but are there any things we need to do or be aware of, to protect our mandolins, their finishes, and so forth, from this much water in the air?

A - Acoustic stringed instruments tend to be comfortable in the same climactic conditions as humans. Neither too hot nor too cold. Neither too wet nor too dry. 40 to 60 % humidity is the ideal range for an instrument. Anything much on either side of this range for long periods of time can spell trouble. Too dry and the wood shrinks and eventually cracks. Too wet (especially coupled with high temperatures) and the wood swells and the glue joints begin to let go, the finish may turn white and begin to lift from the wood, and, in one extreme case I've seen, in an attempt to protect against the dry conditions of winter, someone over-humidified the inside of a guitar to the point that mold began to grow on the wood!

Most musicians are very protective of their instruments and would not leave them in conditions where they could be damaged, but here are a few guidelines regarding high humidity: never store an instrument in a damp area such as a basement or a leaky attic (don't laugh-I've seen the results of just such a thing). When you're playing outdoors, keep a small towel handy to dry your instrument, especially where your right arm goes across the instrument. You'll probably have to lower the action at the bridge, only to raise it again as things dry out. Buffing can eliminate some of the white of a finish that has gotten too wet.

John Hedgecoth
Gruhn Repair Shop
---
Q21
Q - John, I am a hobby builder, and have been using french-polished shellac as a finish (not set up for spraying, and don't like the toxic aspect of lacquer). I have recently read of some of the high end makers using an oil varnish as a base (brushed on? can you french polish an oil varnish?)followed by a french polished spirit varnish top coat(s). I would be grateful if you could elaborate on some of the proper steps/procedures. Some of my results are better than others, and I am not always sure why.

A - The instrument in the white first receives a "ground" which seals the wood and prevents the oil varnish being absorbed and drying too quickly, especally on the top. Oil varnish is then applied in successive coats until the desired color is obtained. Finally, spirit varnish is applied. Violin makers usually brush the materials on, but I believe Steve Gilchrist uses a pad to rub the finish on. Charlie Derrington and the folks at Gibson seem to have come up with a way to spray the finish on.

This last paragraph is, of course, a gross oversimplification of the process and you would do well to do some research, experiment for yourself, and come up with your own method. A couple of places to start are Ed. Herron-Allen's book "Violin-Making As It Was and Is", and the web site of violin maker David Rubio - www.rubioviolins.com.

John Hedgecoth
Gruhn Repair Shop
---
Q22
Q - What is the market doin for the gibson flying V's.... i have a 1982 heritage (korina) with a prototype stamp on the back of the headstock....also how do you read the serial #?

A - The market is fairly stable in the vintage Gibson Flying V market; the original late 50's Korina V's are in a very expensive range, and are not as subject to fluctuation in price range. The 80's Heritage (Korina) Flying V, however,has increased in recent years, as it is at a lower end of the price spectrum. The price was $2K,about 5 years ago,went up to $2500,and now run $3K, for good condition, and above. I've heard of them going for more, if the condition is, near-mint, to mint. We have sold a Heritage Explorer for $4K, but was in exceptionally near-mint condition. The ink-stamped serial number is preceded by a letter, in this case, an "A",which represents the first series, and is not a prototype. As in some of Gibson's short run instruments, the last digit is the year of production.

Phillip R. Jones, Gruhn Staff
---
Q23
Q - I am thinking of an entire fret job on my F style mandolin used mainly for bluegrass. Please comment on what I could expect from the different size fret wire.

A - The fret wire Gibson used in the Loar F-5 was very small (about .041" wide). Fret wire that size gives the notes a certain decay and seperation (Ricky Skaggs, for instance, loves that sound for bluegrass and will not have anything else in his mandolins). As the width of the wire increases, the notes have more sustain (Bobby Osborne, for instance, prefers extra wide fret wire for smooth, easy action and note production). These two great bluegrass mandolinists are at opposite ends of the scale as to width of fret wire, so I guess you just have to choose your poison.

John Hedgecoth
Gruhn Repair Shop
---
Q24
Q - John, following up on the Nashville Mandolin Ensemble, I know there is some tour schedule and discography info on Butch's SoundArt site, e.g., http://www.soundartrecordings.com/calendar.shtml, but can you elaborate on same? Do you have any particular favorites among the albums/cuts? (I like Plectrasonics, My Last Days on Earth as a personal favorite. Is Plectrasonics still available?) Your playlist is eclectic, do you have a particular genre that you enjoy more than others?

Are there difficulties in scheduling concerts (or especially , expanding the tour schedule, so that more of us could see/hear you) where most, if not all of you, have day jobs to contend with?

And can you give us a description of your job with Gruhn's?

A - Well, let's see-the Mandolin Ensemble has some dates in the Fall, mostly in October and November. We're playing Steamboat Springs, Lakewood, and Colorado Springs-all in Colorado-Oct. 9,10,&11. Then we're in Texas-College Station, Clear Lake, Orange, Kerrville, and Graham-Oct.16 thru 20. Then we're back in Nashville at Travellers Rest Oct. 25. In November we're playing Brunswick, GA on the 8th, Madison , WI on the 14th, and Parkersburg, WV on the 15th.

We all had a great time making the Plectronics CD, mainly because we got to work with John Carlini, Richard Bennett, and Rocky Schnarrs-our conductor, producer, and engineer respectively. It was our first project and these guys took the ball and ran with it. They became wildly creative and certainly made the most of us and our musical abilities. My favorite cut from that project was "Music For A Found Harmonium". Could that be because it was a mandocello lead?

I like all the music we play, maybe because each note matters. You can't really phone it in. The scheduling is no problem for us. Maybe that's one reason we're still in the group.

At Gruhn's I repair and restore mandolins, violins, acoustic basses, guitars, and banjos. I play all of these instruments and have worked on them since I was a kid fixing my own stuff in my dad's basement workshop. I work on all the Loar instruments that go through the store. That's because I love them, but also because when I started working on them here the F-5s were worth $4,000-$5,000, not $100,000. I also sell violins because I know them, unlike the rest of the salesmen, who are guitar guys.

John Hedgecoth
Gruhn Repair Shop
---
Q25
Background: Ted Silverman had commented on Daniel Nestlerode's comments on the answer to Red Henry's question to George (Q7), in part discussing the sweeping social changes which had an impact on the development and popularity (and subsequent decline) of the mandolin. John Hedgecoth kept plugging, and now we have his account of Walter Carter's comments on mandolin orchestras.

A - I tried to get Walter Carter at Gibson to reply to this one but the e-mail wouldn't go through. I talked to Walter on the phone and here's what he had to say on the subject of mandolin orchestras:

The Spanish Students from the University of Figaro in Spain (I'll bet they had an unusual college yell) played their first show in New York City on New Years Day in 1880. After a short tour-maybe two weeks-they returned to Spain. A group of Italian mandolinists in NYC put on similar costumes and began billing themselves as The Spanish Students (sort of like mock Beatles groups in the '60s). This started a mandolin craze that swept the country.

The mandolin orchestras this craze fathered were largely formed in big cities. Look through early Gibson catalogs and you'll see mandolin groups in most large cities in the northeast. Gibson's early marketing campaign was aimed at music teachers and entrepreneurs in urban areas. They could become like Professor Harold Hill in the "Music Man". They could provide, through Gibson, instruments, strings, teaching and organizational materials, and orchestral arrangements for mandolin orchestras and groups. Some of these were social clubs, look in the early Gibson catalogs and you'll see mostly professional organizations. Take a look at the Chicago Symphony Mandolin Orchestra. They had about 60 members, all in formal dress, with concert harp, woodwinds, bass drum, and tympani. You'll find a lot of the mandolin orchestras in existance today began in the early 1900's, and many of the current members are decendants of the original musicians.
---
Q26
Q - I have always been intrigued by the mandolins of John D'Angelico. What are George's (or the staff's)opinions about these mandolins, their sound, construction and value.

A - D'Angelico mandolins were made to the same quality standards as his guitars. As with the guitars, he made quite a few models as well as many custom order one of a kind instruments, so it is difficult to lump them all together. In my opinion, D'Angelico made very fine mandolins for jazz and traditional music, but most of them are not especially well suited to bluegrass since they have traditional length short necks similar to an F-4 Gibson and they do not have the chord chop "bark of an F-5. These are rare instruments of fine quality which certainly have the potential to appreciate in value over time.

George Gruhn
---
Q27
Q - George's book on instrument identification is very good in some ways for the collector but perhaps can clarify one thing it doesn't address. F4s were made over a long period and had many changes. From 1919 onwards there were changes including truss rod etc. At what stage did body depth go from A type depth to F5 type and also when did the narrower neck appear?

A - The F-5 as well as other Gibson mandolin models were issued with narrow necks starting late 1922 (the earliest F-5's in mid 1922 had wide necks like the other models). Body depths on the A models changed at about the same time as the narrow necks.
---
Q28
Q - Although George will not comment on current mandolin builders, will he speculate on what he considers to be "sleepers" in today's instrument market? It looks to me that there are still good deals to be made on some old Gibson A models. And with some of today's builders having used instruments being resold for prices in the $20K range, do you think this will peak or will prices continue to rise?

A - It is my opinion that Gibson A models as well as the pre World War II F models other than the F-5 still have considerable potential for price appreciation. It is hard to predict where the F-5 prices will go from here Any market that has gone up so rapidly is potentially unstable, but the A models and pre War F's other than the F-5, in my opinion, are undervalued since they currently sell for less than it would cost to make a good copy.

As to the prices on used instruments by makers such as Gilchrist, Monteleone, Kemnitzer, and Dudenbostel, I am amazed at how rapidly they have gone up in price, but would caution that as with the Loar F-5's, any market that has risen so rapidly has the potential for instability.

George Gruhn
---
Q29
Q - John, I have a friend with an acoustic guitar that was stored with a "humidifier tube" that sat in the sound hole. when he opened the case (wasn't used) several months later there was a mildew smell on the guitar and in the case. How would you get rid of this smell?

A - First make sure the guitar and case are thoroughly dry. Leave the case open and the guitar out of the case. Packets of silica gel desiccant in the guitar may help. After that, vacuum the case out well and go over the inside of the guitar with a soft cloth as far as you can reach. As far as getting rid of the smell, I'm reluctant to recommend anything for fear it might react with the guitar's finish.

John Hedgecoth
Gruhn Repair Shop
---
Q30
Q - Do you do anything particular to Gibson A's with sinking tops or do just make sure they are strung with lighter gauge strings?

On Nashville Mandolin Ensemble:
I also think you version of Simon Jeffes "Music for a Found Harmonium" is the best track on Plectrasonics. Had you heard Andy Irvine's Patrick Street version before recording it?

A - First check to see if the brace just to the tailpiece side of the soundhole is loose. Then lighter strings and a higher bridge may get you by for a while. If the top continues to sink(once they start to go they usually keep going) the only cure I know of is an added brace under the bridge area. There is a procedure I use which does not involve removing the back and I've gotten good results, but it is the kind of work only an experienced repair person should undertake.

I had not heard Andy Irvine's excellent version of "Found Harmonium" before recording it. I was flying blind.

John Hedgecoth
Gruhn Repair Shop
---
Q31
Q - How do you fit a bridge to a mandolin?

Moderator postscript: I assume Ray wants to know what steps to take, paint by numbers instructions. I got one of StewMacs little roller fixtures, but I put a tongue depressor on the top, as a ramp, to avoid marking the top with the roller. A pro player with a loar described to me a tee shaped piece of ply, with a dowel notched to sit across the body over the lower bout, the dowel serving as the sliding point of contact with the stem of the tee, the cross of the tee being drilled to accept the adjusting wheel posts. One question I have, how much back and forth sanding motion is OK, 1/4" or less? Do you ever "hollow" out the underside of the bridge feet by scraping with a knife blade? And what do you do about saddle lean, where the problem seems to be that the post holes seem to be bigger than the machine screw posts, leaving slop room?

A - I think I can fit a bridge easier than tell someone else how to do it. Anyway, here goes. A bridge foot fitting jig like Stewart-MacDonald sells for fitting violin bridges is helpful but not essential. Mark the approximate position of the bridge with two points of masking tape on the outside of the f-holes so you can see them when you have a sheet of sand paper taped to the top. Double the distance from the nut to the twelfth fret to get this position. Lightly tape 100 grit paper to the top and use cardboard or, as Ed suggests, a tongue depressor to protect the top from the wheel of the jig. Clamp the bridge in the jig making sure the intonation cuts on the saddle are the right way 'round and the bridge is 90 degrees to the top. Make a few passes back & forth (toward & away from the fingerboard) of 1/4" travel. Inspect the sanding pattern on the feet to see how much fitting it's going to take. When you start to see sanding marks all along the feet, begin to scrape or sand a hollow along the middle of the feet from bass to treble. This makes the fitting go faster. Violin people usually leave a hollow after the final fit to make sure the edges are in good contact all the way around. Mark the bottom of the feet with a "T" and "B" so the bridge doesn't get reversed.

If the posts are leaning from string pressure because the post holes are loose you can either plug and redrill and tap them or work some ebony dust in there and, making sure they're straight up, zap the posts in place. If you need to get them out later, heat from a soldering gun will do the trick.

John Hedgecoth
Gruhn Repair Shop
---
Q32
Q - Could someone out there offer me advice about using guitar mini tuners on mandolins? I would like to know if any of you have mandolins using these and whether you think they are too heavy. Also, if you have larger mandolin family instruments, are these the kind of tuners that are on these? Is there a particular brand that is favored?

I also have a question about tailpieces. From what I have been told, it is good to have a rigid tailpiece. If the tailpiece is rigid, then does it matter if it is also heavy? Some of the expensive cast tailpieces are a good deal heavier than the stamped varieties.

A - I think the guitar mini-tuners on a mandolin are too much-too heavy and too bulky. I put Gotoh F tuners on my 1980 Gilchrist F-5 (replacing the original Kluson open backs) and Steve used Gotohs on my 1995 5C Gilchrist mandocello. Both sets work fine, but the first thing I did was take them apart, file the burrs and rough spots off of the gears, lube every bearing surface with graphite and grease, and reassemble them using LocTite on the screw threads (including the screws holding the tuner buttons on-you don't want them falling off).

I like the old Gibson-style tailpieces. They work fine for me. (By the way, I see no reason to install the treble strings "around the corner" as Gibson showed in their old catalogs. Modern strings are made with a lock twist at the loop that prevents them from slipping, the problem of the old strings. Also, the sideways pressure can break the pips off the tailpiece making it useless, or at least in need of surgery to cut new pips).

I took a look at the discussion of tailpieces on Mandolin Cafe and I think if you like the sound of a cast tailpiece, fine. Use one. I see no reason for adding down pressure to the strings with an adjustable tailpiece, however. The top needs to breathe. A good friend of mine who owns the Sea Captain's Loar (the one with all the rhinestones in the headstock) mounted the original tailpiece on a little block of wood raising the tailpiece another 1/4" above the top and increased the volume by doing so. Anything that inhibits the top's ability to vibrate cuts the breadth and color of the notes. It works that way for banjos, too. When asked how to set the Grover Presto tailpiece on an old Mastertone, J.D. Crowe said "You know that little adjustment screw on the back? Take it out and throw it away"!

John Hedgecoth
Gruhn Repair Shop
---
Q33
Q - I read John's post about the "comfort zone" of instruments... just curious - for someone comtemplating an eventual move from a location such as NY to the southwest, such as Tucson... do you have any recommendations fro what to do with musical instruments and the dramatic change in humidity?

A - Sam Bush says Hoss's top always sinks when he plays out west in dry climates, so he has to raise his action. Get a digital hygrometer (or an old-fashioned sling hygrometer if you're a Luddite) and keep tabs on the humidity from day to day. Expect some changes in your instruments, but try to maintain that "comfort zone".

John Hedgecoth
Gruhn Repair Shop
---
Q34
Q - John, Tell us about your Mandocello, the Gilchrist "Classical" How many instruments were ordered from Steve as a batch. As I understand it, Butch has a mandolin and there are some others. How did they sound in unison?

A - We ordered a quartet of 5C instruments-2 mandolins, a mandola, and my mandocello-as we were finishing up the "Plectrasonics" project (I guess we were feeling pretty cocky right about then). The wood, arching, finish, and sound of the instruments is quite similar, as you'd expect from a quartet.

Steve made them over a year and a half period from Spring of 1994 to Fall of 1995 (Dexter asked him not to make them all at once in a batch, as he had orders to fill).

They look and sound great together.

John Hedgecoth
Gruhn Repair Shop