Ginny Hollon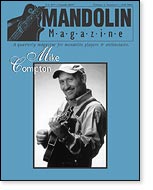 We are pleased to have Ginny Hollon, publisher of Mandolin Magazine, as this week's CGOW. Ginny should present a refreshing change of pace from the motley collection of picker/ginners, hucksters, and woodbutchers we have had as guests so far. Ginny demurred on being CGOW for a while, contending that she would have little interesting to offer as CGOW. I encouraged her because I think that she will make a very interesting CGOW.
---
Well, here we go and thanks for having me. Also thanks for the kind words. This is really weird for me -- I've spent my life as the interviewer, not the interviewee!
---
Q1
Q - I would like to start off your week as CGOW by asking you about your musical background.

A - I started violin as a tot when I heard one on the radio and begged to play. I began lessons with an old-world, old-school classical violinist on one condition by my Virginia-born, harmonica-playing Dad that I also learn some of his kind of tunes. So, it was that at three I began and played until I was 10 when my family moved to a small community with no school orchestra program. I was put into an adult orchestra there and was bored silly and feeling very sorry for myself. The local school band leader took pity on me, stuck a flute (I wanted baritone, but he needed a flute player) in my hand and traded me lessons for baby sitting. I played flute through high school. It was fun but I missed my violin.

Somewhere along the line as an adult, I took the time to learn a little 5-string banjo and studied classical guitar. However, for one reason or another and always knowing someday I'd play again, the violin stayed in its case, until about 45 years later when I was "grounded and climbing the walls" caring for my elderly parents. One night I dusted it off and decided to play again -- my 90-year-old dad caught me fumbling around with golden slippers and the grin on his face was wonderful. Today, I play fiddle in a four-piece string band, Liberty Road, and periodically as time permits in the Salem Pops Orchestra. I also teach fiddle/violin.
---
Q2
Q - Are you a mandolin player? Other musical background?

A - In my search to find people to play fiddle with, I wandered into a local music store in Salem, Oregon, and became involved in a beginning bluegrass class, learning fiddle tunes. At that point, I "discovered" the mandolin. That was 1997 and I bought a Kentucky mandolin and learned the class tunes mandolin & fiddle. I love the instrument, but the pick gave me fits and still does! I also played in the Portland Mandophonic Orchestra for about six months before it ended.
---
Q3
Q - How did you get involved with Mandolin Magazine?

A - I've been involved in writing and publishing all of my life and have been in business for myself doing publications for customers for years. At a New Year's Eve jam, I mentioned to friends that I wished I could find a music project that would fit into the publications business. One of them said, "Why don't you do a mandolin magazine?" Duh! So the next six months were a flurry of research, contacts and activities and with the help of many, many wonderful people, the first magazine was published in the summer of 1999.
---
Q4
Q - Who are some of the most interesting people you have interviewed for MM?

A - Hey, that's putting me on the spot. They're all interesting in their own way! Actually, I just went through all of the issues I have only personally interviewed four cover artists and a few more than that of the luthiers.

My very favorite article since the very beginning is one I didn't write; it's the one Darol Anger wrote about Mike Marshall. Darol not only made Mike's personality come alive in that article, he saved my neck. As I recall, I was about a week or so away from sending the magazine to the printer when the cover article that I had planned fell through. And, I was headed out of town for the five days. What now? I certainly didn't have any articles in reserve.

As it happened I was speaking with Compass Records about a Mike Marshall CD and just blurted out my dilemma. I was asked if I was interested in an article on Mike Marshall and I said of course but didn't know how I could possibly get an interview, photos, music together in time. A few minutes later, Compass called me back. Darol Anger had agreed to write the article; music, photos and the article would be on my desk when I returned. I left town holding my breath. When I returned, everything was there just as promised. Not only had disaster been diverted, the article was fantastic. I'll always have a soft spot in my heart for Mike and Darol.

Probably the most memorable interviews I've done were Emory Lester and Lawrence Smart who graciously agreed to be the premiere issue cover and luthier respectively without having a clue what the magazine was going to be. Of course, at that time, I wasn't sure either! I interviewed them in the noisy restaurant at Wintergrass in Tacoma, Washington, in Feb. 1999.
---
Q5
Q - How did you get interested in the mandolin, and what in the world possessed you to start a mandolin magazine! It's a lot of work! (But I'm extremely thankful you did.)

A - I became interested in mandolin when I found a beginning bluegrass class at a local music store. I began playing fiddle tunes, some bluegrass and then realized the versatility of the instrument, heard about mandolin orchestras and played some classical in the Portland orchestra.

As for what possessed me to start a mandolin magazine . . . perhaps a moment of insanity! But I've loved every moment of it. I was at a point in my life that I needed a change -- was looking for something different and really wanted to do something to bring music to my work. I already had tried an 18-month stint at owning and operating a music coffeehouse. Now that was insanity!!! I found out quickly that, although there were many great things about the coffeehouse, it just was not for me and that I should stick with what I know -- publications. So, when a friend, Jack Lowry, who now lives in Australia suggested a mandolin magazine as something that would fit in with my publishing business, I thought I'd give it a go. It seems like yesterday, but the magazine is now in its fifth year.
---
Q6
Q - What do you listen to as a primary preference, Bluegrass, Classical, Jazz, etc...?

A - I listen to many types of music. A primary preference is a tough one for me. I listen mostly to jazz, classical, old-time/bluegrass and a whole bunch of other things in between!
---
Q7
Q - What mandolins do you own, and what style do you play?

A - The mandolins I own are a 1915 Gibson A, a Gibson F-4 of undetermined year (can't really read the serial number on the label) and an A made by Dale Ludewig in 2000, his third instrument.
---
Q8
Q - The magazine is beautifully designed, did you do the design?

A - Thanks for the compliment on the magazine design. I confess, I did do the design.
---
Q9
Q - What are your policies and process for submissions to the magazine?

A - My policies and submission process and guidelines for the magazine are evolving, but right now they're pretty flexible. For features such as the cover, luthier, player profiles and the like, I accept articles, photos etc. on speculation after I've okayed an idea. Hope this answers what you are asking -- if not, try again!
---
Q10
Q - Who have you not interviewed that you would love to get for the magazine?

A - There are many artists and luthiers the magazine has not yet covered. It will be a long time, if ever, before I run out of ideas! But, if you have ideas, be sure to let me know. Next issue's Roland White. An article on Tim O'Brien is in the works. I've had Marty Stuart on the list for ages, but the writer's having trouble getting through. Others are Evan Marshall, Caterina Lichtenberg, Robbin Bullock, Carlo Aonzo, Jimmy Gaudreau, Peter Ostroushko; luthiers on the list are Doug Woodley, Lloyd LaPlantz and Randy Wood, Oliver Apitius, Fletcher Brock and the list goes endlessly on.
---
Q11
Q - Where's my issue!!! (Just kidding... my subscription expired but the check is on it's way)

A - [Moderator's Comment:]
Ginny Hollon says she has 1800 subscribers around the world and that it's estimated that there are some 40,000 mandolin players in this country alone. CoMandos, I think we need to make an effort to support Ginny in her continuing effort to provide all of us in mandoland with a first class magazine on our favorite instrument. My subscription, alas, expired several months ago and I have been lax in renewing my subscription. I am going to go home tonight and write out my check and mail it off to Ginny. Here is the MM website:

http://www.mandolinmagazine.com/

Let's get in there and support Ginny's efforts. We don't want to see this fine publication go the way of "Frets" and "Pickin'." I still miss those two mags. A lot of you have kindly sent me emails this past year thanking me for my efforts in doing the CGOW project, the Mando Builder's Super Summit and other projects. I have appreciated the kind comments. I have no financial interest in MM but you can thank me in a tangible way by sending off your check for $25 (USA)to MM at:

Mandolin Magazine
P.O. Box 13537
Salem, Oregon 97309

If you want to start with the current issue, it's $2 extra.

Here's a link to an online signup: https://mandolinmagazine.com/secure/
---
Q12
Q - How do you build a magazine from scratch?

A - Interesting question, building a magazine from scratch. How much time have you?!

The first thing I did was a lot of thinking and brainstorming about what I'd like to have if I were to subscribe to a mandolin magazine. While I was doing this, I was also brainstorming and listening to anyone else who would let me pick his or her brain.

During this process, I studied existing music publications -- Fiddler, Mandolin Quarterly, Flatpick Guitar -- spoke with their publishers and also ordered back issues of any no-longer published mandolin magazine that I could find such as Mandocrucian Digest and Mandolin World News. In looking at all of these publications, I determined what I liked and disliked about each.

I then tried to come up with demographics on mandolin players -- how many total, how many in each genre of music, etc. This effort bombed! I either didn't get to the right source or there is not much information available.

Without that information, I was on my own. But I now had in mind what I wanted to produce -- a magazine that would appeal to a wide variety of players of all ages, abilities and musical interests. I wanted lots of music/tab, instructional material in as many areas as possible, technical information and much more. An artist and a luthier were essential for main features each issue. It was really exciting because I found so much out there to write about that I knew there would not be time or room for everything.

Once I developed that format, I began looking for columnists to write the regular music workshops -- Celtic, bluegrass, blues, jazz etc. Since I was so new in the mandolin world, I relied heavily on people I knew to become involved and/or make suggestions. Dix Bruce, who had formerly edited Mandolin World News, was a fantastic help as were many others. Everyone was so cooperative and willing to provide expertise and suggestions.

After lining up regular columnists and workshop authors, it was time to think about featured artist and luthier for the first issue. I knew, respected and admired Emory Lester for his playing and Lawrence Smart for his wonderful mandolins and approached them each on being in the first issue. They agreed.

Next, I needed advertisers which I knew would be very difficult until after the first issue was published. In spite of this Weber came through with a full page ad and has continued in every issue since. Butch Baldassari called and offered advertising support in that first issue.

With that the magazine was born.

The first issue had 55 subscribers who had the confidence to pay in advance. Circulation today is at 1800 in 17 countries. I was really bummed out at earlier at CMSA when Mike Schroeder said it's estimated that there are 40,000 players in this country alone. I want those other 32,200!

You ask how I decide on which people to feature. Right at the beginning I came up with a list of artists and also luthiers to feature and I add to that on a regular basis. Who is actually featured depends on a lot of things such as who's available for an interview, what writer is available to do the interview and if everything -- interview, photos, music -- falls into place as planned! David McCarty has been a constant source of support and help. I try to have people from different areas and artists who have different styles.When a writer suggests a person who's appropriate and has an interest in doing an article on that person, I try to work that artist or luthier into the schedule.
---
Q13
Q - In the five years you've been doing the magazine who are some of the most interesting mando characters you have come across? Who really made an impression on you?

A - You have tough questions. All mando characters are interesting in different ways and for different reasons! If you are talking about the featured artists in the magazine, like I said in an earlier answer, I've really had little personal interaction with many of the people I've featured in the magazine because I haven't interviewed all of them myself. My impressions of many of them in reference to the magazine are based more on their responsiveness to my requests for music and/or photos and other mundane things (and even those were sometimes through an agent) than anything else.
---
Q14
Q - From reading your articles on builders it appears that you have a real appreciation of the art of mandolin building. Would you care to expound at bit on your impressions and feelings about the builders?

A - I do have appreciate of the art of mandolin building also very much appreciate the people who do the building. My impression of the builders in general is that they are genuine, warm, down-to-earth people, artisans doing what they do with a passion.
---
Q15
Q - What can we do to help Mandolin Magazine sell advertising that back cover? I look at that, and although it looks nice, I think there's an obvious source of revenue there.

A - I've been negotiating with a potential advertiser for the back outside cover for 2004 and should be hearing back very soon. Hopefully it will work out.

As for what you can do, if you have a contact who might be a potential advertiser and send me contact information, that would be a great help. Thank you.
---
Q16
Q - Are you making a living with Mandolin Magazine and what's the 'general' size of your business?

A - No, I'm nowhere near making a living with Mandolin Magazine -- it would require a lot more subscribers and advertisers for that to happen. However, I'm very happy that the subscription base and advertisers continue to grow and the magazine is paying its way. From the start, it's been a project of love. Of course, if I were to get rich from it I wouldn't complain!

I'm not sure what you mean by the general size of my business but will answer the best I can. It's small -- by intent. About the time I started the magazine I had decided to down-size the overall business. In the past I've had up to 15 employees; currently its myself and one contract person.
---
Q17
Q - What would be your recommendations regarding someone hell-bent on making a living in this small pond?

A - Work very, very hard many, many hours a week and be totally focused and dedicated.
---
Q18
Q - Ginny, while all us here on Commando realize and appreciate [and really like] how small the mandolin community is, and we have an idea as to how small our own membership is, I wonder how a person could arrive at a more accurate estimate of the mandolin world, and therefore the mandolin oriented market?

I realize that you ran into that problem setting up MM and threw up your hands trying to obtain demographics.

A - I wish I could answer the question of the estimate of mandolinists and then had a way to reach them. The magazine circulation continues to grow slowly but steadily, but it's perplexing that other than CMSA and individual workshops, festivals and camps, I've been unsuccessful in finding groups or lists of mandolin players to promote the magazine. So far, mostly through the internet and just word of mouth its growing.
---
Q19
Q - Have you ever consider offering a certificate available through Gibson, Epiphone, Collings, custom builders, etc. for a 3-month subscription? You could even offer back issues on CD. It'd be cost effective, and all this material is really seductive for people with light, medium or intense musical interests [all of us!].

A - That's an interesting idea. I'll need to think it through and discuss it.
---
Q20
Q - Have you ever considered conducting the Martha Stewart approach towards MM? PBS quality show with constant reference to MM? PBS has recently taken up a new approach towards program offerings [SHS@PBS.ORG] that would benefit from a hands on music program. That could be really cool, especially if PBS would take it up.

A - No, I don't really care to be a Martha Stewart! Too much lime-light for me. I like a more down home approach. A PBS show is an interesting idea, but takes it to another media and would be a whole different project. Very interesting though.
---
Q21
Q - I tried to talk Marilynn Mair [Commando GOTW] into tab for her music, she was pretty well fixed on the idea that she'd have nothing to do with it. But the view of her through this venue was by far in greater depth of her through all her MM columns. I wonder why that is?

A - That's probably because in the magazine she's writing what she believes readers need to know and hear in general while as the GOW she was responding specifically to individual's questions and reacting to their personalities with interaction between her and the person asking the question.
---
Q22
Q - Ginny, thanks for publishing Mandolin Magazine. Steve Kaufman gave everybody the first issue at the first Mandolin Camp, and I have been a subscriber ever since (1998?). I have especially enjoyed the varied columns, covering many styles of mandolin playing.

I hope you won't see the next as a complaint, but as a suggestion about the levels and interests of the readers. While I enjoy the cover articles and the articles on luthiers, they have always seemed more like general interest profile pieces, the kind of articles I might expect to see in the mainstream press. I would imagine that the core of your readers, nearly all of them, are so into and focused on the mandolin that they would want more "nuts and bolts." I always got so much out of the in-depth interviews in Mandolin World News and, later, Niles's Mandocrucian Digest. The detailed answers about careers, playing approaches, particular song and techniques, etc. were geared to someone focused on mandolin playing, not just on general interest profiles of players and builders. I still pull those back issues out and re-read the interviews, finding that they had so much in them I could learn more by going back. Have you given any thought to moving to an interview format for these? This is the only complaint/suggestion I have about your fine publication. Thanks!

A - It's great to hear you are a charter subscriber and received your fist issue at Steve Kaufman's Camp. Thank you.

I'm not offended at all by your insight and opinion that you'd like to see more "nuts and bolts" in the cover and luthier articles. I really like knowing what the magazine's readers are thinking. And, surprising to me, I've really had very little feedback in four and a half years!

You suggested more detailed information about such things as careers, playing approaches and techniques. I'll certainly take your suggestion into consideration and discuss it with the other writers too.

And, you asked if I've given any thought to an interview format. I'm assuming by that you mean Question and Answer format? If that's the case, as an editor I personally do not care for the interview format; however, it can be a good way of getting facts condensed, providing the person being interviewed doesn't ramble on. One possibility that I will consider would be to continue the current profile article approach followed by a "Nuts and Bolts" Question and Answer section. A consideration at that point would be if the Questions should be the same of each artist or luthier being interviewed?

Thanks for your thoughts on this.
---
Q23
Q - How about a companion CD or audio addition to the magazine?>/P> A - I really appreciate your comments and am very glad the magazine is good for you. Thanks for the feedback on the columnists too. I feel so fortunate to have the team of columnists who write for the magazine. They put in a lot of hard work, do a great job and deserve so much credit for the magazine's success.

As for a companion CD or audio addition to the magazine, it's definitely the suggestion I've heard the most from readers. I'm listening and it's on the list!!!! It is a priority but one that will require some research, time and coordination with a bunch of people.

I think I just answered some of your other concerns and issues in a response to Max McCullough. So, if you could read that and then ask again if I didn't answer your questions, I'd sure appreciate it.

Since I'm producing a magazine that I think (sometimes it's hard to be objective) I'd like as a subscriber, I'd like to ask you and everyone else out there what you think would attract more subscribers.

Glad you like Lawrence Smart's ad. I also think it's great -- as you said creative in a down home, friendly way which to me personifies Lawrence. He did a good job on that ad.

Thanks and be sure to let me know if you still have questions.