Bobby Clark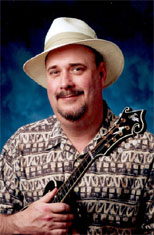 There is no mistaking the Williams and Clark Expedition's signature mandolin sound for anyone other than Oklahoma native BOBBY CLARK. Having won the National Mandolin Championship in Winfield, Kansas, the Buck White International Mandolin Championship in Kerrville, Texas, and the World Mandolin Championship in Des Moines, Iowa, Bobby can only be called a true mandolin virtuoso. Bobby began his musical career alongside another Oklahoma native, Vince Gill, as a member of the Bluegrass ReVue. After moving to Nashville in 1983, he became a well sought after instrumentalist and worked with Vassar Clements, Larry McNeely, Peter Rowan, Jim Lauderdale and the Bluegrass Cardinals and most recently spent the last 16 years with Mike Snider on the Grand Ole Opry. Bobby has recorded two solo albums and has worked on other album projects with the likes of Ricky Skaggs and Vince Gill. Bobby's original music has been heard on TNN and CMT as theme music for "Celebrity Outdoors" and "Southern Outdoors" as well as in the movie "Borderlines". Bobby recently engineered and played on the Emmy Award-winning soundtrack for the PBS documentary "Rachel and Andrew", which was recorded at his own TOP DOG RECORDING AND SOUND. All this, combined with his 25-plus years experience in bluegrass sound are a big asset to Williams & Clark Expedition.
---
Q1
Q - How would you describe your playing style? How has it evolved over the years? Who were some of your main influences?

A - I would discribe my style as being a combination of the major mando styles that were hot when I was learning to play in the seventies(Bush,Lawson,Grisman), with a little Django and Grappelli thrown in mixed with some Monroe influence from being around him alot once I got to Nashville. How's that for a run-on sentence?
---
Q2
Q - Did you know Bill Monroe and do you have any special memories of him you would like to share with our listmembers?

A - Yes, I was around him quite a bit in his later years both at the Opry and the Bell Cove Club. Once I got to do a whole set playing guitar with him at the Cove. Also, once my parents were visiting backstage at the Opry when I was in Mike Snider's band. They struck up a conversation with Bill and he sat down with his mandolin in dressing room 2, and gave them a personal concert of several tunes, not more than a couple of feet in front of where they were sitting. Made them feel real special and he even made a few nice comments about my playing to them, which was first class.
---
Q3
Q - Bobby, Go ahead and tell us about the most famous of the late 20's F5s that you have had for so long. I assume it's your main mando but have you had others?

A - The mandolin you are refering to is a 1929 fern I bought from the family of the original owner in 1977. Up until this past December it is the only mandolin I have owned or recorded with. I may be a little partial, but I think it's one of the better ones around. Most of the Loars I've played I wouldn't trade even for it. I guess it's like an old dependable friend that I'm loyal to. Mostly the only time I play it these days is on Sunday mornings at church with our praise band. The mandolin I travel with now was built by Jim Triggs. It has a beautiful dark, satin sunburst finish and a dry, woody tone. None of the boxy sound I hear in 99.9% of new mandolins.
---
Q4
Q - Ewan MacColl was a great composer, performer and political activist. Can you share your experiences working on the new (1965) political/folk radio form? How did you hook up with them?

A - Sorry, you must have me mixed up with someone else. I'm not familiar with the person or or group mentioned above.
---
Q5
Q - What are the mandolin tunes that you have written, that you are most proud of? Do you have many tunes that have not been recorded yet?

A - The songs that I've received the most response from down through the years are One Legged Gypsy, Midnight Waltz and Oklahoma Twister. I don't have a huge stockpile of unrecorded songs, but have recently recorded one new original on each of our first two Williams & Clark Expedition CDs.
---
Q6
Q - I find many elements of Bobby Osborne in your playing, yet you did not list him as an influence ?

A - Thank you for the comparison. Bobby's playing very precise and well thought-out. Bobby Osborne, Jesse McReynolds, Buck White, Jethro Burns, Tiny Moore, Roland White and Vernon Derrick would all have to go on a list of influences, but still I would have to list Bush, Lawson, Grisman and Monroe as the major influences for me personally.
---
Q7
Q - Do you reemmber when you started using triplet runs to get more notes, rather then for rythmic effect? Were there any influences there?

A - Arab Bounce and Little Rock Getaway when I was a teenager, although I guess those fall into the catagory of rythmic effect. I don't really use all that many triplet runs just to get more notes in, although I am guilty of the rythmic effect usage from time to time. Usually just to see if these 45-year-old fingers can still do it.
---
Q8
Q - I've been told that learning to play in 'closed' position will greatly advance my playing. What's your take on this and what if anything helped you the most in developing your ability early on?

A - Playing in closed position is essential to bluegrass mandolin, especially in band situations where the singer needs to put the song in the key that best suits his or her voice. As we all know, a huge amount of the classic bluegrass material is in the key of B, so that would be a great place to start.

I think of it as two basic ways to play closed position. One is by "capoing" with the index finger of the left hand (second fret, first 2 strings for B) and using the middle, ring and little fingers to do what the index, middle and ring finger would do in open A. I'm am just using capoing as a term. Don't actually lay the index finger across the strings! This is very similar to what fiddle players do. A superb example of this style is Sam Bush's super-hot solo in B on the song "Great Balls of Fire", on Newgrass Revival's first album.

The other way is by playing out of the chord positions. Bill Monroe and Mike Compton are masters of this style. I do some of both.
---
Q9
Q - I was wondering about your methodology for coming up with breaks for songs. I've been learning scales, arpeggios, etc. and have read that the melody line is a good starting point for coming up with a solo. I just wondered if you had any advice or tips for being creative in developing breaks (without giving away trade secrets of course)?

A - I think of myself as a pattern player. I think this comes from learning and also teaching banjo as a youth. After all, Scruggs-style banjo is the ultimate definition of the use of patterns to make beuatiful, flowing bluegrass. So I think learning the 5-string had a lot to do the way I approach mandolin.

Besides Scruggs, I consider Tony Rice, Bobby Hicks, Sam Bush, etc. to be master pattern players. So, if you look at it that way. It's not a bad approach.

The trick is incoporating and/or complimenting the melody of the song, while making it flow. I think of coming up with a solo as "writing" my own version of the song to fit my style of playing. Of course having 35 years of experience playing in bands, in my case helps.

Learning scales and arpeggios, etc are essential, but I would also suggest picking out some solos by your favorite player(s). Disect the solo and figure out what kind of scales and patterns he was using and why. If you can learn the patterns that work for you and figure out the "why" part, you'll be on your way.
---
Q10
Q - I would like to get your take on Butch Baldassari's question: What are the 5-10 Essential Breaks a B-Grass mandolin player should know?

A - I won't pretend to be enough of an "authority" to come up with "the" essential list. But I will give you a few off the top of my head that had an impact on my playing.

Sam Bush's "Great Balls of Fire" solo mentioned earlier.

Doyle Lawson's "CG Express" from the Award Winning Country Gentlemen LP. I highly recommend this album.

The song and LP "Manzanita" by Tony Rice w/Bush, Grisman and Skaggs all playing great mandolin. Also highly recommended.

EMD by David Grisman

Big Country by Jimmy Martin featuring Vernon Derrick on mandolin

Bill Monroe's Bluegrass Instrumentals and Master of Bluegrass LPs

Get all of these and you'll be busy awhile!
---
Q11
Q - Bobby, in describing your Triggs, you said: "It has a .... dry, woody tone. None of the boxy sound I hear in 99.9% of new mandolins." I am not sure I understand what you mean by "boxy sound", can you explain that a bit more?

A - By dry and woody, I'm refering to clear, bell-like high end and strong throaty-sounding lows, without an over abundance of lower to midrange overtones. These extra overtones in the low end cloud up the tone and give it that "boxy tone", as in "cigar box".

To some peoples ear the muddy low end is a good thing. But once you get a chance to play much on a dry, woody instrument like a good 20's f-5 or one of the very best of the newer mandos, it's hard to be happy with an unbalanced tone.

That's all I really want to say about the tone of instruments. It's very subjective and could be discussed for weeks.
---
Q12
Q - Any plans for a mandolin record in the future?

A - Actually, I have some pretty good tracks already cut from a project I started a few years ago and never finished. Some time I'm sure I'll get around to finishing those and putting some new things with It.

I will be releasing an instructional DVD sometime in the not to distant future. It has already been recorded but just lacks post production. The working title is "Bobby Clark's Bluegrass Mandolin Workshop". I stayed up all night thinking of that title. Catchy, huh? But, seriously it covers my take on a lot of the fundamental stuff, with the added bonus of a bunch of jazzy riffs thrown in to spice things up and give the more advanced players something to sink their teeth into.
---
Q13
Q - Re: your '29 fern - I picked on it at the Bass Mtn. fest a couple of years ago - played (or tried to) Spider Bit The Fiddler - and noticed some marks on the top, perhaps from a pick up it had? Did you remove it?

A - Yes, the pick up (an old De Armond) was still attached to the top when I purchsed the mando. I couldn't wait to get home and get it off of there!
---
Q14
Q - Who was in Southern Manor?

A - Roger Rasnake, Guitar. Robert Bowlin , Fiddle and some banjo. Jim Driskell, upright bass. Myself, mandolin and some banjo. Larry McNeeley, banjo, came in later to replace Robert when he dropped out.
---
Q15
Q - Bobby, do you ever get MAS and covet some new axes? If so, what mandolins and/or guitars are on your wish list?

A - I don't really have a wish list. I guess by being fortunate enough to find my dream mandolin and also a great '52 D-28 at such a young age (19 years old), I've subscribed to the "if it ain't broke, don't fix it" school of thought, and have been very content with what I've got.
---
Q16
Q - Are there any modern builders who have impressed you the past few years?

A - Jim Triggs, of course. Also, I've always liked Nugget mandolins and Collings guitars. I played a Loar-style Dearstone mandolin (in the white-no finish) recently that I liked the sound of alot. I've played some recent Gibsons that sound good. I've played a couple of Wayne Benson Models that sounded good. I think satin finish mandolins sound better than glossy laquer mandolins.

There are alot of great builders out there these days, but each individual instrument is different. No two sound exactly the same. I enjoy sampling them offstage, but don't come across too many I would feel comfortable carrying onstage to perform with. That has as much to do with set up as it does with the actual tone of the instrument.
---
Q17
Q - What guitars do you own?

A - A 1952 Martin D-28 I've owed since '77, and a 1958 D-21. The D-21 is special to me because it was given to me by my late father and was built the same year I was born. Also, a couple of very early RQ Jones resonator guitars. My son, Cameron has a couple of electrics I enjoy messing around with. He just shakes his head when I tell him about all the cool electrics I used to own, '51 Tele, '63 Strat, '67 ES-355, etc. I shake my head, too, when I think about how cheap I sold them and how much they're worth now!
---
Q18
Q - I caught your band, Williams and Clark Expedition, at a show in Knoxville, TN this summer. What a great show! I noticed from the band's website alot seems to be happening for you guys, from IBMA to a festival in Franklin, KY 2004. Could you share some about the band and where you guys are headed?

A - Thanks for your comments on the band, glad you enjoyed seeing us in Knoxville. The past year and a half playing in WCE has been a blast. It's great to be a band where everyone is on the same page. Many times in band situations everyone isn't even in the same book!

First of all, playing in the same band with Blake Williams is a mandolin players dream-come-true. He's the only man to play banjo 10 years with the master himself, Bill Monroe. He knows exactly what to do (and not do) when the mandolin, or anyone else for that matter, is doing his or her thing.

Kimberly Williams, bass and Wayne Southards, guitar are both excellent lead vocalists and Wayne's flatpicking is smooth as it gets. Please visit our website, www.williamsandclarkexpedition.com and sign our guestbook, to keep updated on band happenings.
---
Q19
Q - I also noticed from the website that you use Gibson strings. What do you look for in choosing strings? Picks?

A - As far as strings, I like a heaver gauge, like the Bill Monroe Gibson set, combined with a medium-low action. Also, I'm very picky about having the action right at the nut. I'd say at least 9 out of 10 mandolins I pick up, regardless of price, have too high of an action at the nut. Any of you players out there who suspect your mandolin falls into that catagory, do yourself a favor and have a competent repairman file your nut. Playing smooth mandolin is challanging enough without having to fight the instrument, too.

I've been using the same model of pick for 20+ years and hope they make them at least another 20. I use the Dunlop Delrin 500, .96mm, which are dark pink in color. I use the rounded edge for better speed and warmer tone. The delrin 500 is much smoother that regular Tortex (which feels too gritty to me). They're getting harder to find these days at the local music stores. I just ordered a bunch from Elderly since they have the good sense to have them available.

I've tried the Golden Gate and Dawg picks, but they are just too thick for me to get comfotable with.
---
Q20
Q - My question has to do with how you approach playing tremelo versus picking of individual notes. Do you alter your picking technique when you switch between tremelo and picking individual notes? Should a player consider them to be the same in terms of technique? Any other suggestions for developing and building a "good" right hand technique?

A - As far as tremelo is concerned, the only real suggestion I can give you, without seeing what you're doing, is to relax your right hand as much as possible. That is my suggestion for right hand technique in general, but seems to be extremely important for acheaving a smooth tremelo.
---
Q21
Q - Standard CGOW question: What CDs do you have on your stereo in your car and at home right now?

A - Larry Sparks, Pink Floyd and Johnny Cash this week.
---
Q22
Q - We have had a thread on list this week about experiences first time on stage. Do you have a memorable story? When was your first? Do you ever get nervous now? Or maybe even a funny disaster story. As Mark Cuban recently said "everybody likes a car wreck".

A - My first time on stage was at the 1970 Haysville, KS BG festival. I had only been playing a few months at the time and Bill Perry, Sr dragged me and a few other jammers onstage for an open mic filler set. I'm sure I was white as a ghost and still remember feeling like my knees were knocking. It's a good thing I had practically no advanced warning, or I probably would have hurled!

Within a few months, Billy Perry, Jr, David Bonham, Mike Perry and I had formed a teen aged BG band called Bluegrass ReVue. We had seen another group run on stage and as they broke into their first song and absolutely tear the crowd up. So we decided we would hit the stage running and playing. Billy was to lead the way with the banjo while tearing into Foggy Mtn. Breakdown. Good plan we thought. Billy's mom had bought him a brand new pair of Dingo boots so he would look good on stage. (about a size-and-a-half too big, after all he was a growing boy)

We couldn't wait as the emcee began our introduction. By the time he got to..."heeere's the Bluegrass ReVue!", Billy was charging up the steps to the stage, while simultaneously playing the pickup notes to Foggy Mtn. We were right behind him hitting the stage as hard as we could go. Unfortunately, Billy caught the toe of an over sized Dingo on the top step and went to his knees. In one of the greatest saves since Willie Mays' famous basket catch in the World Series, Billy walked across the stage on his knees, never missing a note and rising to his feet at the moment he reached his microphone. The audience burst into a spontaneous round of applause and laughter and us band members laughed all the way through the first 3 or 4 songs.

I would tell about the time we opened for Kiss and got booed off the stage, but I've got to go now.
---
Q23
Q - O.K., Bobby, I think we really have to have that KISS story.

A - OK, here goes. The KISS story from someone who was actually there.

Once upon a time there were two young bluegrass players named Bobby and Vince in a town called Oklahoma City. They played in a band together and went to high school together and ate a lot of pizza and played a lot of pinball, etc. Vince was sitting in Bobby's living room one night when Bobby got a call from the Bluegrass Alliance to come to Louisville and join their band. Bobby had one more year of school and Vince was out, so Bobby put Vince on the phone. After about 45 minutes on the phone, Vince came walking back into the living room with kind of a stunned look on his face and said, "looks like I'm moving to Kentucky".

That's not the KISS story, but it sort of leads up to it.

The next year, my senior year in high school, I noticed an ad in the paper for "An Evening With KISS". Freaky looking dudes in make up, leather, long tongues, etc. Didn't look like my kind of concert, so I didn't think anymore about it.

One evening the phone rings and it's Hal Clifford, leader of local string band, Mountain Smoke. "Hey, Bobby, want to make $200.00 for a 45 minute set?" My response was something along the lines of, "Is the Pope a Catholic?"

Hal says, "Meet me at the Municipal Auditorium as quick as you can get there. By the way, we need a fiddler. Know anybody?" "Yeah, Vince is back in town." "Great, I'll call him, gotta go."

So I tell my folks I've got a gig and grab my mando and head downtown to the big auditorium, wondering what kind of event we would be playing for. I didn't realize that night was to be the show billed as, "An Evening With KISS".

When I got there Hal explained the situation- Even though it was billed as just KISS, the contract plainly stated there had to be an opening act. There was a heavy metal band from Tulsa booked, but they got POed during sound check and headed back to T-Town. KISS had refused to go on without an opener. So the promoter was in a bind and frantically went through his Rolodex. No rock acts were available that night. So he called up Hal and booked old, dependable string band, Mountain Smoke.

Now, keep in mind the concert was scheduled for 8:00. Hal called me at 7:45. By the time we all got down there and got tuned up and ready, it had to be at least 8:45. Needless to say the natives were getting restless, after all, they were ready for "An Evening With KISS." No mention of any warm up act, much less a puny little string band.

We gathered in the wings. I have to say this was pretty exciting stuff for a high school kid. Getting to play at a big concert and all. The house lights went down... an excited murmur went through the crowd...the off stage announcer began the introduction..."and now Oklahoma City's own Moun-tain Smoke!..."

The excited murmer turned into a confused, angry murmer as we started into a fast instrumental, giving it all we had. At the end of the first song there was no applause. No boo's either. Just the same confused, angry murmer. We started right into Jambalaya. As it ended a few clapped, quite a few more booed, many still just murmered. We quickly kicked into Alligator Man. Now there were more and more boo's. Hal says, "Orange Blossom. quick!"

As OBS ended, here comes a crumpled Coors can sailing through the air and lands at our feet. Hal says, "Let's get the (heck) out of here." As the rest of us hurried off stage, Vince stepped up to the mic and yelled, "KISS MY (REAR)!" Most of the audience applauded then, but it was too late, no way we were going back out there.

(I think, in hindsight, if we had cussed at the audience as soon as we were introduced, we might have been okay)

Soon KISS was onstage, the audience was happy. We got paid, we were happy. All's well that ends well.

Let me clear up a rumor about that night that has gone around for years. The Daily Oklahoman reported the next day, and it's appeared in several books that Vince "mooned" the audience. To the best of my recollection VG never dropped trou.

Moderator's Note: Just in case there's anybody out there who can't figure it out, Bobby's talking about Vince Gill.
---
Q24
Q - Thanks for being our guest this week. Your comments have been great so far. I especially enjoyed your comments about the "boxy" tone of most new mandolins. I agree completly with you about that, just didn't have the right term to define what I was hearing. I do now! What I'm curious about is : do you have any opinions about the structural/construction qualities a builder might want to concentrate on in order to achieve that dry woody sound you are talking about? Did you have a chance to discuss that whith Jim Triggs : which wood to use for the top, what graduations, what kind of finish?

On another matter, I've achieved a loose wrist playing position by working on your material, because I realized that most of it is very hard to play without a completlely loose wrist (Oklahoma Twister, for instance). Can you describe your right hand position : do you have any contact with the bridge, do you play with a broken/angled wrist, etc...

Thanks for the music and inspiration throughout the years. You're still my favorite and your Fern is high on my list. My life has not been the same since you kindly let me play it many years ago!

A - Thank you so much for your comments. They blew me away, especially coming from a player of your ability. You are a gentleman and a scholar in the truest sense.

I am deferring the questions on wood, graduations and finish to Jim Triggs. He's the expert, not me.

Jim Triggs on Woody Tone

Hi , Bobby wanted me to try and answer your question. To me there are 2 mandolin sounds that are desired . The Loar sound and the " Fern " sound. The woody dry sound (fern)... can be acheived with a tighter grain top, 20 plus grains per inch. A stiff top is needed, I suggest sitka or adarondack spruce. Tone bar placement also comes into play. I bring in the bass bar a bit to loosen things up. Top thickness needs to be 1/4" in the area under the bridge and 3/32" in the scalloped areas along the rims. Small tone bars are needed to let the top move . They are there to enhance tone and are not for support. Neck angle is important also. Too many builders pitch the neck way back to get a taller bridge height and carve the tops really too thin. This might make for a loud mandolin, but where is the tone. It is sad to say many players and builders alike have never held a 20's Gibson mandolin. It is hard to describe that dry sound you mentioned unless you have heard it in your face.

As far as the looseness of the right hand. To tell you the truth, when I am really playing my best, I can't really explain exactly what's happening with my right hand. I guess my mind is on the sound I'm trying to create and my right hand is doing what it has to to acomplish that.

That being said, here's what I think is happening. First off, I am using the rounded edge of a fairly heavy pick. I am playing with only a tiny sliver of the edge protruding to hit the string. Almost all the rest of the pick is resting snuggly between my thumb and curled index finger. The rest of the fingers are also curled, but not in a fist by any means. Tension in the hand is at a minimum because the pick is so well supported and the fingers are so loose.

Now, I think I am letting the meaty area just beneath the thumb touch the top of the bridge just over the bass post and kind of hover where it needs to go to hit the various strings. This is the most minut amount of pressure on the bridge you could ever imagine. This gives just a little bit of a point of reference to anchor the right hand. I stress again, there is minimal pressure involved here.

I would discribe myself as definately a wrist player. Smoothly up and down. No forearm and very little hand rotation. Just up and down enough to get the job done.
---
Q25
Q - I've got an off-topic question for you -- it seems like our society has an all-or-nothing approach to musicians. If you hit four cherries you can live really well, but even some whose names we all know seem to live on the edge. A working musician's schedule means you're on duty when everyone else is relaxing and security is just a word on the doorman's back.Then there are a lot of really talented people who will never quit their day jobs because they never even get the first gigs.

What are your thoughts on making music for a living? Do you think the feast-or-famine music world is a result of bandit distributors? Do you see self-publishing as a path toward greater autonomy for more groups? How have you overcome any doubts about a non-traditional career in life?

I'm asking out of admiration for people who take that plunge.

A - You guys come up with some questions that keep a man on his toes, don't you?

First of all, before I get into anything even semi-heavy, I just want to say what a good time it's been being CGOW. I would want to do it every week if it wasn't so much work!

I'm flattered by the comments and the by the questions you've asked. I hope I have not come off like I'm trying to be a know-it-all, I've just been trying to answer things as honestly and directly as possible based on my own experience.

Let me ramble through a few of my simple philosophies that may in some way relate to your questions. First of all, I believe music is a God-given gift and we all have different talents in life. I think success, or at least happiness, comes to those who realize what their gifts are, and proceed with them in a thankful manner. Many doors have opened for me- I can't tell you why, but I'm glad I went through them.

One of the things my dad taught me that has probably helped me the most in my career is- "Don't be a complainer. No one wants to work with a complainer."

Believe me, I've played some pretty sorry gigs in my life- multiple sets a day in scorching heat, having to play outdoors at Opryland in a 17 degree wind chill, just because four people in parkas showed up, driving 500 miles to playing four sets and then getting stiffed by the owner of the club.But, through it all, I knew those things had to be endured to make it to the high points-being fortunate enough to work the Opry for 10 years, playing onstage with Bela Fleck and Jerry Douglas, getting an impromtu mandolin lesson from Big Mon (whether I had asked for it or not!)

I guess what I'm trying to say is, although there are lots of people out with plenty more talent than I have, maybe I've made it as far as I have by being thankful for my talent and by realizing that the world didn't owe me a living just because I could play an instrument and I had better try to get along with the people I'm working with!

Told you I'd be rambling.

I really am a blessed man. I have the love and support of my wife and family, get to play mandolin in a good band (with people who get along), have enough irons in the fire to stay busy and keep a roof over my head. I may not have hit the four cherries you mentioned, but I'm thankful not be living on the edge, either. To me, being the "mandolin player in the band" is my chosen occupation, a fun occupation, but still it's just my job.

Since 1980, I've not been on a label, I was with Mike Snider for 16 years, he wasn't on a label, Williams & Clark Expedition has 2 CDs out and, so far, we're not on a label. We record in my modest studio, Kimberly does a fantastic job of booking the band, I enjoy doing our website, Blake keeps the books, Wayne finds material and generally keeps us on track musically. So, I guess the term "cottage industry" or "Mom & Pop operation" would describe our set up. It's not a huge pie, but it at least doesn't have many slices. And we have creative control of the pie and can get things done quickly and decisively because we don't have to run things through as many channels. Might not be right for most pro bands, but it works for us.

So, getting at back to the heart of yourquestions- The main reason some people with talent don't make it, in my experience, would be attitude problems. A person should not take theirself too seriously and their should take their music just seriously enough. After all, bluegrass is supposed to be fun, it ain't rocket science.
---
Q26
Q - Do you have any good Mon stories? Do you have any more Vince Gill stories? Oh yeah, and any Mike Snider stories? There must be quite a few of those floating around. By the way, he seems to be seen playing mandolin on the Opry these days and not b**jo (we never actually use "that word" here on CoMando in polite company).

A - Most of my stories I witnessed first-hand or got from an eye-witness. Some I can share and a few just lose too much in the translation, like the "Boston Boy" story, my favorite.

Here, are some I can share that involve some of the above mentioned artists.

This first one was recently told by Blake Williams. In all my years of working with Blake and Glen Duncan and a host of other Bluegrass Boys, I thought I had heard them all. I never had heard this one, but knowing how strong-willed a man Monroe was, I could see how this could happen.

Blake, and the rest of the band were awakened at about 2 or 3 in the morning from their bus bunks by Monroe's voice excitedly saying, "hurry, you'all get your music and come inside quick!" They all knew this was Monroe-ese for, "grab your instruments, we're fixing to do something."

The Bluegrass Boys grumbled and stumbled out of the bus, only to discover they were at a truck stop, who-knows-where. They went inside, strapped on their instruments, including Bill with his mandolin, and rendered Blue Moon of Ky and a fast instrumental for the hand full of seemingly unimpressed customers in the restaurant.

At the end of the second number, Bill pointed at a man sitting there and said, "See, I told you I'm Bill Monroe!"

I told Blake, I find it kind of interesting that it took 2 songs to prove it.

Often, during my years with Mike Snider, we shared an Opry dressing room with the Bluegrass Boys. Once I walked into the room and Monroe and fiddler, Robert Bowlin were standing there in their suits and hats with their instruments.I sat down my case and said hello and they both kind of nodded some sort of greeting back.

About this time, here comes Snider into the room carrying his banjo case. Monroe's face lights up because he knows Snider's not the least bit intimidated by him, and he can get something started. Bill says, "What do you think you're doing coming in here?" Snider doesn't miss a beat and drawls back, "I came in here to kick your (rear)!"

Monroe immediately hands the '23 Loar to Bowlin, says "Well, come on then!", and starts shuffling his feet like a boxer, grinning and making round-house hooks at Snider's ears. Mike starts defending himself and I take a step back out of the way and think,"Hmm, this sure is getting interesting."

Bowlin and I watch in amazement as this 81-year-old Hall of Famer and the Gleason Flash scuffle around in a room full of irreplaceable, pre-war instruments. In the Mother Church of Country Music, no less! (Snider told me later didn't want to fight, but had to defend himself. "The old man was really trying to hit me!", he said.) Monroe, on the other hand, seemed to be having a blast.

Big Mon, thank goodness, soon quit boxing at Snider and grabbed Bowlin around the neck and started slinging him back and forth like a rag doll. Keep in mind Robert had his fiddle & bow in one hand and the million dollar mando in the other. He was doing his best to hold them apart while being slung around.

We all just looked at each other and laughed. I quickly eased out of the room thinking Mon might start in on me next!

Here's one more to wrap up story time. This one features Snider and Vince.

One time Mike was appearing on a TV taping at the Opry House and Vince was the host. Mike was standing onstage with his banjo, waiting to be introduced. Vince was to introduce Mike from a different spot out in the audience and then the cameras would pan to Mike as he began his song.

Anyone who has ever been to a television taping knows how long it can take to get the cue cards, make up, camera angles and such all lined out. Mike had been standing out there with his banjo strapped on for quite some time, while Vince was getting primped by the make up ladys, going over his introduction and conversing with the audience, etc.

Mike suddenly breaks in and says, "Hey Vince, when you're through flapping your gums, I think these folks are ready for some good banjo music." Vince doesn't miss a beat and shoots back, "that's an oxymoron, isn't it?"

Snider just rared back an laughed. He knew he had been one-upped by a pro.
---
Q27
Q - OK, Bobby you've got to tell the Big Mon lesson story now. BTW, I'm really enjoying your stories and insights. The KISS story ought to be in a book somewhere.

A - My fingers are getting so tired, I think I must have about half a book done already!

During my years around Monroe at the Opry, I would say "hi" and be cordial and all, but generally stayed out his face since plenty of other people were always around, vying for his attention.

One night I came back into dressing room 2 after our first spot onstage. It was very crowded in there, and I was just thinking I would slip in, put up my mando and head for Cracker Barrel to take care of the growling in my stomach. Monroe had different plans for me, as I would soon find out.

"Bring your mandolin and come here and sit down", I heard the familiar voice beckon. "Well, so much for Cracker Barrel", I thought. Guess I should have been excited about the prospect of sitting down with the master, but with such a crowd of on-lookers, I had a pretty good idea what I was in for. Big Mon was ready to conduct "Mandolin Church", as Glen Duncan called it, and I was to be the lucky recipient. He said, "Can you play Moonlight Waltz? It's a powerful number". Oh boy, now I knew I was on the hot seat.

"Let's see, I think so," I said, as I felt the attention of all the bystanders shift our way. I'm thinking, "Moonlight Waltz... Moonlight Waltz...Oh yeah...Well, here goes." I launch off into what I thought was a pretty fair rendition, under the circumstances. "No, hun'uh, hun'uh, looky here." The big '23 takes over and I get a close up view of the real deal. I would have enjoyed this experience more, but I knew what was coming next. He finished, the room was silent and he just looked at me like, "give it your best shot".

He doesn't let me get too far before I hear, "Nope, Nope". Here comes the Loar, with more conviction this time, as if he's trying to force the tune into my brain somehow. This continues for awhile, till I finally make a concession speech of some sort. He sat back in his chair and looked way off, kind of like a lion who had fended of the opposition. Now I think know how some of his fiddlers must have felt.

By the way, have any of you tried the chicken and dumplins at Cracker Barrel? They're powerful!
---
Q28
Q - I knew I felt a connection with you. I am an absolute Cracker Barrell nut. I love the country ham and biscuits. I get kidded about that all the time. I am kind of a lowbrow, I guess.

A - Ah yes, country ham and biscuits! Great health food. Contains 3 out 4 of the major food groups. (salt, starch and grease. The only one left out is sugar)
---
Q29
Q - I first heard Vince Gill's voice in person, when he played a few BG gigs with Grisman out in San Francisco, I think they called the band Here Today. His pipes blew me away and I was not surprised to see him make it big time in Nashville a few years later. What was it like in the ol days playing with Vince? Did you know his voice was special or did you ever think he would achieve the success he has.

A - When Vince, the Perry boys and myself were playing festivals and contests all over the place. We were just a bunch of kids doing what we loved and having a big time. We didn't realize at the time what a great training ground it was for us.

Of course, it was plain to see Vince's vocal ability was way ahead of the curve. I love singing harmony, and getting to sing with someone of his talent really helped me a lot. I would usually sing lead on the choruses while he jumped to tenor. His voice back in those days lacked some of the control it has now, but it was obvious to those around who were paying attention (and were not overcome with jealousy), something special was coming out of that mouth.

Underneath Vince's "ah shucks" attitude is a fiery drive that has played a large part in his success. When I played Little League ball with him and he was throwing fastballs with an unbelievably intense look in his eyes, I was very glad I was on his team and not the other team!

Since there has been so much interest in Vince, now would be a great time for me to announce some exciting news.

Williams & Clark Expedition has been asked to host the Franklin (KY) Music festival, September 10th & 11th, 2004. Vince Gill is the headliner, along with Doyle Lawson & Quicksilver, Rhonda Vincent, Marty Raybon, the Chapmans, Lost and Found, and a host of others. Some pretty fair mandolin players listed above. So be there or be square! Check our band website more ongoing updates.

BTW, everybody realizes that earlier stuff about Vince and Snider thinking they're mandolin players was a joke, right?

Just making sure.
---
Q30
Q - Your stories are way too good. How did you acquire your '29 Fern?

A - The year was '77, I was out of school and had always hoped for a career in music, but wasn't sure if it was going to happen or not. I was working at a local music store and had even sat the mandolin down for a year to play lead guitar and (sour) fiddle in my brother's band, Uptown Bluegrass (They already had a good mandolin player and I wanted to stay busy).

I had been through quite a few old Martin guitars and decent (newer Gibson F-5s, Givens A, Ridgerunner F, Tut Taylor A and Fs) mandolins, but had my mind set on somehow getting a 20s F-5 and a Pre-war Herringbone D-28. Within a year I would be back on mandolin and have both of my dream instruments.

The Bostic Brothers had to drop out of Uptown BG due to family and job commitments, etc. So I was back on mando and my new friend Wayland Patton was singing and playing flat top. We had a pretty fair regional band (my late brother, Mike, was a solid banjo player and a good MC and band leader).

But how does a kid with $2000 saved up for a mando end up with a killer Fern? (BTW, '20s ferns were going for around $4500-5000 and Loars around $6000 at that time, believe me I waskeeping track)

3 or 4 years earlier, my brother and his wife were sitting around watching a movie on TV and having pizza with good friends, Dr. Bob and Glenda Galutia, when out of nowhere, Glenda blurts out, "You know Mike, we should get my grandfather out to one of your BG shows sometime. I bet he would really enjoy it."

She went on to say how her grandad was a retired doctor and played mandolin as a pastime. Doctor? Mandolin? This peaked my brother's interest, to say the least. My brother talked her into calling Dr. Akins to find out more about the mystery mando in the doctor's closet. Keep in mind, my brother and I were both trained to follow through on these things by my father, Charlie Clark, a banjo teacher and instrument trader himself.

Glenda's grandmother answered the phone and explained he was asleep, could she call back another time? My brother got ahold of the phone and somehow persuaded Mrs. Akins to go find the mando and discribe it to him over the phone ( A good plan, learned from dad. That way you can determine whether it is something worth following up on).

My brother then proceeded down the checklist of questions we had heard dad ask over the phone 100s of times when tracking down Loars and Mastertones that usually turned out to be Silvertones and Harmonys.

First, he had to use terminology a non-musician could understand. "Is there a name up on the handle where the strings attach? Oh, 'The Gilson'. huh?" My brother's blood pressure must have shot up at least a few points! Good start, probably an A-One.

Next question, "Is there white, pearl-looking stuff up by the name? Hmm, vine kind of thing?" This was getting better. Starting to sound more like an A-4 with a Flur de Le.

"Doe it have points & curly-Qs around the big part?" He was able to get enough info out of Mrs Akins to at least speculate it was some kind of F Model! Had to be an F4, he thought. No old F-5s had ever surficed around Oklahoma City.

At this point she got kind of perturbed and told him it was whatever the top-of-the-line mandolin was back when he bought it, and she knew it he wouldn't sell it, anyway. "Some soldier had tried to buy it years ago" and Dr. Akins had told him it wasn't for sale.

Needless to say, my brother didn't go to sleep too easily that night. Visions of Loars and Ferns and 3-point F-4s w/Orvilles picture on the label were dancing around in his head. He followed up with the doctor later on and arrainged to see it, even though he was told again that it wasn't for sale.

My brother saw the mandolin and invited Dr. Akins to an Oklahoma Bluegrass Club show, where I got to meet him. He was having a great time and complimented me on my set with the Bluegrass ReVue. He invited me to come play his mandolin, even though it wasn't for sale.

I told him I would, but knew it would tear me all to pieces to play a '20s F-5 that wasn't possible to buy. Part of me was chomping at the bit to play it, but I procrastinated.

Time went by and Dr. Akins past away. My brother kept tabs on the situation and got word to the widow that we were interested in it. But she told one of the daughters she never would sell it. It seemed like only a short tome went by before we heard Mrs. Akins had also passed on.

My brother waited an appropriate amount of time before expressing interest in it again. He got word through Glenda that they would think about it. Finally a ray of hope!

They wanted to know what we would offer. My brother knew I had $2000 in savings and suggested I tell them that's all I had to offer (which was the truth) and see what happened. I asked Mike, "Let me get this straight. After finding this mandolin and several years of followup, You're just going to back out and let me try to buy it?'

Yep, he said he knew how he would have felt if he was 19 years old, and had a chance to get a prewar flathead Mastertone. (Was that one of the all-time class moves or what. Everyone should have a big brother like that!)

I made the offer, and two of the sisters voted to sell it to me, but unfortunately the oldest sister vetoed them and told them it should stay in the family.

I know this story is long, but stay with me.

My brother and I even made the trip to Weatherford, OK once, so I could at least see it and play it. Hopefully, I thought, they would be convinced that I would put it to good use, give it a good home and all. I was hoping to make that impression.

I'll never forget opening that case. It was the most beautiful thing to me, even though it had a De Armond pickup attached to it at the time. I knew this would probably be my best and maybe my only shot at ever getting a real '20s F-5. They told me my offer was fine, but she had a young son and daughter, 5 and 6 years of age. She thought she had better hang onto the mandolin, just in case one of the children had musical talent. I had to bite my tongue to not blurt something about a snowball's chance. After all, this was Weatherford, Oklahoma, not Rosine, Kentucky, for goodness sake! Having to leave that house without the Fern was the hardest thing I had ever done!

About a year past, along with my hopes for getting the mandolin. I wasn't even playing much mandolin then and was generally pretty down about the whole situation. One day I was sitting alone in the music store I worked at, when the phone rang. It was my brother's voice on the other end. "Bobby, are you sitting down", he asked. I had been sitting all day. There hadn't been but a few people come into the store all day, I told him: "They're going to sell it to you"

Mike said: "Sell what to me?"

"The Mandolin. You know the Fern".

"You've got to be kidding. This better not be a joke"...

"Go get a cashier's check from your savings and call them. Here's the number".....

I could tell tell by the tone of his voice he was serious as could be. "Get the money right now and get on out there, or they might back out again." And here I was stuck at the music store with the most important task of my life beckoning!

I was so excited I was about to jump out of my skin! What should I do first? I called my dad and he went to get the money for me. What next? I tracked down the owner of the music store I was confined to. He understood the urgency in my voice and told me to lock up and go get it. "Don't forget to set the alarm"... I heard as the receiver was going on the hook.

Soon, the tires were screetching on my '75 Nova and a new unofficial land speed record may have been set, as I made a beeline down I-40 West. I was indeed "a man on a mission". I got there, they didn't back out, I bought the mandolin and the rest is history, as they say.

The mandolin of course, has been my most cherished material possession for many years. I've recorded 2 solos albums with it, played it on vertually every session and performance I've been a part of from 1977 till I got my Triggs back in December. That's when I decided to give the Fern a well deserved rest. I've never once entertained the notion of letting it go and probably never will.

But wait. As Paul Harvey would tell us, there's more to the story.

There's an interesting sidebar to the whole story.

While traveling with Mike Snider a few years back, we went all the way out to Sayre, OK to do a show. It was the only time during my 16 years with him that we went to Western Oklahoma. It was a BG festival and we had just finished our afternoon set.

During the days of Ralph Emery and TNN, when Snider finished a show, the record table was a mob scene just about every time, and this day was no exception. We were selling tapes like hotcakes, tearing the wrappers off, signing them, etc, and it looked like folks were lined up into the next county. Snider was encouraging us to keep things moving along so the folks at the back of the line wouldn't give up and walk away.

During this chaotic scene, a young man of about 19 or 20 who had been patiently waiting in line says, "Bobby, I watch you on TNN with Mike all the time and really enjoy your playing". I shook his hand and thanked him. He said, "I've got a question for you. Do you remember the name Paul Akins?"

I noticed his voice was cracking a little and his eyes seemed to be tearing up. "Sure," I said, "wasn't that the doctor that owned my mandolin originally?"

"Yes sir, he was my grandfather. Would it be too much trouble for me to just pick his mandolin for a few minutes. You see, I play mandolin myself," he said. By this time, Iwas about to tear up. Of course, I let him take it out of the case and play it all he wanted, while I stayed at my record table chores.

I could hear him playing it in the distance, and believe it or not, he was a good player.

I was still busy visiting with some old friends who stopped by the record table, when the young man slipped the mandolin case back under the table and said, "Sounds just as good as I thought it would."

"How ironic", I thought as he walked off. "He must have been that 5-year-old boy who was running around the house the first day I saw the mandolin.

I knew for a fact it had to be the hardest thing he had ever done, walking away from that mandolin that day!