Alan Bibey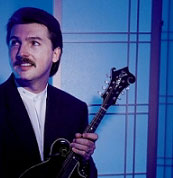 North Carolina native Alan Bibey first hit the national bluegrass scene with New Quicksilver in the early 1980s, and it wasn¹t long before he earned a reputation as one of the music¹s most gifted mandolinists. 1990 found Alan, along with current partner, Terry Baucom, as an original member of III Tyme Out. Alan recorded two albums with III Tyme Out before relocating to Myrtle Beach SC, where he was a regular cast member of the country music variety show, Southern Country Nights. Alan was included in the roster of hot players featured in the 1994 Jimmy Gaudreau produced cd, "The Young Mandolin Monsters". The mid 90¹s found Alan back in bluegrass with Lou Reid and Carolina. In 1997 New Quicksilver reformed , and are now known as Baucom, Bibey, and BlueRidge. BlueRidge has recorded 2 well received albums on Sugar Hill, and in 2000 Alan released his own Sugar Hill solo project, "In The Blue Room", which included guests Terry Baucom, Jerry Douglas, Tony Rice, Kenny Smith, Sammy Shelor, Del McCoury and more. Alan will well occupied in the near future as BlueRidge has a very busy 2003 festival season, and there will time spent in the studio for new band and solo releases.

A gifted teacher, Alan is a featured artist with Acutab Publications. Acutab has released a transcription book of Alan's solos and an instructional video. Alan's talents were also used in the award winning project, "Knee Deep In BluegRass-The Acutab Sessions".

Alan's workhorse is a 1923 Lloyd Loar Gibson. You heard it here first--Gibson will be unveiling the Alan Bibey Signature Mandolin in November 2003!
---
Q1
Q-1) What is B,B,&B's approach to recording?
Q-2) How do you choose material?
Q-3) What was the inspiration for "Vandiver?"

A-1) I'm not exactly sure what aspect of recording you're referring to but one of the main things we're after as a band in the studio is to capture the "live" feel of the tunes, so most of the cuts have very few overdubs if any. I've recorded many different ways but we've found we get a better end result when we take this approach. I think you can get too into perfection over feel sometimes and end up with a sterile sound.

A-2) Our choice on material depends on our vision or concept for the particular project. We've been lucky to get some great tunes from some great songwriters and we all write as well so that helps. There's always a few tunes that stick out to the whole group so we usually build around that to come up with a concept for the project.

A-3) Well of course I'm a huge fan of Mr. Monroe and I had in mind to write a tune to fit this band project. It has a "Monroe" flavor to it so I figured since Uncle Pen was one of Bill's biggest influences that "Vandiver" would kinda give both of those gentlemen their "props" so to speak.
---
Q2
Q - I wanted to ask Alan what's the single, best way to develop right hand technique for speed and accuracy? Does he do or did he in the past do any one certain thing over and over to develop his?

A - I think the issue of speed is really relative to the person or the situation. That being said the only way to improve accuracy is to practice very slowly in order to be accurate and concentrate on your technique. You're on the right track because you are aware of the importance of the right hand! The licks that gave me the hardest time when I was developing my right hand were the ones alternating from string to string. I just did them over and over at a speed that I could play them clean and with good tone until I reached my desired speed for that particular passage. I find when I practice slow and work on my technique that the next time I go on stage I feel more comfortable and seem to play with greater ease. Just keep in mind it takes a while to master the mechanics in your right hand technique to be able to play clean at very high speeds and once you do you have to stay with it or you'll lose it! It's a never ending thing.........but ain't it fun!!
---
Q3
Q - Who where your mandolin heroes when you where starting out? How did they influence you? How would you best describe your style?

A - The guys I listened to most when I started out were Bill Monroe, Bobby Osborne, Jethro Burns, David Grisman and Sam Bush. My dad took me to see Monroe when I was 5 years old and I came home and started playing(chopping chords) mandolin that night. Seeing him play that night I knew that's what I wanted to do. He was like a Greek god on stage. It tore my nerves up seeing him play and sing like that with such a command of the audience! I spent alot of time learning licks and/or tunes from all those guys recordings. I think my style is a culmination of all the years I've spent listening to all those guys and all the other kinds of music I've studied and played over the years as well as all the great players I've been fortunate enough to play with.
---
Q4
Q - Can you tell us about your Loar mandolin and other mandolins you may own? Also what do you look for in a mandolin which makes it stand out to you.

A - My Loar is dated July 9, 1923 and I've owned it now for 4 years to the day. It had been in a vault for the most part for quite a number of years before I got it. I actually gave the guy I bought it from lessons in which he played this mandolin about 15 years ago so I knew the mandolin before I was able to acquire it. It actually took me a while to get used to the neck size and the fingerboard extension but I really love it now. It's not the loudest mandolin in the world but the tone is killer and we all know that's where it's really at! Owning and playing a Loar kinda hinders you from making a fair judgement on most new mandolins for obvious reasons but the main thing I look for in a mandolin is the tone and how it plays. The are alot of great new instruments out there today!
---
Q5
Q - Alan,how would your old Randy Wood compare to your Loar?Please be gentle as I`am the current owner.I bought it from Dr. Mark two years ago.I think it`s an incredible instrument and it plays like a dream ,thanks for the MOJO. Mark tells me that you made him play a tune with you before he left your house with the Wood and that you were a true Southern Gentleman. He said his girlfriend was with him and you armed with your Loar took it easy on him and he left with some self-esteem and alot of inspiration.

A - It's too cool you have my old Wood mando! I love that mandolin. We played many tunes and traveled many miles together and there's only one reason I would ever have sold it and that was to get my loar. I actually sold every instrument I owned at the time to get it. I think that Wood is one of the best mandos I've ever played! Yes I did have Mark pick a tune with me and he plays well and is a gentleman in his own right. Glad again to hear you have the axe. If I'm ever in your area come out and see us and bring it with you. Thanks for writing!
---
Q6
Q - Who are your favorite players out there now? what direction do you plan to take with your music as far as solo albums and composition? you are a killer singer just curious why you don't sing more than you do. you were the first player to completely blow me away as far as mandolin is concerned. i played guitar for awhile before switching to mandolin. your break off of blue kentucky wind from the lou reid album just floored me. thanks for doing the CGOW thing. hope to hear more stuff from you in the future.

A - Gosh there are so many great players out there now. I like so many I hate to name names because I know I'll forget somebody but some of my all time faves are Monroe, Bobby Osborne, Grisman, Jethro Burns, Sam Bush, Mike Marshall and Herschel Sizemore. I could go on and on.....

I tend to go in whatever direction my soul takes me as far as composition. I do have a new solo project planned to record by the end of the year and you can expect it to be almost all original tunes. I think I'll branch out even more on this next project to include alot more styles of music that I really like.

I appreciate the comment on singing. I guess I've always been in a situation where I was playing with such strong singers that I just didn't think of singing more but you can expect to hear somewhat more now on band projects as well.

Glad to hear we won you over to the mandolin player category. Mandolins are so much cooler looking anyway!! The Lou Reid and Carolina project was alot of fun because they kinda worked the whole project around mandolin and let me loose to go in any direction I wanted. I guess that could have been a little scary for them now that I think of it. Thanks so much for listening. I'm just so thrilled that I do something that folks really like. Thanks for having me as CGOW!
---
Q7
Q - I would like to tell Alan that I have followed his music closely since he hit the scene with the New Quicksilver in the mid 80's through his groundbreaking breaks with 3rd Tyme Out and on numerous projects! His mandolin playing was a totally different style than I'd ever heard and has been a great influence on my playing ever since. The clarity and tone he gets is unmatched! Is there any excercises I can do to help me get triplets with that kind of drive and precision? Also, I've heard through the grapevine that Gibson is doing an Alan Bibey signature model and if so how can me and a few of my mando pickin buddies get our name on the list to buy one now? We gotta have one!

A - Well shucks, thanks alot for the comments. As far as triplets or any series of notes go the only way to be precise as I said in one of the other post is to rehearse slow and work your way up as you become more comfortable and with a metronome preferably. I think practicing in this fashion is so beneficial no matter what level you're at. Drive is something that comes with confidence which again is built by practice. The more practice time the more confidence you have. That's why my golf game suffers so terribly, but that's another topic.

The plan is for the signature model to be introduced around November of this year as far as I know. If you're willing to put your orders in without seeing it first you could probably call your local Gibson dealer or maybe ask Charlie Derrington that question next week. Charlie and Danny Roberts are really making a statement with the instruments they're turning out these days! Thanks a bunch and happy pickin'!
---
Q8
Q - The present BlueRidge lineup with Junior Sisk and Eddie Biggerstaff is my favorite. You guys are sounding great! Has a different lineup with a more traditional vocal style changed how you might play breaks, backup, etc?

Terry Baucom is a master of drive and timing. How is your own playing affected if you perform with someone whose banjo playing may be more melodic, and whose contributions to "drive" would be something different than Terry's?

I understand that Gibson will have an Alan Bibey Signature model on the market later this year. What are the features?

Thanks for sharing your time as CGOW!

A - Well thanks alot! I agree there is just something about this combination that works well together. I don't think the line up has changed how I approach a break or back up. I try to let the particular song dictate what works the best to compliment the singer. We do such a wide range of tunes I get to play against a lot of different feels which I really enjoy. It keeps things fresh for me.

Terry I have been playing together for 14 of the last 18 years so we think alot alike at this point. I have had the opportunity to play with many other banjo players at different times though which I think is good. I tend to play off people too so it does affect how I play at that particular moment. Really the whole ensemble would affect me more than one instrument I think, but I'd still do my own thing.

We haven't finalized the features of the signature mandolin yet but as far as finish we're going to go with more of the cremona brown finish although it will be lacquer as all the signature models are and the neck will be similar to my Loar.

It's been a blast so far this week. Thank you for having me!
---
Q9
Q - Alan, you are in that 3rd generation of super mando pickers along with Steffy, Thile, Alread, Taminsky, Reicshman, Marshall, O'Conner, McCoury, McLaughlin, Compton, O'Brien, etc. What is it that you feel made you advance so fast into this super picker arena? How do you take what the 1st generation guys (Monroe, Osborne, Busby, Rector, McRenyolds, Webb, Wakefield, Napier, etc) and the 2nd generation guys ( Lawson, Duffy, Gueaudrea,Bush, Sizemore,White,Skaggs, etc) did and take it to your level? You had to have worked at this to reach a goal in super picking. Is there any one previous artist that got you going in the right direction?

You are known to be into the vintage Gibson F5's. Are there any current makers you feel are up there with the vintage in sound and feel? And go ahead and spill the beans on what type strings and picks you are using today.

A - Well it's a honor just to be included in that group of pickers. They're all fantastic. It doesn't really feel like I've reached the level I'm at fast as I've been playing professionally for almost 20 years now and actually playing mandolin for 33 years. I started at 2....not really I was 5. Hey gain a year or 3 where you can right! When I joined the New Quicksilver in 1985 I brought a different approach to the bluegrass arena that quite a few pickers are coming from now which is cool.

All the 1st and 2nd generation guys you mentioned are and have always been heroes of mine. I've spent many, many hours listening to all of them and still love to hear them play. To me they all had and have something special to offer or something about their particular style that stands out to me. My objective was to take my favorite things about each of their styles and incorporate it into my playing along with all the things that just come natural to me. I guess I had more one on one time with Monroe and Herschel Sizemore than the other guys and they were both very eager to show me things and those are memories that'll stay with me forever. I've played alot with the other guys too but they just weren't there in person as much! I think all the music you're exposed to and the great musicians you play with regardless of the instrument they play have a effect on your style.

There a alot of great mando builders out there today. As far as getting the vintage sound Gibson is doing a wonderful job right now. It's great to see the company in the hands of people who know music and are great mandolin players in their own right. Other makers I really like are Rigel, Paganonni, Wayne Henderson, Gilchrest, Dudenbostel and Randy Wood. Forgive me guys if I leave someone out.

As far as strings go I have endorsed D'Addario strings for the last 12 years and love them. I use my own set of .011, .015, .026, .041. I switch back and forth from the EXP's to the regular's. I like the heavy G's for the chop. Pick choice is always shell. The best tone by far for me.
---
Q10
Q - A famous classical musician once said "If I don't practice for two weeks, I notice. If I don't practice for a month my public notices." How much a day do you feel you need to practice to keep in shape, where your skills won't start to decline.

A - Good question! If I go 2 days I notice a difference so 2 weeks or a month is definitely out. I couldn't stand to go that long anyway. I feel like I need a good hour a day when I'm home just to maintain my calluses. We all know the importance of those on mando especially if you do many pull-offs. Then on the road I may get 3 or 4 hours or more a day depending on what's going on. A famous bluegrass musician (Sonny Osborne) once said "If you don't know your instrument during the week, he won't know you on the weekend!". How true!
---
Q11
Q - You probably know (or know of)lots and lots of players. What mandolin pickers outside of the mainstream have you found interesting? Who do you like that's doing something different with the instrument?

A - There are so many great mandolinists now. I really like Radim Zenkl and Carlos Aonzo! They can play many different styles very well. Of course Don Stiernberg and Emory Lester are a couple of my faves but you may consider them mainstream, I don't know. I guess they're as mainstream as I am. Another great player who is way under rated and would amaze you with the different styles he can play and play very well is Tony Williamson. I think mandolin sounds good in any genre...........but of course I'd say that, right! Mandolin rules!
---
Q12
Q - Greetings from the Bay Area........I don't ever recall you playing out here, do you get to the west coast? Also, It must have been a treat for you to play on the Sizemore CD.......pick with one of your heros on a recording.......and to be around all those vintage Gibsons . Any stories from those sessions?

A - I actually played a tour out there with 3rd Tyme Out back in the early 90's and really enjoyed it. I'd love to come back and hopefully we will be before too long. The audiences were so receptive and all the places so beautiful. I'm ready anytime!

It was a treat to help Herschel produce and play with him on that project. We've been friends for years and we never miss a chance to discuss Loars. In the photo on the CD is his 4 Loars he owned at the time and my Loar that I still own. I probably shouldn't tell this but they had been in the studio for a day and a half before I arrived and Herschel was having problems with his mandolin staying in tune so when I walked in he asked to play mine and recorded a good bit of the project with it. He later told me he was so happy to see me walk in with my axe he could have kissed me..........I told him a stern hand shake would do! He's a great guy and I'm proud to call him my friend. Love ya Herschel!
---
Q13
Q - I asked Mike Compton about how many different, distinct styles of playing there are out there. We have Monroe style. We have the Chris Thile/John Moore scale-based style. We have the Jesse McReynolds cross-picking style. Of course, each player has his own personal style to some degree. How many primary styles can we identify? Want to take a crack at that one?

A - The primary styles I woould identify would be of course Monroe style, Jethro Burns style, Jesse's style and Bobby Osborne's style. Most of todays players have come from these styles whether they realize it or not is another question. Bobby played alot of single note fiddle style playing in his prime. Of course like you say alot of players have their own style to a certain degree. I've been told so many times that I was the first mandolinist to bring triplets into the mainstream of bluegrass but I don't feel like that is the only definitive attribute of my style. I hope that answers your question somewhat. Thanks again for having me this week. It's been a true honor and a pleasure.
---
Q14
Q - Hello, Alan. I'm very happy that you've signed on for a CGOW slot since you're one of my favorite pickers. I think what struck me most on first hearing your playing was how different it sounded from most of the great players who came before you. Very different use of syncopation, melodic ideas and phrasing. And that leads to the question: Who were your musical influences -- not just mandolin players, but all players in all genres -- that led you to the way you play today?

And, as they say in the White House press briefings, a follow-up question: What kind of practice exercises did you do to gain the fluidity you have?

A - I've listened to so many different players of all genres it's hard to break it down to just a few but some of my faves other than the mandolin players I've already talked about are Django Reinhardt, Stevie Ray Vaughn, Tony Rice, Benny Thomasson, Hank Garland and alot of different horn players. I've made an attempt to take certain things from all their styles as well as a few other mandolin players to evolve into "my style". When I started out I made a decision to come up with my own distinct style and I just heard different things in my head than I'd never heard on mando for the most part. Although a good Monroe lick fits about anywhere I think!!

I actually do more exercises now than I ever have. The fluidity I obtained came mostly from just keeping it in my hands all the time. I play alot now but at one time I probably played 4 or 5 hours a day or more everyday, although alot can be said for slowing things down and really concentrating on your technique. It really makes you a cleaner player and to me that's where it's at! It's great getting to chat with my favorite people( all you mando cats)!
---
Q15
Q - Love your style of mandolin playing. What is you secret to such clean pull-offs? Do you have high action? Also, I noticed on your website that you endorse Flatbush mandolins. Can you talk about them and how you became associated with them. Are they really "banjo killers

A - Thanks so much for the comments! I think the hardest part of executing clean pull-offs is just having the hand strength required. As you know they along with hammer-ons and slides can really spice up your playing and just make it sound more interesting. I would describe my action as medium. I have a different view on that than most folks I've heard talk about it lately that like their action ultra low. I like it up just enough that I can get a good feel in my hands and I can lay the right hand to it occasionally without getting a buzz. I play fairly hard and just feel more comfortable with the action off the neck somewhat.

I have endorsed Flatbush mandolins made by Victor Smith who is just a great guy and master craftsman. His mandos are great but just a total different feel than my Loar. I am currently endorsing for Gibson as I talked about in some earlier posts. I've been playing a Loar the last 4 years and the new Gibsons really have that same feel and tone. I think this period at Gibson will be looked back upon as a great time in the company's history and I hope it continues for years to come!
---
Q16
Q - I'd like to ask Alan what he spends most of his practice time working on.

Also, what would he recommend beginning-ish players spend most of their time practicing....?

A - I spend about half of my practice time each day practicing scale exercises to warm up and then maybe work on some tunes I've already been playing starting out slow focusing on technique and work my way up to full speed. The second half I try to work on totally different licks or songs to try to keep from getting stale but it's a challenge. I also try to make myself play totally different breaks on songs that we play all the time on stage. Maybe just start the break out in a different position and see what happens. Some times it turns out great and sometime not so great.

For Beginner-ish type players I would advise you to work on your chop the most after all that's what your doing most of the time. Be sure to keep it a tight chop so you interact with the bass cat well and you don't run in to each other. As far as leads go if you're trying to work out a break for a song really study what the singer is doing and try to play as much melody as possible. You just don't hear melody much these days and that's really what it's all about is playing the song. weaving in and out of the melody is the key so you still know what the song is but you put your licks in where you feel them too without taking away from the song. Technique is something you'll always have to work on so practice ultra slow and work on that and your timing with a metronome and you'll be amazed at the improvement. Happy pickin'!!!