Butch Baldassari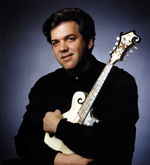 The mandolin has been turned into an instrument of melodic brilliance by Butch Baldassari. A former member of Lonesome Standard Time, Baldassari has continued to explore his six-stringed instrument on his solo albums and recordings with the Nashville Mandolin Ensemble. In addition to working with Richard Greene's Grass Is Greener since 1995, Baldassari is the leader of his own group, the Butch Baldassari Trio, featuring guitarist Gene Ford and mandocello player John Hedgecoth.

Influenced as much by the Beatles and Frank Sinatra as he is by Bill Monroe, Baldassari played guitar with his brother, Buster, in late-'60s garage bands. A trip to the 1972 Philadelphia Folk Festival proved to be the impetus for Baldassari's switch to the mandolin.

After earning a bachelor's degree in music from the University of Scranton, Baldassari moved to Las Vegas for post-graduate studies at the University of Nevada in Las Vegas. While there, he befriended three musicians who were forming a tradition-rooted bluegrass band, Weary Hearts, and he was invited to join. The group went on to win the International Band Competition held by the Society for the Preservation of Bluegrass Music in America in 1989. Their debut album, By Heart, was released shortly afterwards.

Moving to Nashville in 1985, Baldassari continued to explore the possibilities of the mandolin. While attending the Classical Mandolin Society convention in 1990, he conceived the Nashville Mandolin Ensemble, an 11-piece group featuring mandola, mandocello, guitar, and bass. After four months of rehearsals, the band made its public debut at the Dark Horse Theater in Nashville in October 1991.

Baldassari has remained active with numerous outside projects. As a member of Lonesome Standard Time from 1992 to 1996, he recorded three albums - Lonesome River Band, Mighty Lonesome, and Lonesome as It Gets. Together with innovative bluegrass fiddler Richard Greene and his band, the Grass Is Greener, Baldassari recorded Wolves A' Howlin' in 1996 and Sales Tax Toddle in 1997.

Baldassari's musical career has been balanced by his work as a teacher. In addition to conducting bluegrass mandolin workshops in Nashville, he became the adjunct associate professor of mandolin at Vanderbilt University's Blair School of Music in 1996."
---
Q1
Q - We have had a raging discussion the past few days about whether instruments "open up" or "wake up." Some contend that some instruments go to sleep if not played (or even overnight) and have to "wake up" with playing for a short period. Others say this is really mainly the player having to warm up or find the best way of bringing out the sound of the instrument. Likewise, some contend that new instruments "open up" over a period of time and become better sounding with age. Do you want to weigh in on this one?

A - First of all an instrument has to be well made in order to have the capability to in fact "wake up". Techinique alone can't pull great tone from a wooden, frets + glue. The older instruments 20's Gibson's for example seem to have the right graduations + finish etc. and after 75+ yrs have really settled in and sound loud + clear. When I started playing my '25 Gibson in 1984, I think my technique had to come up,along with the instrument having not been played,had to wake up. Now, my Gibson responds easily to my technique. My 1984 Nugget on the other hand was incredibly loud from day one, but doesn't have a whole lot in the TONE category, and is definitely harder to record.
---
Q2
Q - Of course, we have to have all of our CGOWs tell us about their instruments that they own. Do you still have your "unsigned Loar?" Do you still have that spectacular white F-5 Gibson?

A - I still have a 1925 unsigned Loar (whatever that means), also play the 1984 Nugget F-5 (Blonde) 1994 Gilchrist 5C (classical F-5, X-braced) I recently sold the 1987 White Gibson F-5...Also have a Cohen C# (for sale) and a Collings MT2 (for sale) !!! along with a Sobell Big-Body Octave mandolin, a 4-string (nylon) mandolin from Marty Lanham. Washburn tater bug, Blue Comet resonator mandolin, circa 1900 Vega 4-string mandolin-banjo, waiting on a Kimble dola+F-5, and another Sawchyn 0-2 (F-4 with F-5 scale neck.)
---
Q3
Q - Another standard instrument issue is the Virzi Tone Producer (Reducer). Have you formed any opinions on the Virzi?

A - The Virzi definitely increases tone and reduces volume...fact not theory. NUFF SAID.
---
Q4
Q - One of my favorite questions is "how do you describe your style of mandolin playing and how has it evolved over the years?"

A - My style depends on what i am playing...If I am playing Trad. Bluegrass, I want to sound authentic, maybe like Monroe. If I am playing Vivaldi I want to sound convincing, along the line of a violinist or classical guitarist. So along that line, my style seems to keep evolving depending on what I'm playing. Last year i did an Italian CD (Romance in Venice) and a New Age CD (Nightfall). Working in these styles I concentrated on playing melodies, having a large sound+tone. Bluegrass+Fiddle tunes have really helped me to play Baroque and Classical mandolin in general. Somehow I started out listening to clean players like Bill Spence on Hammer Dulcimer, Norman Blake on mandolin, Vassar on fiddle, Doc Watson on Guitar and got it in my head that playing clear+clean lines were important, even if it was a Monroe tune. When the 1st Grisman Quintet lp came out in '76 or '77 my theory was proven correct. To me that's exactly what Dawg put on tape...great melodies + great tone.
---
Q5
Q - What do you do in the course of your role as a music professor at Vanderbilt? Do you actually teach mandolin?

A - I have taught Mandolin at Blair School of Music at Vanderbilt University since 1996. I taught privately for 5 yrs. took a year off and then taught group classes for 2 yrs. This year I am back to private lessons...no beginners.
---
Q6
Q - What do you enjoy most about the teaching?

A - I do enjoy looking at different types of musical examples from variuos styles and I like students who practice and make progress.
---
Q7
Q - What do you like the least about teaching?

A - Having to meet with a student every week that doesn't really put in any time, and won't or can't progress.
---
Q8
Q - Do you find more satisfaction teaching advanced students or less advanced students?

A - I definitely prefer more advanced students over beginners, although it's is gratifying to see newer players progress.
---
Q9
Q - What do you feel makes a good student, regardless of level?

A - A good student will put in some time and make progress, regardless of level.
---
Q10
Q - Would you say you have a particular approach to teaching that you could summarize for us?

A - I try to teach people to play the instrument regardless of style. If you study technique, scales, arpeggios, some harmony+theory, and reading music, you will have a MUCH easier time when you start to arrive at some repertoire. Even teaching at Bluegrass Week or Weekend, I guarantee you that not EVERYONE in that room wants to spend their whole life strictly playing Bluegrass mandolin. Therefore if you get a strong foundation in the basics (mentioned above) you'll have an easier time opening that door to other styles of playing.
---
Q11
Q - Butch, you say you're waiting on a Kimble dola and F-5, would that be our own young Will Kimble by any chance? How did you get interested in Will's instruments?

A - I met Will Kimble at one of my Bluegrass Camps that I used to run in NAshville (1993-1999). He was more interested in playing at the time. He started building at some point with his dad, which I thought was just a hobby, but he has made some real leaps in craftsmanship, finish, playability and sound. Yes, he is a builder star in the making...At this point for $4,500 you will get a very consistent instrument handmade in a shop as opposed to a Gibson which is more or less handmade in a factory setting, built by several people and is VERY INCONSISTENT.

Will and I have been talking about doing a Butch Model at some point that would combine the elements of instruments that I play. Although it's hard to have one instrument do it all, we feel that it's worth a try. If we get that dog to hunt you'll see his workmanship and sound take yet another leap...oh yeah and the price/$$$ too!!!
---
Q12
Q - Butch, thanks for joining us as the CGOW. I really admire the various orchestrations that you've used the mandolin in. I'm especially excited because the Nashville Mandolin Ensemble is coming to my neck of the woods this fall. Where would you like to take the mandolin next? More large groups, different styles of music, different voices in the group?

A - Well next is one of the key words...I would like to record Blue Moon Over Kentucky which is a 40+min.piece that I premiered last Oct. with the Owensboro, KY. Symphony. I also have another program for Mandolin and POPS Orchestra called Baroque To Bluegrass,which ranges from Vivaldi to Bruce Hornsby and of course, Bill Monroe. NME has just recorded a new CD called Bach, Beatles, Bluegrass which should be out by Sept.19. NME also has 2-cd LIVE set that is ALMOST ready for release. This documents Live gigs,demos and studio recordings and kind of puts closure to us having a LARGE group of 8-15 players mostly conducted by the late Paul Martin Zonn. I also have 2 hrs of high quality video on NME from this same period that i am hoping to turn into a DVD this Winter.
---
Q13
Q - What are you planning to do with the various groups in the future? What new projects should we be looking for?

A - I would also really like to do something called The Acoustic Beatles, where we do Beatles tunes with string insts., strings, winds and percussion and Pickin' on Classical Music has been on and off my desk for the last several years. I am planning on doing a CD with Carlo Aonzo this October...focusing on music from the turn-of-the 20th century, for 2 mandolins+gtr.
---
Q14
Q - I really enjoy listening to and learning from your very melodic, clean, toneful style (I call it "More Class and Less Flash") and you have unknowingly inspired me to become more versatile on the mandolin.

Also, I read your response to Glenn's question about what mandolins you own and are having built which included a Kimble mando and 'dola. My main mandolin is a Kimble F-5 and I think that you will be VERY pleased with your new Kimbles!

Do you have any future plans to offer an instructional CD or DVD for intermediate/advanced classical mandolin which would include both tab and notation?

A - I have a new 25 Tunes for Mandolin book in the Homespun Tapes pipeline as we speak. Photo shoot is on Tuesday, release should be by late Sept. This book is similair to my other 30 Fiddle Tunes for Mandolin book, also by Homespun Tapes, in that it is music+tab with 2 cd's. I have also been after Homespun to do an Intermediate to Advanced level DVD/Video called Bluegrass Mandolin Workshop. We were supposed to do this last Jan. or Feb., but it looks like they did a DVD on Sam Bush (imagine that). I was also trying to shoot the DVD this past July, but that hasn't happened. Now we're back to Winter '03/'04. Feel free to write Homespun and make a suggestion. This material for the DVD is what I've been teaching for the last 10 yrs. at my workshops and other folks camps, in addition to new material that is always developing. I think it's just what ALOT of pickers need, but can't really find out there in the marketplace.
---
Q15
Q - What are a few of your favorite Baroque and Classical pieces?

A - I really like most of the Baroque composers that I have run across...Vivaldi, Cauciello, Bortolazzi, Gervasio... the list goes on. The Beethoven pieces are definitely worth studying, along with the music of Calace and Sartory. There is ALOT of music available if you start to dig for it. Best place to start is www.pluckedstring.com hosted at www.mandolincafe.com.
---
Q16
Q - Butch, who are some of your favorite mandolin players that you like to listen to?

A - I still really like Monroe, Sam Bush, Grisman, Doyle Lawson, Ronnie McCoury,C ompton, Adam Steffey, Carlo Aonzo, Caterina Lichtenberg, Ugo Orlandi, Don Stiernberg is really great + has that Chicago/big city kind of sound!!! I had alot of fun playing with John Reischman and Robin Bullock a few years ago.
---
Q17
Q - Who are some of your favorite non-mandolin musicians that you most admire?

A - I really like Classical Guitar... Manuel Barrueco, Segovia, Parkening. Jazz Gtr.too... Charlie Christian, Django, Barney Kessel, Johhny Smith... other players+singers- Miles Davis, Cliford Brown, Frank Sinatra, James Taylor, I really listened to the blues way back when... Mississippi John Hurt, Albert, Freddie+B.B.King, Muddy Waters. 60's rock-Jimi Hendrix, The Beatles, Led Zeppelin, CSN+Y, Grateful Dead, The Band, Allman Bros., Blind Faith, Clapton, Cream, Hot Tuna, John Mayall, Mike Bloomfield.
---
Q18
Q - What CDs do you have on your player?

A - For the last several years, when EVERYONE started making+selling their own CDs it's become tough to listen to things more than once... this is what's in my car and on the stereo at home... Into the Cauldron (Thile+Marshall) [listened 3x], Adrienne Young (she won the songwriting contest at MerleFest this year) [2x]. New Music for 4 gtrs .Buffalo Gtr Quartet, Citernalia-Joe Sobol, Mary Schneider-Yodeling the Classics, Old Time Banjo-Reed Martin, Led Zeppelin 3, Herb Ellis+Stuff Smith, The Harry Lookofsky Strings, Brave Combo-Box of Ghosts, Ernie Carpenter-Fiddle tunes from Elk River,W.VA., Rodney Miller+David Surette-New Leaf [2x], Doc+Dawg [several x], I've Got the House to Myself-David Grier [3x], Pine Mt. Railroad, The Game's Afoot-John Carlini Quartet [3x].
---
Q19
Q - As a teacher, what are your thoughts on mandolin as an instrument for school kids? The scale of the neck is accessible for smaller hands, there is a repertory of simple tunes and exercises (e.g. elementary violin) that could be adapted, and it can be played in many forms - classical, pop, folk, country - you name it. Schools could probably recycle violin teachers if necessary, without too much trouble. And students could produce satisfying melodies and harmonies much quicker than they can with non-fretted instruments (I've sat through many painful elementary and middle school orchestra "concerts").

A - This definitely COULD HAPPEN... It would have to start with ONE PERSON who is totally committed to the concept. On a certain level you could use alot of the Suzuki material in conjunction with existing mandolin materials, and that approach of playing by ear, standardizing technique and learning to read music... No TAB (sorry). If we're teaching MUSIC then the students would need to learn the language of music. I think a mandolin teacher could take the Suzuki training on mandolin, have a credential and then start a program. Folks have started some Bluegrass programs, but Bluegrass isn't for everybody. Fiddling works well and sort of splits the difference of having to teach someone Bluegrass. There is ALOT of activity in the Fiddling/Violin world. I recommend getting on Mark O'Connor's e-mail list for updates on events that happen at his camps. I'm not the person for this job, but i would be willing to help if someone was serious.
---
Q20
Q - In listening to your playing on recordings I hear two distinct voices, a sweeter rich sounding voice that I'm assuming is the Gilchrist classical and then that more cutting percussive Loar sound, which must be your Gibson. That Travellers CD is still in rotation on my stereo..........you guys oughta do Travellers II.

I'm a proud owner of a Gilchrist F5C and was wondering about the kind of strings you run on yours?

A - I have used everything from Thomastic,Silk+Steel to J-74's and D'Addario Flattops. I primarily use a .016 on my A-strings,regardless of what type of music it is. On the Gil 5C, it's been FT's on the basses and .016,and .011 on the e+a strings...for recording small group things, this really helps on getting rid of string noise.
---
Q21
Q - Do you use the same strings on your ol Gibson?

Sometimes on the Gibson I'll use the same set as I just mentioned for the 5C. Mostly it's a J-74 set with .016 a string.
---
Q22
Q - I've also noticed you experimented with bone on the saddle of your classical Gil, from photos on your CD's it looks like you added it..... and then went back to stock. Do you change saddles for a different tone on different kinds of projects?.... Any thoughts on this?

A - I think the bone saddle gives the mando a little more brightness. Sometimes ebony saddles sound a little muted or dense to me...i.e. I didn't have much luck with Daniel Smith's bridges, other folks raved about them.
---
Q23
Q - I admire the way you are taking your mando talents into other musical genres, but we never get to see/hear you in person out here on the West Coast.

A - Sorry, but I toured my ass off, up+down the West Coast and all over Western Canada from 1986-1990 with Weary Hearts!!!. In particular that drive from Portland, OR. back to Phoenix, non-stop is burned into my memory.
---
Q24
Q - Closest I've seen you was w/Richard Greene at Telluride one year. Do you still play with Richard?

A - Haven't played with Riccardo Verde since maybe Spring of 1998... I really did enjoy working with him, and also his approach to music suited me well.
---
Q25
Q - Any plans to be out in N. Calif?

A - No plans... I'm booked until June 2004... but you never know. All it takes is Time and $$$.
---
Q26
Q - I've always thought you have outstanding tone. What's the secret behind your tone and getting great tone out of an instrument?

A - The Secret is that there is NO SECRET... What can I say? I've been at it 30 yrs. as of last Fall. I was lucky enough to buy some great instruments way back when. Lucky enough to be captivated by Monroe, Bush+Grisman's tone. I tried to duplicate Dawg's sound as soon as I heard the 1st Quintet cd back in 1977. I used his shape picks, heavier stings and higher action to help develop that sound. Now it's become sort of second nature. If we were having some face time in a private lesson, I guarantee you that I could improve your tone. It would be up to you to hang in there and do it, but I think tone is quite attainable if you really study the mechanics of it.
---
Q27
Q - Can you share your syllabus for your mandolin class at the Blair School?

A - Sorry - have no syllabus... don't tell anybody.
---
Q28
Q - What do you recommend as a course of study for bluegrass mandolin players? What did you do to learn to play bluegrass?

A - I played Fiddle Tunes for 5 yrs, and thought that I was playing B-Grass. Didn't know the difference. THEN I figured out that I had to learn how to take a solo on a B-Grass song. I learned breaks by Grisman (Ten Tunes in 9 keys) Bush (his Homespun Materials and breaks to Great Balls of Fire, Dancing with the Angels) and then Monroe breaks. Doyle's breaks on the Bluegrass Album Band lp's were a great help too.
---
Q29
Q - How about other styles?

A - When it came to Classical or Mandolin Orchestra etc. I figured out that I could play Loud, Clean+Clearly because I had put so much time in playing 8th+16th notes in Fiddle Tunes+B-Grass. So alot of other styles... i.e Christmas Music, Allman Bros, just seemed to be great melodic music that I needed to interpret on my given instrument Mandolin.
---
Q30
Q - In a reply to another question you stated that you played fiddle tunes for five years before you knew what a solo was. Can you elaborate on that and maybe explain the advantages/disadvantages of such a strict regimen?

A - Playing a fidlle tune is more or less a stream of 8th or 16th notes that pretty much go from the top of a tune to the end. Doing this type of repertoire teaches you how to keep your right hand in motion,works on your linear or scale playing and can make you a very clean+accurate player. Playing a solo on a song is very different in that your job is to paraphrase what the singer just sang or what the melody of the song is. Usually it's not a steady succession of notes as in a fiddle tune.Your job is to use double stops/drone notes, licks, syncopation and whatever else to restate the melody in an instrumental fashion.If you've ever heard tune or contest player try to take a solo on a song,you will hear what I mean. My advice in this area is to learn a recorded version or 3 of different song solos by players that you like.
---
Q31
Q - We met briefly a couple of years ago at an old time fiddle camp in Honesdale, PA. You hadn't heard of Peter Sawchyn at the time and you tried out my Sawchyn A-2 and seemed to like it. Peter is currently completing an F5 style mando for me and he sent me a couple of photos of a beautiful O-2 he built for you. In a previous post this week you said that you were having *another* Sawchyn O-2 built. Can you tell me a little more about these instruments and your experiences with Peter?

A - Yes, I became aware of Sawchyn through you and the A-2 copy that you had with you that weekend.Peter built me an 0-2 last year which I used on the Tribute to Andrea Bocelli CD. I sold that 0-2 to Brian Hull in Texas, and Peter is building me another 0-2 with a few more personal specs that work for me. I would like to hear one of his F-5's someday.
---
Q32
Q - My wife and I both really enjoy your 'A Day in the Country' CD, and the Travellers CD is one of my all-time favorite mandolin CDs. Any plans to do another project with Bullock and Reischman?

A - No plans to do anything else with The Travellers group... we were supposed to tour a bit, but that never happened.
---
Q33
Q - I'm lucky enough to live in Nashville, have heard you play several times, and own some of your CD's. Last week, we had a nice chat about your instruments, music in general, and what to buy if you want something good today that will appreciate in value. I think the group would love to hear your thoughts on good builders who are not getting a lot of recognition yet.

A - I'm not as up on as many builders as some folks are... I have seen very nice instruments from Kimble, Sawchyn, Brentrup, Smart, Michael Heiden in British Columbia, Dudenbostel's instruments are nice, but he wouldn't even quote me a price when I contacted him this past spring. If you can find anything handmade that's less than $5,000,at this point it seems like a deal from an investment standpoint. Obviously, there's no guarantee as to what will double or triple in value. If that were the case I wish I had purchased 3-4 Nuggets + Gilchrists instead of one each way back when.
---
Q34
Q - Do you play instruments other than mandolin family instruments?

A - I started out on guitar, studied classical, on and off for 10 yrs.
---
Q35
Q - Do guys like you get MAS like the rest of us?

A - MAS-not really. I only hang onto instruments that I enjoy playing, or can record with.
---
Q36
Q - Butch, I want to tell you how much I have enjoyed and appreciated the Nashville Mandolin Ensemble, as well as the Butch Baldassari Trio.

One of my dreams is to start a mandolin orchestra or ensemble here in Charlotte, NC, playing a variety of music, from classical to stuff like on "All the Rage," to pop and bluegrass, etc. What advice would you give on numbers,instrumentation,practice, repertoire, etc.?

A - When I started NME, it was and still is a mandolin quartet with guitar and bass. If you look at some of the old books and/or articles on how to start a mandolin orchestra, they say things like for every 2 firsts, you need 1 second mandolin and 1 mandola. So the group starts to develop exponentially.

Practice

NME started out practicing once a week. This went on for about 6-7 yrs. We would not rehearse during the summer. Nowadays we learn new material during the winter and rehearse when we have shows. If we have alot of shows, we rehearse at soundcheck, and rotate music in and out of the set to keep things interesting.

Repertoire

We have tried everything from Bach to Bluegrass... somethings work better than others. One thing that works for me is to keep getting arrs. from different people and not let one person do ALL of your arranging.
---
Q37
Q - What is the percentage of time you spend playing scales versus playing/learning tunes?

A - At this point in my playing I use scales to warm up a bit. Most of my time is spent preparing material for various types of Live playing and recording. Carlo Aonzo has a scale exercise that encompasses most of the fingerboard... maybe someone on this list can share that with you. It's called The Aonzo Family Scales.

(See Aonzo Family Scales)
---
Q38
Q - I would like to ask what is your take on mandolin duets with a piano? I have heard some tunes with mandolin and piano that sound very cool. I was wondering have you ever experimented with it?

A - I have done that very little,but it's pretty popular in Europe and Japan. For a concert situation you need a mandolin that is bright and brilliant, almost metallic sounding. Carlo Aonzo plays with piano alot and he can really be heard over it. I sent him some music yesterday for 2 ma's+piano. We are doing a project in October here in Nashville... we'll see.
---
Q39
Q - Aluminum bridges. Have you ever tried them and what is your view on them? I know Evan Marshall uses them but live the tone seems kind of thin to my ears.

A - Never tried one... I don't know if "thin" is the right word... more bright or this bright metallic sound might be what you heard.
---
Q40
Q - I was in Gatlinburg at the Christmas shop and they were playing a cd called "Bluegrass Christmas". I could have swore that's you playing on it but it didn't list the players on the back of the cd. It wasn't the Evergreen cd but just a cd called Bluegrass Christmas.

A - I played on a Bluegrass Christmas CD for Green Hill records last year. Craig Duncan was the artist. I don't know when it was released... don't have a copy.
---
Q41
Q - What sort of studio/stage gear, mics or pickups have you used or have had experience with? Do you have preferences as to what mic's you record or perform with?

A - I pretty much use what they have I request matching instrument mics if available. Have never used pickups (maybe I should) For recording a Neuman KM-84 still hold s quite well and the new 1-84 is great too. I have tried just about anything anyone wants to try... large/small diaphragm, solid state, tubes etc... If it's sounding good on a given day, I'm into it.
---
Q42
Q - I've had classes with you and have recordings of many of your classes over the years and consider you one of the best mandolin instructors I've ever encountered. Given your long experience with teaching:

What would you say are the 10 most important points you'd stress for a beginning player.

A - I teach technique... scales, arpeggios, picking patterns - downstrokes, alternating, tremolo. TIMING is the most important aspect of playing. If you can't play in time, you won't be able to play with another player.
---
Q43
Q - What are the 10 most important for the intermediate player to move up to a higher level.

A - At this point, it might be learning more tunes/songs in lots of different keys, working on speed by playing with cd's, or going to better jam sessions... maybe starting to play in an organized band.
---
Q44
Q - I have often told other amateur players and students that from my experience "You must practice one hour a day to stay where you are and not lose ground; if you want to make steady improvement you must practice 2 hours a day, if you want to become a competent player you need 3 to 4 hours a day." Do you agree with these statements? if not how would you change them?

A - It's hard for anybody to be that rigid about their practice habits. Everybody knows what they can do and what they can struggle with. 10-20 min of focused practice can get as much results of having to practice everyday for hours on end.
---
Q45
Q - What steps, exercises, methods would you recommend to allow a player to become a good improviser?

A - The basics would be knowledge of major/minor scales/keys. How to inject THE BLUES, (flat 3,5,7) Pentatonic scale can get you alot of mileage. Learning other players solos always gives you some insights to the process.
---
Q46
Q - You seem to be able to get remarkable tone out of any mandolin you play, what would you recommend to students who want to develop that ability?

A - You have to start with a very good instrument, explore different ways to pluck the string. Observe other players approaches on video+live.
---
Q47
Q - What advice would you give a young player that plans to try to make a living playing mandolin?

A - I think it's different for everybody. I don't sing, so I am at a disadvantage. If I sang lead well enough, I could lead a B-Grass band and have another income stream... maybe I could have kept the Weary Hearts going. For me it's diversity... playing+recording different styles, teaching, The Web is something that didn't exist when I turned full time in 1988,so that helps ALOT. I would also reccomend getting as much training and or music education. If I couldn't read music and navigate with Orchestra players etc., I would have been out of the business a while ago. Also things like learning to engineer, mix and master records are great skills that can keep you in the business of music.
---
Q48
Q - You probably have the most informed perspective of the mandolin society and it's audiences and supporters of any player because you move equally well in all camps, Bluegrass to Jazz, Classical to Choro, Celtic, Ethnic, Old-time, you play it all. What insights can you share about the future of mandolin music in the US and around the world. Where will we be in 10, 20, 50 years?

A - Let's slow things down a bit... I don't really play Jazz or Choro and maybe I can fake a celtic tune or 2. The future of mandolin... good question. I am interested in playing with POPS Orchestras for the next 10-15 years. There's not much competition in terms of mando pickers, but I'm competing with the Moody Blues, Kathy Mattea... other artists who have had hits etc. So the jury is out on wether you'll see me on your local POPS Series. The Jam Band thing is going pretty strong... Jazz Mandolin Project, Leftover Salmon etc all feature mandolin and that's the next generation behind us. Over the years I have observed that folks who aware of mandolin REALLY enjoy it and go out of their way to hear it. On the other hand, I think that it's NOT for everybody in the way that Popular Music is. If there were a Monster Mandolin Hit like Classical Gas, maybe that would do it.
---
Q49
Q - I have listened to your "The Mandolin Tribute to Andrea Bocelli" many times and consider it one of the most moving and powerful of your recordings. Please tell us more about this project. What mandolins did you use on what tracks?

A - I used the 1925 Gibson on tracks 1,3,7,8... used the Sawchyn 0-2 on all others... To start with the material was very good especially the more POP tunes from Bocelli. Some of them I would like to have arranged for mandolin and strings... Romanza and the Prayer come to mind. For these CMH projects, we just get the tunes prepared to level that we can go in and do several takes and have some fun, trying to achieve some degree of perfection. With this process, you get ALOT of spontaneity and really LIVE sounding tracks. When you hear them 6 months later, there's always something that could have been played better, changed, or be in better tune. They're like musical snapshots. I've done Tributes/Pickin on The Allman Brothers, James Taylor, David grisman and Bocelli. None planned for the future.
---
Q50
Q - Where can we find your current performance schedule? Tell us about your current group, members, instruments, etc?

A - NME info is at www.soundartrecordings.com

Band is:
Steve Dudash - mandolin/fiddle
Walter Carter - mandola (Gilchrist H-5C)
John Hedgecoth - M-Cello (K-5C)
Van Manakis - guitar
David Spicher - Bass
---
Q51
Q - I'd like to ask about your practice regimen. Do you have a schedule you follow every day?

A - NO
---
Q52
Q - Do you still practice?

A - That's a good question... I spend time preparing material for various situations.
---
Q53
Q - How do you split up your practice time?

A - I used to spend equal amounts of time on Technique, Current Repertoire and Tunes that had problems.this was a simple approach to managing my musical time, back when I had a JOB!!! I made signifigant progressfollowing this approach.
---
Q54
Q - Can you suggest any good right hand exercises?

A - I see exercises in books and at camps (handed out by other teachers). I don't know that I use exercises as much as just maybe playing scales with different rhythms, getting the pick to do some things that it's not used to doing etc.
---
Q55
Q - Any good tremolo exercises? Tremolo is one thing I work on every day, but it doesn't seem to get much better at all. I've been practicing tremolo at the same speed for a year now. Any hints on developing a good, fluid tremolo?

A - The Tremolo comes from good control of alternating pick strokes... next step is to rev that up, tempo-wise, STAY RELAXED and you should be treoloing by now. Your ear will tell you if your trem is too slow (like mine-just ask Jeff Dearinger!) or if it's jerky/un-smooth. The mechanics of it doesn't change, only the speed or how many notes that you play per bar. I just count beats when I play tremolo, and maybe speed it up or down.
---
Q56
Q - What is your practice regimen?

A - Don't have one any more... have to learn+keep up material.
---
Q57
Q - What would you suggest a begining to intermediate player, just on the cusp of improvising, and thirsting for improvement practice? What would you advise him to do?

A - Learn some solos by players that you like.
---
Q58
Q - How did you practice when you were begining to get "serious" on the mandolin?

A - I tried to copy solos+tunes (melodies) that were being played by other players AND on other instruments... hammered dulcimer, fiddle, guitar.
---
Q59
Q - Do you get frustrated with your playing at times? Does it look like there is dead ends and you'll never get around tough things? Are you human :-) ?

A - I think I am still human... I know what I can do, at this point I know what situations and material to avoid for various reasons. Frustration etc. over music is a waste of time... there's no future in that.
---
Q60
Q - Can you give me some beginer hints on improvising?

A - Learn the Pentatonic and the blues scales and how they work in soloing.
---
Q61
Q - Do you have workshops and if you do can you give out the details?

A - I stopped doing my own w-shops in 1999. Now I work for other folks like Augusta, Nashcamp, Accutab and Steve Kaufman-chairman of the board.
---
Q62
Q - Could you share with us your favorite fingerings for closed position up the neck playing?

A - I just work out of the major scale pos.4 fingers per string... half-steps played by the 3rd+4th finger.
---
Q63
Q - Do you use a mixture of straight, pentatonic, blues scales?

A - Pentatonic and Blues certainly are close by and come in handy.
---
Q64
Q - Do you have any advice on finding a position in a traveling festival playing band?

A - Maybe going to festivals, playing in as many jam sessions as possible and meeting some of the pro bands+pro mando-pickers is a good start.
---
Q65
Q - Since you brought up the question of "Sonics" on the mandolin, and I see you have one of Dr.Cohen's mandolins for sale, maybe you could tell us how Cohen's mandolins differ from the typical F-5 Loar sound. You mentioned in your ad that they are Loud, but how is the tone different?

A - It' pretty hard to describe the tone... maybe un-loar-like is a good place to start. The instruments are brighter overall... not a smooth sounding as trad.F-5's. I suggest trying to play+hear one somehow.
---
Q66
Q - What is he doing in his structure/building techniques that you know of that effect the sound?

A - He has totally revamped the bracing and uses Redwood for tops, also Walnut for some of the backs.
---
Q67
Q - I notice his bridge is an unusual shape- could you give us some more detail on this?

A - Again he's redesigned the bridge along the lines of a Kasha classical gtr. bridge... ultra light with aircraft aluminum for the metal parts.
---
Q68
Q - I wondered if you could elaborate on the comment you made in regards to your Nugget not having a whole lot in the tone category, and being hard to record. What recordings have you used it own? At the Acutab show in Bristol last year I heard you up close and over the house system playing the Nugget along with Herschel Sizemore and Alan Bibey on their Loars. I don't remember thinking your instrument was tone deficient!!

A - For close miking in studios, there is no comparison between a '25 Gibson and a Nugget. In a live situation, the Nugget is GREAT!!!
---
Q69
Q - I saw your recent classified ad for the Collings A. Were you serious about A models not being that great for bluegrass situations?

A - For me the A-Model just doesn't make it compared to F-5's that I use... It works for other folks.
---
Q70
Q - I see where you have experimented with several of the Dr. Dave Cohen mandolins, so i'm assuming you've given some thought to the possible evolution to the instrument. I'm inquisitive about them... Any thoughts on these somewhat experimental instruments?

A - I have some great instruments, but I am always looking for something that could be better... so far Cohen is the LOUDEST... not the warmest tone, but that may come in the not too distant future.
---
Q71
Q - How did you manage to find guys like Ron Block and Mike Bub out in the desert?

A - Met them at Norco, CA. BG Fest in early 80's and would see them around at Festivals in AZ, CA, NV, Utah and Colorado.
---
Q72
Q - What were you playing before you got your '25? Did you look at a lot of old mandolins before you bought the '25, or did it just present itself?

A - I played lots of Gibson A-models, a Japaneese Penco F-5, several A-Models by Bob Givens and then bought the 1925 Gibson F-5 from Randy Snoddy in 1984 for $7,000. It belonged to Bernie Leadon of The Eagles.
---
Q73
Q - Any killer mandos that got away?

A - I have been on the lookout for a Lyon+Healey A-style #795 that I sold when I was really broke in 1974. I would like to have that back for sentimental reasons... I'm not so nuts about that sound.
---
Q74
Q - How did you develop such an expressive tremolo? Is it part of the Dawg influence?

A - Dawg certainly was an influence, also Big Mon's trem really screams. I've also listened to Classical mandolin pickers starting in the 70's and I studied Tremolo on Classical Guitar.
---
Q75
Q - Do you think the key to tremolo is in your hands or in your head - or both?

A - Hands, Head and Ears...
---
Q76
Q - Would you discuss your approach to right-hand technique, hand vs. arm, posting vs. free hand, up-down vs rotation, etc.

A - This kind of stuff is pretty hard to communicate without a visual... I play closed-fisted when doing rhythm and SOME tremolo... Closed fist is the best overall way to play (even if Tom Rozum doesn't agree) I can only play this way about 40% of the time.

hand vs. arm,

Sam Bush and Doc Watson use alot of forearm... it works for them- I use more wrist+hand- It works for me.

posting vs. free hand,

Posting on the top or pickguard is not such a great idea... seems to restrict motion- Ronnie McCoury says that you've got to keep things loose. I DRAG my fingers across the top of the pickguard- don't post'em

up-down vs rotation

I go for up+down, but use a bit of rotation. I think up+down is better. Watch the classical players if you have a chance... Caterina Lichtenberg, Ugo Orlandi, Carlo Aonzo... it's all up+down and technically they are LIGHT YEARS ahead of Bluegrass pickers!!! , etc.
---
Q77
Q - In the tablature-saturated modern culture, what is your take on the importance of knowing how to read standard notation?

A - This is an ongoing rub for me....I understand how someone can get started with Tab.At your first lesson you can be reading tunes etc.within 30 mins.My question is,if you put in the time to learn Tab,why not spend the same amount of time learning to read Standard Notation?...the official language of music!!!At some point in different players careers,they may encounter a style of music that doesn't have Tab...i.e. Bach,Calace,Italian Baroque,Dixieland,The Real Book.bla,bla...I REST MY CASE!!!
---
Q78
Q - Can you tell us a bit about arranging/transcribing/composing music > for your mando ensemble? A - I don't do any arranging,but i am fairly adept at listening to music from various style,in good or bad demo formats and then being able to tell an arranger what we need as a group.After 12 yrs,i pretty much know what my players can and can't do. NME is basically a mandolin quartet with guitar and bass.We can all read,play by ear and improvise.Over the years we have used arrs. from string quartet,string orchestra,trios for 2 ma+gtr,3-part mandolin pieces etc and have had them orchestrated for NME.
---
Q79
Butch, I just wanted to say thanks on behalf of CoMando for a great week. I really enjoyed your observations and I know that everyone else did also. Best wishes.

Glenn Bradford

A - Hi Glenn - Well I must admit, I thought the CoMando experience would be a little more challenging and a bit more in-depth... maybe it was and it has already escaped my memory. I just had to drive back from Cleland, was stuck in THE BLACKOUT!!! NME's gig was cancelled, had to walk down 11 flight of stairs at 5:30AM in the dark to catch a ride to the airport, then rent a car and drive back to NASHVILLE. Yeah it's really glamorous life out there!!! I guess we covered a good bit of ground last week, but it almost felt like alot of folks were on vacation or something. At some point I was informed that there were 2,000 mando-heads on this list... (is that true?). Another thing that I thought would happen was that after I answered a question, I thought that it might come back again for a bit more detail or in-depth discussion. My observation was that I was on your dime this week and would be happy to be deep in e-mail.

Now hold on there little doggies... Don't get me wrong, I did enjoy the experience, and would do it again whenever you got around to me. (as long as I got paid...by the word, HA,HA)

For the record, I was expecting some topics like...

1. What are the 5-10 Essential Breaks a B-Grass mandolin player should know?

2. What are your top 10 Desert Island mandodiscs (we kind of touched on this)?

3. How do start in on the Monroe style of playing?

4. What do you think of Rhonda Vincent's wardrobe or Bobby Osborne's hats?... is Jimmy Martin really certifiable?

5. Who has made the most $$$ playing the mandolin... ever???

6. What happens after the mandolin/instrument bubble bursts? (i bought mine CHEAP!!! sorry Mitch)

7. Who has had more one-night stands on the road... Bill Monroe or Robert Plant?

8. Why did Monroe wear his strap on the right shoulder?

9. Why are some things really "No part of nothing?"???

10. Butch, I've heard that you do impersonations of Radim Zenkle, Niles Hokkanen and you can do a mean hambone... Is there a DVD coming soon?... please P.S. what about the Butch TRIES TO SING THE BLUEGRASS CLASSICS, with special guests, Alison Krauss, Rhonda Vincent, Sonya Isaacs, Patty Loveless, Shania Twain, Beyonce Knowles AND Christine Aguilera???

See you around the campfire...bb