Bruce Weber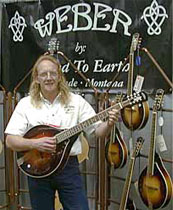 Sound To Earth traces its origins to the Flatiron Company in Bozeman, Montana. Most of our employees started at Flatiron in the 1980's, before Flatiron became a part of Gibson. From May of 1987 to December of 1996, all of our luthiers and most of our support personnel worked for Gibson building Gibson and Flatiron mandolins. The "Montana Era", of Gibson/Flatiron, is remembered for the consistent, high quality of the instruments that were built here and for the great customer service from Bruce Weber and Paula Jean Lewis.

In 1996, Gibson decided to move Flatiron to Nashville. None of us were willing to move. We live in Montana because we like the scenic beauty of the mountains, the fresh air, and the people who live here. Bruce Weber, the general manager and head luthier of the Flatiron division, founded Sound To Earth so that we could continue to build the instruments that we love in the midst of the country that we love.

Sound To Earth is built on the reputations and experience of our accomplished luthiers, acoustic design engineer and our sales and marketing manager. These individuals are experienced in their specialties, coming from diverse backgrounds with expertise in a wide range of skills. Our luthiers have chosen to build instruments because they love the artistic and esthetic expression provided in luthery.

We make the finest high quality, handcrafted, instruments available. Our "Weber" instruments are built in America with solid tone woods. No wood laminates are used. We hand build our instruments the "right way", with love and attention to detail, ensuring every instrument's integrity and acoustic personality. Bruce Weber personally graduates the tops and backs of each instrument to maximize tone and volume. He is also the final quality check on each instrument, personally playing and signing each instrument before it leaves our shop.

Our extraordinary customer service is always "user friendly". With years of experience in the acoustic music industry, Paula Jean brings a sense of genuine warmth and small town compassion to our customers and dealers.

Vintage restoration of mandolins and related instruments, as well as non-warranty Gibson and Flatiron mandolin repairs are also available, from Sound To Earth. Our luthiers are well versed in all building and repair techniques.

Our line is already the most diverse in the industry and we will continue to explore every facet of acoustic design and construction to improve our instruments in the future. Some examples of our ability to be innovative include: the "Brekke Bridge", a one-piece tailpiece design, and a unique pickguard mounting system. All of these innovations will improve the quality or playability of any instruments.
---
Q1
Q - I have heard the story of you going into the Flatiron plant to buy strings not knowing they made mandolins there. Before you started at Flatiron what was your mandolin playing backround (bluegrass, Celtic, classical..etc) and what was your luthiery/woodworking backround?

I am still in love with my 2000 Bitterroot.

A - It's true, I found Flatiron by luck. The Backporch Pickin Parlor were out of mandolin strings and sent me to this little red shop on the outskirts of Bozeman. Changed my life forever. Bluegrass, Folk and a smig of Celtic were my favorites early on. After I started building it seriously took time away from playing as I tried to learn as much about luthery as I could. I would build during the week and Mary and I would do repairs on the weekends. I started wood working with my Dad at 11 building all kinds of stuff (buildings to bows), but other than setup on my own instruments I didn't do any serious luthery until Flatiron. Hope that Bitterroot just keeps growing.
---
Q2
Q - With all your work with Flatiron and Gibson, can you talk about how those designs influenced the design of your Weber F style mandolins? I would like to know about the areas where you departed from the Flatiron and Gibson designs. I treasure my Yellowstone! Thank you.

A - Steve Carlson had a great designs at Flatiron and we held to his specs pretty tightly. After Gibson aquired Flatiron in 1987 and we started to build F5-L and A5-L we started to play with alot of diferent approaches to tone and volume but never really had enough time to develop our findings due to our involvement in building Gibson's acoustic guitar plant. I look back at those years at Flatiron and Gibson as a time of great learning for me. I found out what worked, what didn't and what had real possibilities.

Steve was an incredible pain in the you know what about details, all those things that make a good instrument great, and I'll always be indebted to him for driving that point, (somtimes painfully), home. The biggest differerences in building Webers is in the top and back graduations, the bracing, neck joint and setup stuff like neck angle, bridge and tailpiece. We take much more time tuning the soundboards than we did before and have changed bracing considerably. X bracing is still X bracing and tone bars still look the same, but we've changed the placement, angles, and dimensions on the braces to bring out the best in every top. Our neck joint is mortise and tenon and similar to the Flatirons and Gibsons we did, but much stronger in the way we connect body to neck. As far as overall body shape, I expanded a little here and tucked a little there, ( it's still an F5 or A5), but again it's the small things that make the biggest differences. With the addition of the Vern Brekke Bridge and the one piece cast tailpiece, I think we're on the right track. I'm still learning and hope to never stop. Thanks for being part of our family!
---
Q3
Q - I have a Flatiron F- Performer dated 1991, and was wondering if you were the luthier at that time, or know who made this one.

A - We had a great crew in 1991 and were building some great intruments. I would guess it was a team effort of Mark C., Doug S., Helen W., Deb T., and I.
---
Q4
Q - I have been very impressed with the quality and consistency of the instruments produced by Sound to Earth over the past several years. Can you talk about the transition from Gibson Montana to Sound to Earth; changes in philosophy, tooling, introducing more 8 string models than just mandolin and the way you settled on the scale length for each instrument? I owned a Yellowstone mandola which I loved for the sound but at 17 inches, it was a challenge to play for a small handed person such as myself. Any plans for shorter scales lengths (say, Loar era scale lengths)? Thanks and keep up the excellent work.

A - Thanks for your kind words and encouragment. The transition from Gibson to Sound To Earth was painfull for quite a few people but also very exiciting. Gibson decided to move it's Flatiron Division to Nashville to combine it with banjo and Dobro production under one roof ,originally to be called the Gibson Bluegrass Division, but I think they call it the Mall division now ;-) ( no issues there). Relocation was offered to key people including myself to Nashville and others were offered positions at the Guitar plant in Bozeman MT just eight miles down the road from Flatiron.

Six of us loaded Flatiron into a couple of semis and went to Nashville to set up in a temp shop until a more permanent location could be developed. It took the six of us just over a week to start building in Nashville once the trucks arrived. Nashville is a great city but the corporate atmosphere was more than we were willing to live under. When it was discovered none of us planned on remaining permanently, we were sent back to Montana, leaving instruments in all stages of completion on the benches. My apologies to the players whoseinstruments got caught in that transition. Sound To Earth started a few months after our return to MT.

Sound To Earth is a Christian based company. Our mission statment is: 1. Our business ethics must be consistent with my faith in Jesus Christ, the Son of God, His examples and teachings. 2. We must offer customers the highest quality products for the lowest possible price. 3. Our customer service must be unsurpassable. I'd like to claim that we're 100% on all three points all the time, but that's our goal.

Our tooling is much better and at the same time simpler than previously. I believe that too much tooling takes the luthier out of luthery leaving you with a good but generic and somtimes lifeless instrument. We use our tooling and two CNC machines to do basic tasks such as removing excess material quickly, giving us consistant starting points on tops, backs, necks, etc. that would otherwise be very time consuming and hard on the hands. We also use the CNCs to produce fret markers, standard inlay patterns, peghead veneers and fingerboards where precision is everything. Using our tooling in this way allows our luthiers to spend time on what they're good at (luthery) getting the most out of the instrument: tone, volume, playability and all those little details that make a great instrument.

Our passion for building and always looking for that new voice led us to expand into mandolas, octaves, and mando cellos, with no plans to stop there. We've just run out of room in our shop and with the increased demand for our instruments haven't had time to work of anything new lately.

We've played arouind with quite a few different scale lengths and currently use what I think sounds the best. 17 inches on a mola is a little bit of a stretch but when we went shorter the instrument seemed to lose a little projection. I'm always willing to make adjusments for the player though as long as it's not extreme to the point of killing the instuments voice. We built a 20" scale octave for a woman who is heavy into classical and a 22" mola for a tenor banjo player, both instruments turned out to be fantastic in their own ways. The octave was so relaxed and mellow it almost played itself, (octave on valium), and the mola had awsome projection.
---
Q5
Q - Bruce, we are happy to have you as a Guest of the Week. I am curious about the size of your operation. We have Gibson, the traditional company and numerous small luthiers. I have the impression that your operation is pretty good sized. Say, how many instruments would you guys produce in a given year? What all type of instruments are you building? How much of the work is done my machinery as opposed to hand work? It has seemed to me that Weber mandolins were very consistent from instrument to instrument. How do you do that? Do you still get involved in working on mandos to a large degree or has the business side gobbled up all of your time?

A - Sound To Earth fits somewhere between the big plants and the small one or two luthier shops. We have six craftspeople who have practiced luthery for 15 years plus, including myself, 11 who I would call apprentices each with their own special skills and talents, Vern our engineer, Paula, John, and my wife Mary do sales, marketing and customer service, and Kathy who does puchasing and all the numbers. We're a pretty close-knit group, more like family than anything else. We'd like to keep that small shop feeling so have no plans of going beyond 30 people. Currently we're packed into a 40' X 80' building, but last year we bought a old brick school near the headwaters of the Missouri River that was built in 1922. I hope to have us moved by late summer this year. The move will allow us some much needed breathing room, and greatly improve our working conditions. The school has great big windows in every room overlooking some of Montanas finest; right now the one small window we have in the shop stares at the airport.

We build 6 F models that you can get in mando, mola, octave or cello; 4 A models in the same four sizes and 6 models in the flat mandolin family. With our move we plan to add 3 arch top guitars and 3 flat top guitars. I'm even tossing around the idea of fiddles. Almost 50% of all instruments we build now are customized per an individual players request, and the rest we distribute through an ever increasing dealer base all over the world.

Starting Sound To Earth was a dream come true for me because I love to build and enjoy working with other luthiers. My plan was never to abandon building. I've been very blessed to have great people to work with in the shop and on the admin side as well. Over 80% of my time is still spent in the shop, at a bench. I personally graduate every top and back, do custom work, repairs, train, and generally pick up the slack where ever needed. I enjoy that freedom by having great people that I trust completely to take care of all the paper stuff.
---
Q6
Q - I really have enjoyed all the instruments of yours that I have played. Thanks for taking the time to answer our questions and enlighten us, and keep up the good work.

I have one specific question- how do you bend your rims? What kind of device/devices do you use?

A - Thanks for the encouragment. In the past, while experimenting on body shapes, we used a vertical chunk of egg shaped aluminum about 8" high with a heating element in it, which we kept at about 300 degrees. When I was satisfied with the body shapes we tooled a piece of 2" plate aluminum with all the right curves on it, and set it on a Toastmaster hot plate. A and Flat rims we sandwich the wood between the aluminum and a band of stainless. The scroll on the long srtip of the F styles are pre-bent then finished in a similar manner as the A's. The tighter curves are clamped between two thick plates. We have plywood molds that we then build the rim structure in.